Stealing Hearts and Making a Mess: Dominus by Maria Lux at DEMO
When I think of raccoons I think of Milk Duds. At a cabin where I was staying in the woods one summer, I inadvertently left a box of Milk Duds…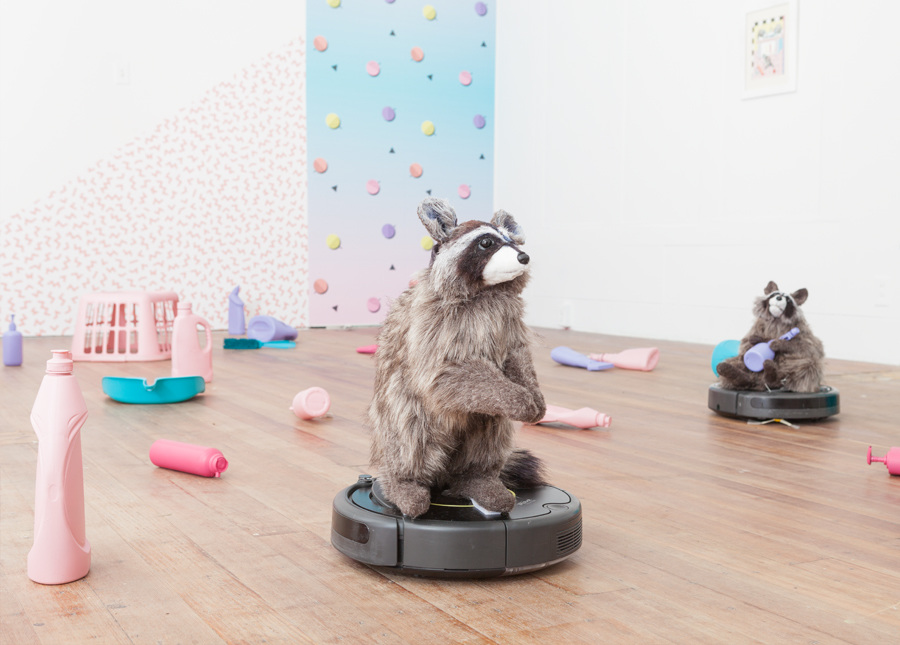 When I think of raccoons I think of Milk Duds. At a cabin where I was staying in the woods one summer, I inadvertently left a box of Milk Duds outside and later that night was met by a sticky raccoon at my door. I remember giggling as it ran down the stairs with its caramel and chocolate covered paws- sticky tracks that stayed visible for a couple of weeks. This is to say, somehow I find raccoons a bit charming. Maria Lux's exhibition Dominus at DEMO Project in Springfield this August (2017) brought both this charm and mischief into the gallery.
In the exhibition, Lux pairs humor with earnest text about the history of trying to domesticate raccoons as pets. Three hand-made raccoons sit atop Roomba vacuums, all named properly after pet raccoons, including Rebecca the pet of President Calvin Coolidge. The furry robots scoot around the gallery bumping into walls – not actually cleaning  pushing around empty pastel colored bottles and occasionally, each other. Surrounding the raccoons on the walls are suggestions of Memphis Style wall paper. Popular in the early '80s and '90s its visual aim was to disrupt interior spaces with wild pattern and color. This wallpaper also reasserts that DEMO is in fact situated in a former house. Cues like an old fireplace and a familiar front porch entryway point to domestic architecture, and the wallpaper employed by Lux again reminds viewers of the domestic scene at hand.
It seems the word "wild" is actually at the core of this exhibition. Some animals are pets, and others may be too wild to consider as such – too large, or perhaps with too elaborate a diet. In contradiction, there are animals that go between wild and domestic in curious ways. Lux focuses on raccoons as an example of this blur. When animals become pets they often come inside to homes, to our beds, to our kitchen tables when they are being naughty. These are all complicated relationships that people have with animals within domestic spaces, and it's not always easy. Ultimately, this exhibition points to the complexity, absurdity, and blurriness of how humans can relate to animals. The show ultimately makes me wonder whether raccoons are in fact beautifully domesticated and beautifully paired with us humans as co-habitats. Are these animals in fact so well suited to us, that they "wash" things we dirty, open our Milk Duds at night and sort through our dumpsters to find tasty leftovers?
Here, at DEMO with its home-like gallery in Springfield, Lux employs humor for its inquisitive quality. She points to perhaps assumptions and routine in our relationships with some animals and our abstraction and distance from others. These questions begin to arise as a raccoon defiantly scoots away as you approach it in Dominus.
Featured image: The standing raccoon sits in the center of the image, surrounded by bottles with the reclining raccoon in the background. Lux, Maria. "Dominus." 2017. installation view. "Dominus," DEMO Project, Springfield, IL. Courtesy of artist. Photos: Will Arnold
---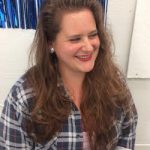 Dulcee Boehm is an artist & writer based in the Midwest. In performative and object-based works particular attention is paid to country culture, bodies, farm work and food. Boehm has exhibited in a variety of contexts from the former Mess Hall (2012) in Chicago, Illinois to an old cattle barn at Grin City (2015) in Grinnell, Iowa. Boehm continues to be part of Ox-Bow School of Art & Artist Residency as a staff member since 2010, and co-founded a nomadic residency & exhibition program called Say Uncle in 2015 with colleagues Benjamin Cook and Cory Imig.