Snapshot: Them/Here by Lukey Walden
Snapshot is a Sixty column that takes a quick look at art history as it happens in Chicago. We send artists and organizers six short and sweet questions to tell…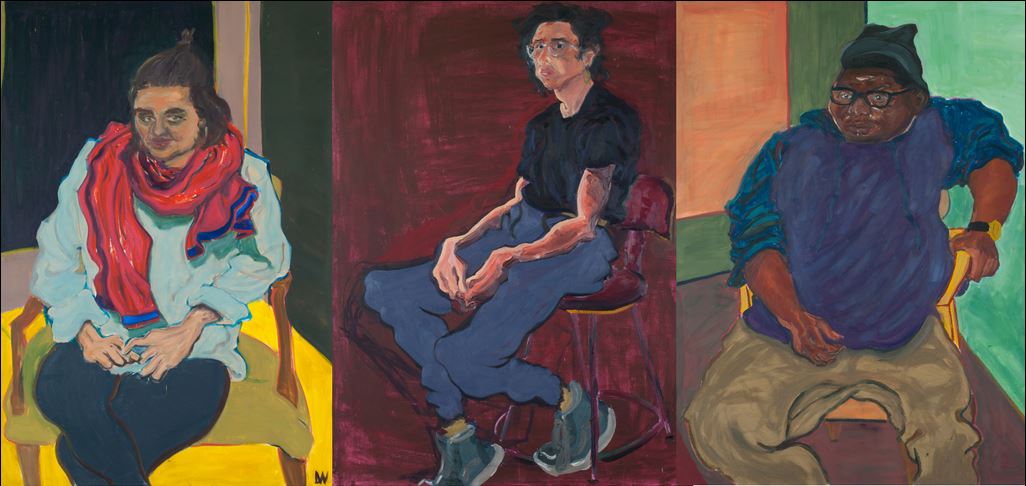 Snapshot is a Sixty column that takes a quick look at art history as it happens in Chicago. We send artists and organizers six short and sweet questions to tell us about what they are doing right at this moment. For our inaugural column, we sent our questions to Lukey Walden, whose show Them/Here: Variations on Trans Visibility at Sustain closes this week. To mark the end of Walden's first solo exhibition, they will give a talk at Sustain on their work, the themes informing their practice, visibility, emotional labor, public spectacle and the function of images of trans people. The talk will take place October 24th, 2017 from 5:50 to 6:30 pm at Sustain Gallery. 
Sixty Inches From Center: What was your inspiration for this show?
Lukey Walden: The show began as an investigation into shared experience with other trans people. I had been out publicly for less than a year when I started these paintings, and I didn't have many close friends who were trans, so it came from a desire to spend time with other trans folks.
SIFC: How would you describe your work?
LW: In general, I think I work in a broad tradition of portrait painting that values the relationship between painter and sitter. My paintings are records of intimate moments between two trans people. When the cisgender viewer becomes a voyeur of that intimacy in order to appreciate the paintings, they become complicit in turning trans people's privacy into a public spectacle, and that relationship leads to some exciting questions. Who are images of trans people for? What makes looking at a portrait a different experience than gawking at trans people in public?
SIFC: What was your relationship to the people you had sit for portraits?
LW: They're classmates and friends I met through the Keep Colorado Springs Queer art collective, all part of my extended queer family in Colorado Springs, CO.
SIFC: Was there anything you found challenging about putting this show together? What was the most rewarding part of putting the exhibition together?
LW: It's always scary to give up control over who sees the work and what kind of context they have for it. The night of the opening, a few older neighborhood residents came in after walking by. They said really kind things about the paintings and how apparent the sitters' personalities are. To me, the emotional impact of the paintings is really tied into the content, so it was affirming to see people engaging with that part of it without necessarily having context for the show.
SIFC: What captures your attention as an artist?
Drapery and clothing have always been my favorite thing to draw and paint. Clothing is so loaded and transgressive for trans people, and I get a lot of energy from that in my work. Giuliana Bruno's book Surface had a big impact on the way I think about clothes. I think a lot about the function of images of trans people. It's draining to be visible as a trans person in public, and I love the idea that my portraits can endure the labor of visibility on behalf of the sitter. I especially admire Jordan Casteel's and Alice Neel's paintings. I'm also really fascinated with the uncanny and how trans bodies fit into or disrupt systems of reference and familiarity.
LW: What would you like to have your viewers take with them when they leave your show?
I hope I can help make people aware of the power of their gaze, that it isn't just this benign probe; it's a force that affects spaces and people.
Featured image: Consists of three portraits combined into one image.
The first image on the left is Alta by Lukey Walden. A painting of a person with olive skin, medium length hair pulled back into a half updo, wearing a light blue shirt, blue pants, and a red scarf sitting on a chair with hands in lap against a light yellow, grey and brown background.
The middle image is Self Portrait – November 9, 2016 by Lukey Walden. A painting of a person with light skin, long dark hair, wearing glasses, a black shirt, blue pants, and sneakers sitting on a chair with hands in lap in front of a maroon background.
The image on the right is Stoney by Lukey Walden. A painting of a person with dark skin wearing glasses, a dark grey hat, khaki pants, a blue shirt, and a watch with a black band, sitting with one arm up on the arm rest against a green, brown and orange background.