Snapshot: Devil in the Details by Jennifer Cronin
Snapshot is a Sixty column that takes a quick look at art history as it happens in Chicago. We send artists and organizers short and sweet questions to tell us…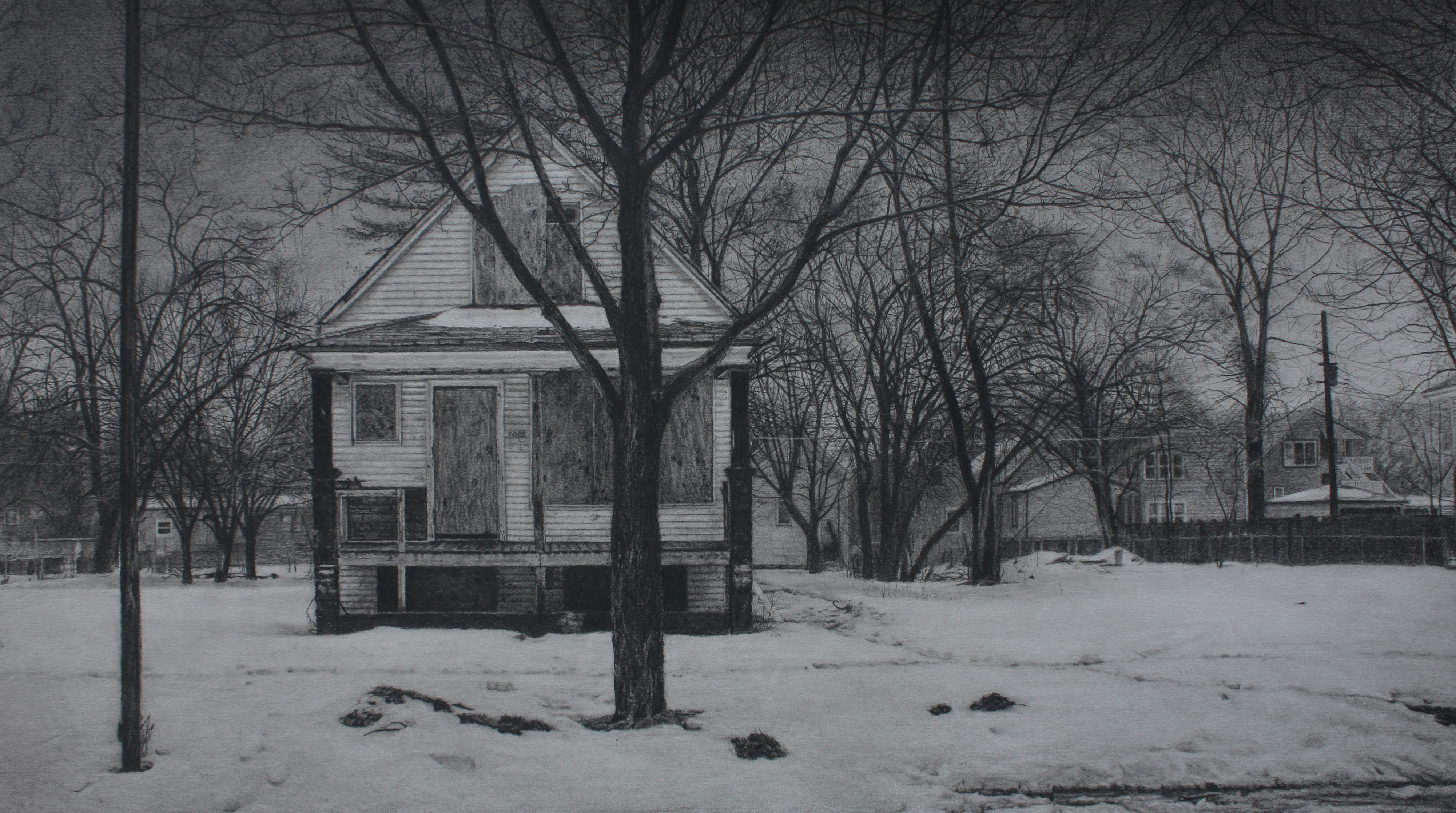 Snapshot is a Sixty column that takes a quick look at art history as it happens in Chicago. We send artists and organizers short and sweet questions to tell us about what they are doing right at this moment. We sent questions to artist Jennifer Cronin, whose exhibit Devil in the Details: A Portrait of Chicago pays heed to the unnoticed, mundane, and yet beautiful facets of Chicago's urban landscape. The exhibition opens February 7th, 2018 at The Cliff Dwellers with a public reception from 4:30 to 8:30 pm, and is on view through March 30th, 2018 by appointment.
Sixty Inches From Center: What was the inspiration for this show? What is your perspective on the city of Chicago that you'd like to share with viewers?
Jennifer Cronin: Chicago is my home. When I was a student, I had the opportunity to travel abroad and I had an amazing experience visiting breathtakingly beautiful European cities for the first time in my life. But I also had a very meaningful realization when I returned to Chicago and I saw it with a completely fresh set of eyes. I sat in Union Station and just watched the people around me: the train conductors, the ticket agents, the security guards, the buzzing commuters. I saw people who were warm and humble, and also very driven. And being back around the wonderful people that make up this city was like snuggling up in a warm blanket. I am very grateful to call this city my home. However, if you look closely, Chicago is a classic tale of two cities. Through this exhibition, I hope to draw attention to the details of a second city, one that occupies the shadows, overlooked and neglected.
SIFC: What is your process in making work? How do you approach various subject matters and mediums, and what do you see as the relationship between the two?
JC: My process generally involves drinking a lot of tea and always having a notebook close at hand. As an artist I am always striving to make work that is a genuine reflection of my current interests or concerns. In this way, I have realized the importance of listening to my inner voice and following my gut as a compass for creating my work. For me, the process of arriving at an idea involves a great deal of time, reflection, and writing.  Once I have settled on an idea for my work, I generate a final reference image which will act as a guide for the creative process through a combination of rudimentary sketches, photography, and Photoshop editing. When I begin a painting or drawing I start with loose and gestural marks which serve to map out the image. As the piece progresses, the movement of my marks tends to slow down. Slowly, day-by-day and layer-by-layer, I build value and color to create a finished piece.
I consider myself primarily to be a painter. When I am painting I feel as if I am home. I enjoy the feel of oil paint and enjoy working in partnership with paint to discover new ways to represent what I see. Sometimes, I appreciate using a looser approach to depict my subjects. Other times, I am interested in depicting my subjects in an incredibly straightforward way, creating a sense of starkness through obsessive attention to detail. I also love turning these painted worlds on their heads and infusing them with painterly abstractions. As I explore new subjects, I also explore new ways to represent them. When I had the idea to document foreclosed houses in Chicago I instinctually felt that the images would work better as small drawings–paintings can feel very permanent but drawings feel ephemeral and temporary, like the old buildings that I sought to document. In my next series I have turned to screen-printing, a completely new medium for me, as a way to represent the disappearing landscapes of Alaska.
SIFC: How did this opportunity to show at The Cliff Dwellers come to you? What is your relationship with the club?
JC: In late 2016 I was nominated and selected to be an artist-in-residence at The Cliff Dwellers. The Cliff Dwellers has a history of celebrating and supporting the arts, and I am grateful to have the opportunity to be a part of this community and its legacy. I have had access to a wide array of enriching events, such as the annual Woman's Day luncheon which celebrates the achievements of women in the arts, as well as many art exhibitions and performances. During my time as an artist-in-residence, I have had the opportunity to get to know many of the club members, who have all warmly welcomed me to the club. I have also had the pleasure of befriending my fellow artists-in-residence, expert practitioners in the visual arts, film, comedy, music, and theater. Every artist-in-residence has the opportunity to showcase their work at the club, which is how this exhibition came to fruition.
SIFC: You are able to achieve such incredible detail in your work–what is your attitude toward realism within your own work and the wider world of contemporary art?
JC: The visual language of realism is relatively accessible. As an artist I enjoy speaking not only to those highly versed in the arts but also to the general public. By it's very nature, realistic work seems to have an enchanting quality that draws the viewer in. Once I have the viewer's attention, I have the chance to say something. I enjoy using art and realism to connect viewers with concerns that I feel emotionally drawn to. Within the wider world of contemporary art it seems that realism can sometimes be dismissed as lacking concept or relevance, but I believe that is a mischaracterization and oversimplification of what many realist artists today are doing. 
SIFC: How does the body of work in the exhibition signal the art you see yourself making in the future?
JC: My work tends to follow a clear but winding path. Every time I complete a series I learn something new. Seeds for future work are often planted in the making of previous work, so I try to pay attention to and nourish those seedlings. I believe that the work in this show has ultimately led to the development of my next series. The work in this exhibition is about the overlooked details of the Chicago landscape, and the ephemeral nature of neglected spaces. And this interest in documenting a changing landscape has manifested itself in my next series of work which explores the disappearing landscape of Newtok, a remote Alaska Native village that is eroding dramatically due to climate change.
Featured Image: What was Once a Home (South Winchester Avenue), 2014. Carbon pencil on toned paper, 11″ x 19.5″. Monochromatic image of a boarded-up clapboard house on a snow-covered street with a bare tree in the foreground and other houses, trees, and power lines in the background. Image courtesy of the artist.