Snapshot: A Conversation on the Terrain Biennial 2021 with Allison Lacher & Jeff Robinson
Featured image: Gina Hunt, XOXO at 1011 N. 6th Street, Springfield, IL. A colorful, geometric piece hangs in porch. The house is light blue with white trim. Plants grow in…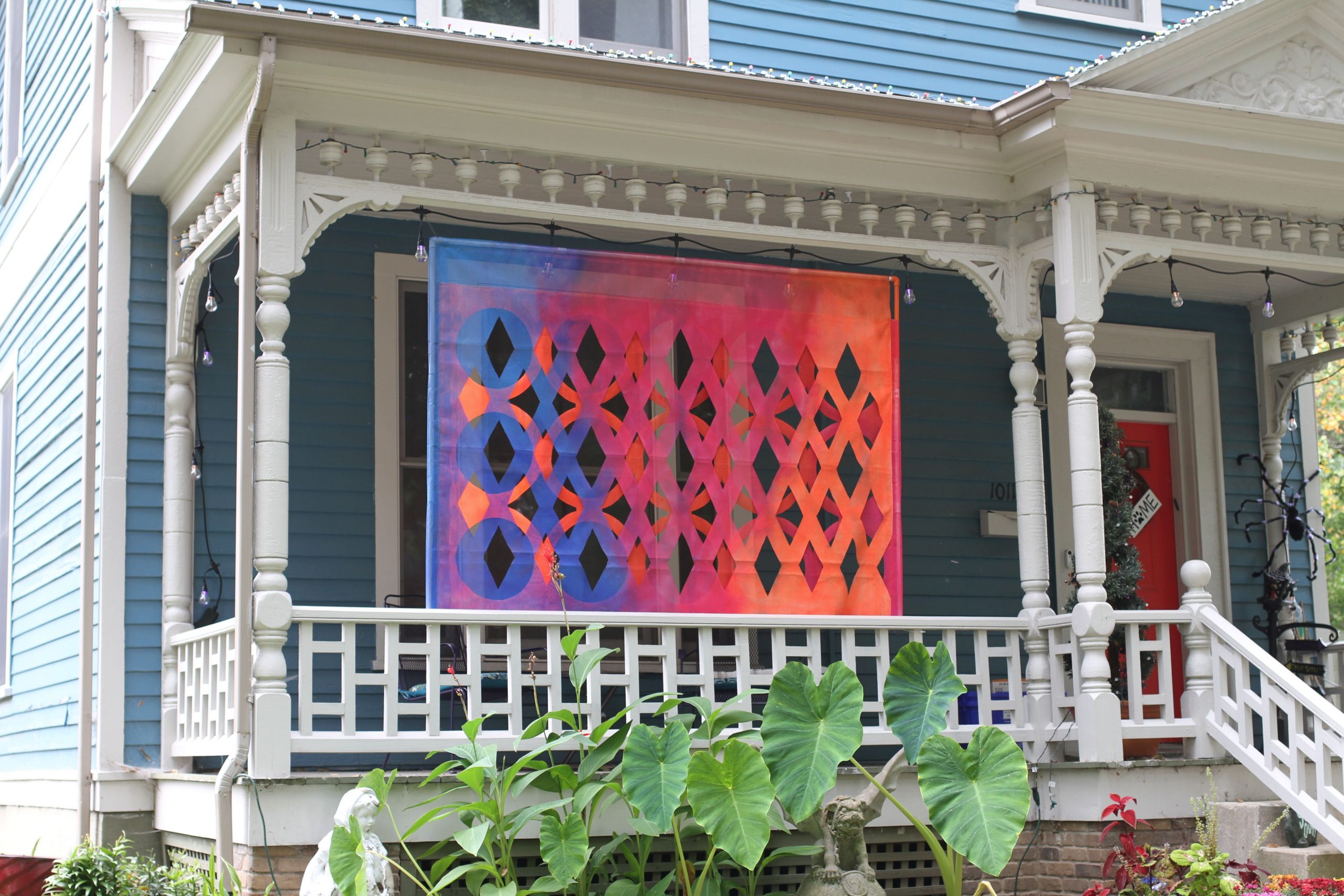 Featured image: Gina Hunt, XOXO at 1011 N. 6th Street, Springfield, IL. A colorful, geometric piece hangs in porch. The house is light blue with white trim. Plants grow in front of the porch. Photo by Jeff Robinson.
Snapshot is a Sixty column that takes a quick look at art history as it happens in Chicago. We send artists and organizers six short and sweet questions to tell us about what they are doing right at this moment. For this feature, we spoke with curators Allison Lacher & Jeff Robinson, who organized the Enos Park iteration of the Terrain Biennial, an international public art festival on view from October 2 – November 15, 2021. Founded in Oak Park in 2011 by Sabina Ott, the Biennial is an act of radical decentralization, taking art from privileged urban centers and bringing it into everyday spaces. As a part of Terrain, there are 24 sites housing public art installations in Enos Park in alone. The theme for this year's Biennial is K.I.T (keep in touch).
Sixty Inches From Center: Can you tell us a bit about the Terrain Biennial specifically in Enos Park and the significance of this location/iteration? What are your ties personally to this location?
Allison Lacher: The Enos Park neighborhood in Springfield is the home of the Springfield Art Association (SAA), the local community arts center. Getting involved with the SAA as a Board Member in 2010 was how I first came to know the Enos Park area, and later Enos Park became the home of DEMO Project, an artist-run space that Jeff Robinson and I co-founded in 2013 along with three other partners. DEMO certainly facilitated a deeper connection with the neighborhood. We were presenting experimental exhibitions, and in time, the work organically spilled out onto the porch, the façade, and the lawn. We didn't know it at the time, but this was an important precursor to the Terrain Biennial in Springfield.
In 2017, Sabina Ott reached out to us to ask if DEMO Project would serve as a site for the Terrain Biennial. We loved the idea and wanted the reach of this project to extend farther into and throughout the neighborhood. With the help of the Enos Park Neighborhood Improvement Association (EPNIA) and the SAA, we organized 16 sites for the first iteration of the Biennial in Enos Park. We grew to 20 sites in 2019, and we currently have 24 sites featured in the present iteration of the Terrain Biennial. 
The Enos Park neighborhood offers a lot of considerations for artists to navigate. It's a historic neighborhood and offers a complex history that spans from pre-Lincoln era to today, and the neighborhood reflects a lot of its history through architecture. Historic homes that have been restored or otherwise carefully cared for can be found throughout the neighborhood. But you can also find dozens of empty lots dotting the streets where homes that had fallen into disrepair were demolished. You'll find historic homes right alongside homes built in the 50s, 60s, 70s, etc. And there are several community spaces: a park, two community gardens, an apple orchard, and a sculpture park. We've been lucky to have the support and involvement of site hosts that reflect this incredible spectrum within the neighborhood.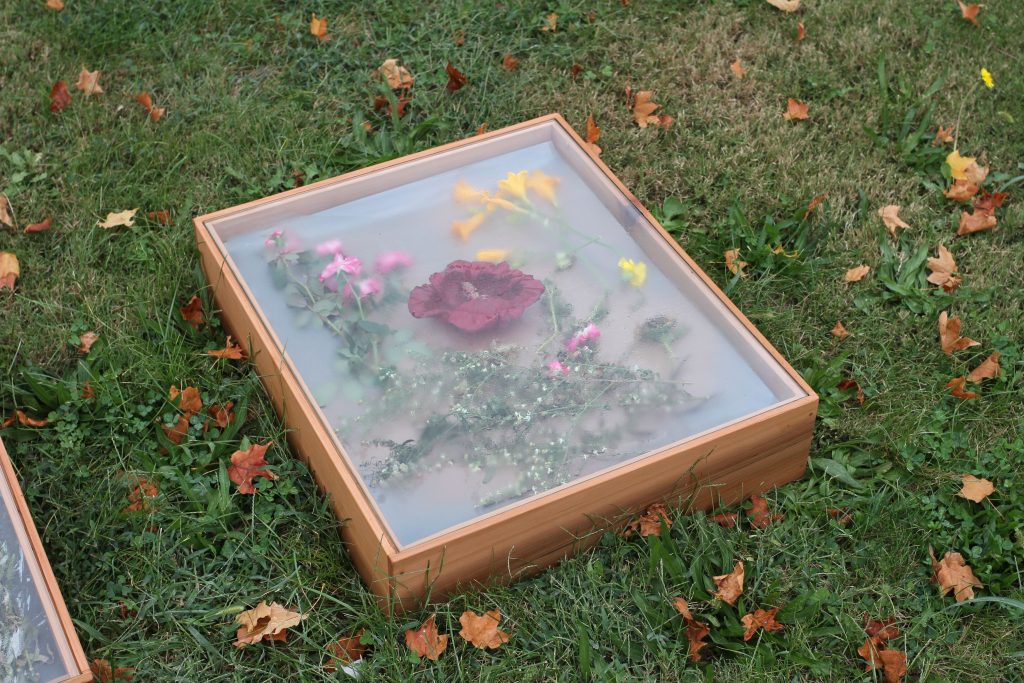 SIFC: What artists are participating and what would you like to tell us about their work?
JR: In Enos Park, we typically try to reach out to artists who hail from throughout the Midwest. This year, participating artists in Enos Park come from Springfield, Lincoln, Peoria, Urbana-Champaign, Chicago, as well as from outside the state of Illinois, including St. Louis, Indiana, Iowa, Nebraska, Ohio, and Tennessee. We always envision the Biennial in Enos Park as unique in that it serves as a sampling of art being made throughout the region.
AL: Artists featured in the Terrain Biennial at Enos Park include: E. Ainsley (Champaign, IL); Emily Bivens (Knoxville, TN), Guen Montgomery (Urbana, IL), and Donna Moore (Blaine, TN); Ruth K. Burke (Towanda, IL), Rachel Leah Cohn (Muncie, IN), Jennifer Colten (St. Louis, MO), Morgan Rose Free (Columbus, OH), Kirsten Heteji (Normal, IL) curated by Chrissy LaMaster (Lincoln, NE), Jennifer Holt (Decatur, IL), Gina Hunt (Chicago, IL), Lee Hunter (Champaign, IL); Rachel Lebo and Janie Stamm (St. Louis, MO); Emmy Lingscheit (Urbana, IL), Marianne Laury (St. Louis, MO), Cory Mahoney (Columbus, OH), Kalaija Mallery (St. Louis, MO), Melissa Oresky (Normal, IL), Peoria Guild of Black Artists (Peoria, IL), Catherine Reinhart (Ames, IA), John Steck Jr. (Chicago, IL), Chris Tice (Lincoln, IL), UIS Sculpture (Springfield, IL), Britny Wainwright (Columbus, OH), Erin Washington (Chicago, IL), and Titus Wonsey (Chicago, IL).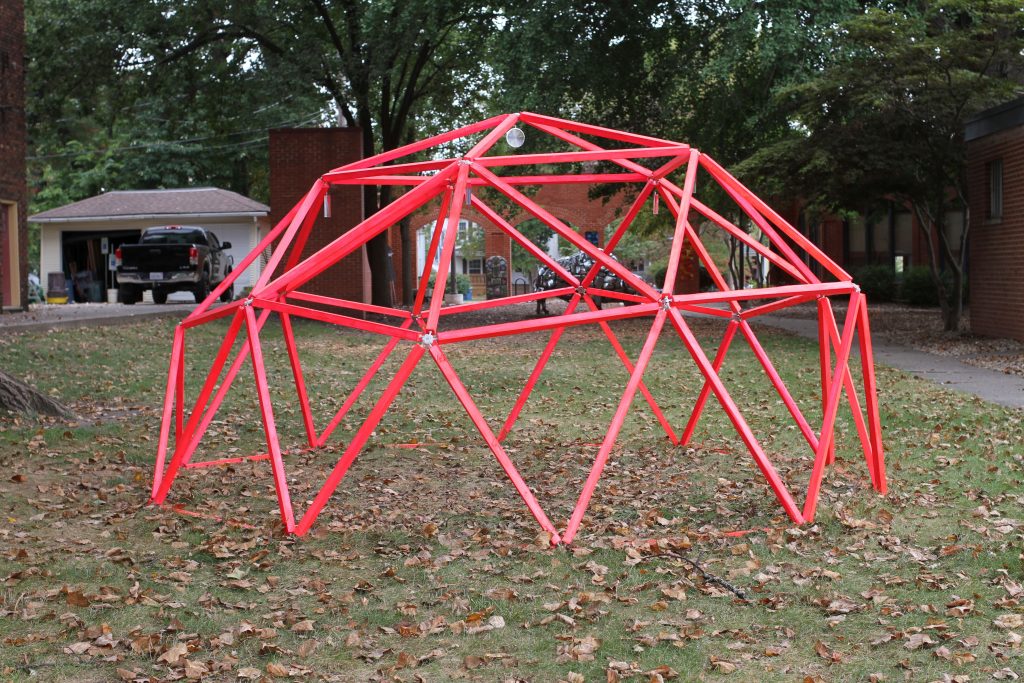 SIFC: How do you think viewing artwork in residential spaces alters the experience for your audience? Can you talk a bit about how the Biennial affects the communities they are in?
AL: Presenting art in residential spaces can be disarming for an audience. The sterility and formality of institutional galleries presents the potential for an audience to feel intimidated or uncertain, or even unwelcome; but the Terrain Biennial integrates artworks with what is familiar: the everyday sights and experiences of the neighborhood. The work becomes a spectacle, prompting curiosity, even playfulness. The audience feels freedom to explore and ask questions when they encounter work in this context.
The Biennial functions exactly as Sabina Ott intended, to connect people and facilitate relationships. There is an undeniable undercurrent of advocacy that, at least in Springfield, spans from visual arts to neighborhood revitalization and historic preservation. At first blush, Terrain may even appear to be a casual endeavor, but under scrutiny the Biennial resonates in powerful ways, idiosyncratic to each unique community it exists in.
JR: For many folks, it is an intimidating prospect to enter a quiet, institutional, white cube. I know I still get intimidated by that. And of course, there's the whole issue of who even has access to those spaces.
Terrain is all about access. It's about taking contemporary art to the people where they are, where they live. You can walk down the street and stumble upon a contemporary art installation in your neighbor's yard, and maybe that prompts you to start a conversation with your neighbor. Maybe you're talking about how cool the installation is, and you connect to one another and with an art experience. And now you're more open and aware looking for more surprising and beautiful experiences while also forging new meaningful connections and experiences right where you reside.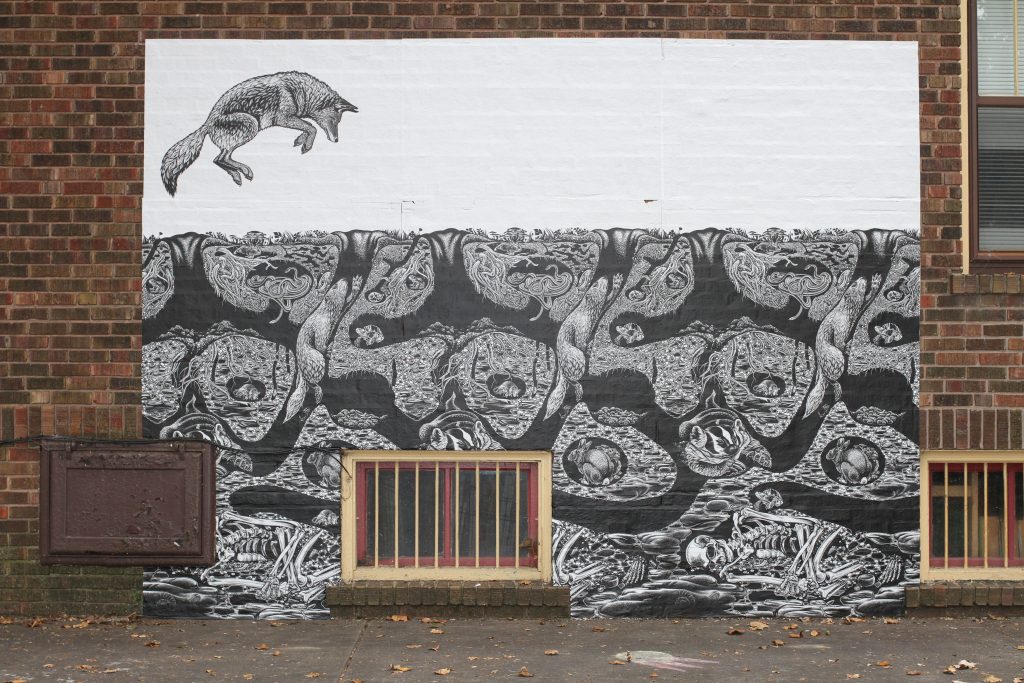 SIFC: Were there any challenges you had in organizing/curating an exhibition of this scale, one that falls outside the traditional walls of a gallery space?
JR: In Enos Park, we relied heavily on the Springfield Art Association and the Enos Park Neighborhood Association to connect us with residents who are interested in hosting artists for the Terrain Biennial. And we have always had wonderful experiences connecting artists to hosts and to facilitating as needed. It is certainly an ambitious endeavor, but the partnerships we have made make it much more fluid.
AL: We are lucky that organizing the Terrain Biennial in Springfield unfolded without very significant challenges. In large part, we have the EPNIA and the SAA to thank for that. They helped recruit and connect us with hosts and provided important resources to support the event. They have been incredible and crucial partners who love to see the Terrain Biennial in their neighborhood. Our site hosts have been incredible in each iteration, and have supported the work in incredible ways. The sheer volume of sites and artists this year did feel daunting at times, but we believed with such support it wasn't an insurmountable challenge. Everyone worked toward the success of the event.
SIFC: How does the Terrain Biennial fit into your curatorial practice? What approach did you take when choosing artists to participate in the Biennial?
AL: Jeff and I love to develop and support experimental exhibition frameworks. We especially love working with artists who are trying something new, something ambitious, or something exploratory. Our partnership started because we had strong shared enthusiasm for the work of other artists. That naturally funneled into how we approach curating and organizing. Working in Springfield has been important to both of us. It has been meaningful to cultivate the presence of contemporary art here, in multiple initiatives engaging the region. Working to present three iterations of the Terrain Biennial in Springfield has been a tailored fit for our interests and pursuits as curators and organizers.
JR: Allison and I have always considered ourselves more facilitators than curators. We prefer to offer prompts to artists and to provide them with opportunities to explore and take risk. Terrain really is a perfect fit for such an approach.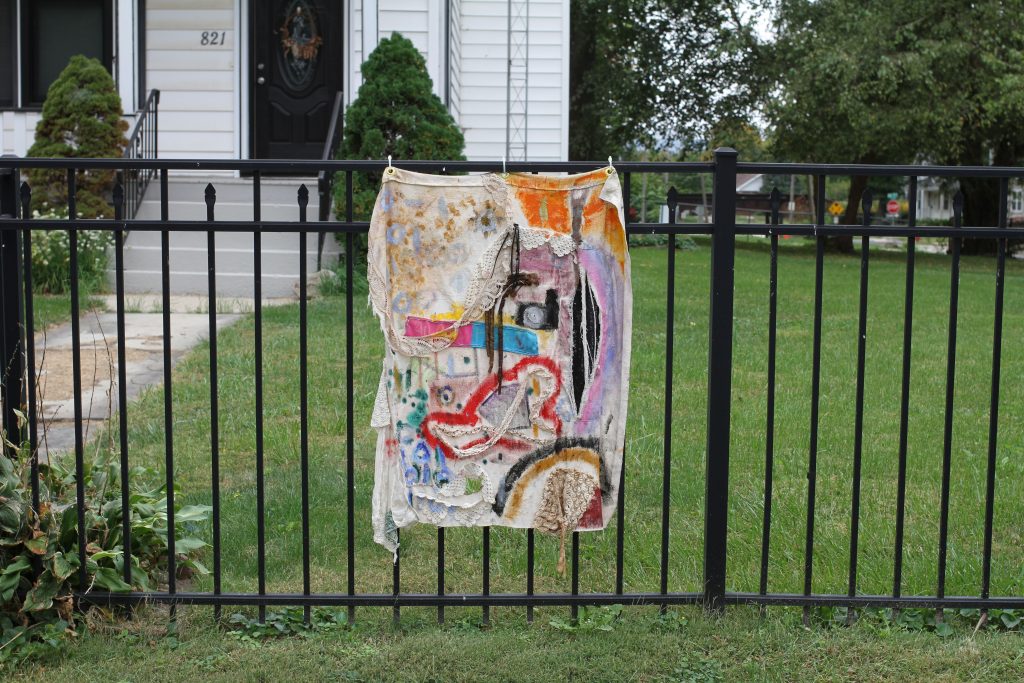 SIFC: Describe one piece in the Biennial that you think everyone should see.
AL: I am hard pressed to name any one piece from the Biennial that everyone should see. I think first maybe Melissa Oresky's ferns at the historic Edwards Place, or Kalaija Mallery's interactive wishing well. Then there's Titus Wonsey's field painting—a favorite among neighborhood kids. There is such a diverse approach in how Terrain is engaged with and how the neighborhood is considered and interpreted by the artist, even how public art is interpreted, that every site is an exciting solution in and of itself. I think that every site shows a thoughtfulness, a curiosity, an experiment. It's an amazing collection of works in the neighborhood.
JR: I can't single out any one piece worth seeing more than any other. What's so great about the Terrain Biennial in Enos Park is how concentrated the sites are. Within the span of four blocks, you can encounter 24 art installations featuring work from 30 artists. In that tour, you will encounter an abstracted football field painted in an empty lot by Titus Wonsey (you can play on it too), you will see a beautiful installation of composited sculptural landscapes prompted by images taken throughout Springfield by Cory Mahoney, and you'll even see an eclectic collection of sculptures from a group of undergraduate students at University of Illinois Springfield.
There's so much good art and it is so easy to engage with all of it. Just be sure to stop by the Springfield Art Association to pick up a map of the locations.