September Art Picks
Featured image: An abstract image of green, yellow, and red triangles overlapping on a black background. Illustration by Ryan Edmund Thiel. If you've followed us for a while, you know…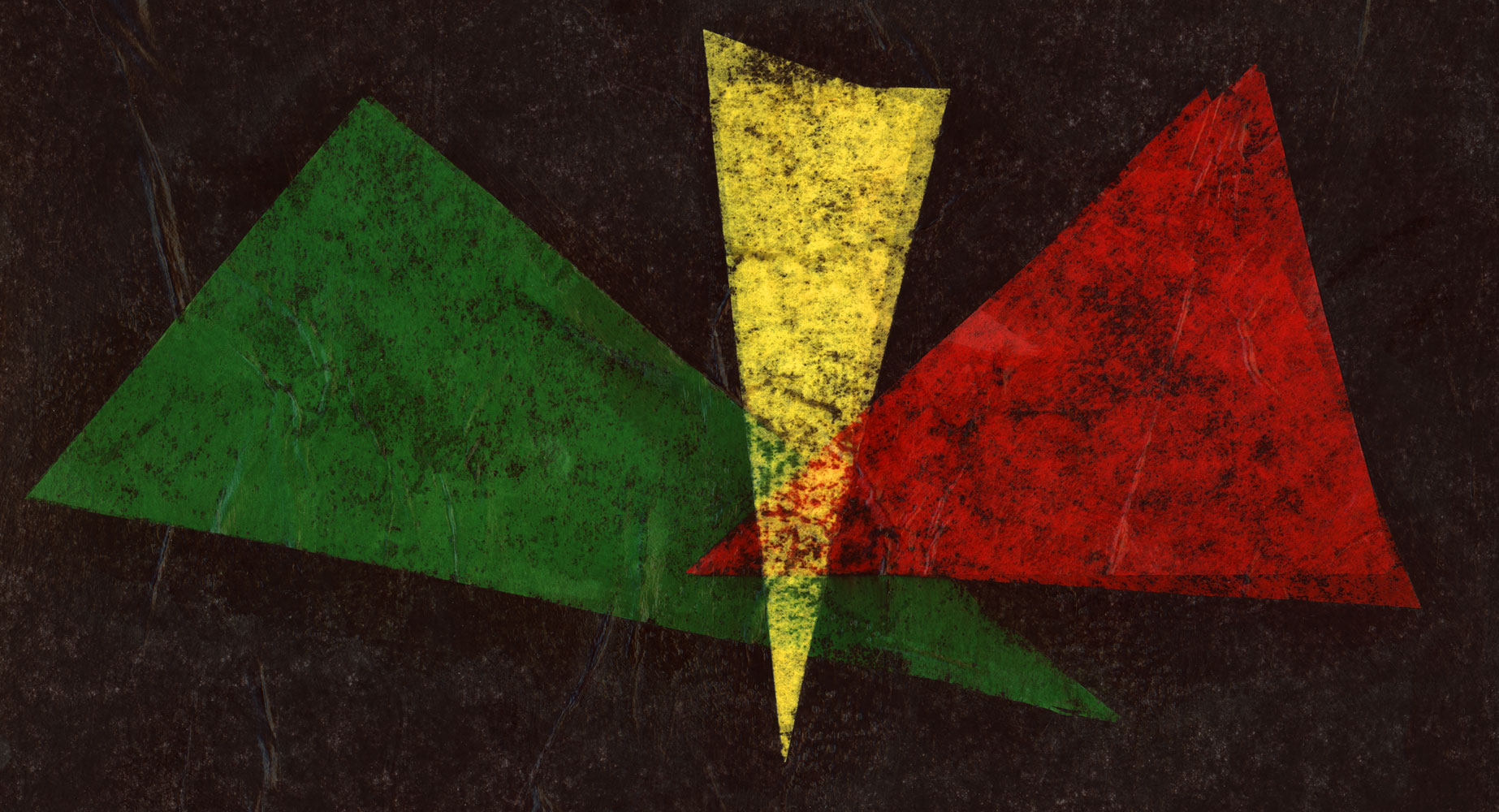 Featured image: An abstract image of green, yellow, and red triangles overlapping on a black background. Illustration by Ryan Edmund Thiel.
If you've followed us for a while, you know that our Art Picks offer a wide scope of events that are relevant to our audiences because we and the artists, cultural workers, curators, spaces, and projects we support live full lives that know no boundaries. We maintain expansive practices and work toward justice for BIPOC, LGBTQIA+, and disability communities in Chicago and the Midwest.
Created in collaboration with The Visualist, Chicago's leading visual arts calendar. Click here to get our Art Picks and latest articles delivered to your inbox monthly.
This is a growing list, so check back often with new additions.
Through September 4, 2021
Jovan C. Speller: Eulogy
Aspect/Ratio Projects: 864 N Ashland Ave, Chicago, IL
Free
Through September 4, 2021
Whitney Bradshaw: OUTCRY
McCormick Gallery: 835 W Washington Blvd, Chicago, IL
Free
Through September 4, 2021
Charly Palmer: On the Shoulders of Many
Portrait Society Gallery of Contemporary Art: Historic Third Ward 207 E. Buffalo St. Ste. 526, Milwaukee, WI
Free
Through September 5, 2021
Dreamscapes: Imaginings of a Black Pastoral
Roots & Culture: 1034 N Milwaukee Ave. Chicago, IL
Free
Through September 11, 2021
Moving Exit
ANDREW RAFACZ: 1749 West Chicago Avenue
Chicago, IL
Free
Through September 11, 2021
Wadsworth Jarrell and Gerald Williams: Works on Paper
Kavi Gupta: 835 W. Washington Blvd. Chicago, IL
Free
Through September 11, 2021
Lauren Sudbrink: Full of Subtlety, If You Believe Me
Co-Prosperity: 3219 S Morgan St, Chicago, IL
Free
Through September 11, 2021
Tead One Artist in Residence
M Contemporary Art: 205 E. 9 Mile, Ferndale, MI
Free
Through September 12, 2021
Staying Inn
Heaven Gallery: 1550 N Milwaukee Ave, Chicago, IL
Free
Through September 12, 2021
NI DE AQUI, NI DE ALLA
Heaven Gallery: 1550 N Milwaukee Ave, Chicago, IL
Free
Through September 12, 2021
Corrine Slade: Land Becomes a Nest
Jargon Projects: by appointment
Free
Through September 12, 2021
New Histories, New Futures
Transformer Station: 1460 West 29th St., Cleveland, OH
Free
Through September 18, 2021
Natalie Wadlington: Pooled
Library Street Collective: 1274 Library Street, Detroit, MI
Free
Through September 18, 2021
Jeffrey Gibson: Sweet Bitter Love
Newberry Library: 60 W Walton St, Chicago, IL
Free
Through September 19, 2021
Kate O'Neill & Neil Vandenbergh
Apparatus Projects: 2501 N. Spaulding Ave. Apt. 2, Chicago, IL
Free
Through September 19, 2021
All Together, Amongst Many: Reflections on Empathy
Bemis Center for Contemporary Arts: 724 S. 12th St., Omaha, NE
Free
Through September 23, 2021
I Sense Something Has Changed
Chicago Artists Coalition: 2130 W Fulton St, Chicago, IL
Free
Through September 25, 2021
Moments Like This
Woman Made Gallery: 2150 S Canalport Ave, 4A-3, Chicago, IL
Free
Through September 25, 2021
Still We Rise
Various Neighborhoods in Cleveland: Buckeye, Central, East Cleveland, Glenville, Kinsman, Slavic Village
Free
Through September 26, 2021
KG & Rachel Youn: Water Cooler
LVL3 Gallery: 1542 N Milwaukee Ave #3, Chicago, IL
Free
Through September 26, 2021
Stina Aleah: Helping Hands
MOCA Cleveland: 11400 Euclid Avenue, Cleveland, OH
Free
September 1- December 1, 2021
Julietta Cheung: Consonance
Roman Susan Annex: Various outdoor, public sites in Chicagoland
Free
September 1- December 12, 2021
Per(Sister): Incarcerated Women of the United States
MSU BROAD: 547 E Circle Dr, East Lansing, MI
Free
Wed, September 1, 7pm
Virtual Author Reading: HOW TO RAISE A FEMINIST SON by Sonora Jha
Women & Children First Bookstore: Online
Free
September 2-5, 2021
BUTTER: A Fine Art Fair
The Stutz: 1060 N. Capitol Ave., Indianapolis, IN
Free
September 2- December 11, 2021
Young, Gifted and Black: The Lumpkin-Boccuzzi Family Collection of Contemporary Art
Gallery 400: 400 S Peoria St., Chicago IL
Free
Thurs, September 2, 4pm-2am
Liza Jo Eilers: SLUDGE
Rainbo Club: 1150 N Damen Ave., Chicago, IL
Free
Thurs, September 2, 7pm
Chicagoland Shorts Vol. 7 World Premiere
Gene Siskel Film Center: 164 N State St., Chicago, IL
$12
Thurs, September 2, 7pm
Deconstructed Anthems performed by pianist Dr. Bryan Stanley
Bemis Center for Contemporary Arts: 724 S 12th St., Omaha, NE
Free
Thurs, September 2, 8:30pm
Hatcher/Abrams/Damon
Elastic Arts: 3429 W. Diversey #208, Chicago, IL
$15
Thurs, September 2, 4-6pm
Rise & Shine: Happy Hour Edition
Independent Film Alliance: 2059B West Hastings Street, Chicago, IL
Free
September 3-October 9, 2021
Moki Cherry: Communicate, How?: Paintings and Tapestries, 1967 – 1980
Corbett vs. Dempsey: 2156 W Fulton St., Chicago, IL
Free
September 3-October 9, 2021
Contemporary Chronicles
South Asia Institute: 1925 S Michigan Ave., Chicago, IL
Free
September 3-October 17, 2021
Taylor and Grant Lewandowski: Pathology
Big Car at Tube Factory artspace: 1125 Cruft St, Indianapolis, IN
Free
September 3, 2021-February 13, 2022
Farah Al Qasimi: Everywhere there is splendor
Contemporary Art Museum St. Louis: 3750 Washington Blvd, St. Louis, MO
Free
September 3, 2021-February 13, 2022
Shara Hughes: On Edge
Contemporary Art Museum St. Louis: 3750 Washington Blvd, St. Louis, MO
Free
Fri, September 3, 6pm
Hillside Beats: DJ Cassieopia and Friends
Walker Art Center: 725 Vineland Place, Minneapolis, MN
Free
Fri, September 7pm
The Quarantine Concerts
pt.fwd: Online
Free
Fri, September 3, 6-9pm
The Living Daylights
Cleaner Gallery + Projects: 1856 N Richmond St., Chicago, IL
Free
Fri, September 3, 6-9pm
Dredske: A Ridiculous Clusterf#*k
Elephant Room Gallery: 704 S Wabash Ave., Chicago, IL
Free
Fri, September 3, 7:30-10:30pm
Grace Esther Gittelman: Say 'Kimchi'!
Jude Gallery: 629 W Cermak Ave, Unit 240, Chicago, IL
Free
Fri, September 3, 9pm
Gerycz / Powers / Rolin + Sharkula x Mukqs + Health&Beauty
Elastic Arts: 3429 W. Diversey #208, Chicago, IL
$15
Fri, September 3, 7pm
Sasha Phyars-Burgess: HAIL MARY / UNTITLED AND YET TO BE DETERMINED
Roman Susan: 1224 W Loyola Ave., Chicago, IL
Free
September 4-October 22, 2021
Jerrell Gibbs: Sounds of Color: Recorded Memories
MARIANE IBRAHIM: 437 N Paulina St., Chicago, IL
Free
Sat, September 4, 12-4pm
Unyimeabasi Udoh: Title Case
Tiger Strikes Asteroid: 2233 S Throop St., Chicago, IL
Free
Sat, September 4, 12-6pm
Yae Jee Min: A Lullaby Touching the Ground
The Latent Space: 4150 N Elston Ave., Chicago, IL
Free
Sat, September 4, 12-7:30pm
Conrad Egyir & Ato Ribeiro: Every Time I Try to Get a Peace of Mind
Anastasia Tinari Projects: 673 N Milwaukee Ave., Chicago, IL
Free
Sat, September 4, 2-7pm
Bea Fremderman: Barren Island
Prairie: 2055 W Cermak Rd., Chicago, IL
Free
Sat, September 4, 6-9pm
Beautiful Bronzeville
Heard Manor Terrace: 5525 S Indiana Ave., Chicago, IL
Free
Sat, September 4, 6-9pm
Oasis
ACRE at Drama Club: 2439-41 S Oakley Ave., Chicago, IL
Free
Sat, September 4, 7pm
Chicagoland Shorts Vol. 7
McKinley Park: 2210 W Pershing Rd., Chicago, IL
Free
Sat, September 4, 11am-1pm
Movement Workshop: Grand Crossing
THE cre.æ.tive ROOM (OUTSIDE YARD): 7034 S. Martin Luther King Dr., Chicago, IL
Free
Sat, September 4, 7:30-10:30pm
Lisa Armstrong and Eric Von Haynes: Echoes: Sight, Sound and Touch
Boundary: 2334 W 111th Place, Chicago, IL
Free
September 7-November 13, 2021
Lan Tuazon: Future Fossils: SUM
Hyde Park Art Center: 5020 S Cornell Ave., Chicago, IL
Free
Sun, September 5, 11am-3pm
TQC: Out of Site presents Action Art Encounter September
Experimental Sound Studio: Online
$5
Sun, September 5, 1-2pm
present/breath: participatory drawing/performance action
Evanston Art Center: 1717 Central St., Chicago, IL
Free
Sun, September 5, 4-7pm
Michiko Itatani: Personal Codes: Virtual Cube in the Kitchen
4th Ward Project Space: 5338 S Kimbark Ave., Chicago, IL
Free
Sun, September 5, 6-8pm
KITE and Natty Gray Watson at Side Yard Sounds
Compound Yellow: 244 Lake St., Oak Park, IL
$15
Thurs, September 7, 7pm
Lunch + Learn: Great Plains Black History Museum
Bemis Center for Contemporary Arts: 724 S 12th St., Omaha, NE
Free
Wed, September 8, 7pm
Virtual Poetry Reading: Boomerang / Bumerán by Achy Obejas in conversation with Natalie Moore
Women & Children First Bookstore: Online
Free
Thurs, September 9, 6pm
Sooper Records & Friends
Millennium Park: 201 E. Randolph St., Chicago, IL
Free
Thurs, September, 6-9pm
Movement Workshops: Washington Park
KLEO Art Residences Community Room: 5504 S. Michigan Ave., Chicago, IL
Free
September 9-February 13, 2021
Learned Objects: Studio Works by William Estrada, Regin Igloria, Nicole Marroquin, and Rochele Royster
DePaul Art Museum: 935 W Fullerton Ave., Chicago, IL
Free
September 9 – October 9, 2021
Class & Classification: D Rosen & Vanessa Virtuet
Roots & Culture: 1034 N. Milwaukee Ave. Unit 1, Chicago, IL
Free
Thurs, September 9, 2-7pm
Stockyard Institute: 25 Years of Art and Radical Pedagogy
DePaul Art Museum: 935 W Fullerton Ave., Chicago, IL
Free
Thurs, September 9, 5-7pm
American Epidemic: Guns in the United States.
Museum of Contemporary Photography: 600 S Michigan Ave., Chicago, IL
Free
Thurs, September 9, 6-9pm
Wherever You Are: a community open house with Art We There Yet
The Martin: 2500 W Chicago Ave., Chicago, IL
Free
Thurs, September 9, 7pm
Virtual Author Reading: SKINSHIP by Yoon Choi
Women & Children First Bookstore: Online
Free
Thurs, September 9, 5:30pm
Speak Out With Art Institute of Chicago Workers United
Location TBD
Free
September 10 – December 30, 2021
Chicago Avant Garde: Five Women Ahead of Their Time
Newberry Library: 60 W. Walton St., Chicago, IL
Free
September 10- October 3, 2021
The Vault: Janice Redman
MSU BROAD: 547 E Circle Dr, East Lansing, MI
Free
September 10- October 30, 2021
Claude Viallat
Document: 1709 W Chicago Ave., Chicago, IL
Free
Fri, September 10, 7-10pm
Dance Down by the River
Chicago Riverwalk Confluence: Wacker Dr. between Franklin and Lake St., Chicago, IL
Free
Fri, September 10, 2021
Opening – Lúcia Prancha: Bread Story
table: 3240 N. Springfield Ave., Chicago, IL
Free
Fri, September 10, 5-9pm
D. Rosen & Vanessa Viruet: Class & Classification
Roots & Culture: 1034 N Milwaukee Ave., Chicago, IL
Free
Fri, September 10, 5-9pm
Keeping in Touch: Garden Party Fundraiser
Compound Yellow: 244 Lake St., Oak Park, IL
$25
Fri, September 10, 6pm
Día de Muertos – A Time to Grieve & Remember
National Museum of Mexican Art: 1852 W 19th St., Chicago, IL
Free
Fri, September 10, 6pm
Reframing Comunidad, The Art of Ester Hernandez and Shizu Saldamando
National Museum of Mexican Art: 1852 W 19th St., Chicago, IL
Free
Fri, September 10, 6-9pm
Hydroponics
REAL TINSEL: 1013 West Historic Mitchell St. Milwaukee, WI
Free
September 10 – October 16, 2021
Stephen Willams: "…a melting, born to wall off the crystallized sun."
65GRAND: 3252 W North Ave., Chicago, IL
Free
September 10 – October 16, 2021
rock, paper, scissors: Ava Carney and Stefan Meier
Adds Donna: 3252 W. North Ave., Chicago, IL
Free
September 10 – October 16, 2021
Dikhotomia
Monaco: 2701 Cherokee Street, Saint Louis, MO
Free
September 11- October 2, 2021
David Heo: Presence
Vertical Gallery: 1016 N. Western Ave., Chicago, IL
Free
Sat, September 11, 10am-2pm
Reunited: Together Again with Party Noire
Little Wild @ Ace Hotel: 311 N Morgan St, Chicago, IL
Free
Sat, September 11, 11am-1pm
Creative Workshop: Grand Crossing
THE cre.æ.tive ROOM (OUTSIDE YARD): 7034 S. Martin Luther King Dr., Chicago, IL
Free
Sat, September 11, 10am-6pm
Oakbrook Art Festival
Oakbrook Center: 100 Oakbrook Ctr., Oak Park, IL
Free
Sat/Sun, September 11 – 12, 10am-6pm
2021 Printers Row Lit Fest
South Dearborn Street, from Ida B. Wells to Polk St., Chicago, IL
Free
Sat, September 11 – October 24, 2021
José Villalobos: The Measure of a Cock
FLXST Contemporary: 2251 S Michigan Ave., Chicago, IL
Free
Sat, September 11, 9pm
Elastro: JG Thirlwell Presents 'Silver Mantis'
Elastic Arts: 3429 W Diversey #208, Chicago, IL
$15
Sat, September 11, 12-6pm
Sound System Block Party Pop-Up
The Silver Room: Navy Pier, 600 E. Grand Ave., Chicago, IL
Free
Sun, September 12, 2021
A Spectacular Black Girl Art Show
Zhou B Art Center: 1029 W. 35th St., Chicago, IL
$30-$40
September 12-October 30, 2021
Tender to the Bone
Goldfinch: 319 N Albany Ave., Chicago, IL
Free
September 12 – November 7, 2021
Smashing into my Heart
The Renaissance Society: 5811 South Ellis Ave., Cobb Hall, 4th Floor
Chicago, IL
Free
Sun, September 12, 1-4pm
Meet the Artists: Susan Knight & Sandra Leonard
Evanston Art Center: 1717 Central St., Evanston, IL
Free
Mon, September 13, 6:30pm
Domesticity and Photography Critique Group
LATITUDE: Online
$65
September 14-October 30, 2021
within / without: table of co.
Space p11: 55 E Randolph St., Chicago, IL
Free
Tue, September 14, 4pm
Chiyuma Elliott and Michael Collier: Blue in Green and The Missing Mountain: New and Selected Poems
The Seminary Co-op Bookstores: Online
Free
Tue, September 14, 6pm
Making Space: Chronic Illness, Disability, and Mental Health
LATITUDE: Online
$65
Wed, September 15,
Study and Struggle Critical Conversation #1: Intersectionality
Haymarket Books: Online
$0-$25
September 15-December 12, 2021
Anne George
Rochester Art Center: 30 Civic Center Drive SE, STE 120, Rochester, MN
Free
Wed, September 15, 3pm
Roxanne Dunbar-Ortiz: Not "A Nation of Immigrants"
The Seminary Co-op Bookstores: Online
Free
Wed, September 15, 5-6pm
Concerned Black Image Makers in Conversation with Bernard Lumpkin
Gallery 400: Online
Free
Wed, September 15, 1pm
BMRC Fellows Presentation Series
Black Metropolis Research Consortium: Online
Free
September 16-December 10, 2021
Paul Natkin: Wall of Blues
Logan Center Exhibitions: 915 E 60th St., Chicago, IL
Free
Thurs, September 16, 5-7pm
Pooja Pittie: New Paintings
McCormick Gallery: 835 W Washington Blvd., Chicago, IL
Free
Thurs, September 16, 6:30-7:30pm
Mid-Month Encouragement Speaker Series: Jyreika Guest
The Martin: 2500 W Chicago Ave., Chicago, IL
Free
Thurs, September 16, 7pm
Virtual Poetry Reading: Susan Nguyen with Roy G. Guzmán & Jenny Qi
Women & Children First Bookstore: Online
Free
Thurs, September 16, 5-8pm
RAISIN at 6018NORTH Opening!
6018NORTH: 6018 North Kenmore Ave., Chicago, IL
Free
Thurs, September 16, 3:30pm
Community Conversation: Diaspora Theater & The Power of Black Narratives
6018North: Online
Free
Fri, September 17, 6-9pm
MARCELO ELI: "DE SANGRE DE TIERRA Y DE ORO" Opening Reception
Compound Yellow: 244 Lake St., Oak Park, IL
Free
Fri, September 17, 7-10pm
Bronzeville Art District Virtual & In Person Art Tour 2021
Gallery Guichard: Bronzeville, Chicago, IL
Free
Fri, September 17, 7pm
Apollo Mighty
Blanc Gallery: 4445 South King Drive, Chicago, IL
Free
September 17-October 22, 2021
Jacob Hashimoto: Misunderstandings
Rhona Hoffman Gallery: 1711 W Chicago Ave., Chicago, IL
Free
September 17-November 5, 2021
Open
Ralph Arnold Gallery: 1131 W Sheridan Rd., Chicago, IL
Free
Fri, September 17, 7-10pm
LOCUS: VIII – a gallery show ft. visual + literary artist pairings
The Martin: 2500 W Chicago Ave., Chicago, IL
Free
Sat, September 18, 12-4pm
Artist Talk + Workshops with Re:Place Chicago artist Marina Resende
Chicago Cultural Center: 78 E Washington St, Chicago, IL
Free
Sat, September 18, 10:30pm – 12am
Real Talk Dance Party with Action Jackson & Friends
White Rabbit: 1116 Prospect St, Indianapolis, IN
$5
Sat, September 18, 4pm
Artist Talk: South Side Chicago Family of Brett Swinney
6018North: Online
Donation
September 18-October 30, 2021
Nazafarin Lotfi: Maps of No Return
Regards: 2216 W Chicago Ave., Chicago, IL
Free
September 18-October 30, 2021
David Shrobe: Riding the Wind's Back
Moniquemeloche: 451 N Paulina St., Chicago, IL
Free
September 18-October 30, 2021
Dutes Miller: Le Toucher
Western Exhibitions: 1709 W Chicago Ave., Chicago, IL
Free
September 18-October 30, 2021
Lauren Wy: AUTODESIRE: Volume 1
Western Exhibitions: 1709 W Chicago Ave., Chicago, IL
Free
September 18-November 13, 2021
Was/Is/Ought
Carrie Secrist Gallery: 900 W. Washington BLVD., Chicago, IL
Free
Sat, September 18, 2-3pm
Fleeting Saturday Concert: Kioto Aoki
Lake Forest College: 555 N Sheridan Rd., Lake Forest, IL
Free
Sat, September 18, 3-5pm
Mara Baker: Remnant: New Monotypes
Bert Green Fine Art: 8 S Michigan Ave., Chicago, IL
Free
Sat, September 18, 7-10pm
Christopher Smith: No Return
Roman Susan: 1224 W Loyola Ave., Chicago, IL
Free
Sat, September 18, 6-8pm
Launch Part – Chicago Textile Week
Epiphany Center of the Arts: 201 South Ashland Ave., Chicago, IL
Free
Sat, September 18, 6-7pm
Performance: Norman W. Long
Chicago Cultural Center: 78 E Washington St, Chicago, IL
Free
Sun, September 19, 1-4pm
Claudia Hart: The Unfolding
Haynes: 3050 S Haynes Ct., Chicago, IL
Free
Sun, September 19, 4pm
The Pigment Innovation Series – Disruptive!
Pigment International: Online
Free
Sun, September 19, 10am-12pm
Guided Walk @ the Damen Silos
Open Sheds Used for What?: Damen Silos, Chicago, IL
Free
Mon, September 20, 6:45pm
Community Walk
Gather at 6:45 am on 71st and Jeffrey (near the Bank)
Free
Mon, September 20, 11am
Introduction to Critical Race Theory in Library and Information Science with Sofia Leung
We Here: Online
From $35
Tues, September 21, 9pm
Apollo Mighty (Patio Show)
The Hideout: 1354 West Wabansia Ave., Chicago, IL
$12
September 22-26, 2021
2021 Filter Photo Festival
21c Museum Hotel Chicago: 55 E Ontario St., Chicago, IL
Free
September 22-December 5, 2021
Sky Hopinka: Cloudless Blue Egress of Summer
Block Museum of Art, Northwestern University: 40 Arts Cir Dr., Evanston, IL
Free
September 22-December 5, 2021
Who Says, Who Shows, What Counts: Thinking about History with The Block's Collection
Block Museum of Art, Northwestern University: 40 Arts Cir Dr., Evanston, IL
Free
September 23-December 11, 2021
Crip*
Krannert Art Museum: 500 E Peabody Dr., Champaign, IL
Free
September 23-December 12, 2021
Smart to the Core: Medium / Image
Smart Museum of Art: 5550 S Greenwood Ave., Chicago, IL
Free
Thurs, September 23, 6pm
William Estrada in conversation with Zakkiyyah Najeebah Dumas O'neal
DePaul Art Museum: Online
Free
Thurs, September 23, 5-6pm
Jacolby Satterwhite in Conversation with Kishonna Gray
Gallery 400: Online
Free
Thurs, September 23, 6pm
From PAN to Bridge: Avant-Garde Publications in Perspective
Richard H. Driehaus Museum: 40 E Erie St., Chicago, IL
Free
Thurs, September 23, 7pm
KEON and Strange Things
Walker Art Center: 725 Vineland Place, Minneapolis, MN
Free
Fri, September 24, 7-9pm
Screening: "This is Indiana Land, Okee-Chee's Vision" by Sharon Okee-Chee Skolnick
Comfort Station: 2579 North Milwaukee Ave., Chicago, IL
Free
Fri, September 24, 3-4pm
RAISIN Artist Talk: Gloria Talamantes
6108North: Online
Free
Fri, September 24-26, 2021
Anderson Homecoming Fest
On Clark between Catalpa and Summerdale
$10 suggested donation
Fri, September 24, 6-9pm
Deep, Far, Home: Curator Talk & Performance
Epiphany Center of the Arts: 201 South Ashland Ave., Chicago, IL
Free
September 24-October 23, 2021
Shirley Woodson: Why Do I Delight
Detroit Artists Market: 4719 Woodward Ave, Detroit, MI
Free
September 24 – November 27, 2021
Romanticism to Ruin: Two Lost Works of Sullivan and Wright
Wrightwood 659: 659 W. Wrightwood, Chicago, IL
$15
Fri, September 24, 4pm
Virtual Conversation: Da'shaun L. Harrison & Hanif Abdurraqib
Women & Children First Bookstore: Online
Free
Fri, September 24, 5-7pm
Street Portraits: Dawoud Bey and Gregory Tate
Columbia College Student Center Auditorium: 754 S Wabash Ave., Chicago, IL
Free
Fri, September 24, 6-9pm
Collaborating with the Archive
Filter Photo: 1821 W Hubbard St., Chicago, IL
Free
Fri, September 24, 4pm
Monumental Conversations: What We Found When We Analyzed America's Monuments
Mellon Foundation: Online
Free
Fri, September 24, 10am
Community Landscapes and Community Housing
6018North: Online
Free
September 25 – November 13, 2021
in c/o: practice
The Luminary: 2701 Cherokee St., Saint Louis, MO
Free
September 25 & 26, 12-2pm
I forget things too: an interactive sculptural installation and performance
Blanc Gallery: 4445 S Martin Luther King Dr, Chicago, IL
Free
Sat, September 25, 12-4pm
Hyde Park Flea Market
Hyde Park Art Center: 5020 S. Cornell Ave., Chicago, IL
Free
Sat, September 25, 5-9pm
Group Chat Opening
Julius Caesar: 3311 W Carroll Ave, Chicago, IL
Free
Sat, September 25, 11am-1pm
Forage & Plant Walk
Brown People Foundation: 5800 South Halsted St., Chicago, IL
Donation
Sat, September 25, 12-8pm
Mark Alcazar Diaz: Drift
Berger Park Cultural Center: 6205 N Sheridan Rd., Chicago, IL
Free
Sat, September 25, 3-7pm
Artist Studio Visit & Talk: Hope Wang
Mana Contemporary: 2233 S Throop St #211, Chicago, IL
Free
Sat, September 25, 12pm
ARC in the Park
ARC: 1119 W. Cullerton St., Chicago, IL
Free
Tues, September 28, 7-9pm
Small Altars Book Launch and Reading with Keli Stewart + Stewart Conversation with Andrea Change
Heaven Gallery 1550 N Milwaukee Ave., Chicago, IL
Free
Tues, September 28, 7pm
Discussion/Presentation: Anišinabe Waki-Aztlán Exhibition
Chuquimarca: Online
Free
Tues, September 28, 6pm
Curator Conversations: Olivia Junell and A.Martinez
21c Museum/Hotel: 55 East Ontario St., Chicago, IL
Free
Tues, September 28, 7-8:15pm
Photography and Community with Deborah Willis
Chicago Humanities Festival: Online
Free
Wed, September 29, 6-8pm
Who Says, Who Shows, What Counts: Exhibition Keynote Conversation
Block Museum of Art, Northwestern University: 40 Arts Cir Dr., Evanston, IL
Free
Wed, September 29, 6pm
Chicago Community Jail Support Teach & Training
Chicago Community Jail Support: Online
Free
Wed, September 29, 3:30pm
BMRC Fellows Presentation Series
Black Metropolis Research Consortium: Online
Free
Wed, September 29, 6-10pm
Karaoke @ The Woodlawn
The Woodlawn: 1200 East 79th St,. Chicago, IL
$15
Thurs, September 30, 6pm
Stockyard Institute Catalogue release + Conversation with Jim Duignan and Lavie Raven
DePaul Art Museum: 935 W Fullerton Ave., Chicago, IL
Free
September 30, 2021-January 29, 2021
Hannah Levy: Surplus Tension
The Arts Club of Chicago: 201 E Ontario St., Chicago, IL
Free
September 30 – October 3, 2021
The Other Art Fair
Revel Space, Fulton Market: 1215 W Fulton Market, Chicago, IL
$13.50 – $30