Review: November at Beeler Gallery, Columbus College of Art & Design
This is a disclaimer for the review since I am driving some of my methodologies in my writing from the White Pube's Gabrielle de la Puente and Zarina Muhammad's practice…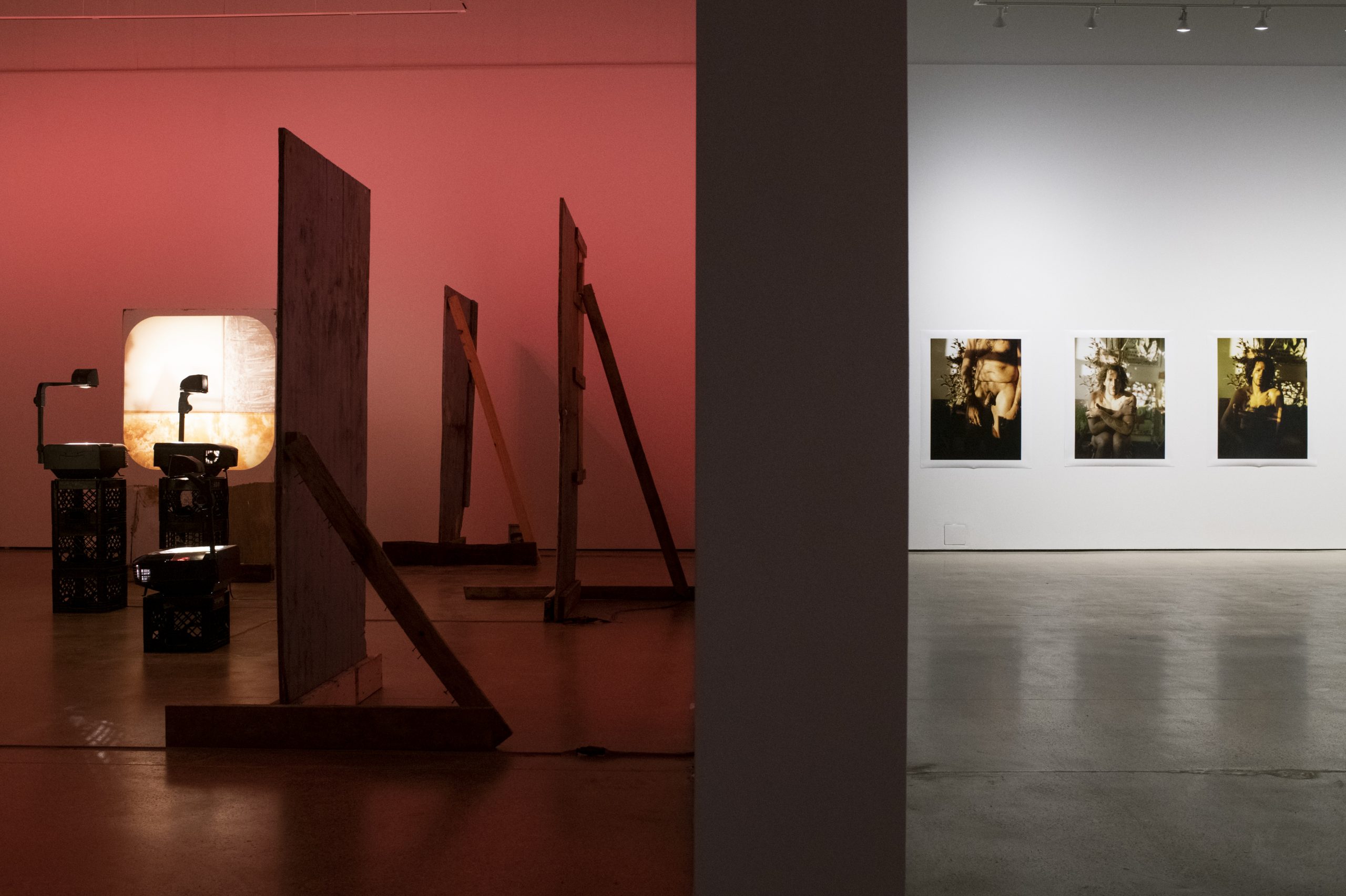 This is a disclaimer for the review since I am driving some of my methodologies in my writing from the White Pube's Gabrielle de la Puente and Zarina Muhammad's practice of expanding what it means to be an art critic and the ways we interact with art. If you have not read any critiques by the white pube – I highly suggest to (because the reviews are great) and also the way I will be writing breaks away from the traditional model of the "art critic". This way of writing centers the emotionality of art, the problematic issues inherent in the art world, and the theoretical hopes and violences that are used against and for the nature of art.
* * *
Emojis:
/5
To write this review, I have to get something off my chest. I've had this feeling for a while now as it relates to art, institutions, and community. This feeling isn't singular either – I think lots of people feel this way. It's the same feeling that brings you here, dear reader, and essentially, in some way or form, connects you to your museum, your local gallery, or an artist's work you like. The feeling is wrapped around a concept that may not seem 'complex', or even like a 'duh' moment, but it is true: art matters.
Yeah, I know this isn't revolutionary (and I'm not trying to be), but hear me out: the idea that 'art matters' is more complex than you think. This is because the art world (a.k.a. institutions, the art market, art schools, and basically the Western/modern definitions of art itself), defines its value as it only relates to capital, causing art to appear as if it doesn't matter – especially to those who have been historically excluded from it. In this value system, the art world also commits its own violence to those who dare try to change the definition of art. These violent actions have looked like furloughing thousands of museum workers, hopping on the black square Black Lives Matter action only to be exposed as racist, and generally causing the gentrification (and destruction) of marginalized communities wherever they move their new gallery or new arts project.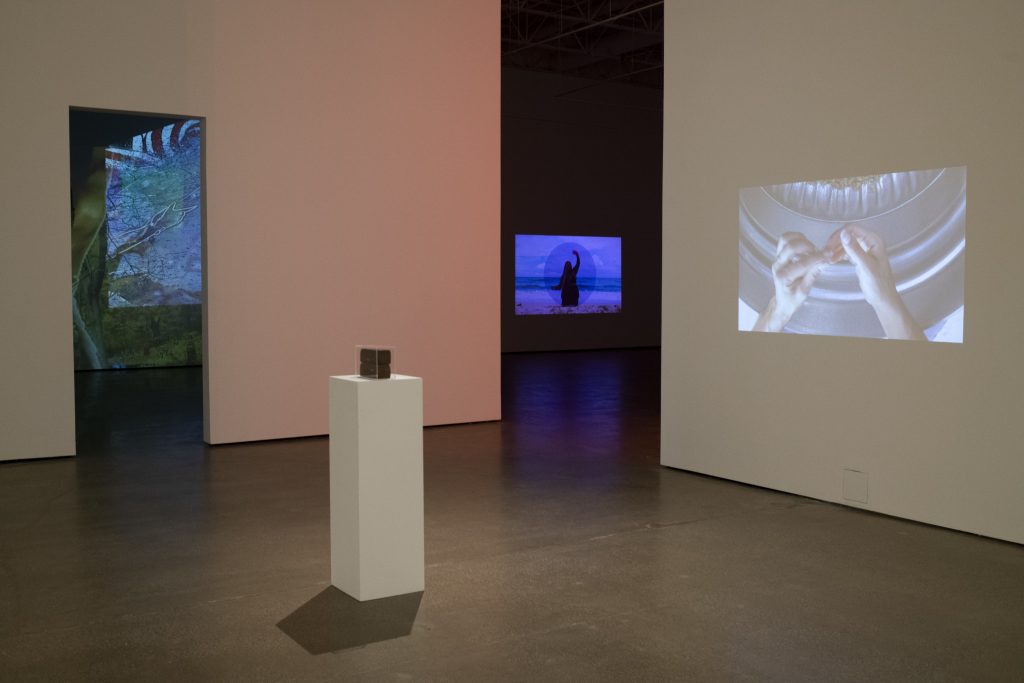 Of course, those of us who partake in the art world know most of this. But we keep coming back to art – and the art that I am proposing does matter is an art valued for and by the community. This value system looks like the D.I.Y spaces that are showcasing the artists that are creating the work that connect us to and move us towards community. These spaces or work allows for critical conversations and problem solving of our present, and helps imagine our future. This form of art presses against the constant reminder that the art world is a constant cycle of violence born out of capitalism. (For additional readings: Is the Museum a Battlefield by Hito Steyerl, Decolonize This Place Whitney Museum Protests covered in PSMag, and Against the Supremacy of Thought by manuel arturo abreu.)
Another part of this problem is the fact none of this is binary; until capitalism is dismantled, art co-exists with both its definitions of being valued by capital and by the community. You see it all the time: a small gallery becomes a corporate-mini-institution, or the most engaging exhibitions premiere within institutions that are politically against the marginalized communities they're showing. And I am not going to go more-in depth on this debate or suggest to you what is right or wrong, because (1.) this is an exhibition review and (2.) there isn't one "right" answer or one way to change any of this. I just had to let you know how slippery this art "mattering" is. Also, I wanted to give you my mindset going into this review. Which in a way, the slippery nature of "art mattering" is exactly why I saw the exhibition, November.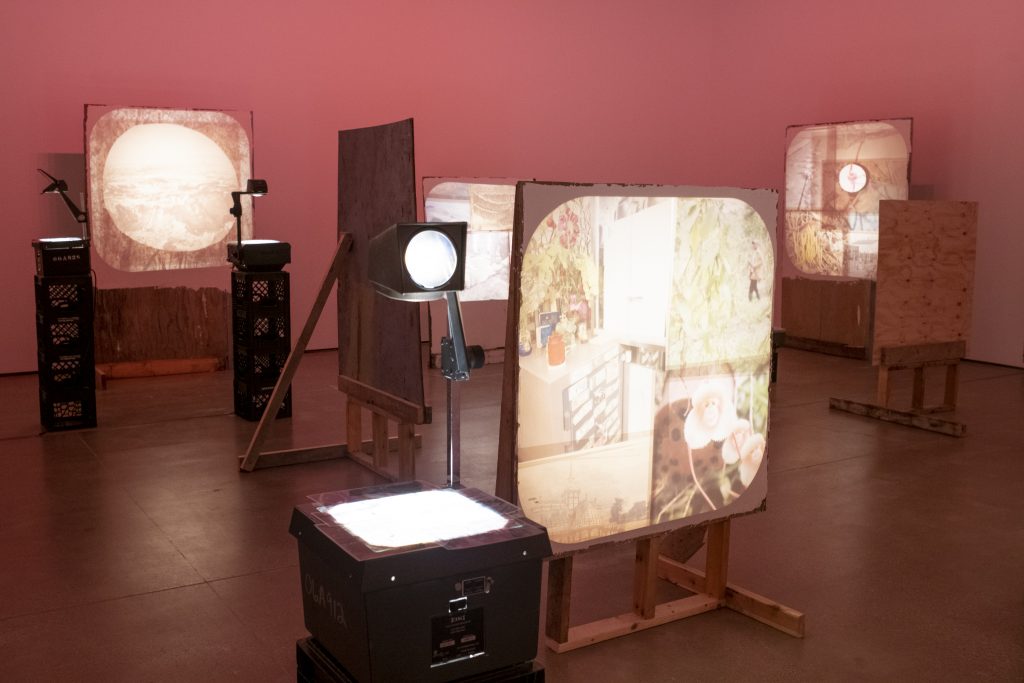 So let's get into the details.
November is a group exhibition currently on view at Beeler Gallery located inside of Columbus College of Art and Design (CCAD) in Columbus, Ohio. It is a lens-based exhibition showcasing eleven artists who depict "the present moment". On CCAD's website you can read additional information in the biographies of the curator, Heather Taylor, and the eleven artists in the exhibition. Besides that, there aren't other details that go into explaining the show or the concept except for "the present moment".
When you arrive at Beeler Gallery, you enter the space with 'November' written as if it were by a giant pencil. It gives an eerie and also simple quality that the title itself could disappear at any moment. Inside of the space, you immediately notice how expansive it is. The space is approximately 6,000 sq. ft. with five rooms that can be their own galleries.
The first 'gallery' you enter, your eyes immediately land on Benjamin Willis' when I see me – a series of self-portrait photographs depicting the artist and his relationship to his body. These photographs are captivating since they are some of the largest pieces in the open room. In one photo, Benjamin, naked, stares out to the viewer with a direct gaze while the background behind him shifts out of focus. His photos utilizes blur and focus to point the viewer through the sunset scenery he's constructed.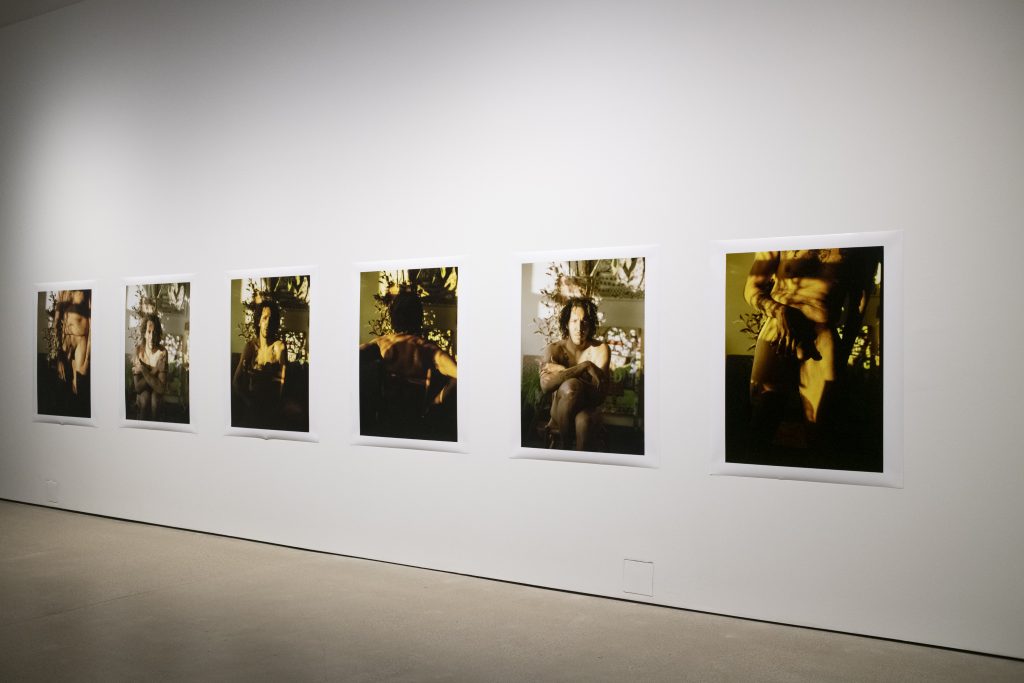 Then, you turn and take in the other artworks around Willis'. This is where I begin to see the exhibition falter. You see, I was excited to view an exhibition that brings in local artists with other artists outside of Columbus. And maybe I had high expectations, but even so, as you walk through the open room, you notice the excessive emptiness of the exhibition. I don't know if I actually mean the physical emptiness because works by Dawn Kim, Dru Batte, and Lexi Smith surround the other remaining walls. I think this emptiness is something else in the exhibition – a feeling you can't overlook in Beeler Gallery. To make myself clear, I have to point out that the artworks in the exhibition aren't bad.
For instance, Bobby T. Luck's Drapetomania is an enthralling video installation. Luck's work is in its own room of the gallery, spilling out onto the back walls. Three projectors aim a video-game-glitched-with-hand-drawings that is bright and full of texture. Voices overlap each other, never making a clear sentence. Drapetomania can be seen as a technological memory, or the ways memory can be built through varied forms of technology. One of my favorite moments is the small humidifier in the corner, slowly and quietly pressing out scents.
And this is where I give the exhibition its due. The high points of this exhibition's experience happens when the artworks exist in isolation. This goes for A Violent Unmaking by Calista Lyon and The Line by Cameron Granger. All three pieces build new environments in their separate rooms, reshaping light and physical space to focus on their (mostly) projected work. These solo rooms are supposed to feel more empty than the group section, but weirdly enough, these end up better executed than the prior.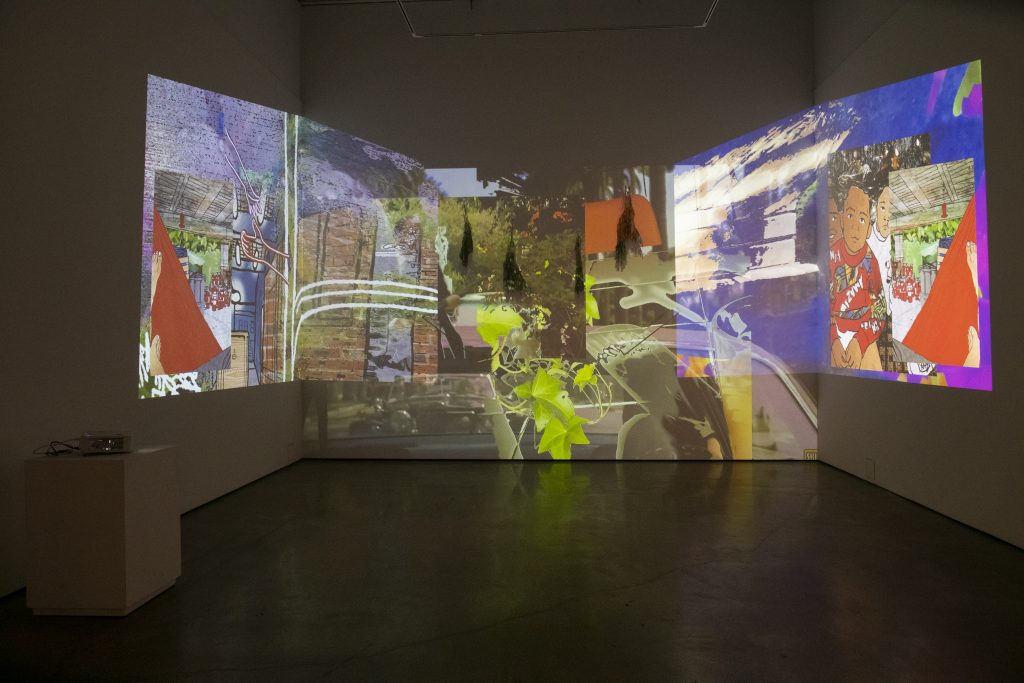 Moving on from the solo rooms to other "group" sections, you become muddled with uncertainty as the art competes against each other. Works by Natasha Cantwell and Adee Roberson project on the right and back wall while Susu Laroche's film is aimed on the floor next to Lyon's room. Bahareh Khoshooee and Sareh Imani's video is played on a television in the near back of the room, but not close enough to lead into Granger's room. Here, there are beautiful flashes of movement and dance that can seem exciting – except it only stays that way. Moments of excitement become confusion as the visual and sonic elements overlap without any barriers.
With this, I think the exhibition undoes itself. The group sections of November aren't at the same pace as the solo rooms, throwing off the rhythm and some sense of assurance that this was intentional. By the time you walk out, you wonder what exactly you saw – and you can't really explain what the show is about, or importantly, if the art in the group sections collectively work together. You question some of the pieces' placement – why certain artists are placed together versus others as well the fact that there's a large unbalance of photography versus film. November feels as if it is a film exhibition with a dash of photographs.
This is where the exhibition becomes slippery. It has great moments, but collectively, it doesn't make me care. November isn't the worst exhibition I've seen, but I do think that the Columbus art community needs an exhibition that features local artists and showcases them in a way that combines the aesthetic and conceptual qualities of the work together. In the exhibition, you do see instances of this in the isolated rooms, but when you step back and try to piece together the show as a whole, the works' intentions become meddled with the directionless of why these works, or artists, are being shown in the exhibition.
Especially in the era COVID-19, exhibitions try to utilize the "respond to the present moment" theme, and fall into the nature of its own trap. What does it mean to respond to a "moment" – a notion so vague and over-encompassing, it begins to unravel itself. November is an exhibition that is as cloudy as the winter months that continue to overhang the city. The sun peaks out here and there, but overall the weather remains the same; gray and muddled together.

And let me say, I care about art – I care a lot. Without going more into the politics of the art world and the exhibition, I have to say it is disappointing when you want more of something you can't identify. The emptiness I feel from this exhibition is a familiar one – as familiar as the feeling that compels me to see art in the first place. Although, instead of greeting me inside of the space, the emptiness is the one seeing me out.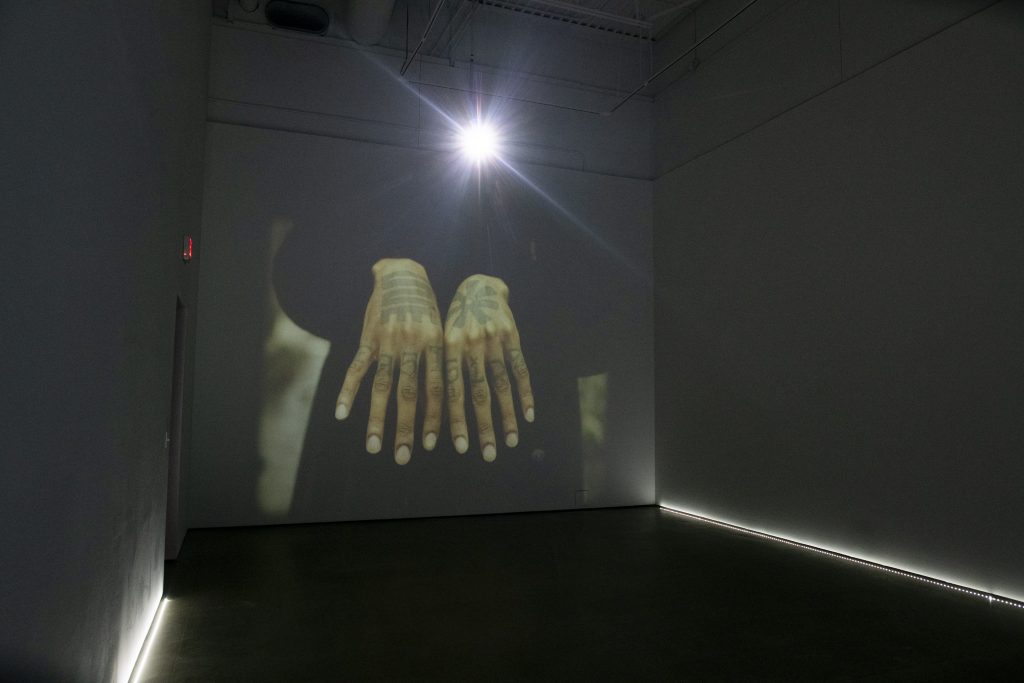 Featured image: A view of November at Beeler Gallery. Left Room: A Violent Unmaking by Calista Lyon. Right Room: when i see me by Benjamin Willis. Image courtesy of the gallery. Photo by Ty Wright.

---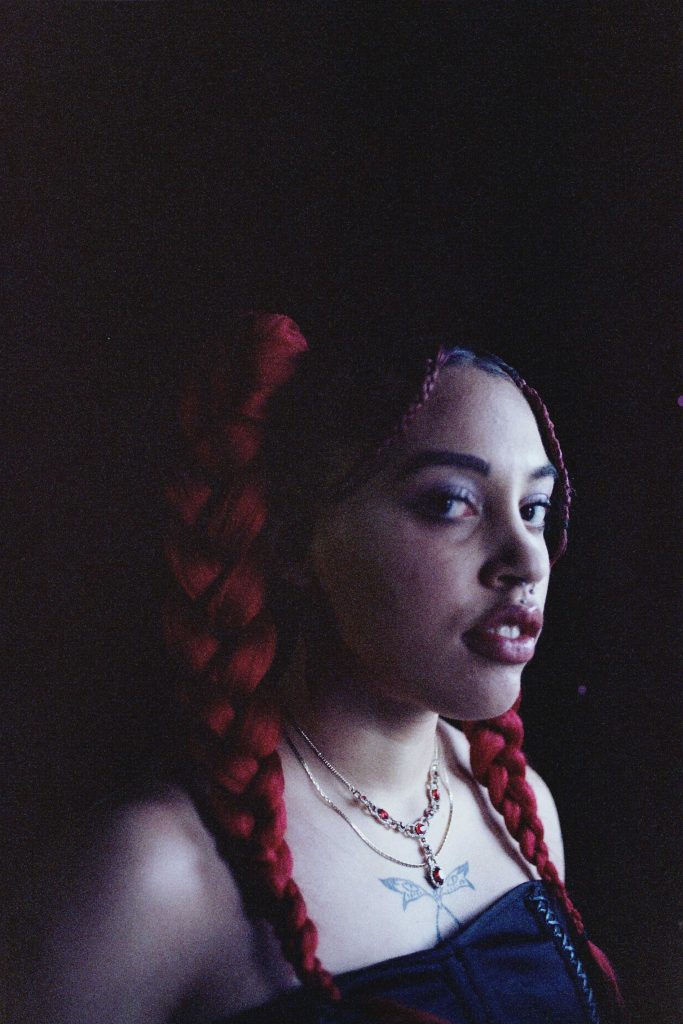 Regina Zehner, or Reg Zehner (they/them/theirs) is a Black-American curator, artist and DJ from Columbus Ohio. This past spring, they graduated with a degree in Studio Art with an Emphasis in the History of Art and Visual Culture from Columbus College of Art and Design. Their work uplifts marginalized expression and collaboration through public programming, research and the arts. Their public programming ranges from curated shows at Byers Gallery to co-hosting a talk revolving around race and the arts with The Black Infinity at No Place Gallery in 2018. Additionally, Reg was a prior cohort member of the 2020 Moore Undergraduate Research Apprenticeship at the University of North Carolina-Chapel Hill, where they researched representation of Black characters within horror films across the decades. As of recent, Reg was a co-founder and curator of Friend Studios, an artist-run events space from 2019-2020. At the moment, Reg is focusing their efforts on their creative artwork to expand the potentiality of Black expression and sociality within digital memory and place. As well they are working on building sustainable and digital structures for the next wave of creatives with their new internet, community radio station Verge.fm (www.verge.fm). You can find their work on their instagram: @love_higher.