Resounding: Terry Adkins at the Pulitzer Arts Foundation
Terry Adkins (1953-2014) was a transdisciplinary artist who utilized sculpture, sound, video, performance, and printmaking strategies in combination with material, personal and historical research. Through a deep investment in the…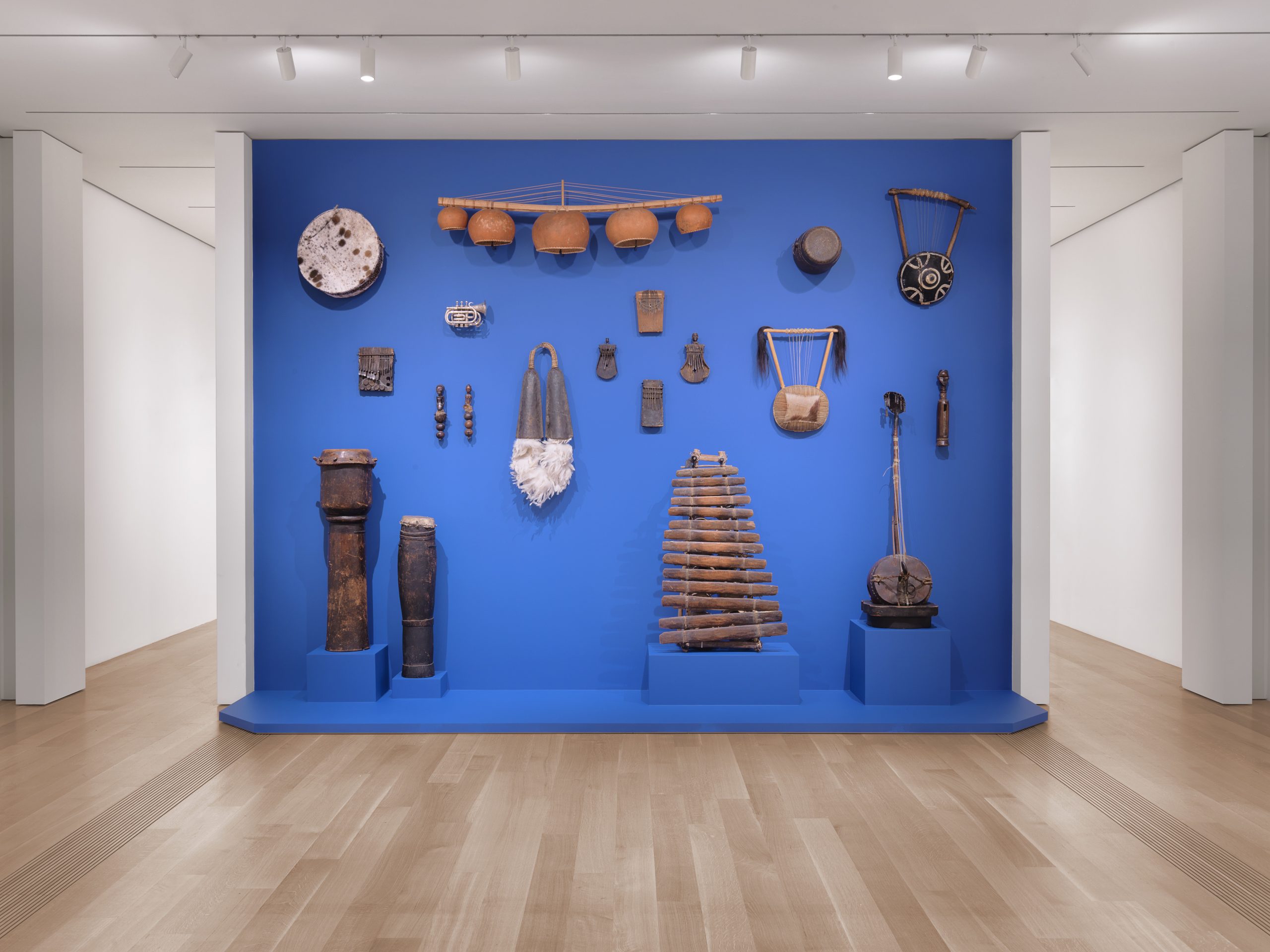 Terry Adkins (1953-2014) was a transdisciplinary artist who utilized sculpture, sound, video, performance, and printmaking strategies in combination with material, personal and historical research. Through a deep investment in the use of creative methodologies to investigate personal and historical narrative, Adkins developed an artistic framework that embraced complexity and contradiction in service of an expansive and generative model of identity, one that has continued to influence contemporary art discourse. Terry Adkins: Resounding, on view at the Pulitzer Arts Foundation in St. Louis, features over 60 objects that include career-spanning sculpture, print, and video work as well as items from Adkins' personal collection of musical instruments, books, and ephemera. The exhibition marks some of the most significant moments in the artist's career and provides new insight into how Adkins situated sound outside of a normative, hierarchical structure.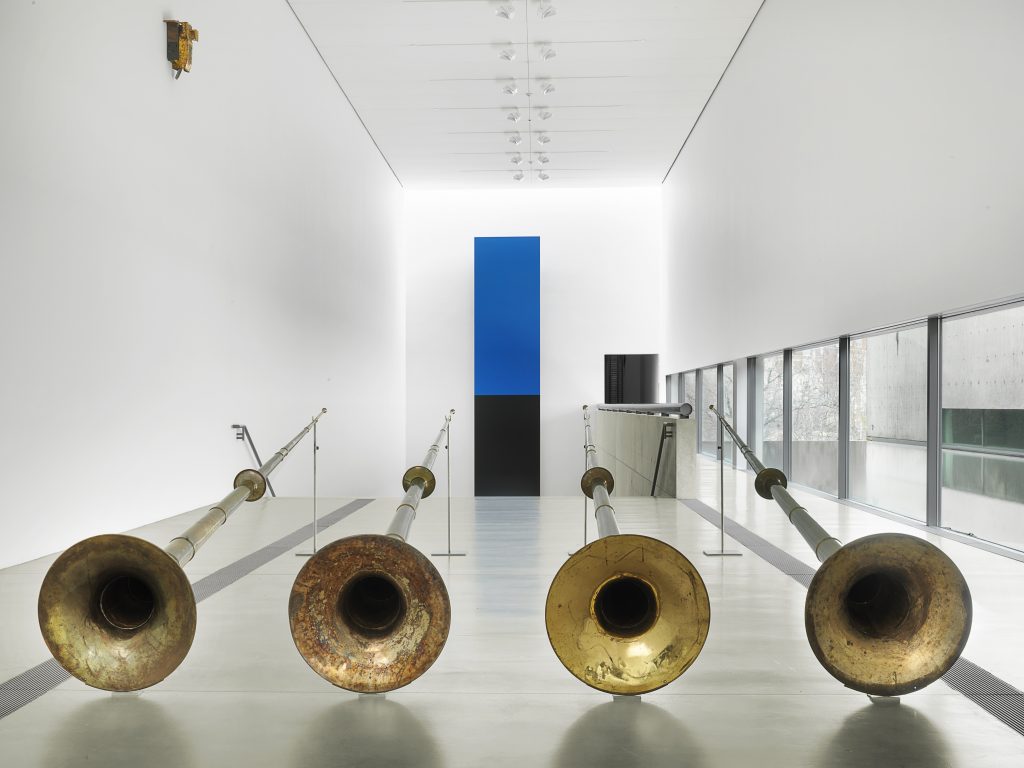 Adkins developed the term 'potential disclosure' to describe the three-staged process that rooted his material practice. This process, consisting of (1) collection (2) gestation and (3) transformation1, was the technique through which Adkins synthesized his material and historical research. Resounding deepens our understanding of the ways in which Adkins used 'potential disclosure' not only as a technique for producing finished works, but as a philosophical framework that allowed him to explore conceptual, historical, and material dynamics that exist in a state of transition or becoming. Infinity (1972-2014), a piece that began from Adkins' personal need to atone for stealing a copy of the John Coltrane album of the same name2, consists of a vintage trunk filled with 75 copies of the record, which Adkins continually purchased each time he encountered it until his death in 2014. It points towards Adkins' use of 'potential disclosure' to synthesize form and concept in a way that did not position one in service of the other, but instead allowed them to exist together, continually deepening and complicating their meaning. 'Infinity' exists as a multiplicity within this piece, as aspirational, sensuous, rhetorical, ethereal, and cosmological. The exhibition foregrounds how Adkins' career-long use of 'potential disclosure' in combination with formal strategies of repetition, recitation, and renewal enabled the generative and expansive qualities that have come to define Adkins' work. The title of the exhibition itself, Resounding, keys us into how Adkins complicated and problematized western notions of 'production' and 'completion' in the making of his work as well as in his position towards its subject matter. The word 'resounding', as opposed to 'retrospective', rejects a fixed or resolved interpretation of Adkins' work and instead embraces and enhances the transient qualities of his practice.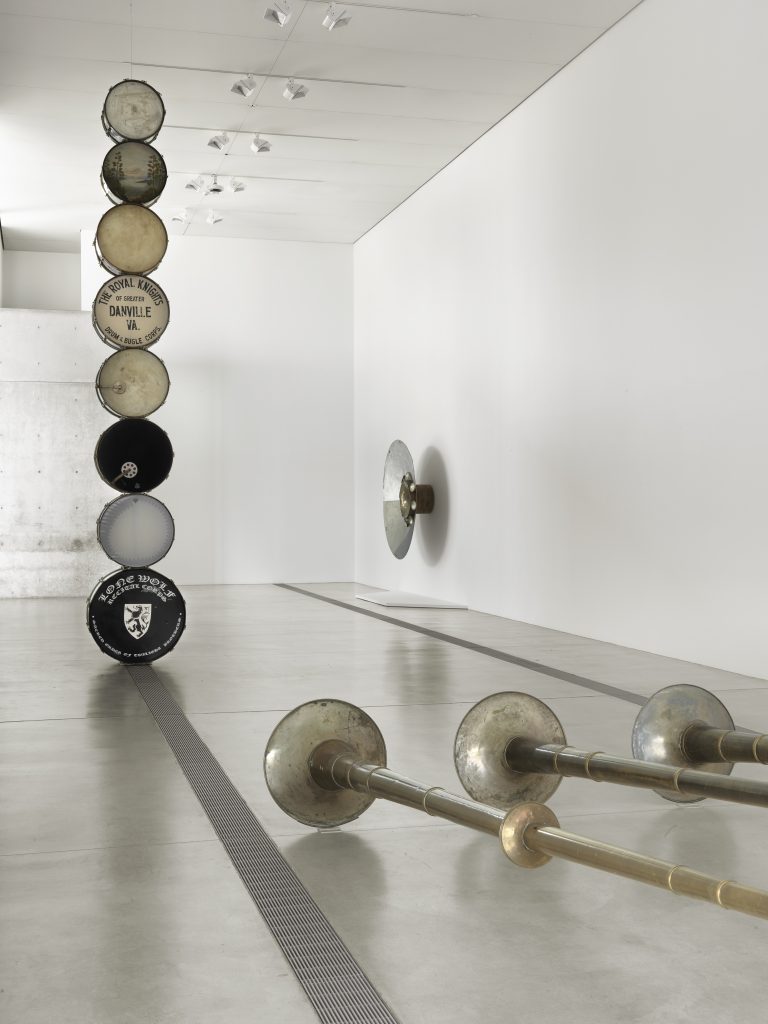 The exhibition puts Adkins' central concepts of 'recasting' and 'recital' into use rather than simply putting them on display. It avoids curatorial gestures that might try to encapsulate or reduce Adkins' work to simple or digestible themes—an attempt at which would inevitably be fraught with a betrayal of the complex and expansive creative methodology that sets his work apart to begin with—and instead allows the work to be in dialogue with itself, echoing Adkins' own strategy of the 'recital' ("biographical investigations into the legacies of individuals who [he felt had] been either underknown or, in the case of better-known individuals, have less-known aspects of their lives."3). Not only does the exhibition bring together career-spanning works in the same space as items from his personal collection (challenging the delineation between the two), it foregrounds some of Adkins' most iconic pieces like Last Trumpet (1995), Muffled Drums (2003), and Infinity (1974-2014) whose dimensions, configurations, and uses were intended to continually expand and shift.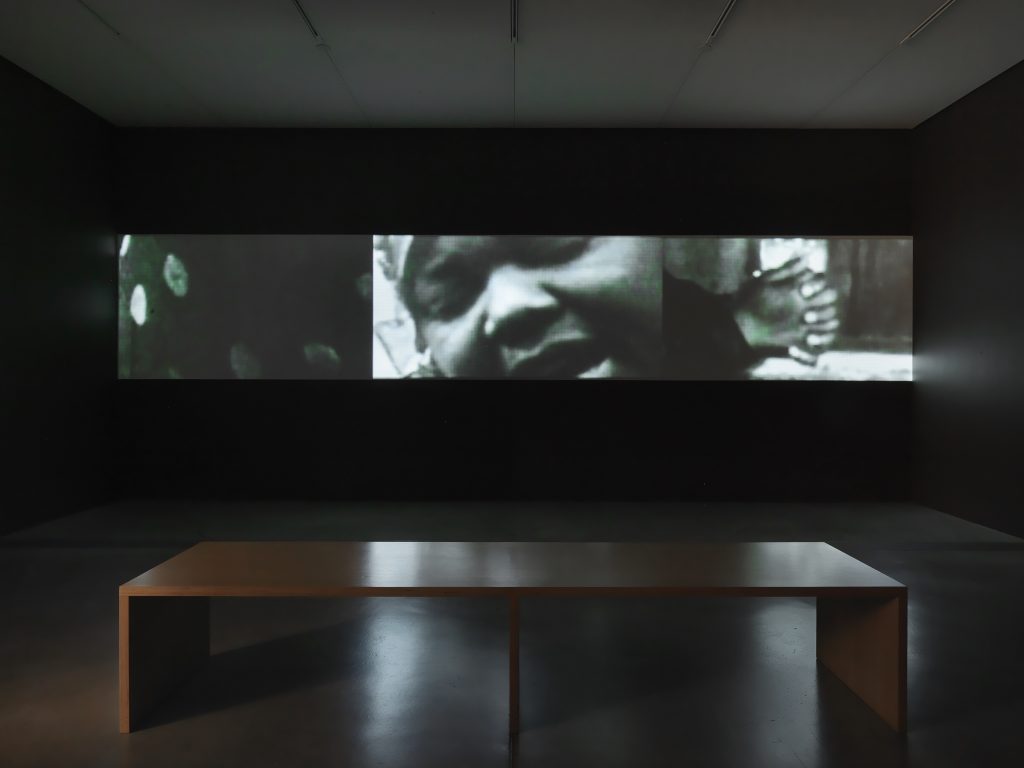 One particularly notable dynamic that emerges from Resounding's combination of works, is the way in which Adkins situated sound outside of a normative sensory hierarchy. Music was ever-present throughout Adkins's life and career; the principles of experimentation and improvisation that Adkins culled from jazz luminaries had a profound impact on all aspects of his practice—continually present in the subject-matter, form, and spirit of his work. It is through this understanding of music as something that is not inherently dependent upon the presence of sound, that Adkins provides us with a means through which to reconfigure our own understanding of what music means and what sound does. Works such as Nenuphar (1998), Divine Mute (1998), Last Trumpet (1995), and Muffled Drums (2003) are perhaps the most notable examples of this in the exhibition and are also some of the first works one encounters when navigating the galleries. In these pieces, Adkins uses the formal language of the instrument body to complicate the role that utility plays in how we conflate the production of sound with the creation of music. Each exemplifies different aspects of Adkins' notion of 'potential', one that subverts the expectation that sound is the most important product of the instrument and that the instrument derives its value from its successful participation in the act of sound production. In Nenuphar and Divine Mute, the bodies of the instruments (sousaphones) are reclaimed and reconfigured in a predominantly formal way that maintains a tenuous, yet informative, relationship to their original function. The repetition and mirroring of their circular forms serves as an embodiment and reference to the sound of the original instrument. Last Trumpet and Muffled Drums strike a balance between formal beauty and potential use value as instruments in a more traditional sense (as Adkins intended, both Last Trumpet and Muffled Drums have been activated through performance and exhibited as non-interactive works of sculpture on different occasions). These works offer alternative means to experience and understand music beyond a normative set of criteria—criteria that Adkins identified as emblematic of a western privileging of appearance over essence.
Adkins embraced the complexity and contradiction within his subjects in order to allow his work to remain in a state of continual unfolding. The works urge us to return, to resist reductive or simplistic conclusions, and to continually challenge our assumptions and fixed positions. Terry Adkins: Resounding is a testament to his profound artistic prowess and a beautiful chorus of some of his most impactful work. Terry Adkins is the genuine article.
* * *
Endnotes
1 Weissberg, S. (2020). "Resounding". In Terry Adkins: Resounding (p. 22). St. Louis, MO: Pulitzer Arts Foundation.
2Ibid., 20.
3Adkins, T., & Enwezor, O. (2017). A Certain Kind of Luminescence: The Recitals of Terry Adkins. In Terry Adkins: Recital (p. 218). Munich ; London ; New York: Del Monico Books, Prestel.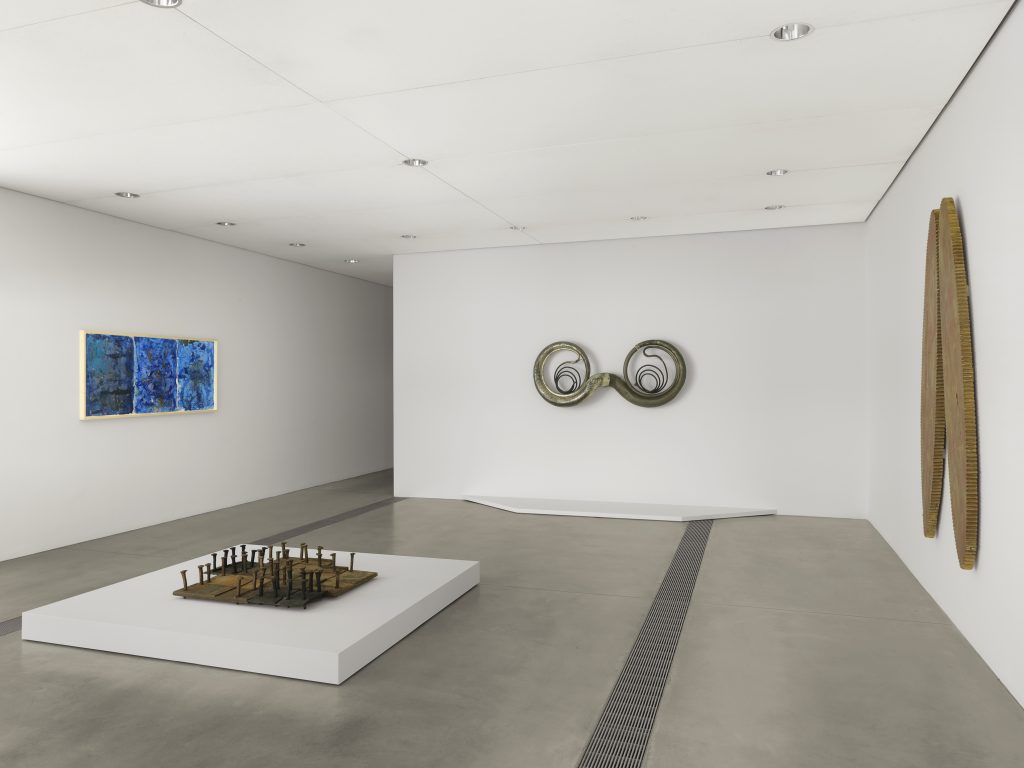 Terry Adkins: Resounding is on view the Pulitzer Arts Foundation through February 7, 2021.
Featured image: Installation view of Terry Adkins: Resounding Lower East Gallery, Pulitzer Arts Foundation © 2020 The Estate of Terry Adkins / Artist Rights Society (ARS), New York Photograph by Alise O'Brien © Pulitzer Arts Foundation and Alise O'Brien Photography.

---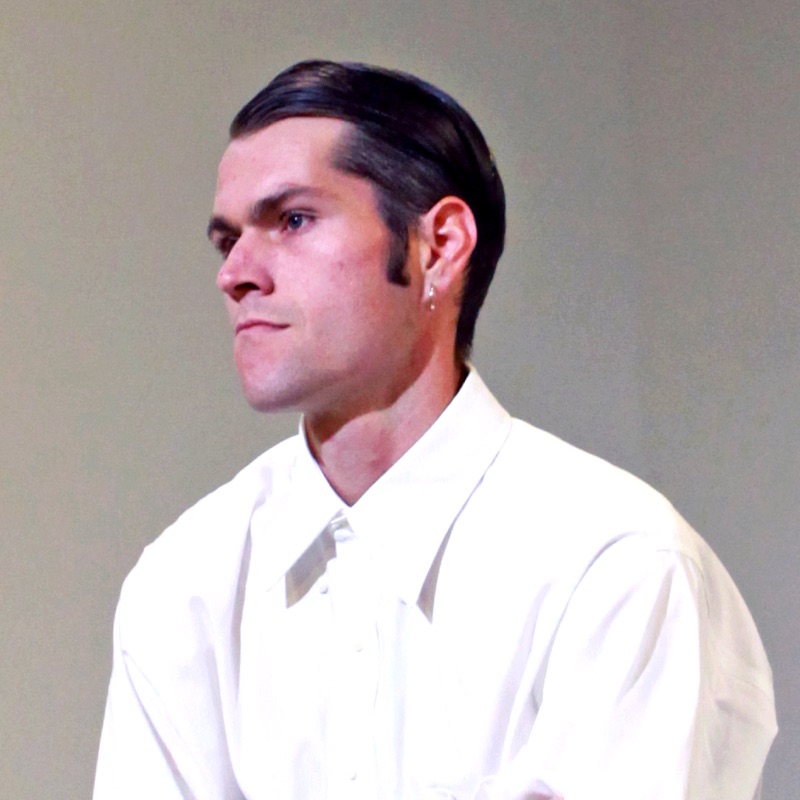 Christopher Robert Jones is an interdisciplinary artist and writer based in Illinois. Their research is centered around the 'failure' or 'malfunctioning' of the body and how those experiences are situated at points of intersection between Queer and Crip discourses. Using sculpture, installation, textual, and performance strategies, their work aims to create ruptures in the layers of cultural/political/historical sediment through which compulsory normativity and compulsory able-bodiedness are disseminated. Christopher received B.A.s in Art Studio and Technocultural Studies from UC Davis and an M.F.A. from the University of Illinois Urbana-Champaign where they are currently a Specialized Faculty in New Media.