Reflections and Thoughts on Black Visibility in Will Rawls's [siccer]
A heartfelt reflection on the performance of "[siccer]," highlighting the deep connections between the reviewer and one of the performers, exploring themes of Blackness, identity, and the struggle for visibility in a complex world.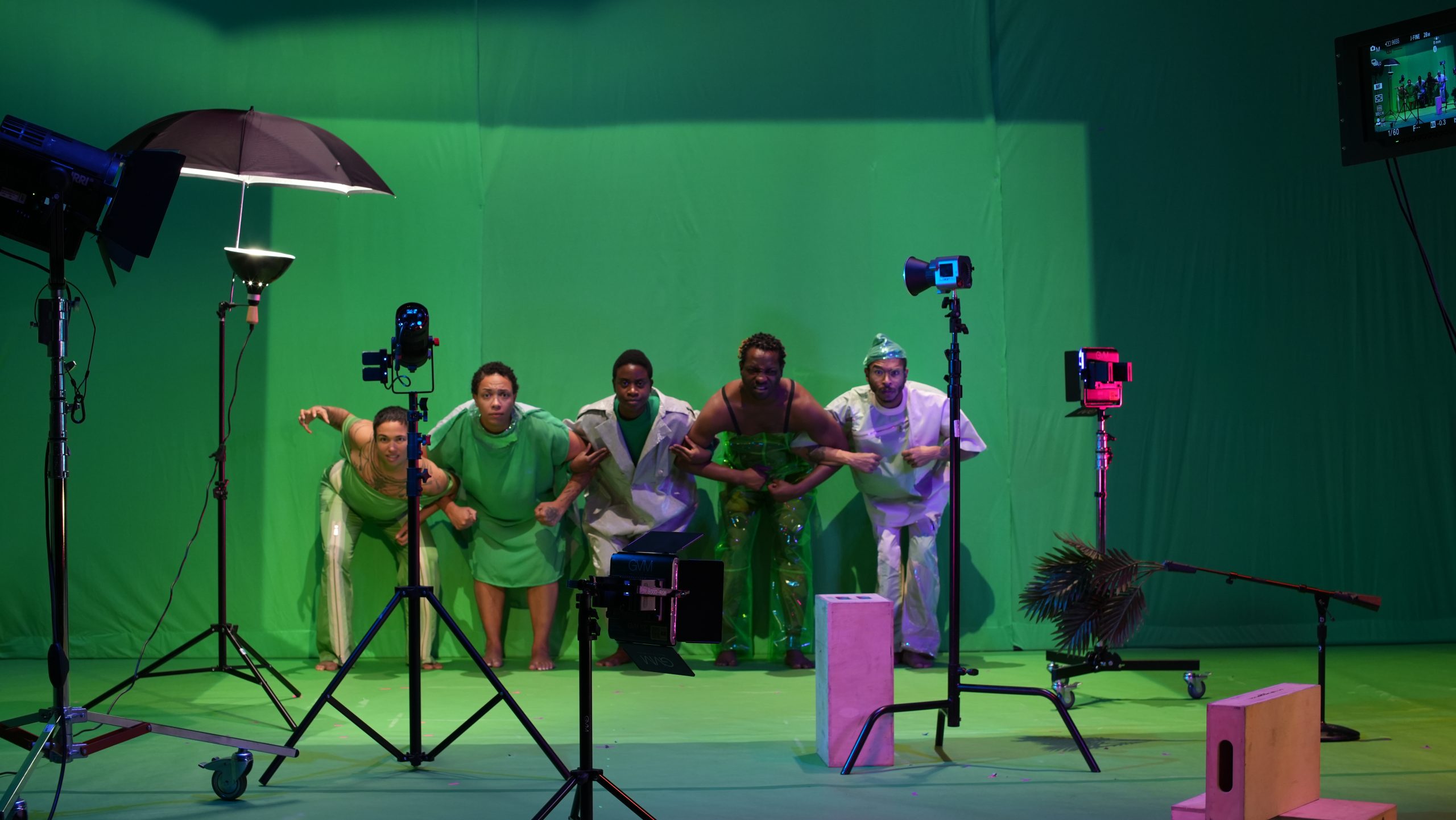 "Filled with such gratitude for you…. I think about how much I appreciate hearing your voice and how much I really love you and I'm so grateful that I'm a part of your life and you're a part of my life." *jess goes on to talk about the moon's position when I sent my message and where it is now.* "My Saturn return has just ended and bitch……I feel victorious."

jess pretty, sometime in January
My friend jess pretty and I send little podcasts to each other. Both of us busy dancers and teachers in academia, we find little pockets of time in our lives to exchange voice memos. jess and I met when I was in undergrad in my second year, pre-pandemic. I took two of her classes and we bonded over Beyoncé, art making, and dance. At the time in 2018, she was touring a work by Will Rawls, What Remains (2018). A lot has happened since then. I'm in the same graduate program jess graduated from years ago, getting my MFA in dance at the University of Illinois at Urbana-Champaign. Jess is now a professor at the University of Minnesota and is periodically performing and touring a new work by Rawls, [siccer] (2023). I was able to see two of the performances at the Museum of Contemporary Art in Chicago (MCA). It struck me as an occasion to reflect on what I watched through the lens of knowing someone who worked so intimately within the work. My viewing of [siccer] will be described from the perspective of someone who is Black, queer, and has the privilege of knowing a performer who was in it. To simply write about what I saw at the show isn't enough. This writing is also a love letter to someone for whom I have so much gratitude.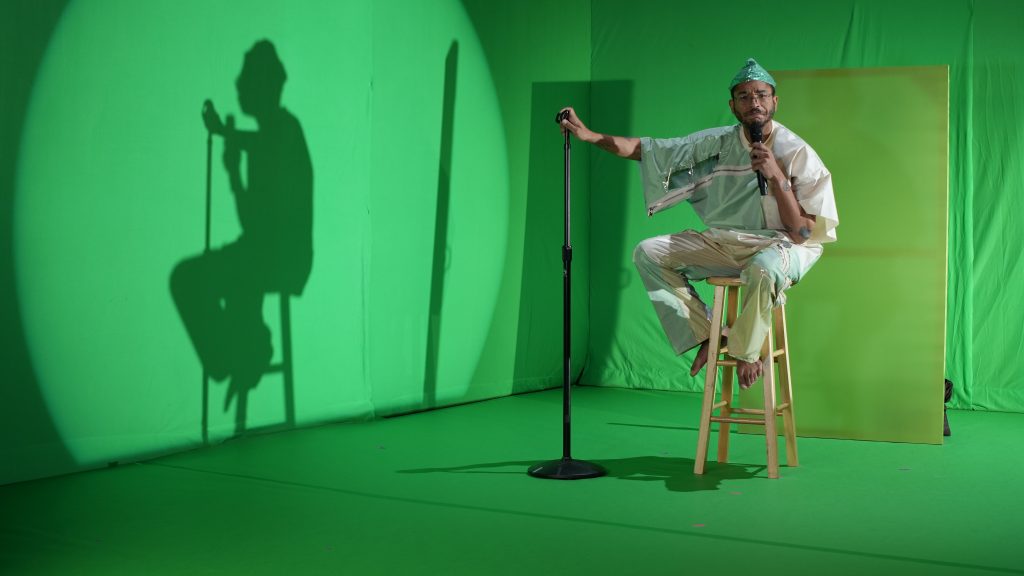 In the black box theatre at the MCA, the stage has a green screen installed ceiling to floor. At the beginning of the piece, Will Rawls is a storyteller. As the narrator, he reads from a sheet of paper and describes the five-year process of the pandemic-riddled show that he is about to present. He sits on a pretend stoop in black crocs, taking us into what felt like a dark, pandemic version of Sesame Street, and tells us that through quarantine, he watched various films that he drew inspiration from for this piece. At this moment, the cast and Rawls's process is hyper-visible—while Rawls is speaking, we clearly see performers enter and exit the space in darkness, setting up props themselves. The hyper-visibility of the process is an attempt at a wishful relationship, one where the audience members are fully aware of what kind of control the creator seeks to have over their work and what is meant to be seen. We hang on to every word, and it's funny.
Throughout the piece, the scenery on the stage changes as the performers dance, move objects, and interact with each other. These objects that change the scenery are done with more portable green screens in perfect squares and rectangles that harken to stained glass windows. The green screens display functioned as trees, or props that serve as certain concepts. The various props change to transition to a new scene. The trees change to a backdrop for a puppet show, a place for the performers to hide, or back to trees in a swamp. Interacting with these props are performers. Every performer is in a unique, monochrome green outfit, styled with green crocs. They dance and move like picture frames, all in front of a camera that takes stop-motion photos of them. It comes across as the performers glitching, as if they are inside of a computer, and programmed to move every few seconds.
When the camera is blocked, or even in between the "clicks" they are able to sneak in moments to express themselves. In these moments of expression, we recognize choreography as an abstract reenactment. As the performance continues, the dancers' familial relationships become clearer. When it's time to change the scene, jess, who plays herself, snaps into "director" mode and changes the objects to fit a new vision that has shifted. I was delighted to see jess and the other performers playing themselves, as it allowed their relationships to be highlighted in a way that was sweet, and a fourth-wall break.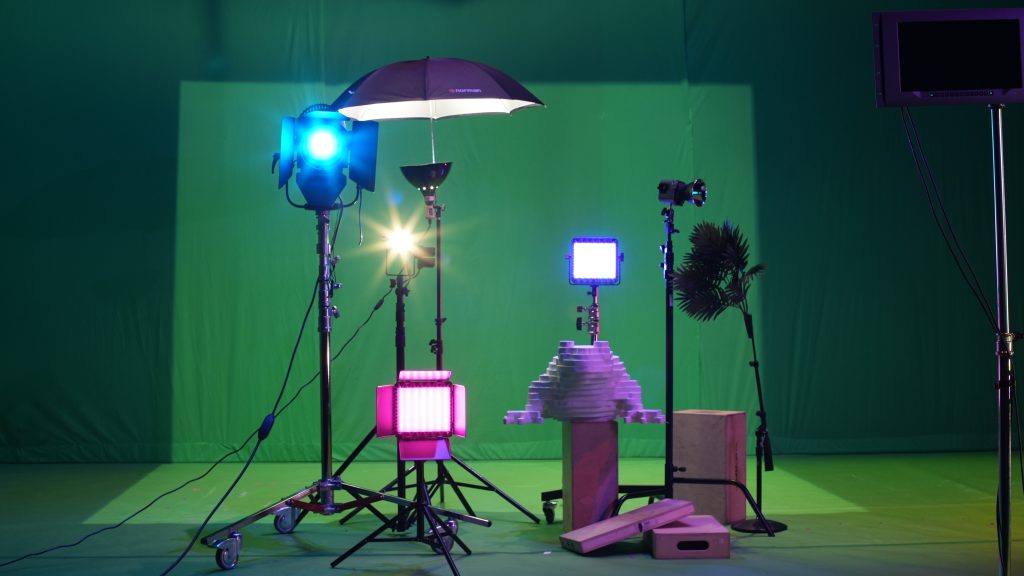 The title [siccer] comes from the Latin word sic, which is typically used in English and British language to correct another text's grammar or mistake. The insertion of [sic] indicates something is wrong in a language, therefore enforcing a correct way of saying something. Rawls problematizes the societal dynamic through his investigation of Black peoples' expressions under the gaze of the camera, where the choreography shows all the performers gaining respite from being under the influence of the stop motion. As a person interested in researching the relationship Black people of marginalized genders have with each other, it was a privilege watching these moments of an all queer, all Black cast relate to each other, joke about dance, and bend both movie genre and genre of dance.
I often reflect on performance ideas surrounding gaze and interference, and the experience of watching [siccer] brought me to notice how important it has been to carry the relationships I have with other Black queer people along with me. Namely, Black femmes have always been a powerhouse in my life. jess is one of those people. [siccer] got me to reflect on how I'm thankful for the ways that I have been gazed upon by people who can see me, and more critical of the times I've felt a gaze has me trapped.
In undergrad, I took jess's Contemporary TRAP dance class, and we would take the time to witness each other. After we learned a phrase or set choreography, it was important to jess as a facilitator to get us to watch each other dance. And after moving, we would talk about what we saw in our peers' movements. Performing for each other had the effect of putting people in a position to be valued in a way that is historically and societally uncommon. When it comes to jess, someone who values being there, witnessing, and bearing soul to others, Rawls's work felt like another practice of this philosophy on a stage with dancers who brought something entirely unique to the table and were clearly bonded by the work. This aspect was so captivating to me that I asked Rawls about it in an interview after I had seen the show.
I asked him if it was comfortable and easy working with an all Black cast, intending to get at how comfortable and easy it was for me to watch and fall into their world. I noticed their bits and improvised jokes changed from the first to the second performance. Each detail brought me in immediately and I was invested. "Those kinds of skill sets and choices and improvisational things or moves can feed a dramaturgy of thinking about Blackness as a kind of a state that's in flux," Rawls said. "A state that's open for interpretation, a state of being that is both hyper-determined and therefore, I want to find ways to explode that and open up a kind of indeterminacy around who anyone is on stage, in particular, Black performers because of, you know, larger societal pressures to kind of conform to gender norms and racial norms and aesthetic norms, too."
To me, [siccer] was many things, including an interrogation of the ways in which Black people are constantly filtered, and it can be so pervasive it edits how we speak to one another. I've witnessed a certain privilege in having a comfortable, communicative surrounding with people who align with a similar social order. Not that it's "easy" but the opportunity to work at being oneself and using one's own language has so much potential. There is potential in assuming the place you belong to without anyone giving you permission. There is a direct communication of my humanity when I speak out of turn to advocate for myself or for others.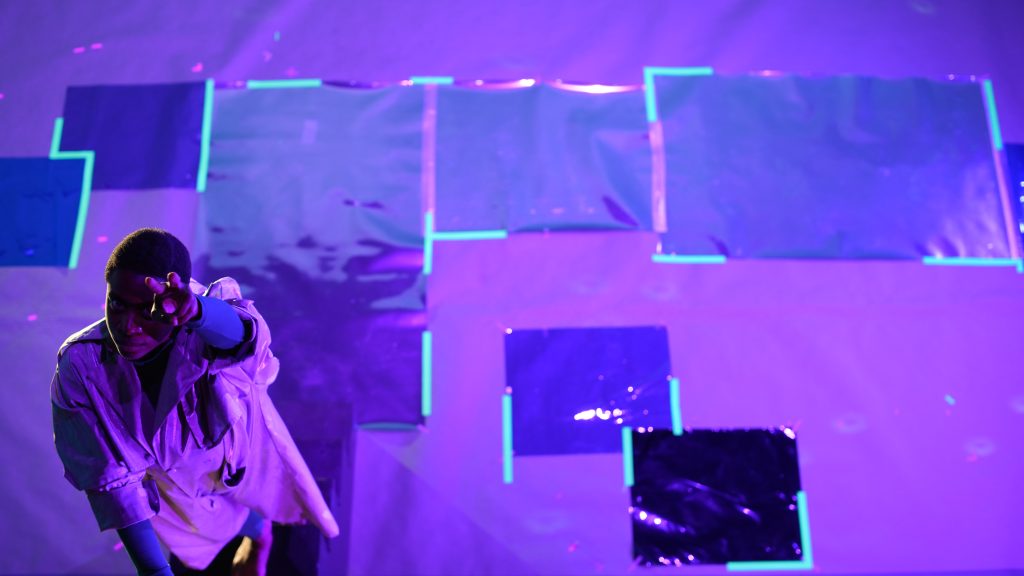 There is a part of the dance Rawls and his cast call the "bop," that makes me reflect on Black life. During the bop, the performers ease themselves into an impromptu trap dance session, starting from two dancers laughing hysterically at each other until the laughter is then recorded, sampled, and met with a beat.
Left to the stage is an area untouched by the green screen, where there is sound recording equipment. Rawls told me that this area of the stage is more of a space where the performers have freedom and respite from the camera. Two of the performers are sound artists and coordinate music that is improvised. The other dancers twerk and dance to the trap beat and pose for the "stop-motion" camera. As this occurs, a quadrant of the performers' freedom begins to blur with the area of the stage dedicated to their green screen movie.
The boundaries of their stage designations were blurred in another instance that felt like a culminating moment of the piece. Katrina Reid wore a fully green reflective astronaut-esque suit and danced a duet with a ladder in the green screen space. During this, Holland Andrews sang a sweet, more ethereal version of The Muppets' "It's Not Easy Being Green." Their voice had a gentle sweetness to the edge of the words, familiar to me and I'm sure, many people in the audience. Earlier, Jeremy Toussaint-Baptiste had continued his persona as Kermit and made a long list of different types of green to set up the song.
Both Kermit being introduced as a character and Katrina's solo in the piece visually created "It's Not Easy Being Green" as an allegory for Blackness. Watching the dancer move as if she were on the moon, lengthening her movements to show a lack of gravity so skillfully, I thought about how there are so many different shades of being Black, and so many ways of relating to each other as Black people.
It's not that easy being green;
Having to spend each day the color of the leaves.
When I think it could be nicer being red, or yellow or gold-
or something much more colorful like that.
It's not easy being green.
It seems you blend in with so many other ordinary things.
And people tend to pass you over 'cause you're not standing out like flashy sparkles in the water-
or stars in the sky.
But green's the color of Spring.
And green can be cool and friendly-like.
And green can be big like an ocean, or important like a mountain, or tall like a tree.
When green is all there is to be
It could make you wonder why, but why wonder why?
Wonder, I am green and it'll do fine, it's beautiful!
And I think it's what I want to be.
Before I started writing, I spoke to jess about my feelings about the song as an allegory for Blackness. It was an immediate thought I had while watching the piece and it made sense to me, but I was afraid of naming it. jess told me, "If race feels like it wants to come up, it's because it's there."
"It's Not Easy Being Green" as a slow and dreamy song with Holland's delicate and smooth voice made me think of how complex it is to live through life as a Black person. It is precarious, difficult, and yet so beautiful and makes me full of pride. One of my favorite things is how silly we are, how a performance like Katrina's solo can contain so much lighthearted playfulness and in contrast, have a somber tone. Blackness is not straightforward like how the world wants it to be.
Both jess and Rawls told me what it was like to be in the practice of the work in all of the struggles of the pandemic, and how much each of the performers believed in each other and in the work. Rawls described it as a humbling level of a leap of faith, because for three and a half years, [siccer] had no premiere date. jess spoke of the level of commitment in another way, describing the sheer expertise and care put into creation and performing. "It's like we just prepped the food and sent it out, but we don't ever taste it. It's like cooking never tasting the food. I got to taste the food watching It's Not Easy Being Green," jess described to me in an audio message. jess said she felt lucky to watch Katrina's solo and be on the outside. Each performer's commitment to the deliverance of what was inside of the work may not even be with an awareness of the meaning behind different aspects of [siccer]. I thought about the idea of Black performance being a kind of splicing of Black experience and identity. [siccer] showed the nuances and struggles of being "green" and having the diligence to perform and create beautifully. It is not easy.
My ability to connect to this piece individually has allowed me to connect it to other aspects of what I have been seeing in the world lately. Having fostered deep, familial connections through performance myself also gave me the opportunity to understand how exciting it must have felt to put [siccer] together. Watching Black performers who are so dedicated makes me feel wishful and hopeful.
Now more than ever, it is possible to create different futures by talking about Black visibility. In a time where online debate is generated over whether it is proper to murder a Black person who was unarmed in a crisis, where it is commonplace for protestors in racial uprisings to be criticized, attacked, and reprimanded with more violence, having a Black body is not only an experience of precarity but one that with the power of its fullness, threatens white supremacy. It reminds me of my own existence, and my own precarity and fullness. "It's not easy being green" but we can certainly help and support each other to be as full as we can be.
---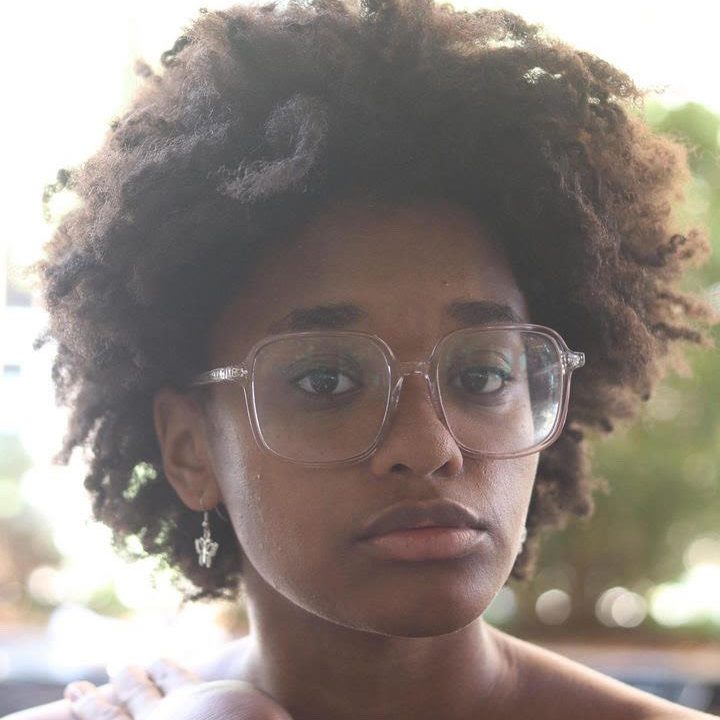 About the Author: Adanya Gilmore (they/her) is a movement-based artist and performer. Born and raised partially in D.C., partially in the Midwest, they consider themselves always in-transit, or adrift. The beginning of their career and their love for dance was cultivated by just a few of their teachers Sandra Fortune-Green, Devi C. Ramey, and Brandye Lee at the Jones-Haywood Dance School. She graduated cum laude from Beloit College in 2021 with a BA in Theatre and Dance. Now as an MFA candidate and teaching assistant at the University of Illinois at Urbana-Champaign, their current work focuses on the gender experiences of Black people, particularly Black femmes and their history, hopes, dreams and creativity. She is a recipient of Humanities Research Institute's Inaugural Interseminars Fellowship. As a Fellow and onward, she hopes to integrate her work into larger community spaces, and make dances that give her joy.