November Art Picks
Featured image: An abstract composition of blue, pink, yellow, and black shapes. Illustration by Ryan Edmund Thiel. If you've followed us for a while, you know that our Art Picks…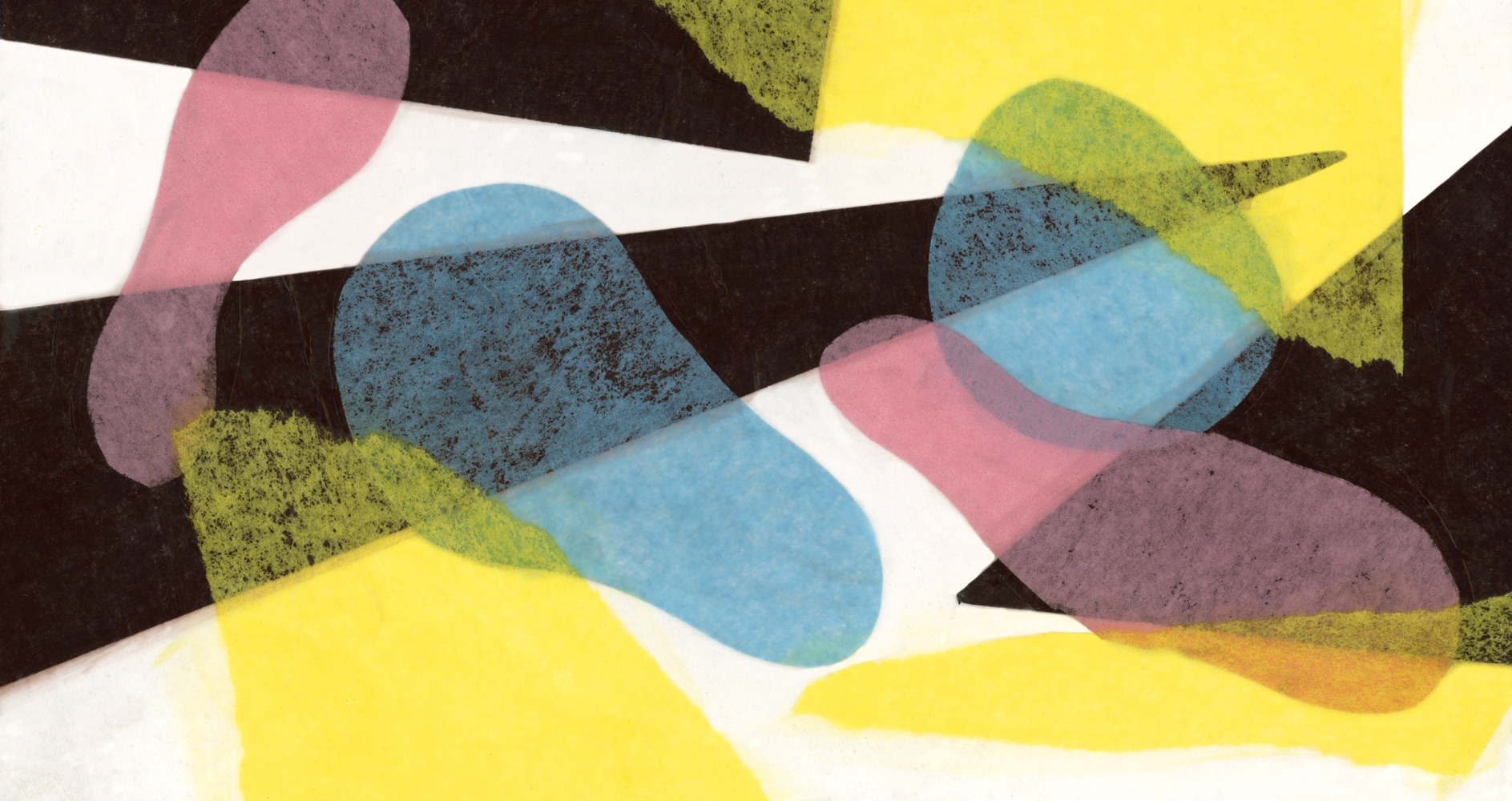 Featured image: An abstract composition of blue, pink, yellow, and black shapes. Illustration by Ryan Edmund Thiel.
If you've followed us for a while, you know that our Art Picks offer a wide scope of events that are relevant to our audiences because we and the artists, cultural workers, curators, spaces, and projects we support live full lives that know no boundaries. We maintain expansive practices and work toward justice for BIPOC, LGBTQIA+, and disability communities in Chicago and the Midwest.
Created in collaboration with The Visualist, Chicago's leading visual arts calendar. Click here to get our Art Picks and latest articles delivered to your inbox monthly.
This is a growing list, so check back often with new additions.
---
This Fall, the first Chicago Arts Census will be initiated. The Chicago Arts Census is the first comprehensive, cross-discipline data collection effort in the city created by and with the art workers of Chicago. The Census is a collaboration between ACRE and Annas in partnership with Sixty Inches From Center, DataMade, and C.A.M.P.
The Census is built to amplify our voices as art workers in Chicago, serve as an advocacy tool fighting for better working, living, and making conditions, and create opportunities for coalition-building across art sectors. Visit their website to learn more and stay updated.
Sixty is excited to be an editorial partner for the Chicago Arts Census and will be producing a series of articles to explore the living, labor, and material realities of art workers in the city of Chicago. Click here to view our first installment of this editorial series.
---
FEATURED EVENTS:
Sat, November 6, 1:30-2:30pm
Art Design Chicago: to render the infinite: Film Screening and Conversation with zakkiyyah najeebah dumas o'neal and Ayana Contreras
Columbia College Chicago – Student Center: 754 S Wabash Ave., Chicago, IL
$10-20
Thurs, November 11, 6pm
Art Design Chicago: A Conversation with Gordon Segal
Chicago Collections Consortium: Online
Online
Thurs, November 18, 6-7:30pm
Art Design Chicago: Both And: Artists Talk
Tiger Strikes Asteroid: Mana Contemporary, 2233 S Throop St., Chicago, IL
Free
---
Through November 5, 2021
Open
Ralph Arnold Gallery: 1131 W Sheridan Rd, Chicago, IL
Free
Through November 6, 2021
5th Midwest Open
Woman Made Gallery: 2150 S Canalport Ave, 4A-3, Chicago, IL
Free
Through November 6, 2021
Bianca Beck, Tamara Gonzales, Christina Forrer
Beeler Gallery: 60 Cleveland Ave., Columbus, OH
Free
Through November 7, 2021
Smashing Into My Heart
The Renaissance Society: 5811 S. Ellis Ave. Cobb Hall, 4th Floor, Chicago, IL
Free
Through November 9, 2021
Erika Diehl: AETAS
BasketShop: 3105 Harrison Ave,. Cincinnati, OH
Free
Through November 11, 2021
Deep Cuts
Chicago Artists Coalition: 2130 W Fulton St, Chicago, IL
Free
Through November 11, 2021
Maryam Taghavi: A Form By Which To Be Possessed
Chicago Artists Coalition: 2130 W Fulton St, Chicago, IL
Free
Through November 11, 2021
Jason REVOK: Stare into the Abyss
Library Street Collective: 1274 Library Street (Alley), Detroit, MI
Free
Through November 13, 2021
Lois Bielefeld: Commit to Memory
Portrait Society Gallery: 207 E. Buffalo St. Ste. 526, Milwaukee, WI
Free
Through November 13, 2021
Patrick Earl Hammie: Foreword
Crooked Tree Arts Center: 322 Sixth Street, Traverse City, MI
Free
Through November 13, 2021
Sarita Garcia & Bobby T. Luck: Surplus
Roots & Culture: 1034 N Milwaukee Ave, Chicago, IL
Free
Through November 13, 2021
Was/Is/Ought
Carrie Secrist Gallery: 900 W. Washington Blvd., Chicago, IL
Free
Through November 14, 2021
Mud Puddling
LVL3: 1542 N Milwaukee Ave #3, Chicago, IL
Free
Through November 14, 2021
Amina Ross: Man's Country
Iceberg Projects: 7714 N Sheridan Rd, Chicago, IL
Free
Through November 14, 2021
Jocelyn Suzuka Figueroa
Rochester Art Center: 30 Civic Center Drive SE, STE 120, Rochester, MN
Free
Through November 15, 2021
Terrain Biennial 2021
Various locations
Free
Through November 15, 2021
Chameleon Blind: Mirror Image
Space & Time Gallery: 3307 W. Irving Park Rd, Chicago, IL
Free
Through November 20, 2021
MOLOCH
M. LeBlanc: 3514 W. Fullerton Ave., Chicago, IL
Free
Through November 20, 2021
Exhibition #27
Granite City Art and Design District: 1822 State Street, Granite City, IL
Free
Through November 20, 2021
New Witnesses
Arts + Public Life: 301 E Garfield Blvd, Chicago, IL
Free
Through November 20, 2021
IZAH + JUNEER, in-corporated: A* Hiccup In Time
Roman Susan: 1224 W Loyola Ave. Chicago, IL
Free
Through November 21, 2021
Our Tomorrow Happened Yesterday
Blanc Gallery: 4445 S Martin Luther King Dr, Chicago, IL
Free
Through November 21, 2021
Lúcia Prancha: Bread Story
table: 3240 N Springfield Ave, Chicago, IL
Free
Through November 21, 2021
Low Visibility
Walker Art Center: 725 Vineland Place, Minneapolis, MN
Free
Through November 24, 2021
Tran Tran: Moments in Between
Hyde Park Art Center: 5020 S. Cornell Ave., Chicago, IL
Free
Through November 27, 2021
No Martins
Mariane Ibrahim Gallery: 437 N. Paulina St., Chicago, IL
Free
Through November 27, 2021
Jennifer Cronin: There is Still Magic Here
Elephant Room Gallery: 704 S Wabash Ave, Chicago, IL
Free
Through November 27, 2021
Carmen Winant: The Making and Unmaking of the World
PATRON: 1612 W Chicago Ave Chicago, IL
FREE
Through November 27, 2021
Our Solo Show
Engage Projects: 864 N Ashland Ave, Chicago, IL
Free
Through November 28, 2021
Anna U Davis: Reality Check
Swedish American Museum: 5211 N Clark St, Chicago, IL
$4 – $15
Through November 30, 2021
moCa AIR: Erykah Townsend
MOCA Cleveland: 11400 Euclid Avenue, Cleveland, OH
Free
November 1 – November 30, 2021
Thinking Hurts Too Much
Flint Institute of Arts: 1120 East Kearsley Street, Flint, MI
$0-$10
November 1-6, 2021
Lit & Luz Festival: A Celebration of Language, Literature, and Art
Lit & Luz Festival: various locations
Free
November 1, 2021-January 21,2022
MATERIAL PERSPECTIVES
Indiana University Northwest Gallery for Contemporary Art: 65 West 33rd Ave., Gary, IN
Free
November 1 – 29, 2021
Intercollegiate Faculty Exhibition
Robert F. DeCaprio Art Gallery @ Moraine Valley Community College: 9000 W. College Pkwy., Palos Hills, IL
Free
Mon, November 1, 12-1pm
Virtual: Lit & Luz Keynote—Juan Felipe Herrera
Lit & Luz Festival: Online
Free
Mon, November 1, 5-6pm
Rochona Majumdar: Art Cinema and India's Forgotten Futures
57th Street Books: Online
Free
Mon, November 1, 6-7:30pm
Punishing Immigrants: U.S. Immigration Enforcement and the PIC
Haymarket Books: Online
Free
Mon, November 1, 7-8:30pm
Photo Voice: A Photo Documentation Workshop Series
Honey Pot Performance: Online
Free
Tue, November 2, 3-4:30pm
Voices: Tempestt Hazel
Gallery 400: Online
Free
Tue, November 3-5, 2021
Portrait of Jason
Walker Art Center: 725 Vineland Place, Minneapolis, MN
$10-12
Tue, November 3, 7pm
In Medias Res: A Celebration of the Odyssey Project's Student Journal
Illinois Humanities: Online
Free
Wed, November 3, 3:45pm
Community as Corporation: Talent Retention in Low-Status America
AIA Minnesota: Online
Free
Wed, November 3, 7pm
How the Word is Passed: A conversation with Clint Smith III
Kartemquin: Online
Donations Encouraged
Wed, November 3, 7-8:30pm
Photo Voice: A Photo Documentation Workshop Series
Honey Pot Performance: Online
Free
Wed, November 3, 6pm
Lit & Luz: Narración en vivo—Estructura
Hideout Inn:1354 W Wabansia Ave., Chicago, IL
Free
Wed, November 3, 6-8pm
TANDA: Neo Perreo: Challenging Misogyny and Homophobia in Reggaeton Culture
Chuquimarca at Compound Yellow: 244 Lake St, Oak Park., IL
Free
Wed, November 3, 7pm
Virtual Event: DREAMING OF YOU: A NOVEL IN VERSE by Melissa Lozada-Oliva
Women & Children First Bookstore: Online
Free
Wed, November 3, 7-8:30pm
Lit & Luz: How Things Do Things with Other Things (and People)
Chicago Art Department: 1926 South Halsted Street, Chicago, IL
Free
Wed, November 3, 7pm
The Dark Side of Memory: Tessa Bridal in conversation with Daniel Borzutzky
Pilsen Community Books: Online
Free
Wed, November 3, 7pm
Retelling Resistance: CUBAN FIGHT AGAINST THE DEMONS (1972) – Theatrical Screening
Block Museum of Art: 40 Arts Cir Dr, Evanston, IL
Free
Wed, November 3, 9:30pm
Gimmie The Light
Hideout Inn:1354 W Wabansia Ave., Chicago, IL
$15
November 3-5, 2021
Worker Co-op Week
Eastern Conference for Workplace Democracy & the Western Worker Cooperative Convenings: Online
Sliding Scale
November 3 – December 8, 2021
Lay of the Land
O'Connor Art Gallery: 7900 West Division Street, River Forest, IL
Free
Thurs, November 4, 5:30pm
Sudden Sound Concert | Avreeayl Ra & Improvisers Exchange Ensemble
Krannert Art Museum: 500 E Peabody Dr, Champaign, IL
Free
Thurs, November 4, 6:30-8pm
Mutual Aid is Our Future: Economic Solidarity 101
Equity Arts: Heaven Gallery – 1550 N Milwaukee Ave, 2nd Floor, Chicago, IL
Free
Thurs, November 4, 6:30-8pm
Mutual Aid is Our Future: Solidarity Economy 101
Heaven Gallery: 1550 N Milwaukee Ave., Chicago, IL
Free
Thurs, November 4, 6:30-8:30pm
Film Screening: Archipelago
Contemporary Art Museum St. Louis: 3750 Washington Blvd, St. Louis, MO
Free
Thurs, November 4, 7pm
Author Conversation: Tamara Winfrey-Harris & Deesha Philyaw
Women & Children First Bookstore: Online
Free
Thurs, November 4, 7pm
Lit & Luz Live Magazine Show: Structure
Logan Center for the Arts: 915 E 60th St., Chicago, IL
Free
Thurs, November 4, 8-10pm
Whisper & Shout
Contemporary Arts Center of Peoria: 305 SW Water St, Peoria, IL
Free
November 5-7, 2021
Chicago Underground Film Festival 2021
The Logan Theatre: 2646 N Milwaukee Ave., Chicago, IL
Free
November 5 – December 2, 2021
Black Harvest Film Festival
Gene Siskel Film Center: 164 N. State St., Chicago, IL
Individual days: $12 | Pass for full festival: $60
November 5, 2021-January 9, 2022
HANNAH TOTICKI: UNIVERSAL HUMAN RESOURCE
MOCAD: 4454 Woodward Ave, Detroit, MI
$0-5
November 5, 2021-January 9, 2022
JEANNETTE EHLERS: TAKE ROOT
MOCAD: 4454 Woodward Ave, Detroit, MI
$0-5
Fri, November 5, 5-8pm
Bunny Hoppel & Jeanine Coupe Ryding: OBSESSION
Hofheimer Gallery: 4823 N Damen Ave., Chicago, IL
Free
Fri, November 5, 6-9pm
Imposter Syndrome
Hoy Polloy: 3125 E. 10th Street, Ste. L, Indianapolis, IN
Free
Fri, November 5, 6-9pm
然三相 Three Visages of Nature
The Research House for Asian Art: 3217 S Morgan St., Chicago, IL
Free
Fri, November 5, 6-9pm
I am the sky and clouds are moving through me.
ADDS DONNA: 3252 W North Ave., Chicago, IL
Free
Fri, November 5, 7pm
Machaila Gray: Some People You Know
State Street Pub: 243 N. State Ave., Indianapolis, IN
$0-$5
Fri, November 5, 7-10pm
Andi Crist: Cowboy Wisdom
Belong Gallery: 2712 W North Ave., Chicago, IL
Free
November 6-December 18, 2021
Jessica Campbell: Gigantomachinations
Western Exhibitions: 1709 W Chicago Ave., Chicago, IL
Free
November 6-December 18, 2021
Dan Attoe: Pandemic Paintings
Western Exhibitions: 1709 W Chicago Ave., Chicago, IL
Free
November 6-December 18, 2021
Sung Jang: Given
Volume Gallery: 1709 W Chicago Ave., Chicago, IL
Free
November 6-December 18, 2021
Sara Greenberger Rafferty: Views from Somewhere
Document: 1709 W Chicago Ave., Chicago, IL
Free
November 6-December 18, 2021
David Antonio Cruz: icutfromthemiddletogetabetterslice
Moniquemeloche: 451 N Paulina St., Chicago, IL
Free
November 6, 2021-January 2, 2022
OUR STRENGTH IS OUR PEOPLE: THE HUMANIST PHOTOGRAPHS OF LEWIS HINE
South Bend Museum of Art: 120 S Dr Martin Luther King Jr Blvd, South Bend, IN
Free
Sat, November 6, 10am-6pm
Symposium | Hal Fischer Photographs: Seriality, Sexuality, Semiotics
Krannert Art Museum: 500 E Peabody Dr, Champaign, IL
Free
Sat, November 6, 11am-12pm
Chicago Construction Architecture Talk
Columbia College Chicago, Student Center: 754 S Wabash Ave., Chicago, IL
Free
Sat, November 6, 6-9pm
The Earth Hungers for People: Screening
Hyde Park Art Center: 5020 S. Cornell Avenue Chicago, IL
Free
Sat, November 6, 12-5pm
On the Axis: Days of Discourse DAY 1
moCa Cleveland: 11400 Euclid Ave, Cleveland, OH
Free
Sat, November 6, 12-6pm
Sergio Farfán: Five Years
Vertical Gallery: 1016 N Western Ave., Chicago, IL
Free
Sat, November 6, 1pm
First Nations Film and Video Festival: Bawaadan Collective shorts
Block Museum of Art: 40 Arts Cir Dr., Evanston, IL
Free
Sat, November 6, 3:30-5pm
Married to the Maestro
South Asia Institute: 1925 S Michigan Ave., Chicago, IL
Free
Sat, November 6, 3:30pm
5th Midwest Open: Artists Walkthrough
Woman Made Gallery: 2150 S Canalport Ave., Chicago, IL
Free
Sat, November 6, 4pm
The Warmth of Proximity
Experimental Sound Studio: Online
$5
Sat, November 6, 5-6pm
Debbie Millman: Why Design Matters
Columbia College Chicago – Student Center: 754 S Wabash Ave., Chicago, IL
$10-20
Sat, November 6, 5-6pm
Jayne Kelley and Paul Preissner: American Framing: The Same Something for Everyone
Columbia College Chicago – Student Center: 754 S Wabash Ave., Chicago, IL
$10-20
Sat, November 6, 6-9pm
Agave!
Epiphany Center for the Arts: 201 S Ashland Ave., Chicago, IL
Free

Sat, November 6, 6-9pm
Monika Plioplyte: Opening of the Knot
boundary: 2334 W 111th Pl., Chicago, IL
Free
Sat, November 6, 6-10pm
Ragamala: A Celebration of Indian Classical Music
Second Presbyterian Church: 1936 S Michigan Ave., Chicago, IL
Free
Sat, November 6, 7pm
Bass Dreams minus B (Record Release)
Elastic Arts: 3429 W Diversey Ave., Chicago, IL
$15
Sat, November 6, 2-6pm
Opening Reception: Utensil
Comfort Station + Annas Projects: 2579 N. Milwaukee Ave., Chicago, IL
Free
Sat, November 6, 7pm
After School Special: SPACES' 43rd Annual Benefit
Cent's Pizza: 5010 Lorain Ave. Cleveland, OH
$5
November 6, 2021 – January 16, 2022
Bassim Al Shaker: Human Crumbs
FLXST Contemporary: 2251 S Michigan Ave., Suite 220, Chicago, IL
Free
Sun, November 7, 3-5pm
Kristin Kelly Jones: Plinths for the People
062 Gallery: various outdoor spaces around Chicago
Free
Sun, November 7, 1-5pm
Rot & Grow
Hyde Park Art Center: 5020 South Cornell Avenue, Chicago, IL
Free
Sun, November 7, 7:30pm
Pleiades Series: Hedra Rowan, Rhythm Ninja Drums
Elastic Arts: 3429 W Diversey Ave., Chicago, IL
$15
November 8, 6-7pm
Confronting Anti-Blackness in Native Spaces
Chi-Nations: Online
Free
November 8, 2021-January 22, 2022
A.J. McClenon: Notes from VEGA
Hyde Park Art Center: 5020 S Cornell Ave., Chicago, IL
Free
Mon, November 8, 6pm
Artist Talk with Wendy Ewald
Weinberg Newton Gallery: Online
Free
Mon, November 8, 6:30-7:45pm
Mark Bradford & Julie Mehretu in Conversation
School of the Art Institute of Chicago: Online
Free
Tues, November 9, 12-1pm
African American Composers and the Black Renaissance
Newberry Library: Online
Free
Tues, November 9, 12-10pm
Public Health ( Our Role In Safe Communities)
5th District Police Station: 727 E 111th St., Chicago, IL
Free
Tues, November 9, 6:30pm
Wandering the Body
Guild Literary Complex: Online
Free
Tues, November 9, 3:30-4:45pm
Identity and Dissent with Patrisse Cullors and Alice Sheppard
Museum of Contemporary Art Chicago: Online
$0-15
Tues, November 9, 6:30pm
A Scientist Walks Into A Bar
Hideout Inn: 1354 W Wabansia Ave., Chicago, IL
$5
Tues, November 9, 7pm
Mack Lecture: Frank Wilderson, Arthur Jafa, and Saidiya Hartman in Conversation
Walker Art Center: Online
$5-20
Tues, November 9, 7-8pm
Open Door Reading Series Online: Natasha Mijares, Henry Feller, Jason Vasser-Elong & Roderick James Jr.
Poetry Foundation: Online
Free
Tues, November 9, 7-8:30pm
Study and Struggle Critical Conversation #3: Abolition Must Be Red
Haymarket Books: Online
Free
Tues, November 9, 6:15-6:45pm
2021 Gala
Hyde Park Art Center: 5020 S. Cornell Avenue, Chicago, IL
$500 and up
November 10-14, 2021
Bill T. Jones/Arnie Zane Company: Afterwardsness
Walker Art Center: 725 Vineland Place, Minneapolis, MN
$45-60
Wed, November 10, 2-3pm
Siv B. Lie: Django Generations
57th Street Books: Online
Free
Wed, November 10, 6-7pm
Artist Talk: Farah Al Qasimi
Contemporary Art Museum, St. Louis: 3750 Washington Blvd, St. Louis, MO
Free
Wed, November 10, 6:30-7:30pm
Suzanne Cope presents "Power Hungry" with Cleo Silvers
Pilsen Community Books: Online
Free
Wed, November 10, 7-9:30pm
Live @ LOW END | Maya Dunietz + special live taping of Modern Art Notes podcast
Bemis Center for Contemporary Arts: 724 S 12th St., Omaha, NE
Free
Wed, November 10, 5:30-7pm
C.A.M.P in Conversation: EXTRA EXTRA
Cultural Asset Mapping Project: Online
Free
Wed, November 10, 6-10pm
THE BALM TALKS: Jasmine Best & Janelle Dunlap
South Side Community Art Center: Online
Free
November 11-14, 2021
Black Fine Art Fair of Ohio
Chicago Collections Consortium: Online
Black Fine Art Fair of Ohio: 345 E Fifth Ave, Columbus, OH
Thurs, November 11, 5-6pm
Art After Work: Joseph Yoakum
Intuit: The Center for Intuitive and Outside Art: Online
Free
Thurs, November 11, 6-10pm
You're Welcome
Reunion Chicago: 2557 W North Ave., Chicago, IL
$10-25
Wed, November 11, 6:30-8:30pm
Film Screening: Where is the Friend's House?
Contemporary Art Museum St. Louis: 3750 Washington Blvd, St. Louis, MO
Free
Thurs, November 11, 8:30pm
stein/jackson/reed/kirshner
Elastic Arts: 3429 W Diversey Ave., Chicago, IL
Free
Thurs, November 11, 9:30pm
Quiet Pterodactyl and Lumpen Radio's The Minimal Beat presents: MIIRRORS w/ Moritat & DJ Quin Kirchner
Hideout Inn: 1354 W Wabansia Ave., Chicago, IL
$12
Thurs, November 11, 5:30pm
Visualizing a Lead Free Environment: How Art Intersects with Community Activism
EXPO Chicago: Online
Free
Thurs, November 11, 5pm
Making Rituals: A Study Group Workshop Series
University of Chicago Arts: Green Line Performing Arts Center, 329 E Garfield Blvd, Chicago, IL
Free
November 12-13, 2021
Bridge Dance Festival 2021
Links Hall: Online
Free
November 12, 2021-January 21, 2022
Present Artifacts
Ralph Arnold Gallery: 1131 W Sheridan Rd., Chicago, IL
Free
Fri, November 12, 7-8pm
Meditation for Imaginations
Heaven Gallery: 1550 N Milwaukee Ave, 2nd Floor, Chicago, IL
Free
Fri, November 12, 12-2pm
Noopiming: A Cure For White Ladies
Big Car: Online
Free
Fri, November 12, 7:30-9:30pm
A Gathering of Dreams Closing Reception
Comfort Station: 2579 N Milwaukee Ave., Chicago, IL
Free
Fri, November 12, 6-10pm
Queer Comedy hosted by Tribble
Reunion Chicago: 2557 W North Ave., Chicago, IL
$10-25
Fri, November 12, 6-9pm
Art for the Holidays: First Grabs Friday
Detroit Artists Market: 4719 Woodward Avenue, Detroit, MI
Free
Sat, November 13, 10:30-11:30am
Teju Cole: Black Paper
Reva and David Logan Center for the Arts: 915 E 60th St., Chicago, IL
$10-20
Sat, November 13, 1pm
Earth Emotions: Screening of Works by Adam Farcus
Terrain Exhibitions + Springfield Art Association: 700 N 4th St, Springfield, IL
Free
Sat, November 13, 11am
Jillian Tamaki: Reading for Young People
Poetry Foundation: Online
Free
Sat, November 13, 12-4pm
Handmade Market
The Empty Bottle: 1035 N Western Ave., Chicago, IL
Free
Sat, November 13, 1-2:30pm
Illinois Poet Laureate Angela Jackson: A Celebration
Reva and David Logan Center for the Arts: 915 E 60th St, Chicago, IL
$10 – $20
Sat, November 13, 1pm
Sky Hopinka: MALNI—TOWARDS THE OCEAN, TOWARDS THE SHORE (2020)
Block Museum of Art: 40 Arts Cir Dr, Evanston, IL
Free
Sat, November 13, 4:20pm
¡HOT MESS!
Elastic Arts: 3429 W Diversey Ave., Chicago, IL
$10
Sat, November 13, 7pm
Being BeBe
Walker Art Center: 725 Vineland Place, Minneapolis, MN
$16-200
Sat, November 13, 7:30-9:30pm
Lakefront Anonymous: Chicago's Unknown Art Gallery
1100 Florence: 1100 Florence Ave, Evanston, IL
Free
Sat/Sun, November 13 (8-9pm) & 14 (5-6pm)
INTERMISSIONS: Paul Maheke
The Renaissance Society: 5811 S. Ellis Ave. Cobb Hall, 4th Floor, Chicago, IL
Free
Sat, November 13, 8pm
Tasha
Sleeping Village: 3734 W. Belmont Ave., Chicago, IL
$15-$18
November 13, 2021 – January 16, 2022
Kirk Henriques & Alexandra Antoine: Gastropoetrics
FLXST Contemporary: 2251 S Michigan Ave., Suite 220, Chicago, IL
Free
Sun, November 14, 11am-4pm
November Inkjet Transfer Workshop
LATITUDE: 1821 W Hubbard St., Chicago, IL
$100
Sun, November 14, 6pm
ruang rantau / the space beyond here: film screening
Co-Prosperity Sphere: 3219-21 S Morgan St, Chicago, IL
Free
Sun, November 14, 5pm
Marc Ribot
Mershon Auditorium: 1871 N High St, Columbus, OH
$12-20
Mon, November 15, 6pm
Into the Archive: A Virtual Conversation with Black Film Archive Creator Maya Cade
Gene Siskel Film Center of the School of the Art Institute of Chicago: Online
Free
Mon, November 15, 7pm
Virtual Reading: CRIP KINSHIP by Shayda Kafai
Women & Children First Bookstore: Online
Free
Mon, November 15, 8-11pm
Kabir Dalawari Quartet & Bradfield/Johnson/Ulery/Kirchner
Elastic Arts: 3429 W Diversey Ave., Chicago, IL
Free
Tues, November 16, 12-10pm
Public Health (The Road To Healthy Living)
Roseland Hospital: 45 W 111th St
Free
Tues, November 16, 12-1:15pm
The "Why" continues to inform the "How": The Past, Present and Future of Invisible Institute's Journalism
Invisible Institute: Online
Free
Tues, November 16, 12-1pm
Chicago and Civil Rights in the 1960s
Newberry Library: Online
Free
Tues, November 16, 6pm
Write Club: Angstgiving
Hideout Inn: 1354 W Wabansia Ave., Chicago, IL
$12
Tues, November 16, 7pm
A Virtual Reading with H. Melt
A Room of One's Own Bookstore: Online
Free
Wed, November 17, 6pm
Jason Salavon
Smart Museum of Art: 5550 S Greenwood Ave., Chicago, IL
Free
November 18, 2021-February 26, 2022
Land
Beeler Gallery: 60 Cleveland Ave, Columbus, OH
Free
Thurs, November 18, 6pm
Regin Igloria in conversation with Rachel L. S. Harper
DePaul Art Museum: Online
Free
Thurs, November 18, 2-3:30pm
Donations + Transfer Agreements Panel
Black Metropolis Research Consortium: Online
Free
Thurs, November 18, 6-7pm
Celebrating the Poets of Forms & Features
Poetry Foundation: Online
Free
Thurs, November 18, 6-7:30pm
Visions of Justice: Illinois
Illinois Humanities: Online
Free
Thurs, November 18, 6pm
The Perfect Servant: Exploring Race, Labor & Blackness in Chicago
Arts + Public Life: Online
Free
Fri, November 19, 6-9pm
WINTER ARTS & CRAFTS EXPO PREVIEW PARTY
Evanston Art Center: 1717 Central St, Evanston, IL
$40
Fri, November 19, 6-10pm
You're Welcome: Closing Reception
Reunion Chicago: 2557 W North Ave., Chicago, IL
$10-25
Sat, November 20, 6-9pm
SLAYSIAN 2.0
Co-Prosperity Gallery, Public Media Institute, 3219 S. Morgan St., Chicago, IL
Free
Sat, November 20, 6pm
Everyone Together: Dialogue + Shaking
Roman Susan: 1224 W Loyola Ave., Chicago, IL
Free
Sat, November 20, 3pm
Songs for Syria
Fine & Performing Arts Center @ Moraine Valley Community College: 9000 W. College Parkway, Palos Hills, IL
$0-$35
Sat, November 20, 7:30-9pm
Good Trouble
The Kehrein Center For The Arts: 5628 W. Washington Blvd., Chicago, IL
Free
Sun, November 21, 1-4pm
Matt Irie: Arresting Gestures
Evanston Art Center: 1717 Central St, Evanston, IL
Free
Sun, November 21, 12-3pm
Site 1
The Ekru Project, Beco Gallery, Troost Gardens, Sapien Gallery, Curiouser & Curiouser, and plug: Gillham Park, 4200-4298 Kenwood Ave, Kansas City, MO
Free
Sun, November 21, 11am-2pm
yART Sale
Project 1612: 813 E. Jefferson St., Morton, IL
Free
Mon, November 22, 8-11pm
ALVIN COBB TRIO & NATE LEPINE QUARTET
Elastic Arts: 3429 West Diversey Avenue #208, Chicago, IL
$10
Wed, November 24, 8pm
Chicago Black Artist Union Presents: "The Celestials" Benefit Concert
Elastic Arts: 3429 West Diversey Avenue #208, Chicago, IL
$20
Fri, November 26, 6-10pm
Mesonjixx Live from Culxrhouse!
Culxr House: 3014 North 24th Street, Omaha, NE
$15
Sat, November 27, 12pm
Cicero / Mt. Greenwood (1996/2016) – A Screening and Conversation
Southside Film Festival: IIT Tower Auditorium, 10 W 35th St., Chicago, IL
Free
Sat, November 27, 7-9:30pm
Daughters of Eve – Red Carpet Premier Screening
Southside Film Festival: Epiphany Center for the Arts, 201 S Ashland Ave., Chicago, IL
$15
Sat, November 27, 4pm & 7pm
Choreographers' Evening 2021: Curated by Valerie Oliveiro
Walker Art Center: 725 Vineland Place, Minneapolis, MN
$28.50
Sun, November 28, 6-9pm
Mama Gloria – Film Screening and Panel Discussion
Southside Film Festival: Cinema Chatham, 210 W. 87th St., Chicago, IL
Tues, November 30, 6pm
Collective Impact: Conversation with Hood Feminism Author Mikki Kendall
Columbia College Chicago: Online
Free