Fresh Walls: New Space for Artists to Occupy at Lake FX
Join us on April 22nd for a panel featuring Fontaine Capel (Hume), Maggie Crowley + Javier Bosques (Produce Model Gallery), Tracie Hall (Rootwork Gallery), Claudine Isé (Goldfinch), Mashuska Matthews + Torie McMillan (+ Gallery), moderated by Caroline Picard (Sector 2337).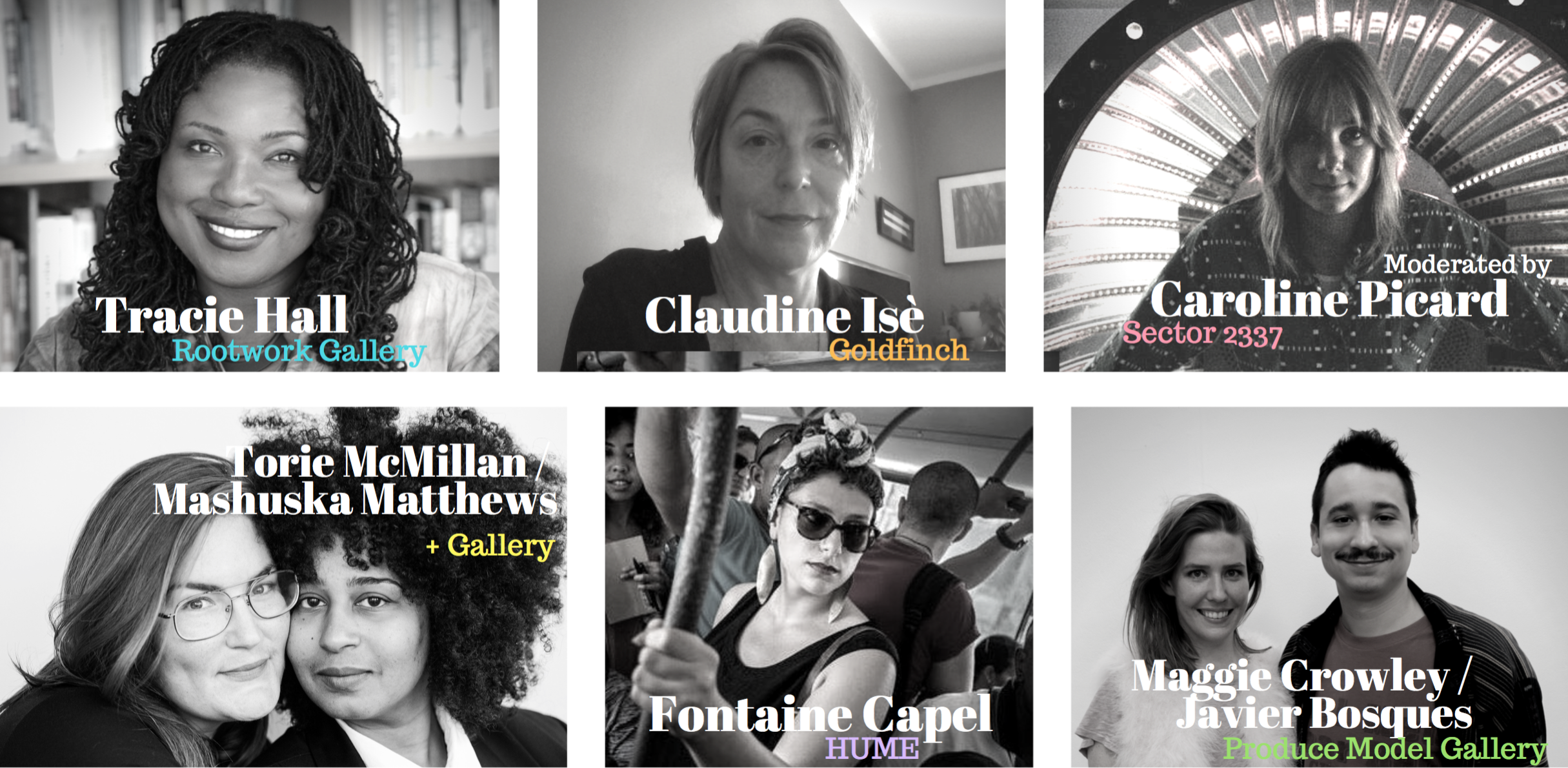 Saturday, April 22, 4:30pm
Chicago Cultural Center (78 E Washington St.)
Free
RSVP on Facebook | More about Lake FX
Hear from a few of the newest galleries around the city making space for and showing work by emerging and established artists in and outside of Chicago. They will share the basics of what it means to run a gallery space including how they choose artists, how they keep the lights on, their approach to building an audience, and where they fit into Chicago's current gallery ecosystem.
This panel is presented by Sixty Inches From Center in partnership with the Department of Cultural Affairs and Special Events' Lake FX CreativeCon.
SPEAKERS

ABOUT THE SPEAKERS
Fontaine Capel is a Chicago-based interdisciplinary artist, curator, educator, and facilitator. She is Co-Founder and Executive Director of the alternative art space Hume Chicago. In conjunction with her studio and curatorial practice, she has worked as a teaching artist at the Museum of Contemporary Art Chicago and Marwen. Her work has appeared domestically and internationally: digitally, and IRL. She received a B.A. at Oberlin College where she studied Art History and Studio Art. Hume Chicago is an artist-led project space focused on serving the Humboldt Park and Logan Square communities through dynamic, accessible arts programming. We aim to foster an inclusive, creative environment in which emerging underrepresented Chicago artists and their neighbors can commune and engage. In the spirit of accessibility, Hume maintains an open studio, as well as an call for exhibitions, workshops, and other creative projects that align with our mission. humechicago.org / fontainecapel.com

Maggie Crowley was born in Ottawa, Illinois and lives and works in Chicago. Crowley completed her BS in Art Education from Illinois State University, her MA in Painting from Eastern Illinois University and her MFA from the University of Chicago. Javier Bosques was born in San Juan, Puerto Rico and lives and works in Chicago. Bosques obtained his BFA at The Cooper Union and his MFA from UCLA in Film Directing. Crowley and Bosques are both visual artists and founded Produce Model Gallery in 2016. Produce Model Gallery places special interest in presenting curated exhibitions at the service of the Chicago community. PM is committed to bringing artists from varied backgrounds together as a means of creating individual and collective agency. As an artist-ran space, PM Gallery maintains a concentrated sensibility for production, time and ideas. Produce-model.com
Tracie D. Hall is Founding Curator of experimental arts space, Rootwork Gallery and Cultural Program Director at the Joyce Foundation. Before her Joyce Foundation appointment, she was most recently Deputy Commissioner of the Department of Cultural Affairs and Special Events (DCASE) for the City of Chicago where she oversaw the Arts and Creative Industries Division which included  the Visual Arts, Performing Arts, Music Industry, and Farmers Market programs, as well as the Chicago Film Office, Chicago Artists Month and Lake FX Summit and Expo. Prior to her work at DCASE, Hall served as Vice President of Strategy and Organization Development at Queens Library in New York City, one of the nation's busiest libraries serving over 11 million users annually; at Boeing Company's Global Corporate Citizenship Division where she worked as Community Investment Strategist for 9 US and 16 non-US  sites and later as Chicago Community Investor; as Assistant Dean of Dominican University's Graduate School of Library and Information Science; as visiting professor at Catholic, Southern Connecticut State, and Wesleyan Universities and in non-profit and public sector posts across the country including work with Ocean Park Community Center in Santa Monica, CA where she began her career directing transitional shelters for homeless youth. A poet, fiction writer and playwright, Hall is a Cave Canem fellow and the recipient of various awards and residencies for her writing, creative and community work. Holding degrees from the University of California, Yale University and the University of Washington, Hall was born and mostly raised in South Los Angeles. facebook.com/rootworkgallery
Along with running GOLDFINCH, an independent project space in East Garfield Park, Claudine Isé is the Director of the Riverside Art Center's Freeark Gallery + Sculpture Garden, whose exhibition program focuses on contemporary art by artists based in Chicago and throughout the U.S. Isé is also a Clinical Adjunct Associate Professor in the Museum and Exhibition Studies Program (MUSE) in the School of Art + Art History at the University of Illinois-Chicago, and a Lecturer in Painting and Drawing at SAIC.  Isé has published art reviews and features in the Chicago Tribune, Chicago magazine, Art21.org (where she also worked as Blog Editor), Bad at Sports, Art on Paper and many other publications. Prior to moving to Chicago in 2008, she was the Associate Curator of Exhibitions at the Wexner Center for the Arts in Columbus, OH, and an Assistant Curator at the Hammer Museum in Los Angeles. Goldfinch is an independent project space that seeks to provide compelling physical, conceptual, and discursive frameworks for contemporary visual art through exhibitions, artists' talks, informal salon discussions, and the written word. Our exhibition program does not strive for branded recognizability; instead, we bring an experimental, studio-like sense of curiosity, experimentation and play to our programming by embracing the fluidity, contingency, and productive unpredictability that is constitutive of contemporary cultural practice. goldfinchgallery.org
Mashuska Matthews and Torie Matthews met at an event, while volunteering for different LGBT+ organizations four years ago. Shared interests and values, along with different skills and experiences led to collaborative volunteer work, personal art projects and creating the art and community space + gallery Chicago. + gallery Chicago's mission is to provide space to underrepresented local artists, makers, activists, story tellers, instructors, and other community organizers to share experiences, skills, resources and locally crafted goods with one another and the public. Our vision is to strengthen local communities and coalitions examining institutional and social oppression, while considering global impact. // La misión de la galería + de Chicago es proveer el espacio a artistas locales poco representados, creadores, activistas, cuentistas, instructores y otros organizadores comunitarios para compartir experiencias, habilidades, recursos y productos elaborados localmente entre nosotros y con el público. Nuestra visión es reforzar comunidades y coaliciones locales examinando la opresión institucional y social mientras consideramos el impacto global. plusgallerychicago.com
Caroline Picard is an artist, writer, publisher, and curator who explores the figure in relation to systems of power through on-going investigations of inter-species borders and what possibilities emerge from upturning an anthropocentric world view. Her writing has appeared in publications like ArtForum (critics picks), Flash Art International, Hyperallergic, Paper Monument, and The Seen. In 2014 she was the Curatorial Fellow at La Box, ENSA in France, and became a member of the SYNAPSE International Curators' Network of the Haus der Kulturen der Welt in Berlin in 2015. She is the Executive Director of The Green Lantern Press—a nonprofit publishing house and art producer in operation since 2005—and Co-Director of Sector 2337, a hybrid artspace/bar/bookstore in Chicago. Publications include The Strangers Among Us (Astrophil Press), and, under the name Coco Picard, The Chronicles of Fortune (Radiator Comics). sector2337.com
__
ABOUT LAKE FX
This discussion is part of the 3rd annual Lake FX CreativeCon presented by Google between April 21 and 22, 2017. Lake FX is the region's largest FREE conference for emerging artists and creatives and is designed to connect, inform and inspire "makers" in the music, dance, design, theater, and arts fields. In addition to keynote speakers, the event will feature professional development workshops, an interactive resource fair, networking opportunities, auditions in front of leading A&R label executives for selected musicians and much more. Learn more at lakefxchicago.us and follow the hashtag #LakeFX.