Meet the 2022 Muña Cohort!
Read the essays and interviews written by the 2022 cohort of the arts-writing program, Muña!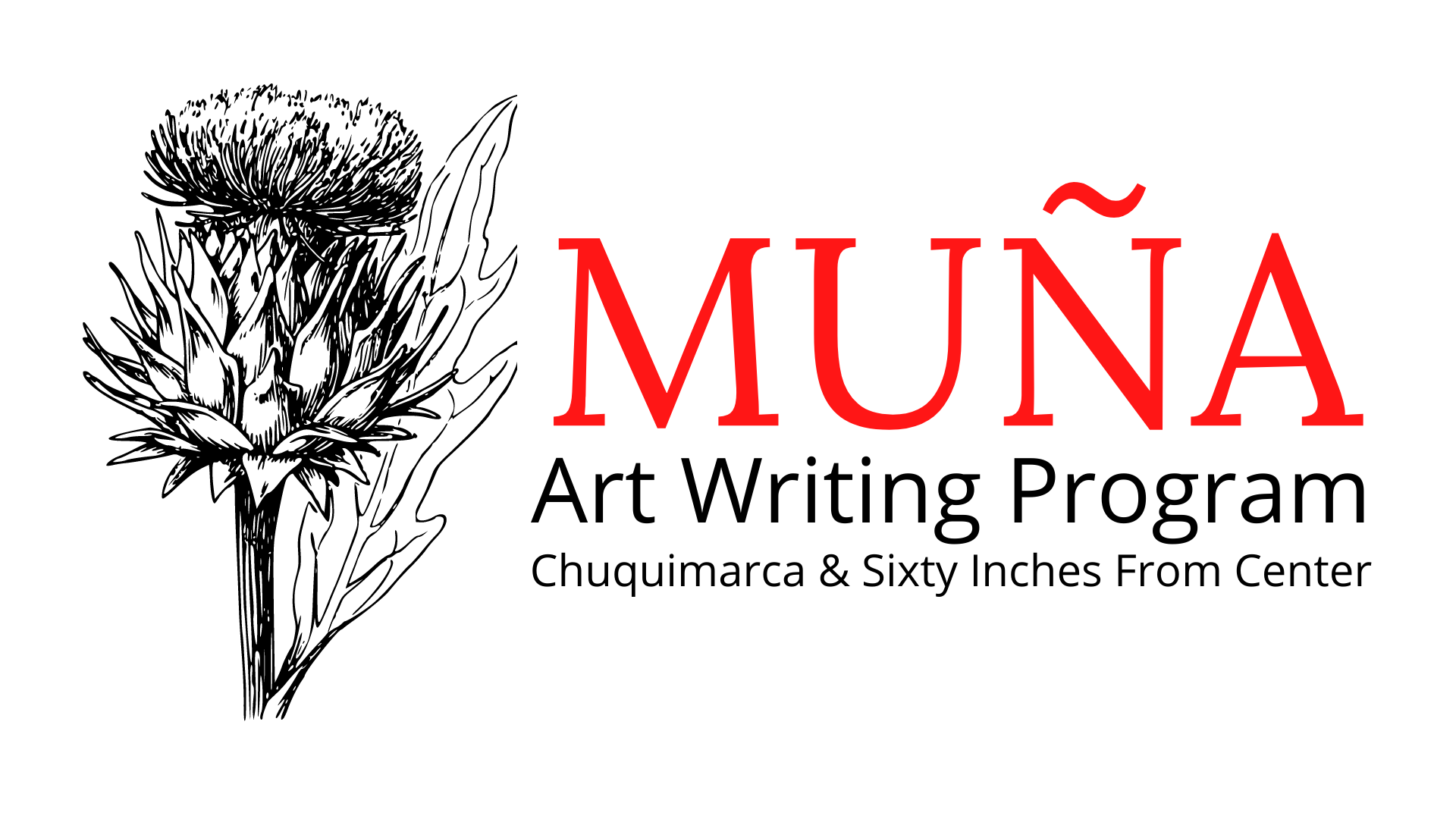 During the Summer of 2022, Chuquimarca hosted Muña, a 3-month art writing program providing a cohort of six writers the opportunity to critically and creatively engage with art writing strategies, readings, exercises, and conversations. The program is structured for writers to develop and refine their practices through guided workshops and peer-review feedback. Its task is to stir, incubate, and pollinate shared consciousness on holistic, equitable, and attentive art writing and language practices. The 2022 cohort included Cristobal Alday, Rachel Dukes, Darshita Jain, Emeline Boehringer, Yi Chin Hsieh, & Sarina Shane. Muña is a program collaboration by Chuquimarca and Sixty Inches From Center and was facilitated by Kerry Cardoza.
Kerry Cardoza is a Chicago-based journalist who writes about art, culture, politics, and power. She is the art editor at Newcity, the punk columnist at Bandcamp Daily, and a member of Make Yourself Useful. She received her master's degree in journalism from Northwestern University.
Chuquimarca is an art library project tasked to gather and share resources related to Native, Caribbean, and Latin American contemporary art and art histories in Chicago.
* * *
Read the Work
Read the essays and interviews written by the participants of Muña! Check back regularly as we continue to publish their work.
---
Meet the Cohort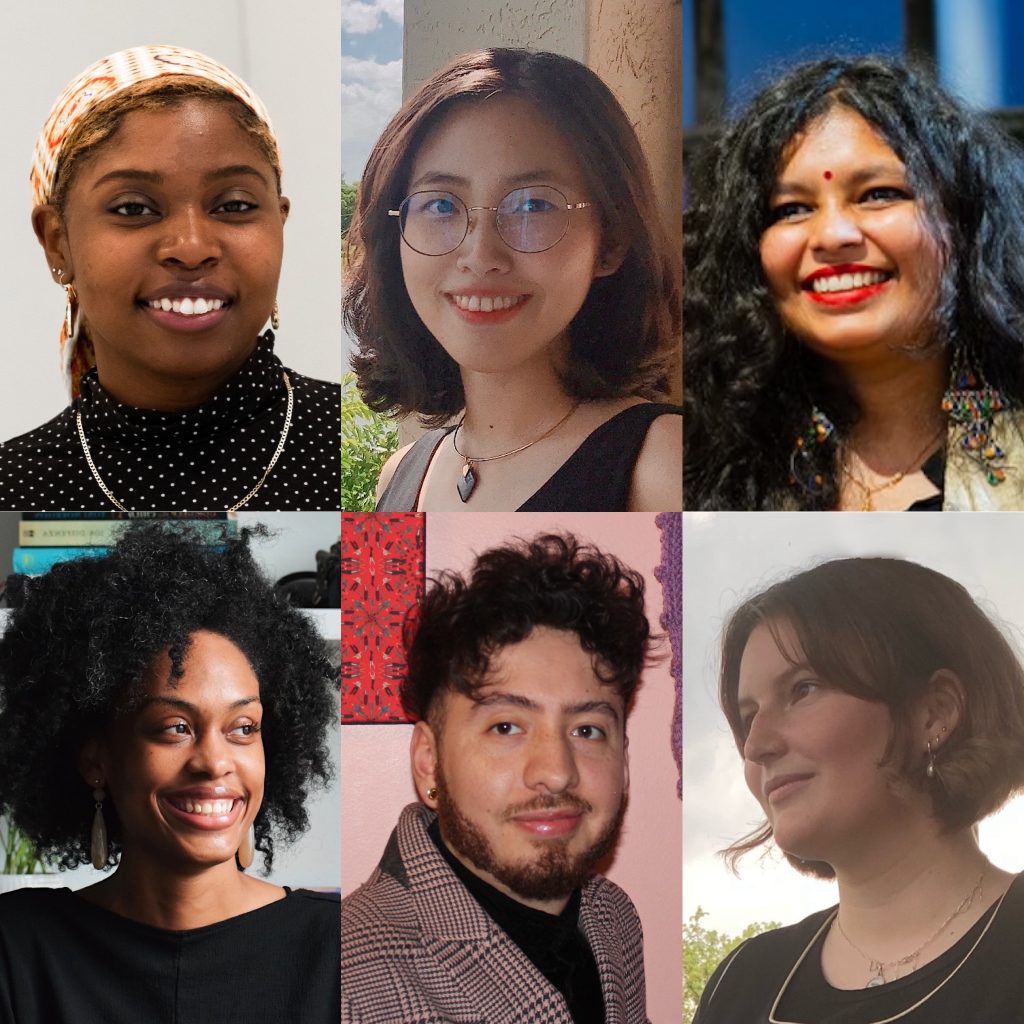 Sarina Shane is a Chicago based writer, artist, and designer (who sometimes makes mixes). She's interested in inspiring others to express themselves visually. Her work is based on a general curiosity surrounding space and context. She uses that lens to capture the world and challenge it to truly become multidimensional through documenting other black womxn, their practice (if applicable), and definitions of community in writing, photography, or through interactive installations. Community and alternative ways to disseminate information are top of mind. She aims to create resourceful content for people that take the train, for first-generation students that love alternate learning, everyday people. Written projects include profiles, reviews, photojournalism, and longer research pieces centered around new media local art history, womxn, and interiors as an extension of installation art. Using art, as a tool for social justice, her mediums help her connect and stimulate viewers to express themselves visually and inspect their power. Long-term interests include cooperative housing, visual communication, and process-based art.
Yi Chin Hsieh is a curator from Taipei, Taiwan and has been living and working in Miami since 2018. Her curatorial practice explores collaboration and artistic practice with artists. Hsieh's research interests are in curatorial methods under the discussion of exhibition forms, collectiveness, and contemporary visual culture in response to the current time. Her practice aims to communicate the idea of blurring the line between the artist-as-curator and the curator-as-artist. Hsieh has realized several curatorial projects in the greater Miami area and institutions including the Wolfsonian Museum, the Patricia & Phillip Frost Art Museum, Spinello Projects, Laundromat Art Space, to name a few.
Darshita Jain is a Chicago-based poet, art critic, and arts administrator. Her work takes the shape of exhibition direction, art journalism, writing, performance, and non-profit arts administration. She has written for Chicago Reader, Newcity, The Adroit Journal, Arts Letters & Numbers, and was one of the founding Literary editors for Fnews Magazine, Chicago. She holds an MA in New Arts Journalism from the School of the Art Institute (2020) Darshita has been writing and developing tools to educate and build a critical lens to life and culture for the last 8 years. Darshita earned her Bachelor's in Fashion and production from the National Institute of Fashion Technology, India. After studying and working in fashion for 2 years, Darshita started writing critically about the industry and labor exploitation. Darshita currently works as the Programming Lead at Woman Made Gallery, Chicago.
Rachel Dukes (she/her) investigates how art activates stillness, creating space for memories to interact with subsequent time. Through her exposure to the arts – specifically Black artists working across various modes of expression – she has explored her identity as a Black queer woman and furthered her personal understanding of her cultural history. Her creative practice focuses on writing and storytelling. Rachel is passionate about anchoring her artistic exploration of Black culture in community and accessibility. Rachel is based in Chicago and is originally from Grand Prairie, Texas. She holds a bachelor's degree in Accounting from the University of Arkansas, with minors in African & African American Studies and Spanish. Since moving to Chicago, Rachel has worked professionally in corporate finance and has supported numerous non-profits across the Chicagoland area through volunteer work and pro-bono consulting.
Cristobal Alday (he/him) is a Queer Latinx curator and creative from the south side of Chicago. Graduated from Northwestern University with a B.A. in Latinx Studies and Art History, where he conducted his thesis project on how artists use tortillas as a form of resistance within their practice. He focuses on photography, and film particularly dealing with queerness, familial dynamics, and space. He is a current HATCH fellow at Chicago Artists Coalition, and a curatorial assistant at Johalla Projects as well as utilizing his room to curate exhibitions with works by local artists.
Emeline Boehringer is an emerging curator, writer, and art historian. She is currently the Gallery Assistant at Wrightwood 659, a non-commercial gallery in Chicago. She has previously held roles at DOCUMENT Gallery, the Smart Museum of Art, and Gallery Sabine in Chicago; CreativeTime in New York City; and the Art Museum at the Chinese University of Hong Kong. She studied Modern and Contemporary Art History at the University of Chicago, and her work has been published in the Bowdoin College Journal of Art. She is interested in slow looking, art and labor, and images as a form of world-making. You can mostly find her cooking, reading, or walking by the lake.
---