May (Virtual) Art Picks
Due to the unprecedented, precarious state we are all in due to COVID-19, this month's Art Picks reads a bit differently. As the nation practices social-distancing, we can no longer…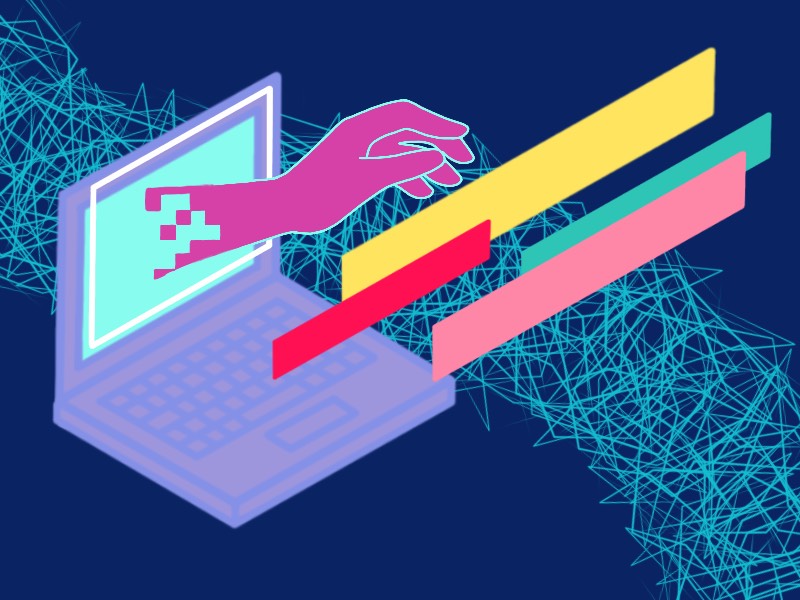 Due to the unprecedented, precarious state we are all in due to COVID-19, this month's Art Picks reads a bit differently. As the nation practices social-distancing, we can no longer attend the events normally listed here. Exhibitions, performances, lectures–you name it–are being postponed or cancelled. As a result, artists, musicians, and performers are doing what they always do–they become even more resourceful, miraculously organizing virtual events and alternative ways to engage with their work. As the ways in which we experience the arts have recently changed, so must this list of Art Picks. Below, you will find two categories: virtual arts events and streaming events, and online exhibitions and resources from regional arts organizations.
Art Picks is a monthly event calendar created in collaboration with The Visualist, Chicago's leading visual arts calendar, and cross-promoted through Windy City Times, one of the longest locally-published LGBTQ weeklies with a national reach. Click here to get our Art Picks and latest articles delivered to your inbox monthly.
The featured image was created by one of Sixty's talented illustrators, Teshika Silver, who is a freelance illustrator, designer, teaching artist and spiritual cultural worker spending time and living freely in Little Village, Chicago. Follow her work on Instagram @astratesh.
This is a growing list, so check back often for new additions.
May 2020
The Quarantine Concerts
Experimental Sound Studio
Fri, May 1, 12-1pm
Craftivism During a Pandemic
UIC Women's Leadership and Resource Center
Free
Fri, May 1, 2-3pm
Learning Community Care from our Queer and Trans Ancestors
UIC Gender and Sexuality Center
Free
Fri, May 1, 7-8pm
Alina Das: No Justice In the Shadows
Women & Children First Bookstore
Free
Sat, May 2, 8pm
Online Events for Common Field National Artist Convening
Public Media Institute
Free
Sun, May 3, 1-5pm
Virtual Center Sunday
Hyde Park Art Center
Free
Sun, May 3, 3-4pm
Cooperation for Liberation Study & Working Group
the #LetUsBreathe Collective
Free
Mon, May 3, 6:30pm
Laila Lalami: Conditional Citizens
American Writers Museum
Free
Tue, May 5, 6pm
826CHI's Virtual Publishing Fest
826CHI
Free
Wed, May 6, 12-1pm
Photos at Zoom: Photography as Social Practice
Museum of Contemporary Photography
Free
Wed, May 6, 1-2pm
Sanctuary Sessions: Self-Care Strategies with Rhonda Wheatley
Chicago Cultural Center
Free
Thurs, May 7, 1-2pm
Community Lunch with Amanda Gentry and Yasmin Spiro
Mana Contemporary
Free
Thurs, May 7, 6-9pm
Volumes Virtual Book Club
Volumes Bookcafe
Free
Thurs, May 7, 7-9pm
Online Event: Badnam Basti (1971)
Block Museum of Art
Free
Fri, May 8, 7pm
5 Years of Healing + Community Fundraiser
Chicago Torture Justice Center
Fri, May 8, 12-1pm
MoCP Behind the Lens: Priya Kambli
Museum of Contemporary Photography
Free
Fri, May 8, 1-2pm
In Flux: Table-reading with Amanda Assaley and Qais Assali
Chicago Cultural Center
Free
Fri, May 8, 3-4pm
Samantha Cabrera-Friend: Artist Talk
LATITUDE
Free
Fri, May 8, 7:30-9:30pm
Jurassic Warp
Ground Level Platform
Free
Tues, May 12, 7-8pm
On Lighthouses: Jazmina Barrera in conversation with Eula Biss
Pilsen Community Books
Free
Thurs, May 14, 2pm
Leather Legacies: Heather Raquel Phillips
Leather Archives & Museum
Free
Sat, May 16, 8-9:30pm
FYI Prom: The Digital Get-Down
Illinois Caucus for Adolescent Health
Under 21: Free / Over 21: $10-$20 sliding scale
Sun, May 17, 3-4pm
Live-Stream: Shannon Stratton on Miho Dohi
The Renaissance Society
Free
Tues, May 19, 12-12:30pm
Virtual Studio Visit: Evvie Allison
Museum of Contemporary Art Chicago
Free
Wed, May 20, 6-7pm
Fred Moten in Conversation with Theaster Gates
Center for the Study of Race, Politics, and Culture @UChicago
Free
Wed, May 20, 12-1pm
Dialogue Keynote: Kerby Jean-Raymond
Museum of Contemporary Art Chicago
Free
Wed, May 20 – Sat, June 20
Art-In-Place
Terrain Exhibitions + CNL Projects
Wed, May 20, 5-6pm
Open 24 Hours: Virtual Artist Talk
Heaven Gallery
Free
Thurs, May 21, 6pm
826CHI's Virtual Publishing Fest
826CHI
Free
Wed, May 27, 12-1pm
Photos at Zoom: Latin American Street Photography
Museum of Contemporary Photography
Free
Fri, May 29, 6-8pm
RE)Visions of Chicago Public Schools
062 Gallery
Free
Online Exhibitions/Archives
Duro Olowu: Seeing Chicago at the MCA (includes video gallery tour & audio interviews/lectures)
PATRON: Partings, Swaying to the Moon: Virtual Walk-Through
Kavi Gupa: Virtual Exhibition Tour of Roger Brown: Hyperframe
Monique Meloche: The Transcendence of Time
The Renaissance Society
Museum of Contemporary Photography Chicago
Poetry Foundation
Richard Gray Gallery
Catherine Edelman Gallery
The Arts Club
The Social Distancing Festival
For information on resources and funding opportunities for artists, please see our previously published article "In Case of Emergency: Artist Resources For You, For Us."