March Art Picks
Art Picks is a monthly event calendar created in collaboration with The Visualist, Chicago's leading visual arts calendar, and cross-promoted through Windy City Times, one of the longest locally-published LGBTQ weeklies with a…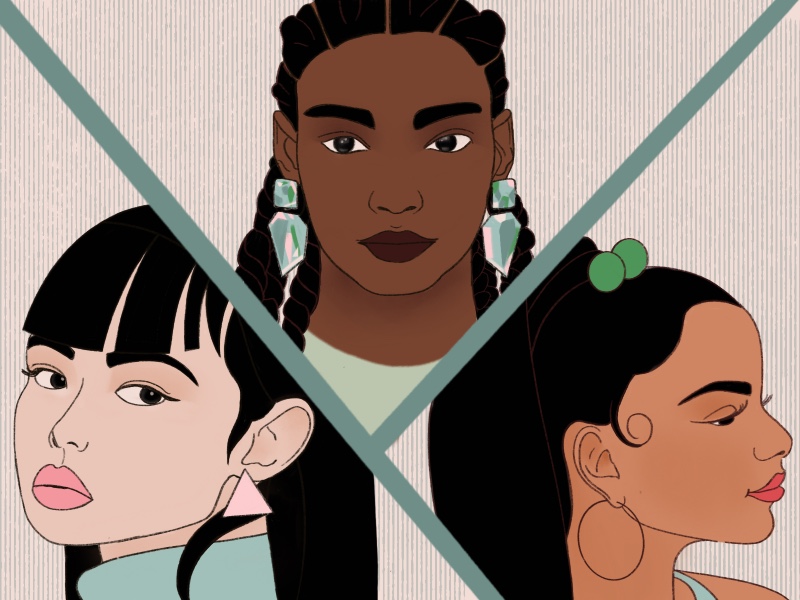 Art Picks is a monthly event calendar created in collaboration with The Visualist, Chicago's leading visual arts calendar, and cross-promoted through Windy City Times, one of the longest locally-published LGBTQ weeklies with a national reach. Click here to get our Art Picks and latest articles delivered to your inbox monthly.
The featured image was created by one of Sixty's incredibly talented illustrators, Kiki Dupont, who is an interdisciplinary artist based in Chicago. Find more of Kiki's work on Instagram @kikidupontart or on her website.
This is a growing list, so check back often for new additions.
Feb 29- Mar 1, 2020
Women According to Men
Gene Siskel Film Center of the School of the Art Institute of Chicago: 164 N State St
$6-12
Sun, Mar 1, 3-4pm
Lázaro Lima: Being Brown
The Seminary Co-op Bookstores: 5751 S Woodlawn Ave
Free
Sun, Mar 1, 4-7pm
Playing in the Dark: Selected Work by Bill Talsma (1971-2019)
PO Box Collective: 6900 N Glenwood Ave
Free
Mon, Mar 2, 6-7:30pm
Martha Wilson and the Franklin Furnace
Department of Visual Arts at the University of Chicago: 915 E 60th St
Free
Mon, Mar 2, 7-9pm
Isaiah Collier and The Chosen Few
Green Line Performing Arts Center: 329 E Garfield Blvd
Free
Mon, Mar 2, 7-10pm
Brandon Lopez
Experimental Sound Studio: 5925 N Ravenswood Ave
Free
Tue, Mar 3, 6:30-8:30pm
Sawako Nakayasu: My America
American Writers Museum: 180 N Michigan Ave
Free

Tue, Mar 3, 7:00pm
The Sonic Image: Lawrence Abu Hamdan, Hannah B. Higgins, & W.J.T. Mitchell
Logan Center for the Arts, Performance Penthouse 901
Free
Tue, Mar 3, 7-8:30pm
Talk: Does Voting Matter? How the Arts Promote Civic Engagement
Museum of Contemporary Art Chicago: 220 E Chicago Ave
Free
Tue, Mar 3, 9pm
Acorn: Billie Howard/Rebecca Himelstein, Shabrock & Jen Hill
Elastic Arts: 3429 W Diversey Ave, #208
$10
Wed, Mar 4, 6-7pm
In Conversation: The years now
Logan Center Exhibitions: 915 E 60th St
Free
Wed, Mar 4, 6-8pm
Practice Makes: Lori Waxman in Conversation with Rachel Cohen
Smart Museum of Art: 5550 S Greenwood Ave
Free
Thurs, Mar 5, 7:30-9:30pm
Devin Flower + Lia Kohl
Comfort Station Logan Square: 2579 N Milwaukee Ave
Free
Thurs, Mar 5, 6:00pm
Joshua G. Stein, Casting Lessons
Graham Foundation: 4 West Burton Place
Free
Thurs, Mar 5, 6-8pm
Mariah Garnett: Trouble
Gene Siskel Film Center of the School of the Art Institute of Chicago: 164 N State St
$5-12
Thurs, Mar 5, 7pm
Jacob Tobia: SISSY: A Coming-of-Gender Story
Women & Children First Bookstore: 5233 N Clark St
Free
Thurs, Mar 5, 7-10pm
Cinema 53: Dawnland with Heather Miller and Eve Ewing
The Harper Theater: 5238 S Harper Ave
Free
Thurs, Mar 5, 9pm-12am
Borders & Human Rights: Can They Be Reconciled?
Smart Museum of Art: 5550 S Greenwood Ave
Free
Fri, Mar 6, 7-8:30pm
Meshell Ndegeocello
Museum of Contemporary Art Chicago: 220 E Chicago Ave
Free
Fri, Mar 6, 7-9pm
70 Acres in Chicago
PO Box Collective: 6900 N Glenwood Ave
Free
Fri, Mar 6, 7-9pm
Cuban Animation from the 1960s to Today
Uri-Eichen Gallery: 2101 S Halsted St
Free
Fri, Mar 6, 7-10pm
Moving Images: Avant-Garde Dance on Film
Reva and David Logan Center for the Arts: 915 E 60th St
Free
Sat, Mar 7, 11am-1pm
Inspire & Empower: Women Creating Change in Their Communities
Heaven Gallery: 1550 N Milwaukee Ave
Free
Sat, Mar 7, 4-8pm
Cloudy with a Chance of Ruin
Comfort Station: 2579 N Milwaukee Ave
Free
Sat, Mar 7, 5-8pm
Sistah's House of New Beginnings presents Women of Excellence Showcase and Benefit featuring Terisa Griffin, honoring Dr. Joyce Clark
DuSable Museum of African American History: 740 East 56th Place
Free
Sat, Mar 7, 6-9pm
Julius Caesar Benefit Auction
Julius Cæsar: 3311 W Carroll Ave
Free
Sat, Mar 7, 6-9pm
David Heo: Honey & Smoke
Vertical Gallery: 1016 N Western Ave
Free
Sat, Mar 7, 6:30-10:30pm
LIP 20/20 Exhibit & Arts Festival
Hairpin Arts Center: 2810 N Milwaukee Ave
Free
Sun, Mar 8, 2-4pm
Inherited Artist's Collections: Blessing or a Curse?
Rare Nest Gallery: 3433 N Kedvale Ave
Free
Mon, Mar 9, 7-9pm
Surviving the Mic Open Mic + Live Podcast: Mae Flores
Experimental Station: 6100 S Blackstone Ave
Free
Tue, Mar 10, 6-7pm
Photographic Memory: Carlos Javier Ortiz Reflects on Jun Fujita
Newberry Library: 60 W Walton St
Free
Tue, Mar 10, 6-7:30pm
Suzanne Anker
The Art Institute of Chicago: 230 S Columbus Dr
Free
Tue, Mar 10, 6-8pm
Performance: Industry of the Ordinary feat. Cellist Katinka Kleijn
The Arts Club of Chicago: 201 E Ontario St
Free
Tue, Mar 10, 7-9pm
Seeking Progress Within Our Food System
Hairpin Arts Center: 2810 N Milwaukee Ave
Free
Wed, Mar 11, 6-8pm
Crafting a Creative Career with Felicia Holman
Chicago Artists Coalition: 2130 W Fulton St
Free
Thurs, Mar 12, 5-7pm
Citizen Animalia
Glass Curtain Gallery: 1104 S Wabash Ave
Free
Thurs, Mar 12, 7-9pm
Beatrice Gibson: Two Sisters
Chicago Filmmakers: 5720 N Ridge Ave
$5-10
Thurs, Mar 12, 7-10pm
We Tell Film Series: Turf
Green Line Performing Arts Center: 329 E Garfield Blvd
Free
Fri, Mar 13, 9am-5pm
Apsáalooke Women and Warrior
Field Museum: 1400 S Lake Shore Dr
Free
Fri, Mar 13, 6pm-9pm
Untitled: New Works (Diana Solis & Sam Kirk)
Pilsen Outpost: 1637 W. 18th Street
Free
Fri, Mar 13, 5:30-6:30pm
Belkis Ayón Gallery Talk with Honey Pot Performance
Chicago Cultural Center: 78 E Washington St
Free
Fri, Mar 13, 6-8pm
Suffra Jetting
Woman Made Gallery: 2150 S Canalport Ave
Free
Fri, Mar 13, 6-8pm
Ricky McEachern: MOMENT
Center on Halsted: 3656 N Halsted St
Free
Fri, Mar 13, 6-9pm
Merfrau and the Ferocious Five
Chicago Art Department: 1926 S Halsted St
Free
Fri, March 13, 5:00-8:00pm
Daniel Beltrá: The Amazon
Catherine Edelman Gallery: 1637 W. Chicago Ave.
Free
Fri, Mar 13, 7-8:30pm
Mark Nowak & Tara Betts: Social Poetics launch
Pilsen Community Books: 1102 W 18th St
Free
Fri, Mar 13, 7:30-8:30pm
Lido Pimienta
The Art Institute of Chicago: 111 S Michigan Ave
Free
Fri, Mar 13, 7-9pm
Badnam Basti (Alley of Ill Repute) (1971)
Block Museum of Art: 40 Arts Circle Dr
Free
Fri, Mar 13, 6-9pm
Women's Work Opening Reception
Simmerling Gallery at Beverly Art Center: 2407 West 111th Street
Free
Sat, Mar 14, 12-6pm
Spring Undergraduate Exhibition
SAIC Sullivan Galleries: 33 S State St
Free
Sat, Mar 14, 12-1pm
Art Speaks: Ecosystems
Catherine Edelman Gallery: 1637 W. Chicago Ave.
Free
Sat, Mar 14, 6-9pm
An Unusable Archive
Parlour and Ramp: 2130 W 21st St
Free
Sun, Mar 15, 2pm
If/Then
Chicago Cultural Center: 78 E Washington St
Free
Sun, Mar 15, 3-6pm
Soo Shin: Paths Between Two Steps
Goldfinch Gallery: 319 N. Albany
Free
Sun, Mar 15, 3-6pm
Soo Shin: Paths Between Two Steps
Goldfinch: 319 N Albany Ave
Free
Tue, Mar 17, 7pm
Open Door Series: Nathan Hoks & Tara Betts
Poetry Foundation: 61 W Superior St
Free
Wed, Mar 18, 6-7pm
Mikki Kendall: Hood Feminism
The Seminary Co-op Bookstores: 5751 S Woodlawn Ave
Free
Wed, Mar 18, 6:30-8pm
Public Housing and Community Narratives with Audrey Petty
Arts Incubator: 301 E Garfield Blvd
Free
Thurs, Mar 19, 6-8pm
The World to Come: Art in the Age of the Anthropocene
DePaul Art Museum: 935 W Fullerton Ave
Free
Thurs, Mar 19, 7-8:30pm
Cathy Park Hong & Eula Biss
Women & Children First Bookstore: 5233 N Clark St
Free
Fri, Mar 20, 6-9pm
Ink Exploration
Project Onward: 1200 W 35th St Fl 4
Free
Sat, Mar 21, 1-4pm
Repair Fair with the Chicago Tool Library
Richard J Daley Library: 3400 S Halsted St
Free
Sat, Mar 21, 7-11pm
The HOUSE of FEMME
National Museum of Mexican Art: 1852 W 19th St
Free
Sun, Mar 22, 5-8pm
Dinner + Video: Creative Conversations Potluck & LIP Screening
Hairpin Arts Center: 2810 N Milwaukee Ave
Free
Mon, Mar 23, 7-9pm
Forms & Features at Compound Yellow: Pastoral
Compound Yellow: 244 Lake St, Oak Park
Free
Tue, Mar 24, 6-7pm
Aricka Foreman: Salt Body Shimmer
The Seminary Co-op Bookstores: 5751 S Woodlawn Ave
Free
Tue, Mar 24, 6-7:30pm
Ian Cheng
The Art Institute of Chicago, 230 S Columbus Dr
Free
Wed, Mar 25, 6:30pm – 8:30pm
Disappeared: Chicago's Lost Lesbian Bars
Herbert/Hart Library & Archives: 6500 N Clark St.
Free
Wed, Mar 25, 6-7:30pm
A Conversation with Natalie Diaz, Ann Hamilton & Deana Haggag
Poetry Foundation: 61 W Superior St
Free
Wed, Mar 25, 5:30-7:30pm
Epiphytic Arts Writing Circle
Read/Write Library Chicago: 914 N California Ave
Free
Sat, Mar 28, 10am-2pm
Slinging Ink: A Wood Type and Letterpress Workshop
Newberry Library: 60 W Walton St
Free
Tue, Mar 31, 6-7:30pm
Talk: Witches and Warriors, on Colonialism
Museum Of Contemporary Art Chicago: 220 E Chicago Ave
Free
Tue, Mar 31, 7-9pm
Poetry off the Shelf: A CantoMundo Reading
Poetry Foundation: 61 W Superior St
Free