Jenn Freeman, Po'Chop, and The People's Church of the G.H.E.T.T.O
In 2017, I followed burlesque dancer and performing artist Jenn Freeman, also known as Po'Chop, on Instagram while researching Jeezy's Juke Joint, a renowned Black and Brown burlesque show. I…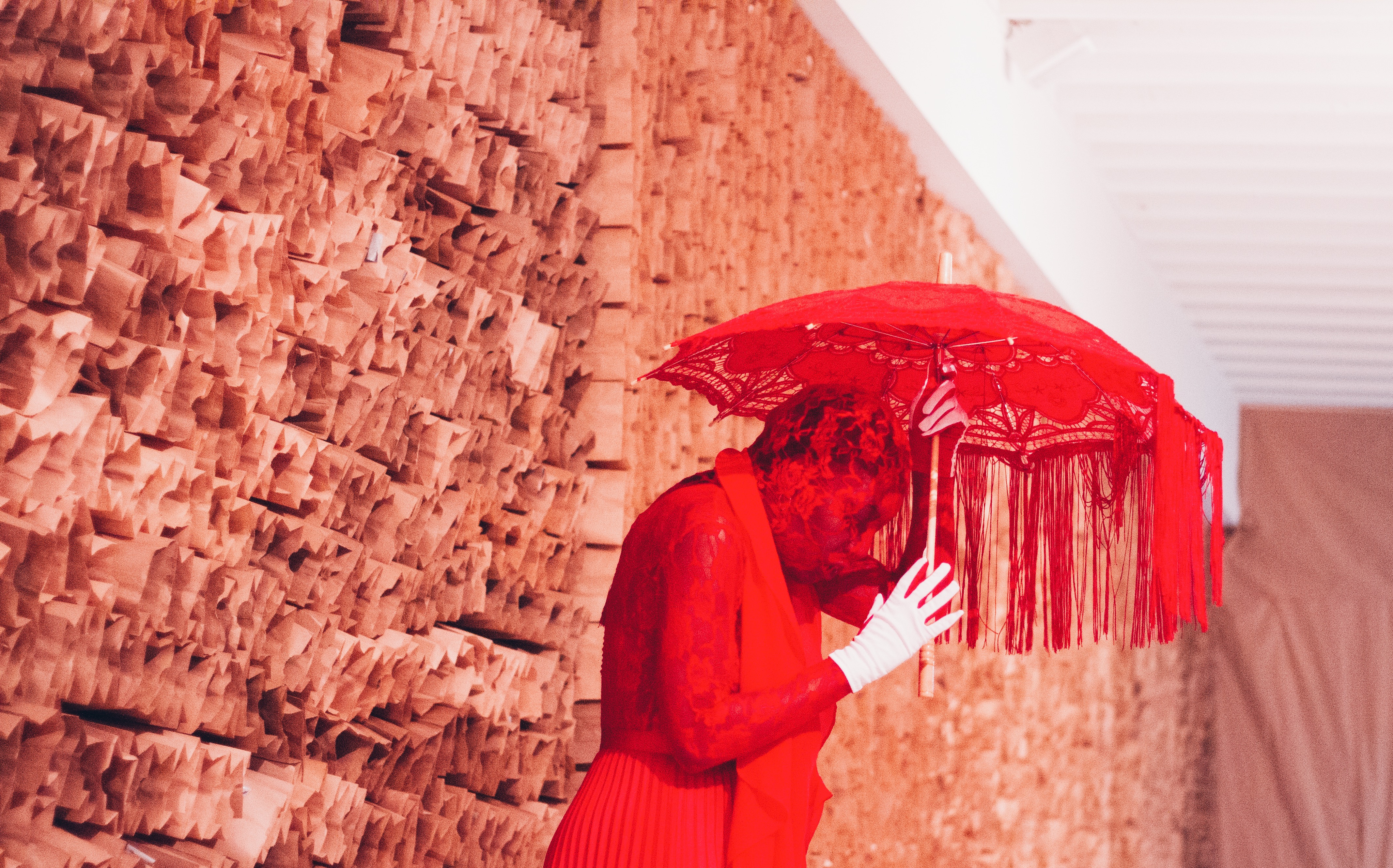 In 2017, I followed burlesque dancer and performing artist Jenn Freeman, also known as Po'Chop, on Instagram while researching Jeezy's Juke Joint, a renowned Black and Brown burlesque show. I was researching it with the hopes of being a performer, not an audience member. As a queer-married intersectional feminist, I saw burlesque as an outlet to express my sensuality and expand my art practice. However, in my research I didn't find classes for Black women.
Fast forward to August 2019.
I received a direct message from Po'Chop on Instagram requesting to commission some of my portrait drawings for an exhibition about the empowering divine Black energies of Audre Lorde, Jackie Ormes, Elder Lucy Smith, and Beauty Turner. Po'Chop receiving a referral from a gallery I previously worked with aligned me to the motherload of manifested interactions. During our conversation about the commissions, we talked about the hurdles of Black feminist scholarship and the joys of performing it through our artistry.
The first time I saw Po'Chop perform was the first day of our phone call. They dressed as a hyper masculine drag king and used a sock puppet to lip sync to the song "Come and See Me" by PARTYNEXTDOOR, featuring Drake. I didn't anticipate a sock puppet burlesque act to be funny, sexy, and witty. Freeman/Po'Chop are truly gifted.
Then, I had one month to complete four portraits of Audre Lorde, Jackie Ormes, Elder Lucy Smith, and Beauty Turner for The People's Church Of the G.H.E.T.T.O (Greatest History Ever Told To Our People). This process of researching and making reminded me of the power of Black feminist thinkers. As the portraits developed, a surprising liveliness emerged from my technique and toned brown paper. Learning about the legacies of Lorde, Ormes, Smith, and Turner allowed me to render humanity and conviction within my colored pencil marks as I developed the portraits.
In my portraits, Beauty Turner is drawn in energetic yellows and golds, looking away from the viewer. Elder Lucy Smith's commanding gaze is drawn in a rich green with hints of red. Jackie Ormes' soft pose is complemented in red-brown colors. Audre Lorde's stunning stare is rendered in electric blue with gray. The drawings are placed in gold frames with ornamental designs coordinating with the gold and brown tones swept around the main room of Blanc Gallery.
I present this interview as an audience member at The People's Church Of the G.H.E.T.T.O (Greatest History Ever Told To Our People), a commissioned collaborator, and as part of a budding creative sisterhood. Jenn Freeman's pronouns are she/her and Po'Chop's pronouns are they/them.
This interview has been edited for clarity and length.
Venise Keys: Can you describe when and how Po'Chop came into existence in your artistry? What are the strengths and weaknesses between the identities of Jenn and Po'Chop?
Jenn Freeman: Po'Chop was born in dive bars among loud crowds and floors sticky with cheap beer. Sometime in 2009, I attended my first burlesque show with the intention of supporting a friend, Jeez Loueez, who was performing. Soon after I attended another and another and another. Eventually, I said yes to my first invitation to perform. Burlesque has been a vehicle to develop, explore, and embrace my artistic voice while receiving live, audible feedback from an audience. Po'Chop was an answer to a question I often times asked after attending burlesque shows: "Where are the Black performers?"–besides Jeez Loueez, Ray Gunn, and Cruel Valentine. There weren't many and [there were] even less getting booked.
[I took on the name] Po'Chop because it was my favorite food growing up and I once had a dance teacher insinuate that I wouldn't "make it" eating the way I did with thighs the size of mine. [I took on the name] Po'Chop because I wanted to create imagery that uplifted and centered the Black, queer, woman experience and push against what our culture has deemed sexy and attractive. Po'Chop developed into a bad ass being demanding attention and creating pieces that spoke to Black rage, sexuality, humor, and beyond.
The acknowledgement of my twoness and being both Jenn Freeman and Po'Chop has been liberating. Jenn Freeman is the breath behind the mask, introverted and slow to speak. Po'Chop takes up space without question. Open chest and wide strides. We feed and teach each other.
VK: Your supporting cast for The People's Church Of the G.H.E.T.T.O helped drive the influence of the Black Church. Can you describe the roles of Tiff Beatty, avery r young, and Shimmy LaRoux in this project for those of us who aren't as familiar with church culture?
JF: The collaborators on The People's Church of the G.H.E.T.T.O are Tiff Beatty, avery r young, Shimmy LaRoux, and Felicia Holman–all artists who, through their life and work, embody what Audre Lorde calls the "erotic". They live and work from a place that is rooted in the deepest part of themselves. They were all also part of the first iteration of the church, Thank the Lorde!, a service uplifting Audre Lorde on her birthday as part of Steppenwolf's Lookout series.
Shimmy LaRoux and Felicia Holman make up the church's usher board. They are present to welcome folks to The People's Church and also be congregation advocates. When in doubt of where to go during offering or altar call, or simply how to participate in the service, the usher's are there to gently guide and be an example. Shimmy LaRoux also delivers the church announcements [which is] a moment in the service [when people can] hear about upcoming events, after service happenings, fundraisers, and beyond.
Tiff Beatty serves as the unofficial pastor. Tiff is a spoken word artist, facilitator, and arts administrator with the ability to contextualize, condense, and weave all the history and research and experience that has impacted the creation of these services.
avery r young is the church's choir (of sorts) who is known to deliver a word before going into his a & b selections–a multi-disciplinary artist who is church.
VK: This program tells narratives of struggle, resilience, and empowerment. Can you briefly describe your process and the symbolisms in the tributes to Ormes, Elder Smith, Turner, and Lorde?
JF: The process for creating the services started with a self guided tour book Lifting as They Climbed: Mapping a History of Black Women on Chicago's South Side by Essence McDowell and Mariame Kaba. The book features 33 sites, the majority of them within walking distance from my Bronzeville home. I spent a lot of time walking to sites, journaling, dancing in empty lots, reading Audre Lorde, reading about the women, digging through archives, having conversations and emails with Tiff, dancing on the 3rd floor of the South Side Community Arts Center, resting, work in progress showings, traveling, and processing.
My creative process avoids prescribing value or meaning to materials and movement. I encourage myself to go where I am compelled to go and make choices based off of how it feels in the moment, trusting that all of the components of the process, the research and readings, the conversations, and site visits are within me and will be revealed through my choices.
For the tributes to Jackie Ormes, Elder Lucy Smith and Beauty Turner, my biggest focus was wanting to experience and share who they were as fully as I could. Not just their work, but [who they were] as mothers and wives and women. Audre Lorde didn't want to be mythologized and I attempt to honor that request with all of the women's spirits that have guided this work.
VK: In your tribute to Jackie Ormes, you used a beautiful brown feathered fan, paper doll dresses, to three different audio tracks with choreography. This section was captivating and clearly spoke to the history of burlesque compared to the modern movements used during Lorde's poem ritual. What does the arsenal of burlesque offer that influences your performances and teaching outside of an institutionalized art context.
JF: Part of my work as a burlesque artist that is navigating between communities is redefining what we label as burlesque. For me, burlesque is the teasing and revealing of not just skin but ideas, information, and emotion. Oftentimes, within my work, I choose to not lead with sexiness. I'm more compelled to focus on the transformation and storytelling. I say this not to take away from the validity and necessity of seeing folks embracing their sexuality. We need that in burlesque just as much as we need burlesque that is Black, irreverent, and queer. I operate on the fringe of communities because I am interested in carving out my own path so that I can share Black history with a room of intergenerational folks who nod in affirmation as I whisper "survive" bare chested to a small child on a sunny afternoon. I operate outside of institutions because they weren't created for me and don't have the tools or mindset to center Black women and our experience.
VK: Since this was a 2 hour service, were there other figures of herstory you weren't able to include with Turner, Elder Smith, Ormes, and Lorde?
JF: The services weren't actually 2 hours. Maybe an hour and a half, at most. There are always more stories to unearth. If nothing else, I hope these services encouraged others to share their stories and to seek out more.
VK: The brown palettes and tones were very captivating. What was the mental process of installing the paper bags on the long gallery wall?
JF: Hours and days and duck tape and gracious folks. My sis and Chicago mural artist, Andy Bellomo, hung with me the 30 hours it took to hang the 2,261 bags. While Mono, Tiff, Leon, Mashuska, Tori, Parker, and Emily trickled in and out to help.
After the last bag was hung, I sat in the space by myself and cried. Overwhelmed with generosity. The magnitude of what was manifested. I cried again as I sat and folded and packed away each one of those bags.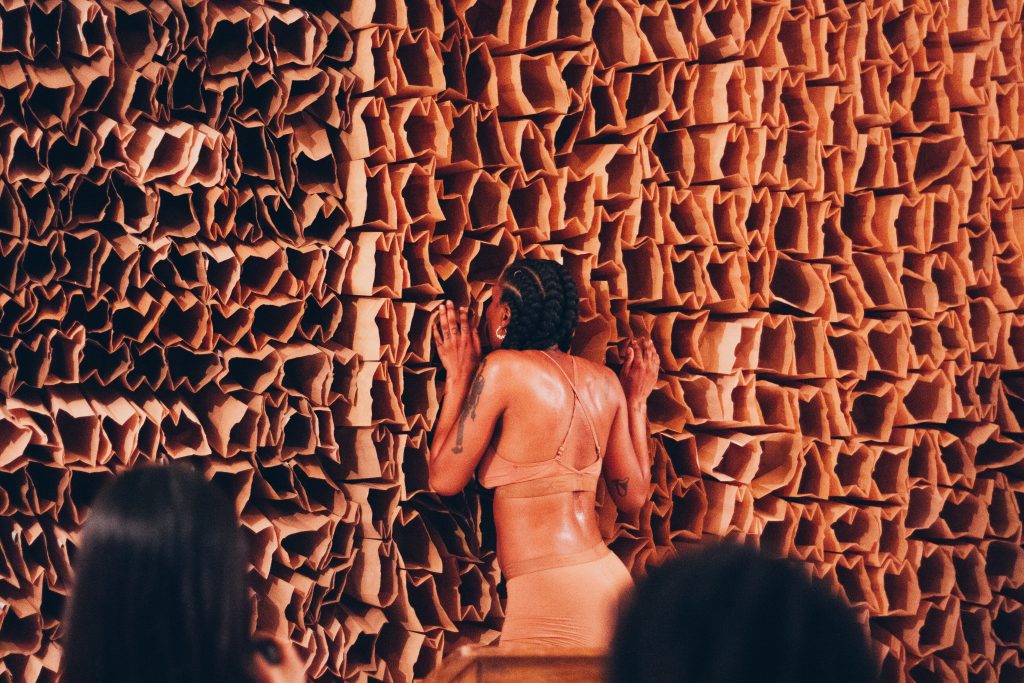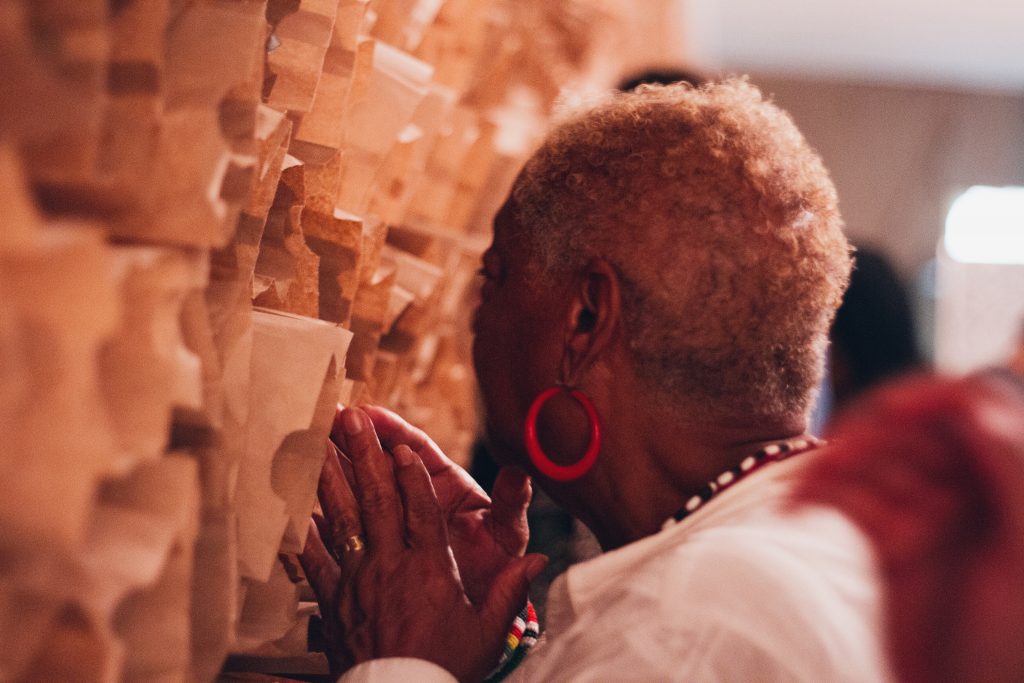 VK: The long gallery wall transforms and activates when you speak the names Turner, Ormes, Elder Smith, and Lorde into the brown bags. Can you [discuss the importance of this] during the Offering, [and also] when guests are invited to speak others names into the wall?
JF: Audre Lorde was adamant about speaking and verbalizing what is most important to a person. One of the ways we acknowledge a soul is by naming it. Calling upon them. Saying their name. It started with me whispering survive at a work-in-progress showing and echoing the words of Lorde's "A Litany For Survival." From there it evolved into saying the names of these women.
There was no plans beyond hanging the bags. We hadn't rehearsed with them nor had any real idea of how they were going to impact and shift the service. During Friday's service my face pressed against the wall of bags. My fingertips traced the edges beside me. I whispered their names into the wall and felt them wave around me.
The magic was in our ability to listen and reach from the well of our truest selves and share. I say that because so much of what happened during the services couldn't have been planned but had to be felt. Tiff saw the power in that moment and shifted her offering to invite others to feel and share that power by whispering the names of Black women who had impacted them.
The offering is one of those moments during the service that overwhelms me with emotions. The power. The beauty. The sharing. The trust. The listening. I love looking at the photos of those who participated. Such a tender and vulnerable moment that left the space and us changed.
VK: You teach burlesque on Sundays to the public. Can you tell us your pedagogy as a teacher of burlesque and what you hope students can take away from attending your classes?
JF: As a teacher, I hope to create a space that allows folks to play, explore, and connect with their bodies. Oftentimes, folks come to learn burlesque with the desire to learn how to be sexy. That I cannot teach. What I can offer is an opportunity to examine what comes up when moving your hips and pelvis. [And to ask] what thoughts come up when touching our arms, stomachs and thighs? How does it feel to whisper affirmations to yourself as your fingertips outline your shape? Take up space. Good. Now take up more. Strut across the floor like you're walking to the 'L' and you know you look good, fearless of getting catcalled. Stillness. Slowly removing a satin robe as your classmates cheer you on. Good music and uncomfortable moments that come before breakthroughs. My hope for students are that they leave trusting and appreciating themselves a little bit more.
__
Featured Image: Po'Chop, dressed in all red, in front of a brown wall covered in brown paper bags. The artist holds a red umbrella and stands with palms together in prayer. Photo by Candice Majors.
---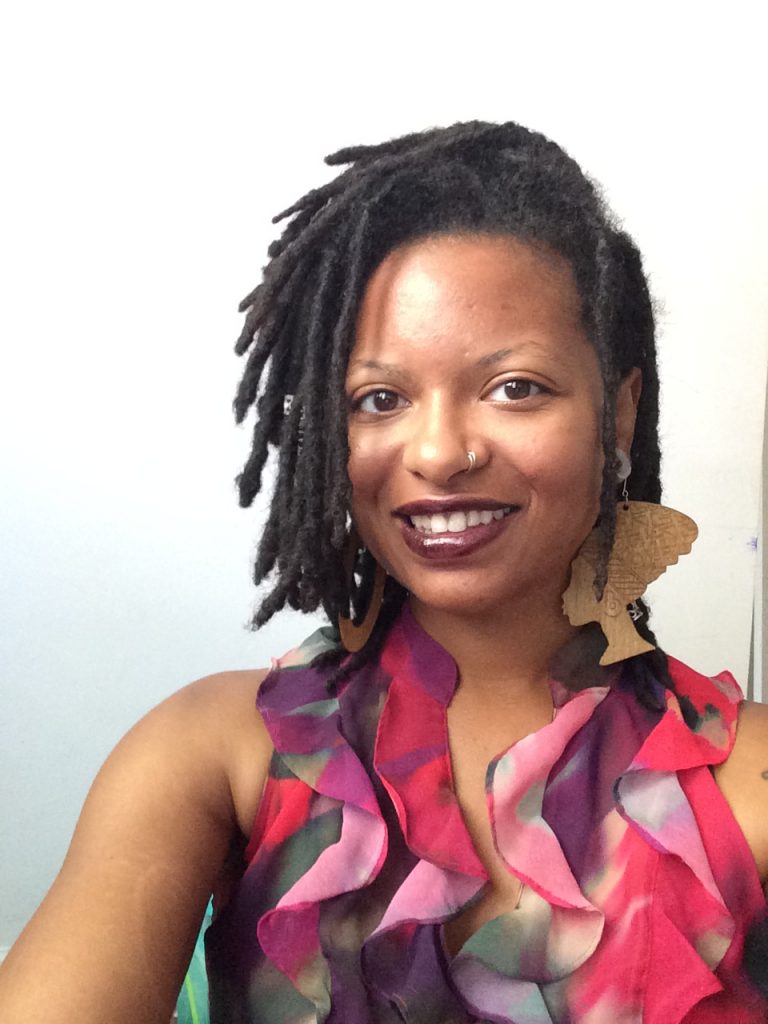 Venise Keys is a queer, black, woman visual artist and writer working in Chicago as a teaching artist for the Beverly Arts Center. Venise received her MFA in painting with a Women's and Gender Studies Graduate Certificate at Illinois State University in 2016. In 2017, she completed a residency at the School of Visual Art in New York for painting and mixed media. Her work has been exhibited at Woman Made Gallery in Chicago, Plus Gallery Chicago, the Museum of Science and Industry in Chicago, the Saint Louis University Museum Of Art, and Front Room Gallery in Brooklyn, NY. Her published scholarship and artwork from the Kalfou Journal was presented in New Orleans, Louisiana at the International Black Arts Movement Conference at Dillard University in 2017. Venise continues to write for publications between creating art and spending time with her wife and kids.