And, Also, Too: Creating Space within a Space with Jeffreen Hayes
An interview with the curator, historian and Executive Director of Threewalls.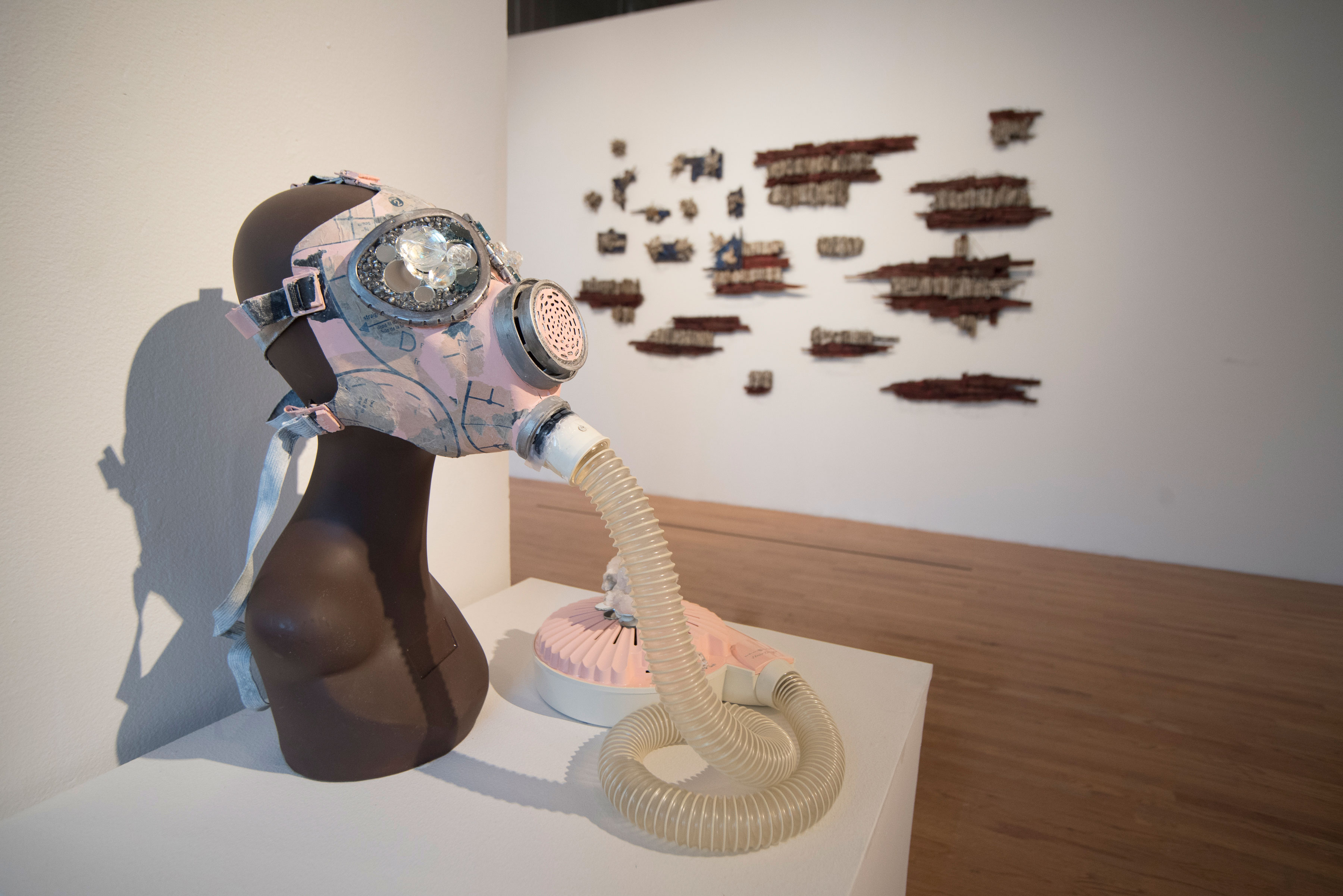 Art is affecting and hope-filled, expressing all the things words cannot. Cultural objects and experiences hold the power to reveal what is hidden about the world and ourselves, and artists act as conduits to these truths. While their ability to translate knowledge through visual and temporal experiences is remarkable, let us not forget that at its core, art is a technical skill that requires practice and study like anything else.

I spend a lot of time visiting artists' studios, learning about what factors inform their practice, and thinking about how their encounters with me might affect the objects they ultimately create. Creating community and generating dialogue through art is the ultimate human negotiation, a relational push-pull and give-get. The artist's studio is a system, a constellation of ideas, people, and decisions that ultimately influence the objects and experiences produced. Last month, I met with curator and historian, Jeffreen Hayes, who also serves as Executive Director at Threewalls. Welcome to the conversation!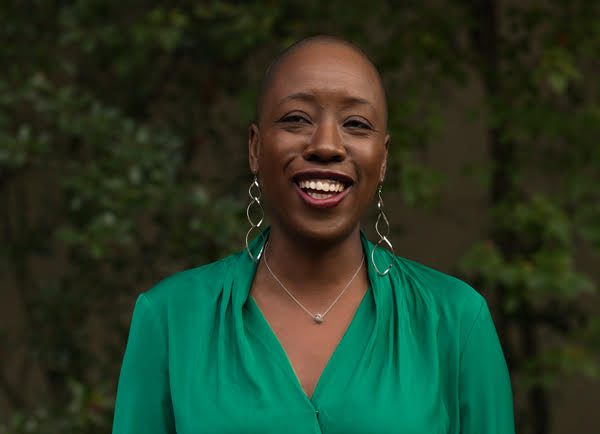 Lee Ann Norman: Did you ever imagine you'd end up working with artists, that your career would be centered on art?
Jeffreen Hayes: Art has always been part of my life, maybe not always in a formal way. I grew up in public schools that had an art program. It was very much part of the curriculum. Art was probably one of my favorite classes and I took it all the way through high school. I knew, though, that I didn't necessarily want to be an artist.
LAN: Did you make things in all media, or was there one that you were drawn to more?
JH: I liked painting and drawing, and a little collage…wasn't much of a sculptor or into fiber arts. When I graduated high school, I was thinking about what career path to pursue to have a sustainable life. Chemistry was another favorite subject. We had family friends who were pharmacists and one was in the Navy, so I thought, 'I'll become a pharmacist.' I was on that path until I realized I couldn't see myself doing that forever. I took a year off from college, took a summer class in Medieval Art and that was it. I loved learning that there was a history behind the works of art—learning about the artists, the politics, and the socio-cultural context around these objects. I remember talking to my professor, Phillip Bishop, who shared that they were starting an internship program in the humanities department.
LAN: How did your family respond to the news that you were switching your major? It's a major shift to go from pharmacy to humanities.
JH: As the first in my family to go to college, the expectation was [that I should be] pursuing a financially stable career. My mother was supportive while my father was not—not in the beginning. I had to think about what I could do with a humanities degree. So, I asked Professor Bishop, and he told me that you can do a lot of things with a humanities degree. You can work in a museum, be a writer, a critic, you can be a curator. He even told me about a student from the program who went on to work in Human Resources. I decided I would try museums. I was the first student to do the humanities internship. Mine was in the education department at the Orlando Museum of Art and Kerry James Marshall was having a solo exhibition at the museum. The institution needed help sharing this [exhibition] with a Black community that they did not have a relationship with. And I was Black and living in Orlando, my hometown, so they were like, 'Can you help us?' And I thought, I think I can. (laughter) My internship was giving tours to school groups in the African and Pre-Columbian art collections, and then doing research for the Kerry James Marshall exhibit and helping with outreach.
LAN: How was that for you? Did the experience affirm your decision to try museums?
JH: I enjoyed doing the tours and learning about different cultures. I didn't grow up going to art museums—the science center, yes, but not art museums. When it came time to work on outreach for the Kerry James Marshall show, like many art museums, they weren't connecting with the Black community. The education staff assumed that I attended a Black church, but I attended a predominantly white Catholic church. This was probably the first time I thought, maybe Blackness doesn't have a place in art museums or when it does, it's very limited. At the time, there were no people of color on staff at the museum. Even the curator of African art was a white woman.
LAN: It's interesting that your first immersive art museum experience focused so much on this, and it obviously left a huge impression on how you view art museums and the work you currently do. Did you anticipate having to navigate issues of race and equity so bluntly in this role—an internship, a training and growth opportunity?
JH: The assumptions about outreach never came up in the interview; they only happened after I got the internship. Orlando is a large community, not a small town. It's not like Chicago, but it is very large and spread out. I didn't grow up in a predominantly Black community, so making inroads in the ways they clearly assumed [I could] was going to be a challenge.
LAN: You're still an undergraduate student at this point, and I wonder if this experience changed the course of your studies. If you want to learn about things outside of the white, Western art canon, you often have to seek them out on your own. 
JH: Even though I had been introduced to Black contemporary artists and wanted to learn more, I knew I needed to learn other genres. And I was interested in other things. I took two semesters on Italian Renaissance artists and two semesters of pre-Columbian art. My final year, I got a work study job at the Florida International University museum, working with the registrar. The museum gave me an introduction to contemporary Latin American art. There was only one professor who taught modern and contemporary art, and I didn't really know what I didn't know until the end when I took his classes. Still, the artists we studied who were Black were part of the canon: Faith Ringgold, Romare Bearden, Jacob Lawrence. And that was it. I do remember learning about Diego Rivera and Ana Mendieta in his class as well.

LAN: Did you do other internships or jobs that helped you learn about artists of color who aren't typically part of the canon?
JH: The semester before I graduated, I did an internship in New York through Art Table at the Jamaica Center for Arts & Learning (JCAL). It was a mentoring program for women of color, as their contribution to increasing diversity, which has been a conversation by now, forever and a day. By this point, I knew I wanted to be a curator, and learn as much as I could about being a curator since I had only worked with them peripherally up to this point.
LAN: What were you doing at the JCAL? Were you back in education or doing things more directly tied to curating?
JH: I was working under then-curator Karina Skvirsky, a woman of color, who is now a full-time artist. My specific project focused on the residency program. They were getting ready for the 20th anniversary and wanted to get all the former residents to participate in an exhibition. My job was to locate all the artists and schedule studio visits. I managed to locate 18, which was crazy. (laughter) I realized then that I didn't want to work with dead artists or objects. There was something really lively about listening to artists talk about their practice. Working at the JCAL was the first time I learned that art and community can actually work, that contemporary artists can actually engage and reflect the community in a way that is not the mainstream, and people will respond positively.
LAN: Yes! And it's important to remember that New York is a majority minority city, which highlights the importance of thoughtful engagement with communities. What did you do after this experience?
JH: Well, at that point, it was difficult to get a curatorial job without a Masters degree, but I wasn't quite ready to go back to school. Through the internship I got connected to a friend and mentor, Susan Harrison, who at the time, was the director of the Art in Architecture program at the General Services Administration in DC. She told me about their internship program and offered it to me, so I was off to DC. I consider my time there the on-the-ground education in contemporary art because that's who they were commissioning for the program, which is a federal percent for art program. I was the point of contact for the slide registry and assisted the program officers. I learned so much about how to evaluate artists, and I appreciated the opportunity to have conversations with the program officers about the lack of artists of color who got commissions, or were represented in the slide registry.
LAN: So fast forwarding a bit, you were working at the GSA, and that ended because you had done all you could do there, but it helped solidify your focus on African American art. How was graduate school fitting into your plans at this point?
JH: I applied to schools in the area because I did not want to leave DC. It was still very much the "Chocolate City," and it was so great to connect with other Black folks who were doing it—being excellent and successful. It was between Howard and George Washington University, which had this great museum studies program. Most would have selected GW, however, Howard is the birthplace of African American art history, so I decided to go to Howard. To be able to sit with professors who actually knew the Black artists we read about in history books, and were so well respected in the field, was amazing. It was a very small program, and it no longer exists due to lack of funding.
LAN: And after you decided to pursue the PhD. How did you reconcile what you thought that life would be—teaching in the classroom, publishing papers, writing books—versus your desire to curate shows?
JH: I knew I didn't want to be a full-time academic, and I wasn't sure what else I could do with those three letters behind my name. But I did apply for PhD programs, and I didn't get in the first time. I did land an internship at the Smithsonian American Art Museum, but instead took an interim curator position with the Paul R. Jones Collection at the University of Delaware. While there, I curated my first exhibition at Maryland Art Place in Baltimore, with Myra Greene—more Chicago connections. (laughter) I remember seeing her work in the publication Light Work and being blown away. After that show, I realized I had this talent for putting together work that made sense visually, but also creating environments where people can experience artwork in a more meaningful way. After Delaware, I ended up at the Hampton University Museum, and around this time, the credentials for being a curator were getting higher in mainstream museums. I knew I needed a PhD.
LAN: Your interest in visual and popular culture was coming through, though, in the more traditional roles you worked. How did you think about bridging those interests with your art history background more formally?
JH: Well, I only applied to the American Studies program at the College of William and Mary because after talking to the program director, Grey Gundaker, I knew that it would be the best for me. The freedom to create my own program and study closely with Michael Blakey, Grey Gundaker, and Allan Wallach, was important as I began to think about how to find ways to incorporate my other cultural interests into my art history and curatorial work. Grey was, and continues to be, a real advocate for me and my interests. Her support allowed me to bridge pop culture, history, and art together. It also helped me think more critically about museums and understand their ways of being, which provided me a strategy to subvert those conventions as a curator.
LAN: Before you landed in Chicago, you were in Birmingham on a Mellon Foundation fellowship.
JH: Yes, the Mellon Foundation Diversity Fellowship was a postdoc position in African American Art. I moved to Birmingham my last semester, which was difficult—I was editing my dissertation and curating. But I loved putting together exhibitions, talking to people about art, and working with artists. [This experience] confirmed for me that if a museum doesn't have a true commitment to diversity, diversity will never happen. The BMA thought it was [doing] enough to hire me. (I was the first Black exhibitions curator they had ever had on staff. In Birmingham.) My time in Birmingham also confirmed the power of the invitation—the sincere invitation—and how this is the core of relationship building. It made me realize that museums are not necessarily suited for the kind of  engagement work I was interested in. 
LAN: When we think about the role of museums in society—what their charge is—it is kind of ironic that they struggle so much with engagement. It's curious and a little sad. 
JH: So many institutions have diversity as part of their mission statement, but they aren't really doing the work. Over the years, I have met directors who are leading by example, and that makes me hopeful. To do what I wanted to do, I knew I needed to be outside of the institutional structure of museums.
LAN: While you were at the museum, you worked on the exhibition commemorating the 50th anniversary of the church bombings. Through that exhibition, you were introduced to Theaster Gates' artwork and practice and the idea of doing the work in Chicago, which is how you came to the city—to work with Rebuild Foundation.
JH: Yes. I was the director for about a year and a half. It seemed to resonate with the work I was interested in. I never thought I would end up in Chicago because the winters are so cold. (laughter) During my time at Rebuild, I saw that there were so many artists in the city who needed support. I wanted to work with more of them directly. After I left Rebuild, I took a five-month break outside of the city. I had been working for seven years straight, and I needed to figure out how to make a sustainable career outside of institutions.
LAN: How did you come to Threewalls?
JH: When I returned, I had no intention of going back to nonprofits, so I created a personal project called Bridge Arts. When the director position was posted for Threewalls, I had no intention of applying. I didn't feel a draw to it. Looking at the exhibition history, I didn't see diversity in the artists or the practices represented. I didn't quite understand how all of the projects supported the mission, but I was interested in the Propeller Fund because of its diversity commitments. The thing that made me decide to apply was their support for artists. The board wanted to make the organization more reflective of Chicago artists and have a deeper impact. We were very much in alignment there, and I could see where I could help the organization grow.
LAN: I think it's difficult for people to understand sometimes that racism is not just fire hoses, German shepherds, and separate drinking fountains.
JH: Yes. During the interviewing process, I thought about how the organization would respond to having a Black woman in a leadership position because frankly, Threewalls, similar to the rest of the art world, has been an organization challenged with creating intentional space for artists of color. I also talked about race and the challenges that artists and creatives of color have in the field, and that Threewalls should be the leader on inclusion and equity. The racism that exists in the arts is so much worse because it's subtle. I thought if we could have a conversation about race and it be okay, then I could work with this board.
LAN: It seems like this is a really wonderful moment. Your interests and expertise can help people think about how to give life to the mission of supporting artists in a more meaningful way.
JH: I think there's power in understanding that everyone is welcomed, but what is offered may not be for you. There's power in not only stating intentions but also putting action to those words, and creating space within a space to provide a service to those overlooked or marginalized. It's so overdue that we are now welcoming people who have previously been excluded. I'm excited about what's coming down the pike, that we are going back to the basics and thinking about what it means to support artists. It's time.
Featured image: Installation view of "Silos" curated by Hayes at Glass Curtain Gallery, Columbia College Chicago. Photo credit: Milo Bosh.
Do you enjoy what we do at Sixty? Please help keep us going by making a contribution today. 
---
Lee Ann Norman is a writer and culture maker who works between Chicago and New York City.