It's On Us to Change Our Own Worlds: A Review of Bodies Immersed, at Roots & Culture
What feels particularly acute and tender in Bodies Immersed, the exhibition currently on view at Roots & Culture, is the urgency underlying the artists' contemporary visions. While utopian ideals are…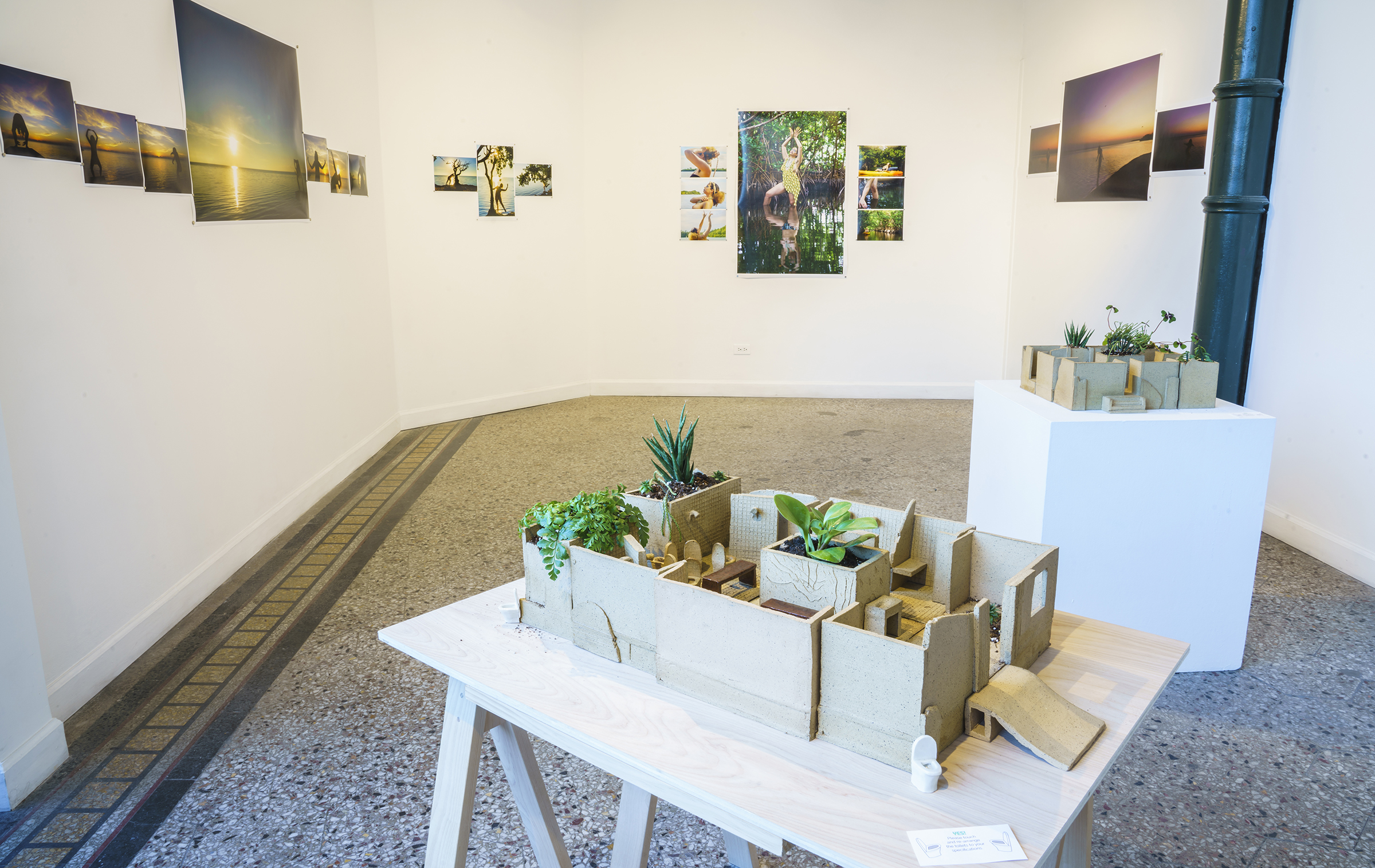 What feels particularly acute and tender in Bodies Immersed, the exhibition currently on view at Roots & Culture, is the urgency underlying the artists' contemporary visions. While utopian ideals are not new in art and architecture, the work by Chicago-based artists Megan Diddie and Jacquelyn Carmen Guerrero in collaboration with ColectivoMultipolar (Sandra Oviedo) questions what it means to be vulnerably human in the Anthropocene—coexisting uneasily in late capitalism with other creatures, elements, and natural and unnatural forces as we navigate the Covid-19 pandemic and other compounding crises. This work imagines and documents intimate ways of being in sustainable communion with self, with others, and with natural and built environments. In so many ways, the work of Bodies Immersed asks and imagines how we might make life more livable.
im·merse
/iˈmərs/
verb
1. to dip or submerge in liquid
The exhibition's works (installations, photographs, videos, sound, and mixed media on paper) meet in water, dwelling in and through it. Each artist raises implicit questions about water rights, water circulation, sustainable water use, and ecologies—broadly conceived. Fluidity is thus envisaged literally as well as metaphorically. Water use—in the artworks themselves and in the worlds they project and imagine—swirl and eddy with conceptual, erotic, historical, and/or political concerns.
im·merse
/iˈmərs/
verb
2. to involve oneself deeply in a particular activity or interest
Megan Diddie's ongoing project Hot House (five years in the making and partially funded by DCASE) focuses on the botanical bathhouse as a speculative institution, based on footage of the four remaining public bathhhouses in Chicago, the Garfield Park Conservatory, and the infrastructure of the Enduring City—all of which the artist refers to as "public work utopias." In order to bring her vision to life, Diddie extensively researched the history of Chicago's bathhouses (the city built 19 public baths between 1894-1918). Through her research she was reminded that indoor plumbing is a "luxury"—one of the raison d'être of historic public bathhouses was to provide a largely immigrant population access to water for bathing. Diddie says that when she was envisioning Hot House, she was thinking of the privatization of space (such as bathrooms for individual use) and how this has impacted local ecologies and waterways. In addition to providing space for much needed unplugging and meditative relaxation, "public bathhouses could be a way to address water waste by [re-]engaging in collective water usage." She goes on to say that she wanted Hot House to be an "ideal public space that functions in several different ways—there would have to be sustainable systems in place as far as water usage, it would have to be accessible and welcoming to all, it wouldn't be profit-driven, and it would be a place for self-care and community connection."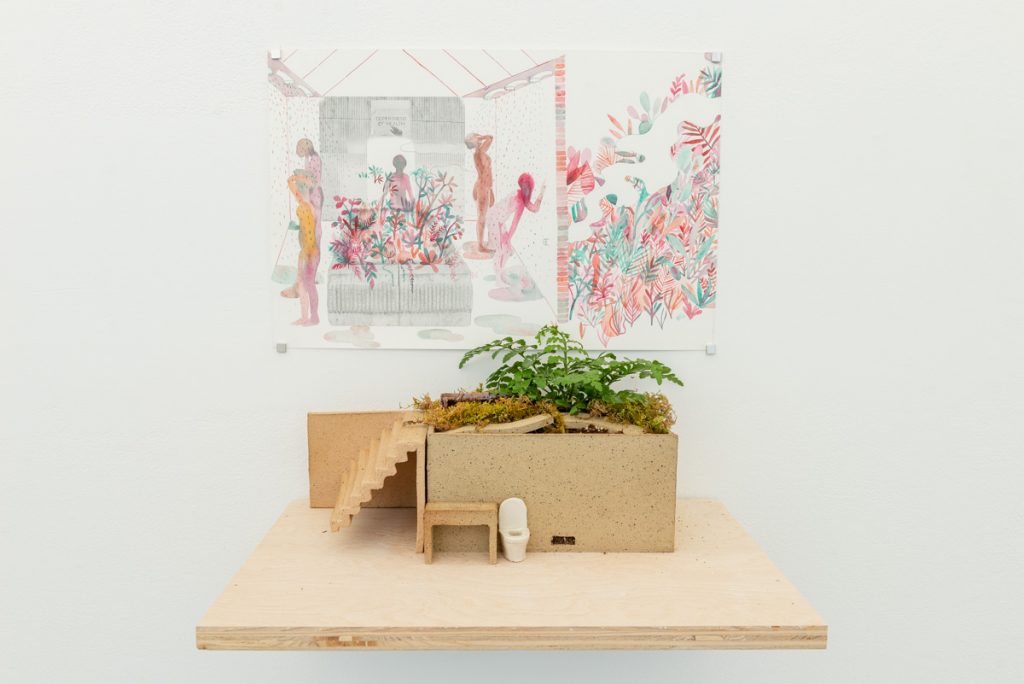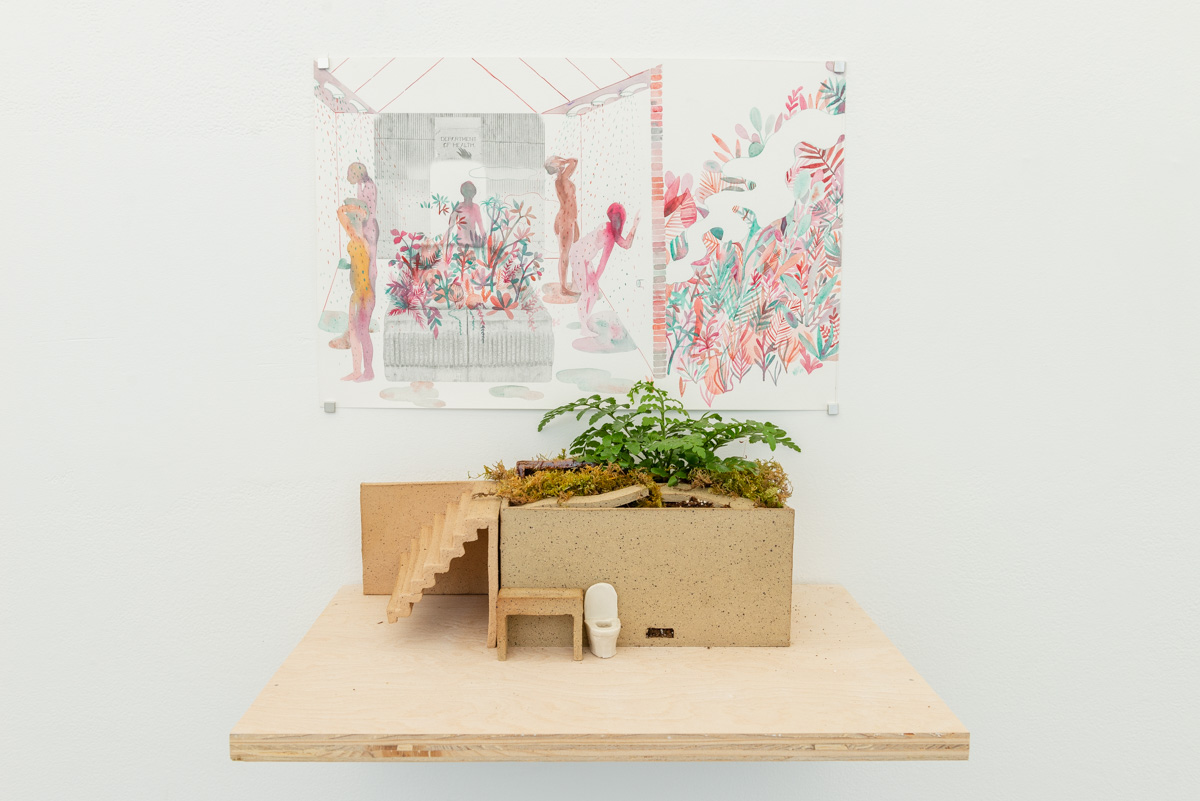 A return to democratized urban space is increasingly important considering that Chicago (like all major American cities) is, as Diddie reminds us, being colonized by "luxury saunas and wellness spaces with access hinging on a rarefied socio-economic status." Contrary to this phenomenon, Diddie's Hot House imagines what the artist describes as "an opposing vision, based on historical public works that provided free or inexpensive services through humble design and general provision." Such expansive generosity is core to Diddie's ethos as an artist—printed books of her drawings from the show accompany the exhibition and are available to visitors for free (Venmo donations made directly to the artist are welcomed).
Something remarkable about Bodies Immersed is how complementary the work is; how conceptually aligned. The curator could not have anticipated the extent of this phenomenon when Guerrero and Diddie were selected. Bodies Immersed was supposed to open in Fall 2020 but was pushed back due to the pandemic. The artists therefore had already had multiple production meetings prior to the show's opening this spring. While Diddie had worked on Hot House since 2016, Guerrero's work is newly emergent and entirely different from the sequined, textile-based work they initially proposed to the gallery.
In January 2021, Guerrero and their partner Natalie Murillo (who together form the artist duo/production company TRQPITECA) along with Oviedo traveled to South Florida for over a month for an artist's residency made possible by TRQPITECA and a funded opportunity for artists to take over empty downtown storefronts in Miami. Oviedo is the resident photographer for Guerrero's (aka Cqqchifruit) and Murillo's (aka La Spacer) queer nightlife event, also named TRQPITECA which (until our lives were upended) had been a regular occurrence, often hosted in Pilsen, since 2015. When they traveled to Miami, Guerrero—who, like so many of us, hadn't made art in a year—had Diddie's Hot House concept in her mind, which partly accounts for how and why Bodies Immersed presents such a cohesive vision. From their inspired, improvisatory time in South Florida, a whole body of work was born, sweeping the artist in new artistic and life directions.
Guerrero's corporeal "world" on view (as Oviedo describes the immersive experience the viewer walks into) blends the natural, the sensual, and the spiritual. Visitors are treated to a series of photographs, videos, and sculptural works documenting the trained performance artist and dancer's experimental movements, taken during the TRQPITECA 2021 Miami Artist Residency. Guerrero and Oviedo explored the natural environs of South Florida, including the Oleta River on Biscayne Bay, the Everglades, and the Florida Keys. Guerrero's performances in and around these bodies of water during liminal diurnal moments explore interconnected, transitional experiences between human and the natural world.
All three artists are deeply committed to manifesting more conscious relational practices. I understand this gesture to be a utopian projection of circumventing and recuperating loss. In the Anthropocene we are face to face with the threat of extinction, and therefore the loss of desire. An erotics of collectivity might have much to offer to our thinking of how to live with ecological catastrophe.
In March 2020 at the start of the pandemic, the journal Social Text published the special issue Radical Care. The issue's editors Hi'ilei Julia Kawehipuaakahaopulani Hobart and Tamara Kneese define "radical care" as "a set of vital but underappreciated strategies for enduring precarious worlds." They also note that, broadly speaking, "care refers to a relational set of discourses and practices between people, environments, and objects" that approximate what philosophers have long identified as "empathy, sympathy, or fellow feeling." Additionally, the editors state, "Theorized as an affective connective tissue between an inner self and an outer world, care constitutes a feeling with, rather than a feeling for, others. When mobilized, [care] offers visceral, material, and emotional heft to acts of preservation that span a breadth of localities: selves, communities, and social worlds."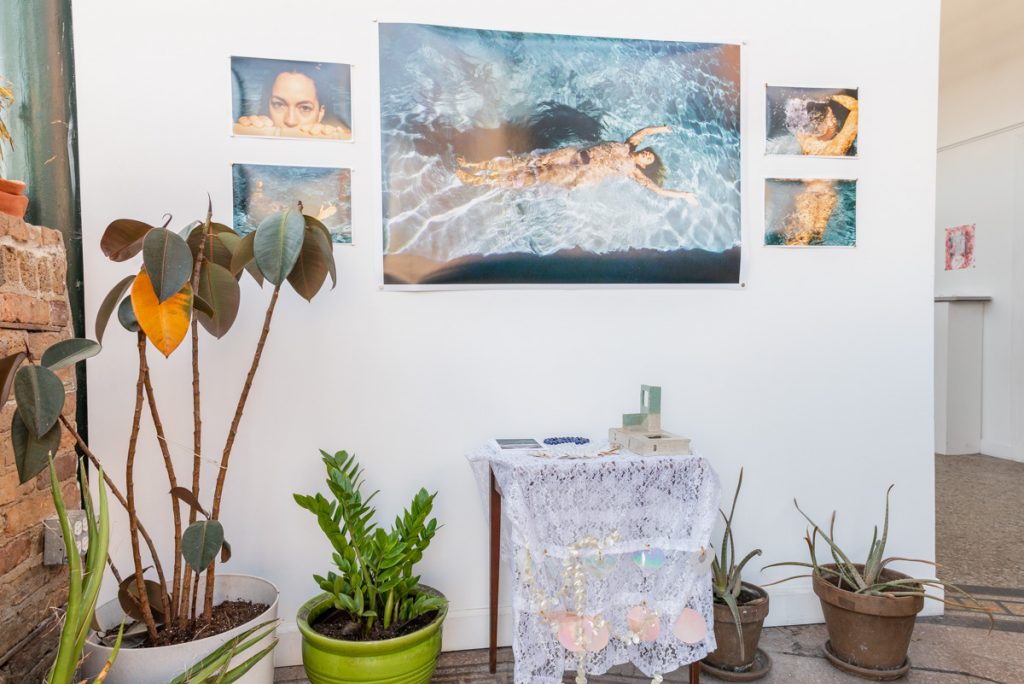 All three artists in Bodies Immersed manifest visions of radical care. All three have deep Chicago roots but hail from Southern regions. Guerrero is an interdisciplinary queer artist of Puerto Rican and Cuban descent. They describe their practice (which includes installations, sculpture, music, and movement performances) as exploring relationships between "identity and heritage, the natural and the supernatural, the ephemeral and the ancient." Oviedo, who documents Chicago's queer nightlife scene more broadly, is originally from San Luis Potosí, Mexico. She explains that one of the many reasons she immigrated from Mexico was that in spite of the natural splendor there, many people "don't have water in [their] houses, some of those beautiful landscapes are own[ed] by hotel franchises, the Canadian mine companies are fracking the land, the automotive industry [is] consuming water, and at the end, we are all part of the problem." She continuously questions "the many reasons for migration" as well as "eco-tourism."
Now in Chicago, Oviedo describes the values that support her practice #DocumentingOurStory as "love, fun, and the creation of archival documents." She adopted the name ColectivoMultipolar in recognition of the diversity and multiplicity of artists surrounding her. #DocumentingOurStory is "a historic testament of queer stories that encompass the relationships we build on the dance floor, in the prism of diverse identities." Oviedo's "camera travels across social isolation and brings to light our bonds as a celebration of our existence."
Diddie, a video, animation, drawing, and ceramics artist, is originally from Los Angeles where droughts were frequent. As a result, the artist holds anxiety around water and its related issues. Her work therefore "explores the possibilities found where our bodies, nature, and the systems that organize our lives meet." She shared that one of the experiences that inspired Hot House was going to her local YMCA pre-pandemic and sitting in the steam room, sometimes with a friend but often with people in her neighborhood and city community. "I have really positive memories of those times," she recalls, "and how healing that space was because it is an intimate setting but also public. It's so rare in America for one to be vulnerable in a public setting where people are caring for one another."
Such interrelation can be hard to achieve in part because our bodies remain highly regulated alone and in relation to other bodies—including bodies of water. Guerrero has no doubt that some of the photographs she and Oviedo shot (such as the series in the kayak on the Oleta River) pushed boundaries. However, both Guerrero and Diddie want "to live in a world where it's natural for human bodies to exist in nature and [in] our natural form"—something difficult to achieve due to capitalism and the privatization, colonization, alteration, violation, and destruction it has wrought on our environments and ecosystems.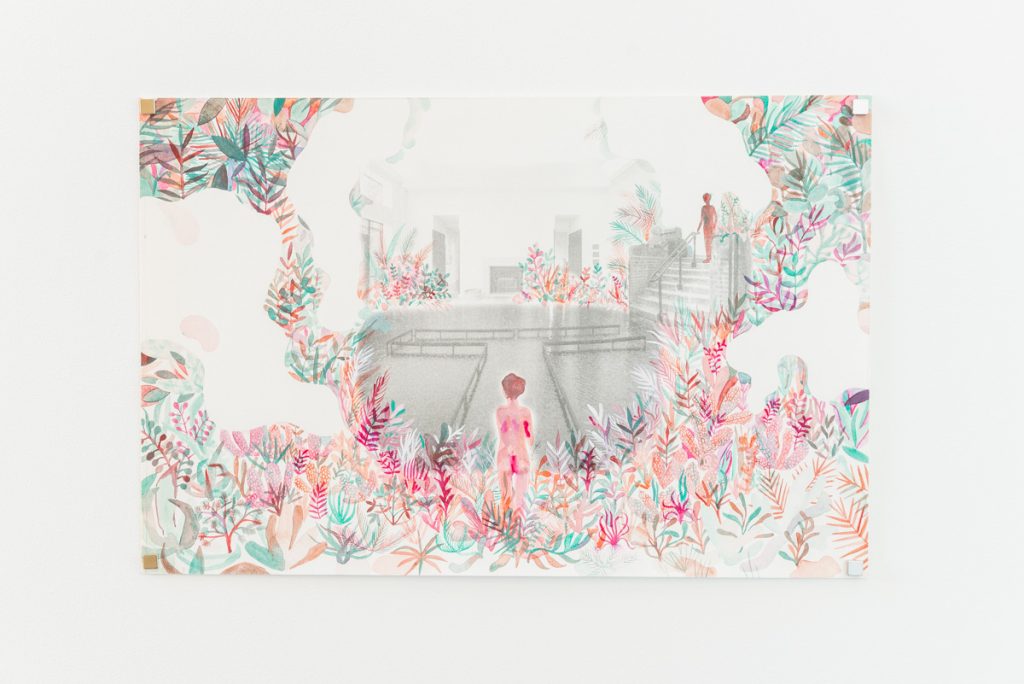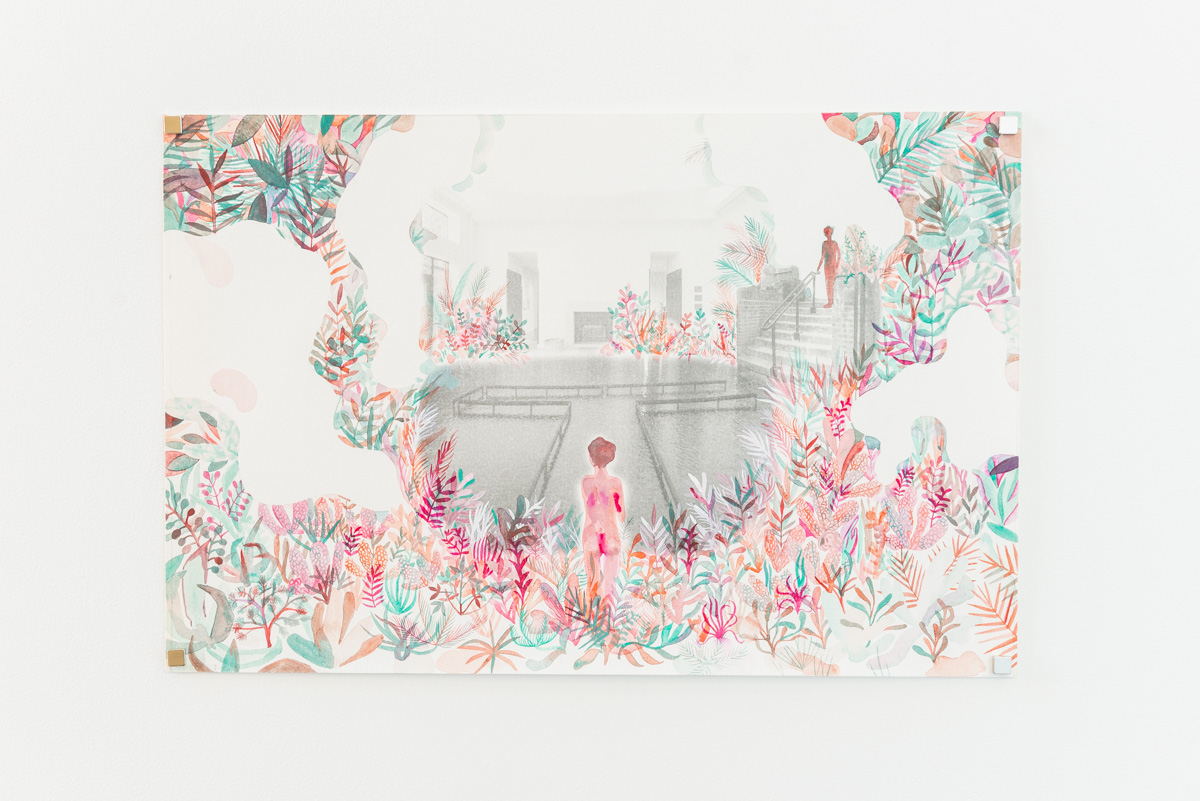 Informed by her historical research about Chicago's parks, bathhouses, conservatories, and the provisioning of public space, Diddie's work on view advocates for the democratization of land use as a way to combat the climate crisis. The artist's binder—close to the entrance and not to be missed—provides extensive context for her vision of a democratic botanical bathhouse and is full of the artist's mixed media drawings and collected articles. Hot House imagines human bodies commingling with plant life and water—soaking in the pleasures of "nature taking more precedence in daily life." The project is a combination of mixed media on paper and modular installations of the Hot House botanical rooms, made of clay, dirt, and plants. In pieces such as Hot House Dream Room and Plant Wall in the Loop, Diddie printed digital collages of some of the historic Chicago locations onto paper which she then embellished with water colored flora.
Diddie has been working with Chicago-based ecopsychologist and botanical artist Susannah Donne in order to learn about what plants grow best in and around sculptures. Diddie explains:
"A big component of Hot House is the botanical element which was inspired by the Garfield Park Conservatory. Two questions I had with Hot House were: What would the plant life look like? and could it be a place that highlights more local flora rather than a global collection? Responding to this second question would be a challenge in the winter months, when one of the biggest draws of the Conservatory, for me, is the ability to transport you to another landscape—tropical, desert, etc. But, then I think about the [Harold Washington] library downtown and the Winter Garden room which has some trees and ivy but also vitally provides natural light through the glass ceiling. The Winter Garden is more humble in its usage of plants while having a very similar effect as the Conservatory. The botanical element of Hot House is [therefore] a way to bring more exposure to green space. [Such spaces] are proven to have healing effects for humans. I think Hot House offers a vision of care for each other through repeated encounters, through plants and their healing powers, and through the residual and ongoing benefit that self-care has on the community."
Similar to Diddie's emphasis on breaking barriers that keep natural and built environments distinct, Guerrero's works on view play with what she calls "a positive form of dehumanization"—a de-emphasizing of the supremacy of Man—a "humbling" or "lowering" in the great chain of being. Through spontaneous gestures and movements her body is minimized (not erased)—silhouetted mid-pose against the South Florida sunrise in the Sun Dance series. Rising over the fluid body that dwarfs them all, birds cruise in formation against the skyline, mirroring Guerrero's own shifting forms. Water glints and glitters.
For Guerrero, water speaks to many biological, historical and ongoing material realities—from the human body's core organic element to issues of food, access, conservation, sustainability, colonialism, and segregation (many Dade County beaches, particularly in Miami Beach, were segregated during the twentieth century). While Guerrero does not know the specific histories of all the beaches she and Oviedo shot at, she knows that much of what was compelling her to make this pilgrimage back to her "natural habitat" was to reconnect their body and spirit to their homeland and to a natural place where their whole self feels its happiest. This is sacred, "healing," and "grounding" work. Guerrero noted "in 10-15 years, some of these landscapes and shorelines that these photos and videos [document] might not exist or be there in the same way." These are the places where the artist grew up. When facing inevitable loss of access and memories one can feel, in Guerrero's words, "desperate" to urgently document these places and to attend to one's body responding in space.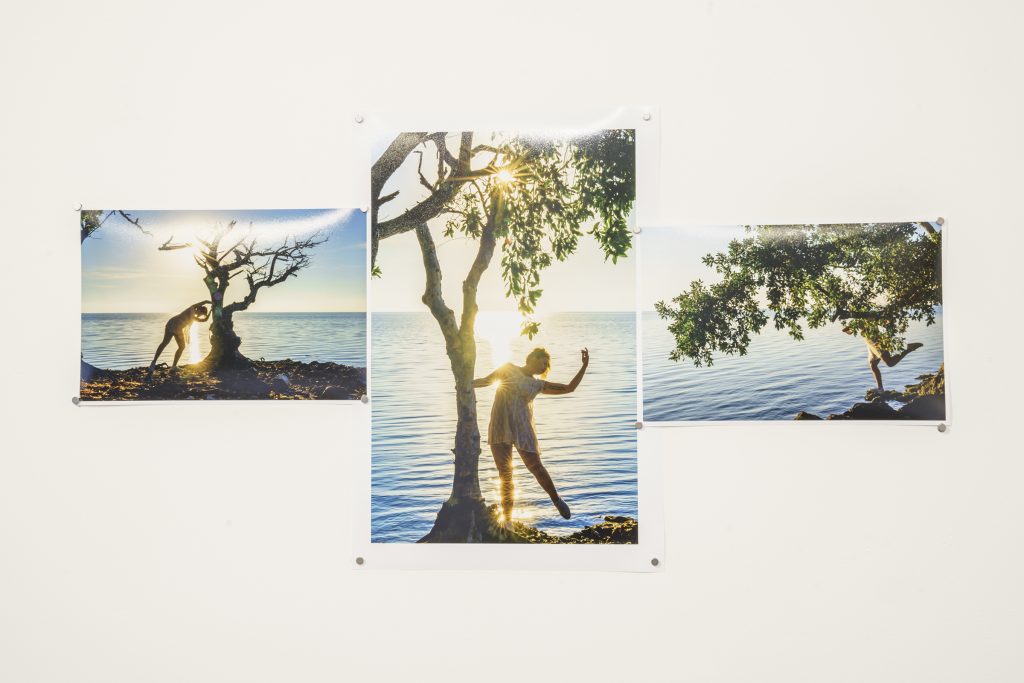 Yet despite a rising sense of anxiety, Guerrero emphasizes that queer people are "shapeshifters." They mean this not only in terms of pleasing aesthetic experimentation (as evoked in Halophyte, a print embroidered with pearls and snail shells) but also, crucially, in terms of survival. In their 1998 essay "Sex in Public", queer theorists Lauren Berlant and Michael Warner dream of a queer world-building project as one that privileges forms of "affective, erotic, and personal living that are public in the sense of accessible, available to memory, and sustained through collective action." The work on view in Bodies Immersed imagines this kind of public queer world building. I am thinking here of queerness as not only that which is aligned with sexual identities and practices, but also in the way Berlant & Warner speak of it: as forms of relation that emphasize public collectivity and memory, accessibility, committed preservation, and the reimagining of intimacy outside of the domain of heteronormativity.
As members of Chicago's underground LGBTQIA+ nightlife culture, Oviedo and Guerrero have hosted and been a part of countless such intimate sessions that last until sunrise. At the time of their journey southward, and still, at the time of writing, the clubs are quiet; the dancefloors still. In a time-lapse video, Guerrero moves their body in time to music we cannot hear, in ecstatic communion with the ocean—the sun roaring to life above its aqueous face.
Oviedo filmed Guerrero dancing on the dock amid morning's break, moving in what Guerrero terms "the current of nightlife"—a testament to the importance its flow marks in their existence (ever moreso now in the midst of the ongoing pandemic) and to the ubiquity of outdoor communal dancing in tribal cultures. They explained to me: "My practice calls for ecstatic and sacred dance, which have been important parts of human culture and spirituality throughout human history. This is rooted in ancient traditions, but I also want to think ahead to future generations, both human and nonhuman, whose chances of collective survival are directly tied to the honoring of Indigenous knowledge." Likewise, with similar care and consideration for those who came before, Diddie emphasizes that there is great "potential in looking to the historical uses of water for collective bathing and finding future solutions for water rights, water circulation, and sustainable water use."
The necessity of how we might be stewards to the water and the land and move towards such communal rituals of gathering, celebrating, dancing and survival, both during and after the pandemic, is something heavy on both Guerrero's and Oviedo's minds and in their hearts. Oviedo explains:
"When we were developing this work, I needed an emotional balance in my life. My work has been immersed in the night, in the nightclub, in the synthetic and designed drugs, the psychedelics, in the making out/sex in bathrooms and darkness and dancefloors, euphoric moments next to a sound system. I have been happy in company and I have always enjoy[ed] dancing with myself… However, the pandemic happened to all of us, so, then, 'what to do'? This work [captures] the balance that I recognize and need in my life… Bodies Immersed is a shared experience of trying to reconnect with myself and my mother earth, to explore my capacity of being water, a mirror, a human."
There is a sonic flow in the airy, light space of the gallery—beats balance each other. Oviedo's and Guerrero's video plays in a corner of the gallery to a different trance set Guerrero curated, a rhythm that hums seductively against Chicago-based musician Josh Fox's Eno and Laraaji inspired soundtrack for Diddie's digital video installation just mere feet away. That video, also titled Hot House, includes footage shot on location at the Garfield Park Conservatory, McKinley Park, the Kosciuszko Bath, the Lincoln Street Bath, and more historical Chicago locations. Over this footage Diddie includes animated figures, plants, and water—a fantastical materializing of the botanical bathhouse amidst the structures we currently live with. Around the corner, Oviedo's black and neon t-shirts hang for sale in a closet—Por Favor, Sigamos Bailando Año 2021. However we embody rituals of communal care, please, let's keep dancing. In all three artists' visions, there is an insistence on finding, expressing, and capturing ephemeral joy and pleasure.
Hot House (which, crucially, is inclusive of all genders) contemplates what the artist describes as "places of 'encounter,' places where we see each other in intimate settings such as the restroom or the public pool." Such spaces of "encounter" have a long history in LGBTQ+ American life with public or semi-public locations such as the bathhouse and the tea room (restroom) serving as grounds for cruising (a history partially archived in Diddie's binder which contains Hallam's and Matta-Clark's photographs of New York City's piers in the 1970s). While perusing downtown Miami, Guerrero stumbled upon a three-way mirror in one of the empty storefronts and immediately knew they wanted to stage a shoot in front of it. On one hand, Guerrero's red room series explores "corporeal immersion…through contrasting image sets shot in manufactured spaces where bodies are absorbed and reflected" (such as in a hall of mirrors or a swimming pool, as is the case in the series that greets visitors in the gallery entryway). But the red room photographs are also, in Guerrero's words, a "fuck you" to the white, gay, cis-male dominance of cruising culture. Based on her experience DJing parties in gay male bathhouses, Guerrero's red room series is, to her mind, an imagining of an alternate space in the bathhouse where the hookups happen—a space one is invited into where no one is discriminated against; where no one is an outsider.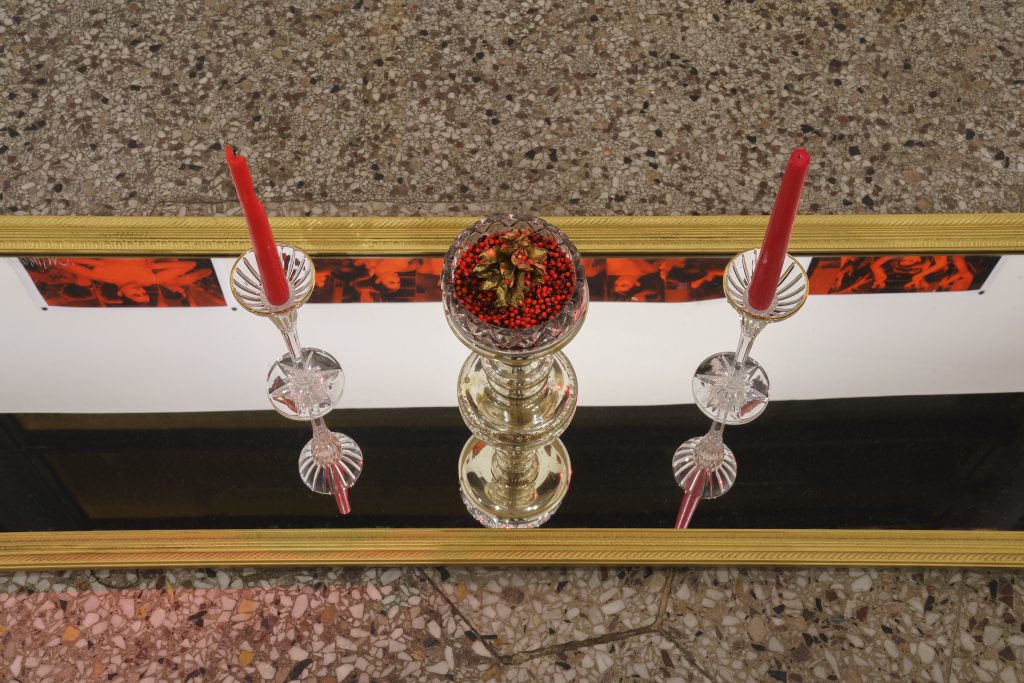 At the same time, because these photographs are on display in a public gallery, the installation on the floor of the red room titled Eternal Shapeshift provides a protectionary talisman against the ways Guerrero's body might be thoughtlessly consumed and surveilled. A narrow mirror is placed horizontally on the tile floor. A glass goblet full of beautiful but toxic red and black abrus precatorius seeds the artist found while in Florida sits in the center of the mirror (the pantropical seed is commonly known as jequirity bean or rosary pea and is used for beading or for adorning percussive instruments). The chalice is flanked on both sides with red taper candles in smaller glasses. Gold is painted around the rims of the candles' vessels. The installation casts a sort of spell, honoring and holding the artist's power in that space while also hinting at access to the kinds of other "dimensions" common to those who dance until dawn.
Guerrero's red room series testifies to the complex relationship between queer private or semi-public spaces with their own community guidelines, norms, and codes that become public under heteronormativity's scrutinizing gaze (notably, this is the one room in the gallery where photography is off limits). But in limning the private/public dichotomy, they also gesture towards queer world-building in which all bodies can exist—publicly—without shame and shaming, expectations and containment; without the threats of criminalization, control, and violence. To paraphrase Guerrero, the work emphasizes queer, femme control of our own bodies, a claiming of power to determine our own realities for the time that we have on earth living in these vessels. Oviedo emphasizes that "in order to reimagine an intimacy outside of the domain of heteronormativity" one must prioritize "queer discover[y] and acceptance," beginning with the self as "a form of rebirth."
While renewal remains the goal, Guerrero is not convinced art is how we manifest the essential changes needed to help the planet shapeshift towards survival. Nevertheless, Bodies Immersed helps us to submerge ourselves in meaningful fantasy and, in so doing, helps us to imagine other ways of being in relation amidst precarity. "Bodies Immersed," Oviedo reiterates, "is the expression of our human connection, our friendship, our mutual respect for each [other's] vision, our intimate collaboration, [and] feeling comfortable with our bodies." We do not have the luxury of time to waste not enjoying ourselves, the physical and natural forms we live in and with, and one another in the spaces where we commune. "It's on us," Guerrero urges, "to get the property, [to] create those spaces, and change our worlds as much as we can." In so doing, Diddie elaborates, "we [will] start to build upon a 'feeling with' others."
Author's note: I want to extend my gratitude to the artists for generously taking the time to engage in conversation with me about their work, much of which I quote and paraphrase here. I also want to thank Zach Tavlin for visiting and thinking through the exhibition with me, and for helping to firm up my consideration of and wording around matters of the environment and environmental catastrophe.
Bodies Immersed continues on view at Roots & Culture (1034 N. Milwaukee Ave., Chicago) through April 10th.
Featured Image: An overview of the main room at Roots & Culture, showing work by Megan Diddie and Jacquelyn Carmen Guerrero with ColectivoMultipolar. On the walls are photographs by Guerrero with ColectivoMultipolar (left to right): Atlantic Sunrise series, Tree Dance series, Oleta River Mangrove Hammock series, and Little Duck Key Sunset series. The photos depict a figure in performative movements in various waterways at different times of day. In the foreground are installations by Megan Diddie, made with clay, dirt, and plants: Hot House Shower Sculpture (foreground left) and Hot House Bathroom (foreground right). Photo courtesy of ColectivoMultipolar.
---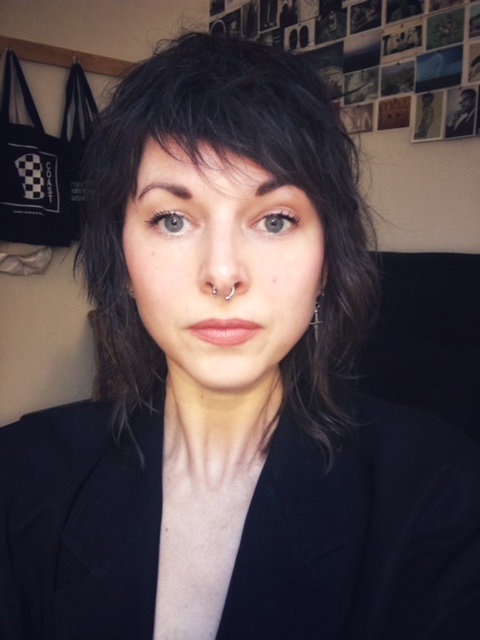 Kirin Wachter-Grene is an Assistant Professor of Liberal Arts at the School of the Art Institute of Chicago. She teaches and writes about African American literature and gender and sexuality.