Inferno, Purgatory, or Paradise: An Interview with Sabina Ott
I call Sabina Ott "my eyes and ears to the Chicago art scene." Her endless ability to wow with her art, which was on view from August 30 to January…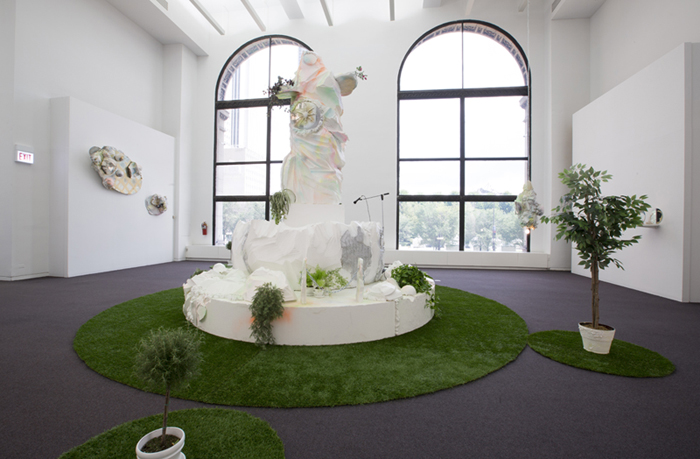 I call Sabina Ott "my eyes and ears to the Chicago art scene." Her endless ability to wow with her art, which was on view from August 30 to January 4 in the huge-scale "here and there pink melon joy" at the Chicago Cultural Center, is matched by her commitment to present and support artists. She is intellectually and materially ambitious, and over the years I've developed a deeper understanding of her sensibility. Profoundly influenced by her mother, her work as an artist, teacher, and presenter is informed by a feminist ethic and explores the complicated, and at times ecstatic, space of transformation.
Melissa Potter: What inspired you to become an artist?  I know your mother was a big influence on your work.
Sabina Ott: I was always aware of my position as a woman artist—even if my response to cultural bias against women was sometimes confused. As a child, I wanted to have what I now call the privilege of the authoritative I: the privilege to access my subjectivity with the freedom that men seemed to have.  I wanted to have the kind of artistic and life freedom that Picasso had, whom I knew about from articles and going to museums with my mother. I wanted the time and space to focus on experimentation, exploration, and expression, in life and in art-making.
One of the only women that I knew about, who seemed to have that kind of freedom, was Georgia O'Keeffe. Even as a young girl I could tell the difference between how Picasso's life and work was approached and how hers was—Picasso, a genius; O'Keeffe, a creation of Stieglitz.  But she created the terms by which she lived and painted by great strength of will successfully. Both she and Picasso embraced their sexuality as part of their life's work. O'Keeffe was an extremely sexual being, and that showed in her work and her relationships, yet she was unbound by the conventions that forced woman to be subjugated to men at that time. She may have been a muse to Stieglitz, but that was not her job, that was his thing.  Her job was to make great work. How did she do this?
The relationship between sexuality and art became central to me, and I was fortunate to have a mother who intuitively knew that sexual freedom was essential to creativity. She had suffered: she became pregnant and was forced to have an abortion in an illegal, dirty place, and she was unable to conceive after that. She and my father adopted me. Feminism was extremely important to my mother, who subscribed me to Ms. Magazine when it first came out and put me on the pill as soon as I showed interest in sex. I never knew the reason it was so personal to her until recently.
As I grew older I found examples of other women artists besides Georgia O'Keeffe, such as Sonia Delauney, Meret Oppenheim, Hannah Hoch, Louise Bourgeois, Yayoi Kusama, Nancy Holt, Judy Chicago—as amazing and relevant as their work was, it was still seen as an aside, adjunct to the work of men of their same era. As a maker, I was strongly influenced by artists such as Alice Aycock and Joan Snyder—artists whose work I had the opportunity to see while in college at the San Francisco Art Institute, while also learning about the vital feminist performances happening in the  early '70s of  Martha Rosler, Barbara Smith, Suzanne Lacy—the Woman House and the Cal Arts program.
I never wanted to be subject to gatekeeping, which I associated with sexism, racism, and classism, so while in graduate school I started a non-profit exhibition space with a group of artists. We chose whom to show, and were part of a huge punk scene in San Francisco. John Baldessari, one of the most supportive artists I have ever met, came to evaluate us for the NEA and ended up suggesting that we receive a grant. That was unheard of. A smelly rotting warehouse filled with art supplies, furniture, studios, and art exhibits did not get NEA grants.
I recommend starting art organizations or spaces in any form to all artists—it's a way to have agency regarding your own work and peer group. I have always curated exhibitions, and been involved in various kinds of artist-run spaces up to this day, with Terrain Exhibitions, an exhibition venue for artists' projects in my front yard. I think of myself as a participant rather than a gatekeeper and encourage others to take the role of participant as well.
MP: In keeping with the theme on gatekeepers and artists who storm the gates, after your hugely-successful show at the Chicago Cultural Center, can you describe what you think were the keys to your success?
SO: My success as an artist in life is due to the fact that I always put my art first. I also would set goals: when I was very young I would make a timeline of what I wanted to accomplish and when. I also would write lists every day of what I wanted to get done. I needed that structure in order to work and I still do, otherwise I daydream all day.  When there were opportunities, I was ready because all I did, besides eventually teach, was make work. I married another artist in my early 20's as a kind of contrary action, but I remember being amazed when someone assumed that a performance of mine was his. I certainly hadn't taken his name.  Even though I was dynamically, visibly committed to being an artist, the fact that someone would credit my work as his shocked me. That had a lot to do with my decisions regarding relationships for the rest of my life. As I said, I always put my art first. So, I worked all the time—it was and still is a priority. So, being ready and saying yes is essential to my success.
I approached my recent exhibition at the Chicago Cultural Center similarly. I had proposed the show in 2010 and pursued getting a commitment from them for three years. Meanwhile, every work I produced, I made with that installation in mind, with the idea that it would be eventually be in that exhibit. I would visit that space regularly and just sit, looking at the proportions and the walls, absorbing the scale of things. I deliberately built momentum by exhibiting in much smaller venues and group shows during the proceeding year, so the growth of my work would be visible to my peers and their curiosity piqued. My sabbatical leave from Columbia College Chicago coincided with the installation of this show, and I used the summer to pull all the elements together.
It was an ambitious installation to accomplish—the Chicago Rooms are three large connected spaces with vaulted ceilings 30 feet high and floor-to-ceiling windows that overlook Millennium Park. The show included video, sculpture, and painting inspired by the notion of the sublime found in baroque architecture, painting, and sculpture, and builds on a long-term trajectory in my works. I had the opportunity to collaborate with Joe Jeffers, a brilliant sound artist, and it really affected my practice in a positive way. The show was loosely based on Dante's Divine Comedy, which gave me a literary structure to work from that addressed what it is to experience ecstasy, to live, to die. I wanted this work to be an experiential gift to those who would see it and a gift to my artist peers and students. When I approach something this way, as if I am making a present to the world, it always happens well. I should say that particular attitude is something I have grown into, as I have not always been a generous person.
MP: You started Terrain Exhibitions in 2011, which was awarded a Propeller Grant this year. What was your inspiration in starting that space? The artists and collaboratives that you have featured represent some of the best talents in the field both locally and internationally.  Terrain Exhibitions has featured artists who have gone on to receive major grant and exhibition support in their careers, and has contributed significantly to the Chicago gallery scene. What projects will the Propeller Grant fund this year?
SO: I moved to Chicago 10 years ago and wanted to actively engage in the artistic community here. I also wanted to bring something very different to my neighborhood, Oak Park. I have moved at least every five years during my adult life, and I don't want to move anymore. I plan on staying in the Chicago area; I want to make a fertile ground in which I can grow as a person and as an artist. I want to be part of my local culture. For a long time I wasn't sure what form my involvement would take. It took a while to figure out exactly what I could offer. Chicago is rich with artist-run spaces and community-based projects. I didn't want to simply duplicate what was happening already.
I had just built a studio in my backyard. Since I teach, my work time and space are valuable, so I didn't want to have a gallery in my studio. I have a collection of art in my home, but I didn't want to take that down every month to have exhibits, or to have to tend to a more traditional gallery space. For a while I considered having a garden in the front yard as my art practice. I imagined that the neighborhood children would gladly work in the garden with me. I quickly realized that gardening projects were already abundant, that my front yard is small without much sun, that my neighbor's children would probably rather be playing than working on my "farm," and that I am a terrible gardener.
I got the idea for a front yard project space while hanging out with my students at Michelle Grabner and Brad Killiam's Poor Farm, a Kunsthalle in rural Wisconsin. I admire both of them tremendously.The Poor Farm Experiment, as it's called, invites artists to do outdoor projects every August, among other events. I was invited to participate in 2010 and made a portable pond with a working waterfall out of Styrofoam and glitter that was both a sculpture, a seating area, and a classic garden water element. Making that piece led my work in a new direction, and my new work has similarities with Terrain in that each piece is a hybrid of functional objects and art genres. I thought that I could offer a similar opportunity for expansion to others and became excited about inviting artists to produce outdoor projects that engaged the site of my front yard.
A front yard is defined by its boundaries and property lines but can be seen all day long, all year round. Because of the parameters of the space and the associations attached to a yard, artists have been able to play and create projects that they wouldn't normally. The process of choosing artists is informal; I ask people I like or whom I want to get to know better and whose studio practice is flexible enough for them to be willing to play. I invite participants who have a spirit of generosity and encourage people to take aspects of yard art or of their experiences in the country, city or suburbs, and to make that the subject—to invert something that's usually found in a yard and transform it into something unfamiliar.
I also like to fold and mix up different conventions and contexts in odd ways, so I started The Terrain Biennial. The model is the Venice Biennial, but produced in people's front yards, instead of villas and churches.  In 2013, the first one was comprised of my amazing neighbors volunteering their front yards and working with artists. We had a block party as the opening, with music, performances, and events. It rained that day horribly, and the events part was a bit compromised, but it still all went on. We had seven houses on the block participate and many artists from around the country as well as Chicagoans. The Propeller Grant will produce the 2nd Biennial. I am hoping to expand the concept, including houses beyond my block and neighborhood, asking people I know to work with curators who will pick many of the artists, or to choose their own artist and help produce their work in their yard. We will probably be in River Forest, Oak Park, Chicago, even Dallas, TX, and maybe Los Angeles. We are still in the organizational stages, but the date is approaching fast.
MP: In our conversations at Columbia College about your 30-year career as a professor, I know you believe teaching is integral to the practice of art. How do you think that relates to a feminist practice?
SO: I started teaching part time when I started a busy studio practice. Art-making and teaching go together for me. There is something stimulating about talking about art all day long to students; I learn so much from them and I love sharing my experience. When I was a student I had two women professors over my four years as both an undergrad and graduate student. Almost every single male teacher hit on me. To be honest and perhaps crude, I never knew if it was my art or my ass they liked. I simply kept working, producing, making more work than those around me—arguing, fighting for the right to be an artist.
I don't want my female students to have to go through that. It is debilitating and distracting and hinders the development of their work. It is so important to have woman instructors who are examples of various means of artistic practice, just as it is imperative to have many people of color on faculties for exactly the same reason. The bias towards white males in the classroom seems to be culturally innate and must be consciously battled—I do it too, and must fight the impulse.  Diversity is essential to exposure, and exposure is a primary teaching tool. As an educator I try to make certain that there are many women artists and artists of color made visible to my students via lectures, critiques, and exhibits. I do this with the programing of Terrain as well. Regarding teaching, students respond to mentors who are active in their fields and professions, and build their relationships from artistic affinities they discover through the classroom.  This is why visiting artist funds are so important to a vital curriculum. Successful faculty scholarship also offers them models for their future careers. I believe in teaching by example. And, to answer the last part of your question, I understand the flow between teaching, making, living, and learning as an extension of a feminist philosophy and way of being.
MP: What is your ideal work and life scenario?
SO: I have been very dedicated to my teaching and gradually slipped into college administration. I had the notion that it could be like making a big artwork made up of faculty, students, and curriculum. That was a wrong-headed notion. I am so grateful that after 10 years in that wilderness, I am back to teaching and making my art only. So I am happy now, teaching classes, having an active and busy studio practice, showing my own artworks, and running Terrain as well as being an active member of the Chicago art community. I have met so many great artists and students and have made deep friendships. I am in a wonderful marriage with a brilliant teacher/ writer/ activist, so our shared values and stability help me achieve my goals. My life is ideal now.  What a concept and how strange! It's taken a long time to get here.
MP: What are your plans in 2015?
SO: I am really excited about an exhibition at the Hyde Park Art Center in which I will build a huge mountain. It is slated for February 2016. One will be able to go into the mountain, and on top, and there will be grottos and hidden sound, video, and sculptures. I can't wait to get to work on this. I will continue to collaborate with Joe Jeffers, the sound wizard. I also have some other small group exhibitions up coming, and I am looking forward to those as well. The Terrain Biennial will happen in September, and Terrain will continue. I am hoping to expand involvement from others, bringing in outside curators and participants—I want it to grow and take root in other spaces run by other people.  I also want to start publishing monographs of women artists. I am not sure how that will happen exactly, but it's something I want to work on through Terrain Exhibitions. Who knows what other projects will evolve?
---
MELISSA POTTER is a multi-media artist whose work has been exhibited at venues including White Columns, Bronx Museum of the Arts, the VideoDumbo Festival, and Galerija Zvono in Belgrade, Serbia. Grants for her work include three Fulbright awards to Serbia and Bosnia Hercegovina, ArtsLink, the Soros Fund for Arts and Culture, and the Trust for Mutual Understanding. She is an Associate Professor and Director of the Book & Paper Program in the Interdisciplinary Arts Department of Columbia College Chicago. Her critical essays on art, particularly art in the Balkans, have been printed in BOMB, Art Papers, Flash Art, and Metropolis M among others.
Header image: here and there pink melon joy, Sabina Ott, 2014. Installation at the Chicago Cultural Center. Image credit: Claire Britt.