Individual as Archivist: Taking Your Story Into Your Own Hands at Lake FX
An archivist tête-à-tête with Stacie Williams and Analú López on the significance of and strategies for artists and activists to document their work.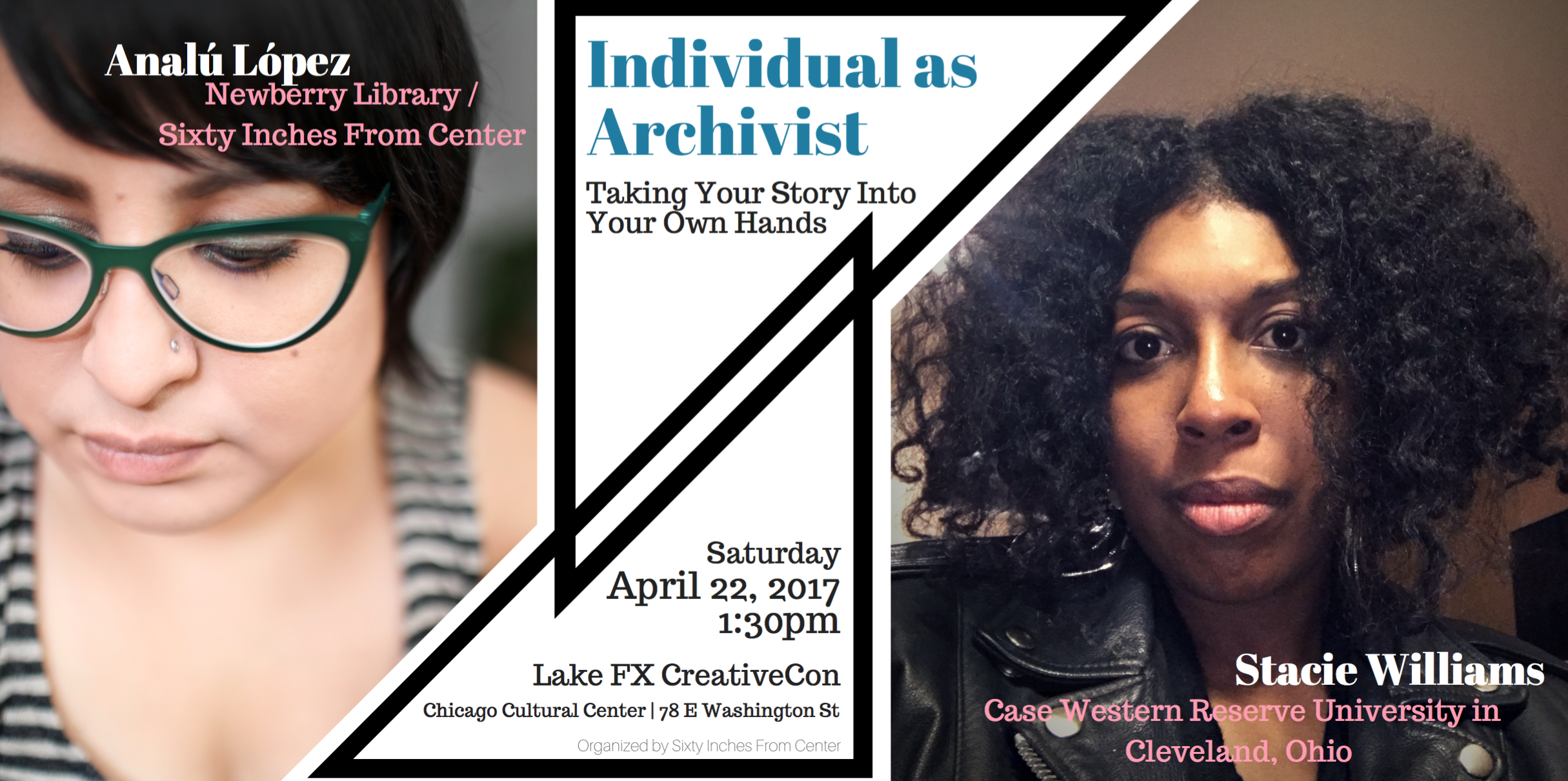 Saturday, April 22, 1:30pm
Chicago Cultural Center (78 E Washington St.)
Free
RSVP on Facebook | More about Lake FX

In this archivist tête-à-tête, Stacie Williams and Analú López will discuss the importance of artists and activists being the authors of their own stories and having strategies for documenting their work as it's unfolding in real-time. This discussion will provide example approaches and resources for artists, activists, collectives, and communities interested in making this part of their daily routine. Williams and López will also discuss the work of Archives for Black Lives, A People's Archive of Police Violence, the efforts to collect activist ephemera at Newberry Library and ways in which individuals and institutions are being proactive in documenting, collecting, and cataloging the physical materials–photos, video, posters, protest signs–that go hand-in-hand with current social and cultural movements.
This panel is presented by Sixty Inches From Center in partnership with the Department of Cultural Affairs and Special Events' Lake FX CreativeCon.

ABOUT THE SPEAKERS
Analú López is a photographer, writer, and archivist with Sixty Inches From Center and the Newberry Library. She has worked for many non-profits in Chicago, including the National Museum of Mexican Art and, most recently, the Museum of Contemporary Art Chicago. She received her Bachelor of Arts in Photography with a minor in Latino/a Studies and Art History from Columbia College Chicago and is finishing up at Dominican University where she's pursuing a Master of Library and Information Sciences with a certificate in Archives and Cultural Heritage Resources and Services and Digital Curation.
Stacie Williams heads the Freedman Center for Digital Scholarship at Case Western Reserve University in Cleveland, Ohio. She has worked in archives at the University of Kentucky, Tufts University, Harvard Medical Library and the Chicago Defender. She currently serves on the archivist advisory board for a People's Archive of Police Violence in Cleveland and is the co-chair of the Women Archivists Section for the Society of American Archivists. Additionally, Williams is an essayist and has been published in LitHub, The Rumpus, Catapult, and The Toast. Williams' work as an archivist, librarian, and writer is guided by care ethics—the understanding that caregiving is the work that underpins all labor—and choosing projects and partners that respect and value that care. As an extension of her interest in how African-American women move through the world, her work is focused on access and use by marginalized communities toward liberatory expression.
__
ABOUT LAKE FX
This discussion is part of the 3rd annual Lake FX CreativeCon presented by Google between April 21 and 22, 2017. Lake FX is the region's largest FREE conference for emerging artists and creatives and is designed to connect, inform and inspire "makers" in the music, dance, design, theater, and arts fields. In addition to keynote speakers, the event will feature professional development workshops, an interactive resource fair, networking opportunities, auditions in front of leading A&R label executives for selected musicians and much more. Learn more at lakefxchicago.us and follow the hashtag #LakeFX.