Hyde Park Public Art (5 of 5)
In a recent phone conversation, Olivia Gude of the Chicago Public Art Group (CPAG) expressed her opinion that when a site-specific piece of art needs repair, Americans take on an…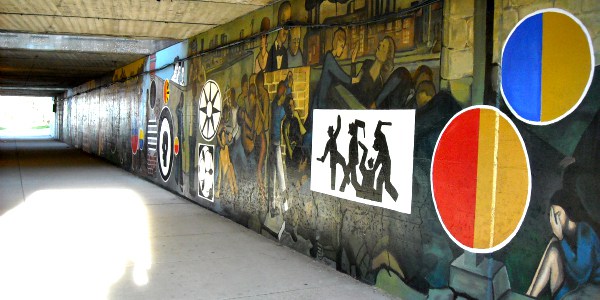 In a recent phone conversation, Olivia Gude of the Chicago Public Art Group (CPAG) expressed her opinion that when a site-specific piece of art needs repair, Americans take on an "either/or" mentality. The piece will either be restored or destroyed. In older areas of the world, a third alternative has been commonplace for centuries: adding something new to an older structure. Take the Basilica of St. Peter as an example. Begun by Michelangelo in the Renaissance, it was expanded and tweaked by other great architects as styles changed over time.  Recently, I have to admit I fell into the binary thinking that Gude ha described. When reading the text next to The Spirit of Hyde Park mural at 57th Street and Lake Park Boulevard, I became confused.  "Restored and reinterpreted by CPAG" it read. What did reinterpreted mean in the context of public art? Weren't murals simply painted over or touched up over time?
Taking in the wall, a mix of styles was evident. Bold, abstract patterns mingled with realistic depictions of students and protestors – the meaning was lost on me. "How did the colored circles relate to the children's choir?" I wondered. What was the meaning behind the original mural? What was it behind the remix?
A few weeks later I found myself in the Hyde Park living room of Astrid Fuller, the artist behind the original mural, hoping to find some answers. A good spirited woman, passionate about the power of public art, Astrid grew up in Montreal before moving to Hyde Park in 1959. She studiedboth fine art and social work and later went on to take graduate courses in art therapy. Well prepared by her fields of study, she became involved with the Chicago Public Art Group (then the Chicago Mural Group) in the 1970's. Through them she painted a number of sociallythemed murals in the Hyde Park area, the first of which was The Spirit of
Hyde Park in 1973. As we began the interview, Astrid flipped through an album of black and white photos of the mural as it was originally. Each of the scenes depicted major neighborhood events of the sixties and seventies: the controversial urban renewal project, the nuclear missiles stored in nearby Jackson Park, and civil rights marches, to name a few. Many of them were things I'd heard about since moving to the neighborhood eight months ago, but it was the first time I'd seen them represented visually. Astrid spoke with passion about the images. "These were all local events, but they were also and remain universal events: the maintenance of the environment, being culturally aware…seeking peace between different people who have diverse opinions," she said. "I did a lot of research for the mural. I had to be very sure [of its historical accuracy] because Hyde Parkers are known for being ready to debate at the drop of a hat." When I asked her about her role in the restoration, she didn't go into much detail but seemed more excited that her mural across the street would be restored as it was originally.
Riding home from Astrid's, I took a detour and passed by the mural. Some of her images remained, like the Chicago Children's Choir and depictions of the university campus. Still, much had been removed. With the black and white images still fresh in my mind, I couldn't help but be a little saddened by their absence. At the same time, I was still curious. What was the intention behind the new, abstract imagery and how did it interact with the repainting of Astrid's work? For that, I called Bernard Williams.
Bernard had worked with the Chicago Public Art Group (CPAG) since the early nineties and was approached by the organization when they decided to restore and reinterpret The Spirit of Hyde Park in fall of 2010. He told me over the phone that he was
nervous that Astrid wouldn't appreciate the new work. At the same time, he said the work felt really good to do and the freedom was very satisfying. Bernard expressed that he'd been partially inspired by Roy Lichtenstein when applying the bold, geometric shapes to the mural. With the new designs, he'd hoped to make the wall more eye-catching. "Coming up with an exciting design was a big challenge," he said. "I wanted to bring some raw energy to that space – add things that grabbed people more physically than mentally." He said he'd like murals in Chicago to move away from the traditional, social realistic style and reflect a higher level of artistic freedom and expression. In both of these goals, he succeeded. The Spirit of Hyde Park like the other neighborhood murals, doesn't get much natural light below the viaduct. Williams' high-contrast colors and thick lines do a lot to brighten up the space and draw attention to the wall. They also give the mural a very distinct look and personality. An eyeball emitting beams of light, set against a pop art-inspired dot pattern? It was definitely something I hadn't seen before.
Despite his explanations, the interaction of Astrid's scenes of social conflict and Bernard's abstraction still bothered me. I still couldn't make sense of how they fit together. When I asked Bernard who'd made the decision to both restore and reinterpret, he told me that had been the Chicago Public Art Group.
Soon enough I was making a call to Olivia Gude, a professor at UIC, veteran muralist and Senior Artist of CPAG. Olivia expressed that during her time painting murals with the organization, she had become interested in the mixture of styles evident within a piece. To the common person, a mural may appear to be painted by a single hand, she told me, but if one takes a closer look they can see that there were multiple artists at work. Even if a mural is led by one person, it's always a collaborative process in the end.
Olivia was also inspired by the unexpected layering of images that had occurred in some Hyde Park murals. When painting over an older mural, an eye or part of a hand would remain from the previous one, late into the stages of the new work. Disembodied, they took on a new life during the repainting. Beyond that, she'd had on her mind a stranger phenomenon related to Hyde Park's murals. Whenever someone would graffiti the mural, an unknown man would come with a roller and cover their marks with a rectangular block of white paint. Over time, walls would collect a great number of white rectangles covering their images. The Spirit of Hyde Park was no exception. "You couldn't help but look at it and think, that's interesting," Olivia remarked. "Those flat surfaces are interacting with the mural that's there; it's creating another sense of geometry." So, when the University of Chicago asked CPAG to restore the mural, Olivia thought, why not do something more exciting? Why not recognize changes over time?
With that thought in mind, the idea behind today's Spirit of Hyde Park becomes less about the history of the neighborhood and more about the history of the mural itself. Indeed, Bernard's imagery does not update the wall with new Hyde Park events. Rather, it represents a change of styles and approaches to murals in Chicago. While other recent public artworks by CPAG do express neighborhood history, they have, on a whole, become more varied, symbolic, and visually striking than murals from the early days of the organization.
Revisiting the wall, I have to admit, I still find the discord between the old and new imagery challenging. And I'm still disappointed at the loss of the images of Hyde Park's exciting history. Despite that, I know that pushing the expectations of an artistic medium always opens up new terrain. By adding to an older work instead of simply restoring or replacing it, CPAG has opened up a third approach to public art preservation in Chicago. What mural will they choose next for reinterpretation? How will that artist decide to interact with the older piece? Whatever happens, one thing's for certain: this is the start of something new.
This is the final article in a five part series concerning public art in Hyde Park. The other articles can be found here.
Featured Image: The Spirit of Hyde Park, 2010. Hyde Park, Chicago, IL. (Photo credit: Zachary Johnson)