Five Highlights from the Chicago Art Book Fair 2017
The first Chicago Art Book Fair, running from November 16-19, provided a platform for new initiatives and varied paths within the world of arts publishing. The fair took place in…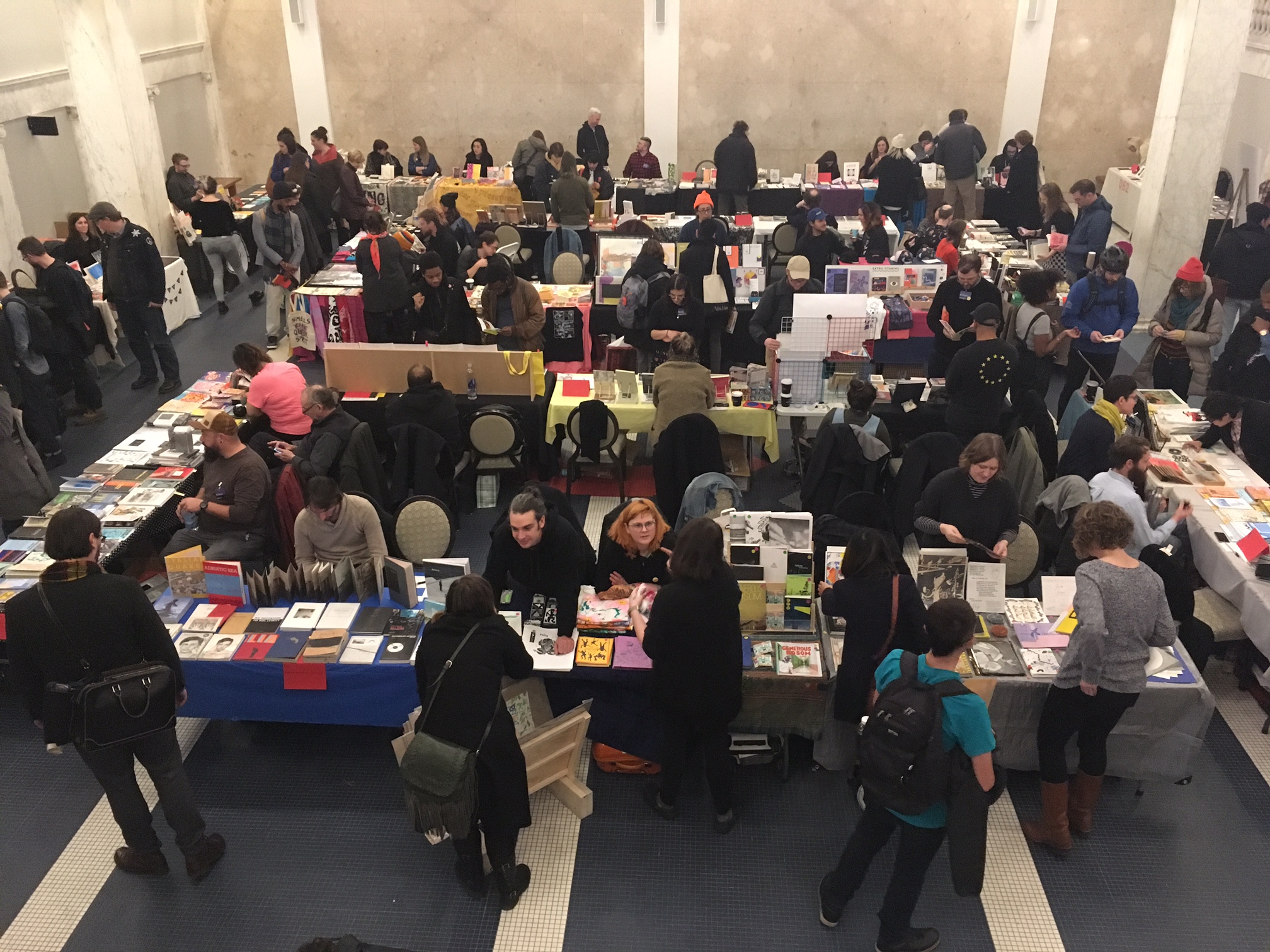 The first Chicago Art Book Fair, running from November 16-19, provided a platform for new initiatives and varied paths within the world of arts publishing. The fair took place in multiple rooms of the Chicago Athletic Association Hotel, but also encompassed offsite programming and after-parties. One of the most unique things about the Chicago Art Book Fair was the range of vendors. The public fair featured an international group of over 100 arts publishers, small presses, printmakers, comics artists, book artists, and zinemakers.
Five Chicago Art Book Fair Highlights:

1. Meekling Press
Meekling Press is a Chicago-based press that specializes in collaborating with authors through the entire design process, from conception to production. This approach to publishing is significantly more intimate than other methods. Their projects range from producing publishing-related events, postcards, and mini-novels, all the way to e-books and short stories.
Mystery Spot Books is a Minneapolis-based press that creates short-run artist books and zines. Named after the tourist trap attractions that prevail on road trip landscapes, this press focuses on books that document and celebrate the intricacies of site-specific moments in our landscape. Their projects include exhibition-specific books, visual music albums, and photo books.
3. Jamiyla Lowe
Canadian artist Jamiyla Lowe's work features energizing hues and mystical woodland creatures with an "exquisite-corpse" vibe. The Chicago Art Book Fair vendors were majority small presses, so it was exciting to see an independent artist with such strong work present. Lowe's work demands attention and clearly stood out amongst the sea of, at times, text-heavy pieces in the show. Lowe was selling limited-edition mugs, prints, cards, posters, tote bags, and shirts featuring her designs.
4. Rebecca Mir Grady
Rebecca Mir Grady is a Chicago-based artist, jewelry designer, and writer. Grady's connection to ecology shines through in all her pieces. One of my favorite offerings of her's was the series of mini-books she created. These small pieces, with such names as "Lost at Sea," "Drought," and "Spill," fold out into larger artworks rather than individual pages of a book. All of Grady's work has a strong visual poetry vibe, resulting in ephemeral, intimate pieces that were a rarity at the show.
 5. Walls Divide Press
Based in Memphis, TN, Walls Divide Press publishes and produces zines, artists' books, and multiples. The organization is run by co-founders Jesse Butcher and Corkey Sinks who work with artists from all over the country with plenty of Chicago makers in the mix. One of the best things about Walls Divide Press is the huge range and diversity of the works they produce. Titles such as "Critical Theory Cocktails," "Puppies, Puppies, Puppies," and "Tropical Pubic Hair" point to this, and the strong artistry behind their production compliments the variety well.
Featured Image: Image of the crowd on the first floor of the Chicago Art Book Fair. The fair featured emerging directions and diverse legacies within small press arts publishing. Photo by Emily Breidenbach. 

---
Emily Breidenbach is an arts administrator with experience working at museums, education centers, and non-profits. She is currently the Assistant Director of Marketing and Enrollment for Continuing Studies at the School of the Art Institute of Chicago (SAIC) and has previously managed strategic communications for the Krannert Art Museum, the Frank Lloyd Wright Foundation, and the Museum Education department at the Art Institute of Chicago. She has a B.F.A. in Art History from the University of Illinois at Urbana-Champaign and is currently pursuing a M.A. in Arts Administration and Policy at SAIC.