Exaltations: Ricardo Gamboa, Storyfront, and Theater as a Living Archive
There is a certain way that we are often expected to approach Mexicanidad in our practices – whatever our field—one that centers the white gaze, commodifies our pain, exotifies us,…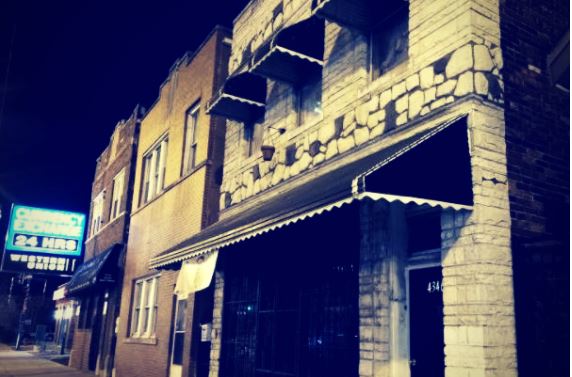 There is a certain way that we are often expected to approach Mexicanidad in our practices – whatever our field—one that centers the white gaze, commodifies our pain, exotifies us, and overall, attempts to deviate us from our original visions to a didactic one, namely, one burdened with the mandate to teach others about ourselves. I remember picking up a book in my elementary school's library called The Mexicans, expecting to read about my family's homeland, wanting a connection.  Reading the first sentence, which said "The Mexicans are a proud people" under unrecognizable caricatures, I narrowed my eyes and put it down, realizing that it wasn't written for an actual Mexican like me.
This disappointment has become familiar over time. Is this show actually for someone like me or is it for the type of people The Mexicans was meant for? I narrow my eyes. It's hard to tell beforehand since criticism tends to have little representation of diverse voices who can evaluate work through different perspectives.
But one of the artists in Chicago whose work regularly centers Mexican Chicagoans as an audience is actor, director, and playwright Ricardo Gamboa. Their body of work is incredibly versatile, ranging from the radical live podcast show The Hoodoisie, plays at Free Street Theater such as Track 13, The Real Life Adventures of Jimmy De Las Rosas, and the two person show Space Age, performed with their partner Sean Parris, and the webseries Brujos about four queer Latinx grad students who discover they are witches – which is as amazing as it sounds and you can donate to support more episodes here.
Most recently, they wrapped up an extended run of their hugely popular play Meet Juan(ito) Doe, which sold out lightning fast and was performed out of a storefront space dubbed the Storyfront in the Back of the Yards neighborhood. Through snippets, the play, which drew on community storytelling events, gave a shout out to the people and situations those of us who grew up Mexican in Chicago would all know. The play's imagery was at times funny and outrageous and haunting and surreal. At the opening, the cast walked in and unpacked suitcases, and pulled out heart-shaped cookies, symbolizing the hopes of the newly arrived, only to have them reappear in another high impact scene where the cast formed an assembly line and smashed them to bits with steak hammers, evoking the effects of working in Chicago's factories.
I got the chance to talk to Gamboa about Meet Juan(ito) Doe, what's next for the Storyfront, and their thoughts on representation, the arts scene in Chicago, and the need to challenge colonial models of practice in theater, storytelling and archives. Gamboa said that they wanted to create a robust picture of what it means to be a Mexican in Chicago, one that challenged and destroyed notions of "representation," which they view as hyper-problematic and tending to smooth over difference. "I say 'I'm Mexican' and all of a sudden it means we have all these things in common. But in actuality there's a lot of nuance to the type of Mexican I am—I'm queer, I'm working class, things like that. And I think a lot of times, how we work in cultural representations is that there's these different performances of identities, and different hegemonic representations, that we're all supposed to feel various degrees of close or away from."
The play represented Mexican neighborhoods that aren't usually represented in Chicago narratives about Mexicanidad, giving a shot out to those who have worked shitty jobs at Ford City Mall on the Southwest Side, for example.  When asked about the decision to include other neighborhoods, Gamboa said "We wanted to kind of make a love letter to our upbringings and to the different places that we've been. Because it hasn't just been Pilsen and Little Village. It's a failure of the play that we didn't get Berwyn, or Cicero, or Aurora, or Romeoville in there. But yeah, we definitely always knew that we were going to capture those parts of the South Side that are never discussed, but that are a part of the fabric of our lives.  And so I think part of what theater and a lot of art is bogged down by is intellectual exercise. So a lot of times when somebody sits down to write a play it's a character-driven plot with a three-act structure, it's all logical, you know? I thought the idea of art is expressive and sensorial, and sensational, and emotional, and that was very much how we built the play was creating from that space. That meant not making curating decisions like, 'Well, the logical thing is to include Little Village.' It meant how, when we think about being brown in Chicago, Ford City Mall came up across the board. It was a different way of thinking about making plays, thinking about how you capture a population or experience. I think it's very totemic of the work that I do, and the work that I'd like to see being done."
In the playwright's notes for the show, Gamboa mentioned something about theater that is visible in other artistic communities as well. They said that Chicago Latino theater isn't really Chicago. When it comes to representation politics in the arts, it can be easy for institutions to lump all Latinos together under one umbrella without distinction to our countries of origin much less our class backgrounds. In this way, institutions can select artists without local ties to communities and claim diversity while erasing the expressions of local artists from marginalized backgrounds with more pointed critiques of the local political machinery than transplant artists who may have little context/interest in what is happening in their new neighborhoods. Gamboa said that they think this tendency goes back to colonial templates where colonizers viewed themselves as bringing "culture" to "uncivilized" colonized peoples. "I think we see work by people of color, indigenous to urban landscapes—granted, we're all on stolen land—being framed as barbaric, and then at a certain point, being included once it begins to help the productivity of the hegemonic dominant culture. So graffiti, you know, it's not art, it's vandalism, until the MOMA wants an exhibition of it."
"I feel like the transplants that come here always come with a certain cultural capital that the working class brown person in La Villita or Back of the Yards or by Midway, Archer Heights, doesn't have. It doesn't mean they aren't incredible, capable beings making artistic and cultural expression, right? But it means that us, as people from those spaces, are not framed as credible bearers or credible creators of culture. Those people who are legible to power, legible to whiteness, and legible to elitism, get to have the lock on it. And it sets up a really perfect hierarchy that engenders exploitation. So they could, some artists, by virtue of their brownness, right, it's representation again. 'I'm brown, I'm Mexican, I'll let the MCA give me money to go into these communities and collect stories, and I'll represent these people for them because I'm this credentialized artist, sanctioned by white supremacy, and I'll get to represent these people for them,' as though, if given space, they wouldn't be able to represent themselves. That's what is so fucked up. And I think we see that a lot. There's a lot of really problematic artists out of Chicago, too. Like Tanya Saracho, who claims an urban voice, but she comes from a wealthy politico family in Texas. Or Mexico, actually. (Author's note: It was recently announced that Saracho is coming out with a show in collaboration with Big Beach called Brujas about four Afro-Caribbean/Latina witches, a project too close to Gamboa's Brujos for the similarity to go ignored.) Gamboa says that even shows like Brown Girls, which is often framed as radical, can be problematic. "I don't know if they're radical achievements, but they're representational achievements. Showing two women of color, living in Pilsen, and there's kind of this hipster lifestyle without ever showing any of the Mexicans there, or the gentrification there, really just sounds like Girls with brown people."
Gamboa sees institutional favoring of certain artists as tied to gentrification. "It's a reiterative practice and a repeated logic that gets deployed on us. It's a very specific type of racism, and ghettoization of us that makes it seem like we need these transplant Latino artists in these spaces who are not actually interested in our side of it, they're just ascending in the dominant structure." Gamboa worked with community members for the show and has made a practice of training people who are not necessarily performers "and watching them get up on stage and be just as good as anyone who has gone through a four-year conservatory program." Performers were found through calls and workshops for the project held a few years ago and that's also how Gamboa said they met Ana Velazquez, the co-director for the show.
When it came to the community storytelling events that were part of the creation of the play, Gamboa was intentional about challenging colonial westernized methods of production that relied on ethnographic models for authenticity. "It's like this colonial science model deployed here, with the logics of an extractive economy. Come in, take what's of value, price it—that's what we do when we name something 'art,' we're pricing it essentially—and offer it up for consumption. I was like, we're not going to do that. That's not how we're going to make this show…And so, part of what that also meant was, I didn't want to be reproducing these violent ways of taking from people. If this is about owning our stories, then I don't want to do that. And I also didn't want to reproduce what these other theaters do and this docudrama aesthetic that's also boring as fuck and creates these talking-head plays where they're just like confessing their oppression narratives. So what was really important was finding ways to engage community, and create community, and finding ways to share stories, not collect them, to share them."
For those interested in archives, this idea of sharing stories and not necessarily collecting them in a traditional sense is especially important. We are often trained in a tradition that has a colonial history of taking or absorbing things from a community and placing them in institutional repositories where they aren't necessarily accessible to the communities they come from. It relies on a model that privileges objects and written records over community based methods of remembrance, such as storytelling and oral traditions. It's a model that doesn't place a lot of trust in the community to preserve their own stories and pass them on, whether because the community is looked down on or perhaps because the colonial model carries within it structures built with the ultimate goal of displacement in mind. It's possible—and important—to find ways to honor alternate models of holding space for collective memory, especially those that have previously been devalued.

Gamboa said that the stories were shared at two events—a karaoke night and a drag lotería night. At the karaoke night, people shared their stories through slips to request songs with prompts such as "The song your grandmother used to clean the house to" or "The song you had your first kiss to." They said that at the drag lotería  night, people played lotería or shared stories at stations about "their relatives that had passed away from AIDs, or their coming out stories if they were gay, queer icons in their life, and things like that." The monologues were original writing, with some being composites of stories shared and personal narratives, highlighting both commonalities and divergences to create portraits. "There was one person I talked to who said 'My mom was a shitty cook.' You find me a Mexican person who will say that, they won't, right? So we said, 'Yo, let's use that.' Let's work that into this." Gamboa said that the composite structure recalled the Zapatista practice of using handkerchiefs. "What the handkerchief means is not 'you don't know who we are', it means 'we can be anyone.' We are, and any one of us can be each other…It wasn't so much about protecting anonymity, although that was part of it, but also not claiming ownership. Democratizing ownership and democratizing identity and obscuring it while at the same time generalizing it."
On the contrast between having stories performed and traditional archival methods of preserving stories long term, Gamboa said " There's  something about the live event, the archive that can speak, that changes this in a way. It's ephemeral. And so, the difference between archiving to enhance the catalog of power, and to catalog it to know, from that vantage point versus assembly and sharing, so that we can see and feel each other, and honor each other. And I would say that's very much, you know, archives are driven by knowledge production. The desire to classify and the desire to know. Whereas I would say even the archival aspects of this are driven by love. The archive isn't pivoted towards recognition for the dominant power, it's pivoted as a gift that we were collecting for each other, and for the spaces that we come from. And that's how we've always thought about it."
"So many times, when artists of color sit down to write plays, they're writing from the white supremacist gaze. They're writing for the white audience. So you get the same cliche-ass cultural Latino tropes…and so we centered ourselves, the locus of enunciation was us. It was our grandparents, it was our aunts and uncles, it was our cousins." And it's the audience that has been centered that is the source of the most traditional archival aspect for the show. Shows created by and starring people of color have a harder time getting reviews from mainstream press in Chicago's landscape, and an even harder time getting culturally competent reviews from them at that. Unfortunately with a medium as ephemeral as theater, reviews are usually the only record left of a show. And so Gamboa called for community reviews to fight against erasure. "It lets us know what we made and it lets people know what we made." To Gamboa, these kinds of things are worth archiving.  "We live in a world where they're trying to kill us, and that's just the reality of the situation, but like, it doesn't mean that we were here willingly, or like sitting ducks. If anything the history of what we've done here has been so amazing, and we've fought so hard to belong here and to be here, and to survive and thrive here, and that's the stuff that I think the archive holds for later generations. We have those pieces, those fragments, and that's so much of what the play is about, too." Instead of perpetuating characters steeped in Latino respectability politics and elitism about alienation born of going to college, the play centered "on the everyday person, the employee at Mariano's, the hood-ass gangbanger who's maybe not so gang-y anymore. So much of it was about rewriting what a hero is, and revising what makes them relevant."

With regards to choosing a venue, Gamboa said they didn't want to overpay for a theater on the North Side or rent out Victory Gardens to give it a sense of respectability. The play was meant to be a springboard to do other work and so when Coya Paz threw out the idea of doing it in a bodega or a storefront, the idea made sense. Back of the Yards was chosen because it was "really representative of who we are and where we are. It has the stockyards there, it has a shitty, aspirational Latino alderman, who is like ass-kissing the white guy, it has a community that's super diverse in terms of the Mexicanidad that's there." A friend of theirs had a storefront that belonged to her dad who moved to Chicago from Monterey. They lived in an apartment in back with her father, Jose Guadalupe Guerra Ornelas, Sr., repairing air conditioners and televisions when he wasn't working at the Zenith factory. The Guerra sisters, one of whom is actor Ruth Guerra, agreed to let Gamboa use the storefront for the play for one dollar a month. Now that the play has closed, there will continue to be events in the space and possibly a free store. Gamboa is inspired by the the work of the Let Us Breathe Collective, which is behind the Freedom Square occupation, and run by their best friend Kristiana Rae Colón. The space will host cultural and arts events, know your rights workshops, and be open to whoever needs it in the community.
When making work that is community based, Gamboa warns not to be held back by market logic that questions whether your work has an audience and to instead focus on throwing your audience and community into the work and they'll be there. "There's a cultural logic that implies two things: that the stories to be told don't matter, or that there is no audience because the people don't appreciate and can't appreciate this work. And all that is lies and speculation, and historically ingrained conditioning of conscious. I always say that my work isn't about perfectly representing a people, it's about inviting a people. And I think you see that a lot, there's queer people in the show, poor people in the show, who are often not…you know, find me poor people in a television show since Roseanne."  Gamboa said that as brown people, we are dying to connect. "Communal growing is part of who we are. It's part of how we survive, whether that's hanging out on the stoop, or backyard barbecues, or basement parties. The theater can be that basement party, that backyard barbecue, that stoop smoke session."
Gamboa said that the process should parallel the world you want to create or that the play is gesturing to; art-making as world-making. As an example, they shared how an exercise they had the performers do during rehearsal called exaltations reflected the overall philosophy of the production. "We're in a show that's about an anonymized population that's everywhere in the city but that's underrepresented. Part of what's going to happen in the show is certain people's stories are going to be lifted up and honored. So one of the exercises we had in the room was the cast would be running around, and I would clap my hands and say somebody's name, and then they would have to all lift them up as high as they can to the ceiling. So it's an actual physicalization of the work we were trying to do." Another exercise, one that was part of the performers' vocal training, took into consideration what it means for people who are not heard, who are almost absent from Chicago theater and Latino theater to be heard. "So, to break down the wall, everybody's talking about the fourth wall in the theater, they would have to run, … and they would have to project their voice and scream, trying to knock down the wall with their voice. It's an impossible task, but, what else are we here for? I mean, the pyramids are an impossible task."
Featured Image: Exterior of the Storyfront space in the Back of the Yards neighborhood. A white stone two floor building with dark awnings sits in a row of similar buildings. Image by Jennifer Patiño Cervantes.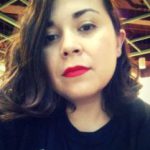 Jennifer Patiño Cervantes was born on the Southwest Side of Chicago with roots in Mexico. She is a freelance writer, poet, essayist, and Director of Operations + Archives for Sixty Inches From Center. She graduated from Columbia College with a degree in Art History and double minors in Poetry and Latino/Hispanic Studies. She is currently pursuing her MLIS at the University of Illinois at Urbana-Champaign.