Community Archiving and Volunteer Orientation for the Chicago Archives + Artists Festival: Art Design Chicago Edition
Sun, July 8, 2018 | 12:30-2:30pm RSVP for the Festival Leading up to the Chicago Archives + Artists Festival: Art Design Chicago Edition at Read/Write Library on July 13th and 14th, Sixty Inches…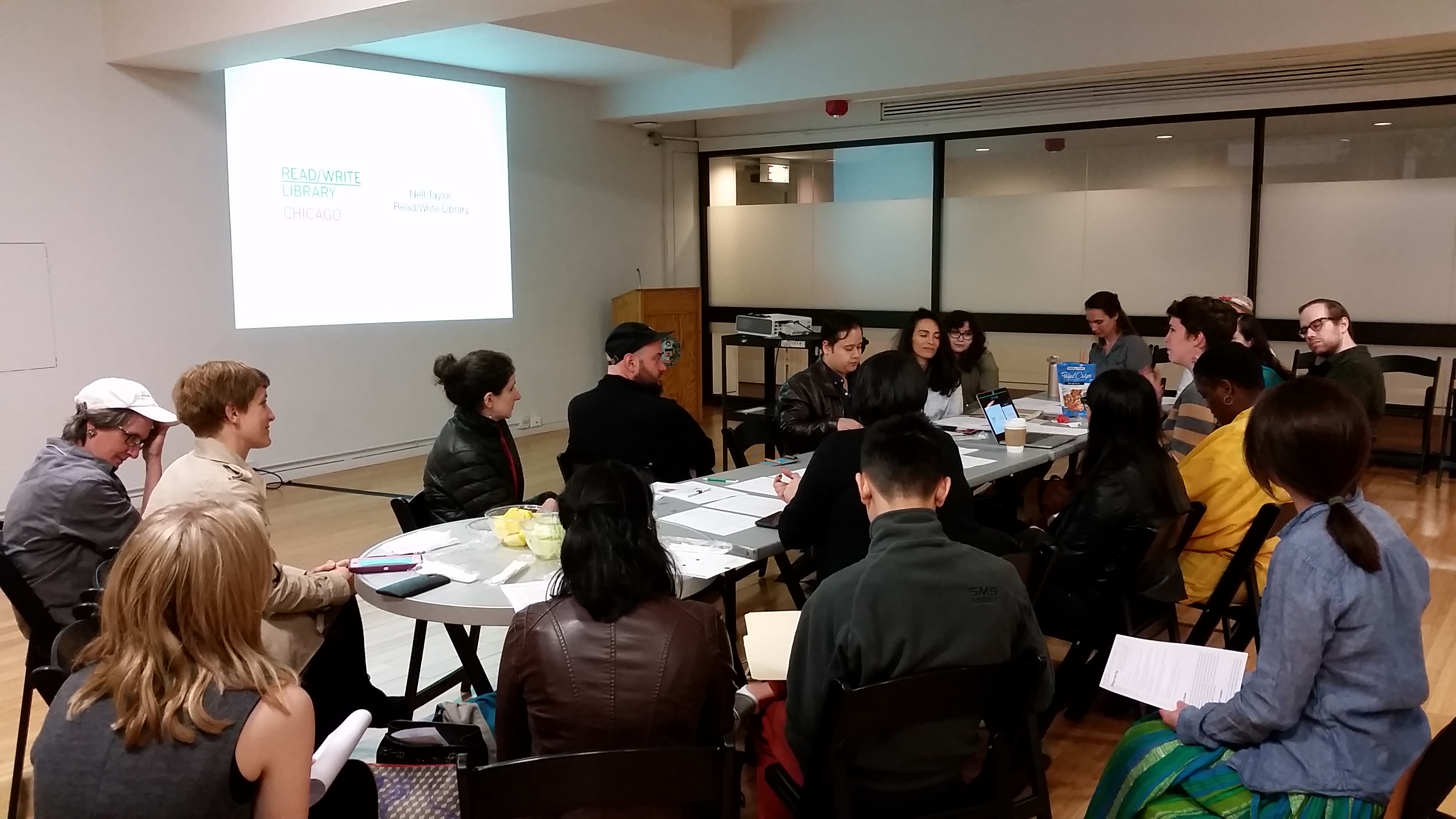 Sun, July 8, 2018 | 12:30-2:30pm
RSVP for the Festival

Leading up to the Chicago Archives + Artists Festival: Art Design Chicago Edition at Read/Write Library on July 13th and 14th, Sixty Inches From Center will host a community archiving training session for those interested in volunteering for the festival or learning about basic archival and cataloging practices. After our session, you're welcome to stick around and join their New Volunteer Orientation and Community Open House.
This session is a requirement for those who will be volunteering for the festival, but free and open to those who just have a curiosity for archiving.  If you're interested in volunteering, please complete the form below and we will contact you at the end of June with more details.
The festival has the following schedule:
Friday, July 13th
1-5:30pm: Event set-up
5:30 – 9:30pm: Archive Mixer + Artist Project Reveal
Saturday, July 14th
10:30am – 2:30pm: 1st Shift for Festival Volunteers
2:30-6:30pm: 2nd Shift for Festival Volunteers
6:30pm – 9:30pm: 3rd Shift for Festival Volunteers
Sunday, July 15th
12pm – 3pm: Event Breakdown
---
[contact-form to='tempestt.hazel@gmail.com, kate.hadley.toftness@gmail.com, jcorredor@saic.edu, tempestt.hazel@sixtyinchesfromcenter.org' subject='2018 CA+AF Volunteer!'][contact-field label='Name' type='name' required='1'/][contact-field label='Email' type='email' required='1'/][contact-field label='Phone Number' type='text'/][contact-field label='Interests' type='checkbox-multiple' required='1′ options='Cataloging (Computer Data Entry),Scanning,Event Docent,Workshop/Panel Stage Coordination,Information Booth Attendant,Portrait Photo Booth Assistant,Set Up Crew,Breakdown Crew,Social Media Guru,Put me where you need me–I%26#039;m open to anything!'/][contact-field label='Which days of the festival can you help out?' type='checkbox-multiple' required='1′ options='Fri July 13th (1pm – 5:30pm – Set Up),Fri July 13th (5:30pm – 9:30pm),Sat July 14th (10:30am – 2:30pm),Sat July 14th (2:30pm – 6:30pm),Sat July 14th (6:30pm – 9:30pm),Sun July 15th (12pm – 3pm – Breakdown)'/][contact-field label='Tell us why you%26#039;re interested in learning more about archiving and why you%26#039;d like to volunteer for the festival.' type='textarea' required='1'/][contact-field label='What experience do you have doing this kind of work? Have you volunteered for big events or done a bit of archival work?' type='textarea' required='1'/][contact-field label='Is there anything else we should know about you? (Are you an artist, writer, archivist? Do you have a website?)' type='textarea'/][/contact-form]