Challenging Silence: Making Space for Survivors in the Arts
Social stigmas and victim-blaming make finding a place where you can feel validated and supported an important part of the healing process when you are a survivor of sexual assault,…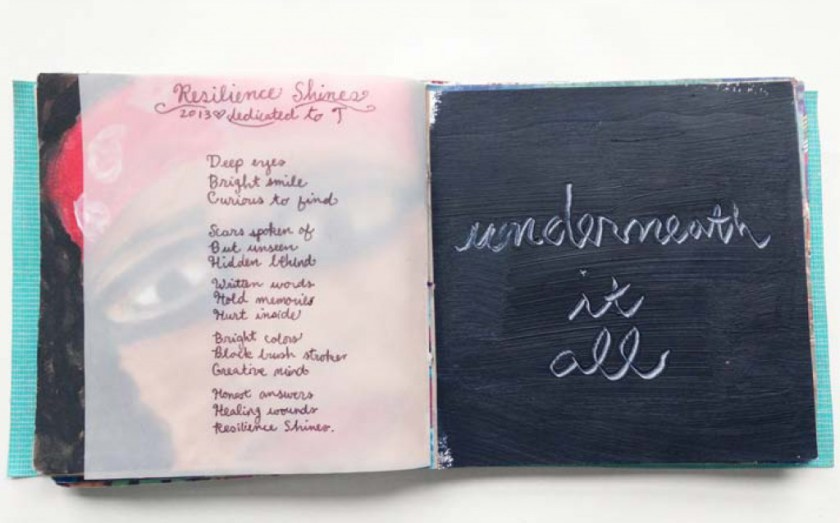 Social stigmas and victim-blaming make finding a place where you can feel validated and supported an important part of the healing process when you are a survivor of sexual assault, sexual abuse, or domestic violence. Everyone heals differently and some people find healing through the arts because it allows them to reclaim their stories and find a community.
Yet, the arts community, as much as the rest of society, can harbor its own biases against hearing the narratives of survivors. Artists who are accused of assault or other forms of abuse may be fervently defended because their work is valued more than the safety of the survivor. The artistic work of survivors, the majority of which are women, may be dismissed because of its content. In addition to professional barriers for artists who are survivors, there might also be challenges in terms of safety – publicity for an event that advertises a survivor's whereabouts might be the last thing that they want.
Luckily, there are spaces and venues that are respectful of survivor's needs and help challenge prevailing misconceptions by creating room for dialogue. I spoke with Sangi Ravichandran and Allison Ancel of Apna Ghar, Nikki Patin of Surviving the Mic, and Jean Cozier of Awakenings Foundation Center and Gallery to find out about how they help create space and awareness through the arts.
Surviving the Mic: Speaking Poetry to Power
Surviving the Mic is a cooperative, collaborative organization that provides creative and performing space for survivors of all kinds of trauma.  Organizer Nikki Patin, is a poet and advocate for human rights who works for Black Women's Blueprint. She said that Surviving the Mic grew out of a ten-week workshop series she organized for people who identify as Black, female, and as survivors of sexual violence that has expanded. She said that through the series, she has seen performers create and perform work that they haven't been able to perform before, and talk about what happened to them before.
"One of the ways that I like to use spoken word is advocating for this work…And I like to tie it not only to these big national and international issues that are happening, but also to my own experience. The dangers of thinking all of these problems lie outside of ourselves – most of them do, but it also matters how we as a community respond to survivors within our own community." Patin performed an incredibly powerful spoken word piece at We Must Breathe: A Response From Chicago Playwrights and Poets at Victory Gardens that raises awareness about sexual violence as part of the #BlackLivesMatter movement which you can watch here. Patin said that studies state that 40 percent of Black women experience sexual violence, with 60 percent of those women experiencing it before the age of 18. "Sexual violence is the second highest form of police brutality, specifically against women of color," Patin said.
The founding of Surviving the Mic also dovetailed with people coming forward at the National Poetry Slam last year saying that they had been sexually harassed or raped by predators who were members of their slam community, Patin said. At a slam master's meeting, where the issues was discussed, Patin said that there were problems with "people not wanting to honor orders of protection and making survivors feel like they couldn't talk about it or say anything because they wanted to protect these perpetrators who were sort of high-profile slammers and writers. So in Chicago, locally, this happened to a couple friends of mine where a few of them were asked to leave venues or to not talk about it." Patin said victims were being interrogated and asked to prove what had happened.
Patin decided to create a safe space for survivors herself and lead by example. A big part of how she makes the space safe is that she makes policies clear, she said. "We talk about things like our policy on touching, which is that if you don't know someone or if you're not friends with someone, and even if you are, it's better to ask and feel awkward than to not ask and traumatize someone. Don't ask people to explain their story. They don't have to justify it to you. Nobody has to prove anything. You're not the police. That's not what this is for, it's for people to just tell their stories.
As far as trigger warnings, Patin says that she follows an article by the California Coalition Against Sexual Assault that points out that it's really arrogant to presume what would trigger someone. It could be anything, she says. "So what we say to our audience is, "Hey, if something triggers you, then let's figure out how to take care of you. If you need to step out, if you need to gets some water…we usually have crisis help center rape victim advocates who volunteer and come to the show every month, and I myself am a state-certified crisis counselor, so we have things in place to help people deal with their triggers." She also says that on occasion there is a massage therapist available for those who might need it.
Patin says that the format of the show also helps with creating a space that is safe. It moved from taking place in a boutique in Wicker Park to a house show format where the address isn't released until the day of the event. The smaller group and secrecy around the address has the added benefit of protecting the safety of all involved. "You have to be our friend on Facebook and RSVP to the event, and we pretty closely vet that risk…The goal is not to have a hundred people show up, the goal is to have a really powerful, sincere, intimate group of people who are dedicated to witnessing and listening to each other."
One of the challenges that spoken word artists who are survivors face is that "people sort of underestimate your artistic or your creative prowess, in terms of how you're telling the story that you're telling," Patin said. "But there's a pretty high level of craft and artistry that we work to operate on." Patin said she believes in economic empowerment for survivors. "We are acknowledging that there is this impact that happens when you are a survivor and healing from trauma, that there is an impact on your education, your employment, there's an impact on your creative process." According to Patin, one of Surviving the Mic's goals is to create a model that makes sure that survival artists are well compensated for their time and energy.
"Survivors are not separate from artists, survivors are not separate from great artists, in many cases they are one and the same," said Patin. The series also empowers poets to go out and perform at other venues. While Patin thinks that other open mics originally viewed them as "a bunch of girls, sitting around and crying and stuff, now they're realizing that people are winning fellowships, people are getting published, people are going on tour and being asked to perform. They're realizing this actually matters to people." And spaces that aren't safe are realizing they're missing out on great writing, she adds.
Apna Ghar: Weaving Community Together

Sangi Ravichandran and Allison Ancel, who are both art therapists, are working to create safe space at Apna Ghar's annual art show, "Collective Voices, Shared Journeys," which will be on view at the UIC Montgomery Ward Gallery until March 13th. Apna Ghar, a social service organization that provides services to immigrant survivors of gender violence from a holistic perspective, is celebrating its 25th anniversary. Apna Ghar helps clients who are dealing with many of the different manifestations of gender based violence, including trafficking, forced marriage, honor killings, and family violence. Because the domestic violence world is a protected space that "people in other spaces, in privileged spaces, don't necessarily have to know or choose to know about," Ravichandran said that art show developed as a way to bridge gaps between survivors and the community.
For this year's show, Ravichandran and Ancel recruited five artists to work with clients at the shelter and introduce workshops based on prompts developed by the art therapist to create a productive collaboration. They said that there will be work created in collaboration with clients, artwork from clients who are artists, and even art by clients who are children as well as a community weaving that visitors to the show can add to. Throughout the month, there will also be events put on by organizations around issues that coincide with Apna Ghar's mission. Between Friends is doing a project around dating violence and there will be information sessions around immigration issues such as DACA and DAPA.
One of the pieces, "Our Home, Documentary 10 mins" by Eunhye Hong Kim, helps survivors tell a story through hand gestures. "We often communicate using our hands and they have become a powerful tool to tell our story," Kim says in her statement about the piece. "Through language barriers and culture differences, I wanted to help the survivors explore their narratives and share their stories with their hands. During this project, what emerged was a powerful sense of community and togetherness. "
"Our Home, Documentary 10 mins," Eunhye Hong Kim, 2014. Courtesy of the artist.
This element of community is a theme for the show and important to Apna Ghar's work. Ravichandran says that "when we're talking about countering gender violence, we can't just be talking about survivors. We have to talk about the society. How are we taking responsibility? How are we having these dialogues?" She also said that she hopes that the art work will help people see the incredible resilience of the survivors. "A lot of people have looked at survivors as woe is she, like oh, poor them. There's that sympathetic lens which is very problematic because it puts you in a rescue space, which we definitely don't want to create. When we work with survivors, we see a tremendous amount of power and resilience. I would say it's just about helping them access their power."
In this respect, Ravichandran said that she has seen clients become more confident in themselves through art. According to Ancel and Ravichandran, everyone heals differently. Expressing a narrative isn't always what clients find most healing. Some clients use art as a coping mechanism to soothe themselves "engaging with the materials so that they are then eventually able to break down the walls and get to that place where they can talk about things."
"I think the show is also going to expand the definition of domestic violence, which is important for the community because a lot of the times, what we see on TV or the media, is a man hits a woman and she has a black eye, but we need to think about it in terms of emotional abuse, verbal abuse, physical abuse, financial abuse and how they all manifest into domestic violence," said Ancel. "So I think that looking at it through that lens is really important for artwork."
According to Ravichandran, one of the needs for safe space for survivors and in the exhibition comes from victim blaming. She says that confidential space allows them to protect survivors from societal stigma. Because issues of sexual violence often intersect with other social issues, there are also legal reasons behind the need for anonymity. Many of the clients who seek assistance at Apna Ghar are immigrants and revealing themselves could work against them in many ways, Ravichandran said. Immigration status is also something that gets used against victims of gender based violence as a tactic of power and control in marital and familial spaces, Ravichandran said.
"And so art makes space for people to protect their identity in some ways, but yet seek witness to their stories and push the boundaries for other people that are looking at it."
Awakenings Foundation Center and Gallery: Self-Expression for Survivors
Jean Cozier, founder of Awakenings Foundation Center and Gallery has been working in the area of helping survivors express their stories through the arts since 1998. In that time, she says that she has seen some overlap between the messages survivors are given when talking about their assault and the messages women are given about their art. When an artist is both a woman and a survivor, this overlap can be "doubly devastating," she says. As a writer and survivor herself, she says she speaks from experience. "It's bad enough to hear people give you some kind of standard rap as an artist about your work being too personal, how it's not going to sell, too biographical, blah, blah, and then to combine that with the message that most people give to rape and sexual abuse survivors about we don't want to hear that."
Although there are dialogues beginning to happen around rape, especially campus sexual assault in the media, Cozier said that sexual abuse is even more difficult to combat and address. "I'm not a survivor of rape. I'm a survivor of sexual abuse and there are differences. People don't get that," she said. "I think more has changed in the area of awareness of rape than sexual abuse. You still don't talk about it in the family. That hasn't changed very much in my opinion." She said that the statistics for childhood sexual abuse is one in three girls and one in five boys, but that she thinks the number is probably closer to one in three for boys as well. "If something else happened to one in three people don't you think it'd be different?"
Cozier said the need for a space dedicated to displaying the art of survivors first of all came from her own collection. She had been collecting the work of survivors herself and worked to exhibit it with different organizations. "The funny thing about this kind of art is that I just assumed that eventually some organization would want to house it, you know at a counseling center, at an organization that works with rape and sexual abuse survivors. But the catch-22 is that while this is art that definitely needs to be seen by survivors, it can't necessarily be seen by every survivor depending on where they are in their stage of healing…That was one of the things that led to the creation of the organization. My art collection had sort of overgrown my house and, you know, I never gave up on the idea that people needed to see it and so here we are."
The space displays a mix of pieces from Cozier's permanent collection along with rotating exhibitions. She said that in terms of the work she displays, she feels it is important that an artist is ready to display work publicly. She said she takes artists on their word about where they are in their journey as survivors and works with them to craft a statement that helps viewers understand what the piece means to the artist, without going into detail or personal history. One of the things Cozier has found most surprising is how after the exhibition, many artists give her their work. "They don't want it back," she said. "I like to think a lot of it is that they're gratified that it's hanging somewhere. It's not in their basement. They're not being told don't paint it. But the other part is that many of them don't want it in their house. They've created it. They told their story and they want to release it."
Cozier said that in terms of creating safe space, she draws on her years of experience in the area and is guided by what makes her feel safe as a survivor. "I build it and they come," she said. She said for the most part, people who find her space know what they will be seeing and seek it out. The space and the art allows people to open up about their experiences in a way that amazes her. "It astonishes me what people feel safe to reveal in here. It's very, very powerful." The space also offers a series of art therapy workshops that promote healing. There is an upcoming ceramics workshop that could also result in an exhibition. Although visual art is the easiest to showcase, the gallery also hosts readings and musical performances. Cozier said that they are also planning on creating a literary magazine in the future as well.
Another way that the space supports survivors is through the Judith Dawn Memorial Fund for the Arts, a program that is administered by Awakenings Foundation Center and Gallery. The fund is named for Cozier's cousin Judith Dawn Hickey. "She was really more like a sister to me and she was an artist and sexual abuse survivor. She died in 1998 so the first thing I did was a memorial for her, to keep her name alive and do some of the things we talked about." The Judith Dawn Memorial Fund provides grants to individual survivors who pursue the arts while also protecting the identity of survivors through anonymity."They don't necessarily have to be quote unquote artists. Anyone who wishes to pursue creative or artistic expression can apply."
Room for Dialogue

The work being done to create safe space, to allow survivors to find healing or tell their stories through their craft has an impact because of the room for dialogue now created that wasn't there before. The need to care for individual survivors and the need to bring awareness to others requires a delicate balance, but it can be successfully achieved when people draw on their expertise and strengths.
While, creating a space for artists to express themselves and heal might not feel like it's going to end sexual violence, Cozier said that what she knows about is healing. "I wish I could go to bed at night and say that I'm helping prevention. But I'm probably not. All I'm doing is trying to clean up the mess afterwards. That's something I know about." For Ravichandran, art helps create community between clients and she's hoping that this will translate into a bond with the larger community. "I'm hoping this art will be a way to open this up, to see that resilience [of survivors]. If that doesn't move you, I don't know what will."
Patin views poetry as a form of resistance in a situation often fraught with injustice. "I think we're letting people know that they're going to have to contend with us," said Patin. "I think what it [art] does is let the world know that, if you're not willing to grapple with survivors in the courts, or with police, or in testing rape kits – which is the whole other story about how police don't do their jobs well by victims of rape – if you're not going to contend with us in the criminal justice system, then this is what we have left. We have art, we have writing, we have performance, we have microphones."
Featured Image: Resilience Shines. Image courtesy of Apna Ghar.
---
Jennifer Patiño Cervantes was born on the Southwest Side of Chicago and her family is from Mexico. She is a freelance writer, poet, essayist, and Director of Development for Sixty Inches From Center. She graduated from Columbia College with a degree in Art History and double minors in Poetry and Latino/Hispanic Studies. She is a lover of Chicago's Visual Arts and Literary communities and lives to explore the links between them.