Caroline Kent's Aesthetics of Encryption
Featured image: An installation view of Victoria/Veronica: Making Room. The back of the room displays an abstract painting by Caroline Kent with an organic shape cut out of the wall…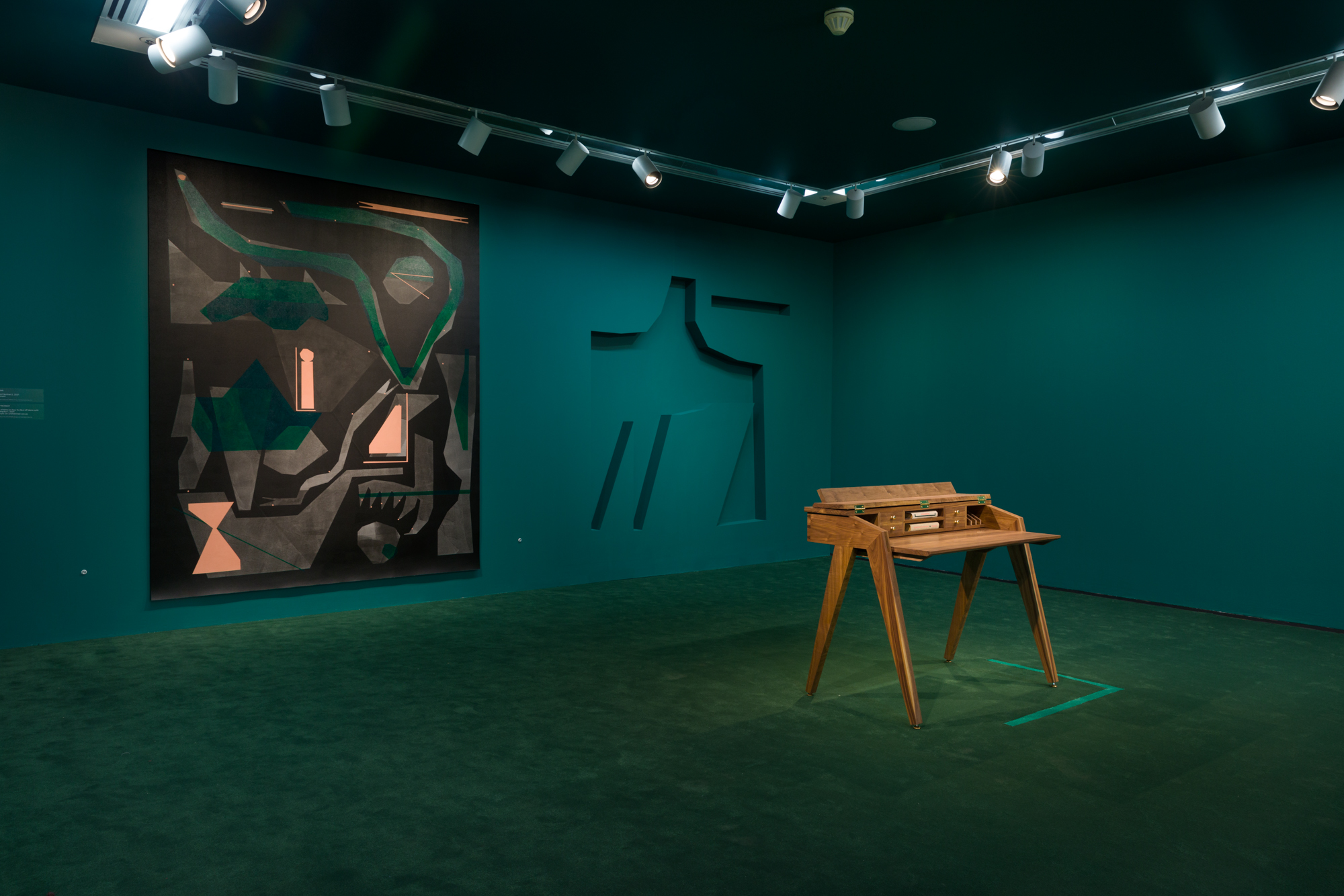 Featured image: An installation view of Victoria/Veronica: Making Room. The back of the room displays an abstract painting by Caroline Kent with an organic shape cut out of the wall to its right. The middle of the room contains a desk. The entire room is green. Image courtesy of the artist and PATRON Gallery, Chicago. Photography by Evan Jenkins.
I mount the winding staircase that twists, helix like, through the heart of the Museum of Contemporary Art, Chicago. Everything goes green as the third floor galleries come into view. My eyes adjust. As I continue to ascend, a once faint grumble — more playful than ominous, a nourishing timbre, like the sound of water seeping around dry roots — begins to swell. My ears adjust.
I am now positioned on the axis of Victoria/Veronica: Making Room, Caroline Kent's first museum solo-show, presented across two adjacent galleries, which, in tandem, explore the fugitive language forged by an imaginary set of twins "who communicate telepathically across two domestic environments." My whole body adjusts, oriented now to the resounding tranquility brought about by Kent's astute vision. Here, the artist expounds upon her interest in painterly abstraction as a means of probing the production, application, and mediation of language, but also stretches to embrace an aesthetic range that lies beyond what has broadly served, to date, as her medium of choice.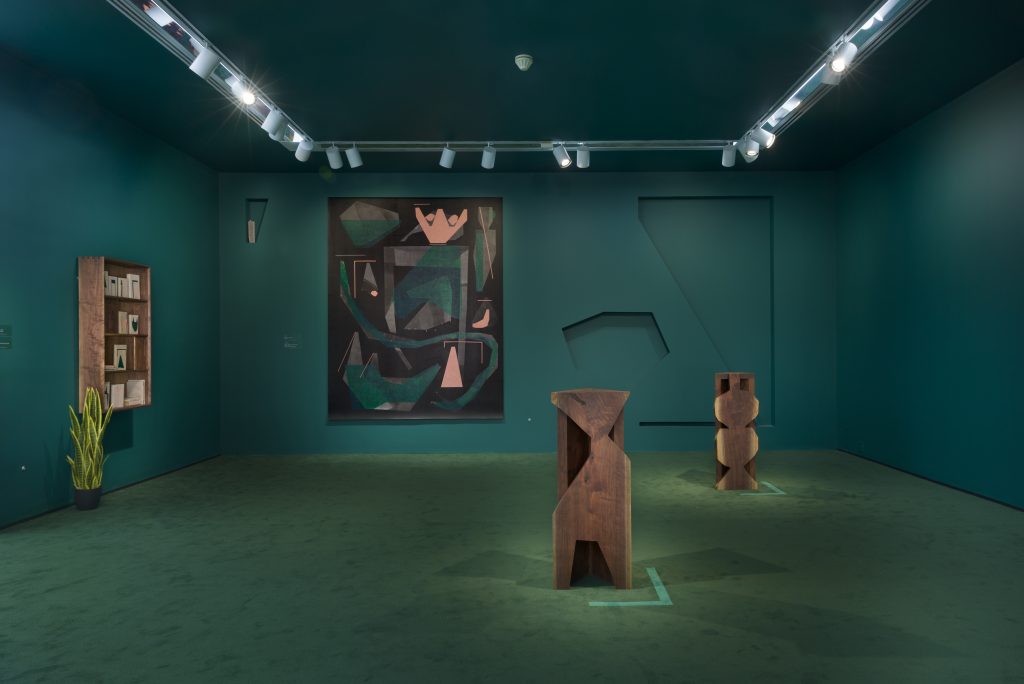 Upon arriving at the top of the staircase, I was compelled, first, to linger a moment and draw my eyes and ears from one gallery to the other, and back again. Immediately palpable was that throughout the exhibition, Kent remains faithful to a palette composed of lush greens, jovial pinks, sober greys, and deep blacks as well as to a set of recurrent, sprawling, and intuitively composed shapes that evade geometric categorization. In this sense, Kent's dialect of abstraction situates itself in a compellingly indeterminate locale and, together, the constituent elements of her language form an ineffable chorus.
Victoria/Veronica: Making Room includes several of Kent's signature canvases hung bare and shimmering, in addition to sculptural cavities dug into the gallery walls, a functioning bookshelf in one room and a desk in the other (both crafted in collaboration with fellow artist Nate Young), wooden sculptures evocative of stools, and additional recesses in the walls that house smaller sculptural works that seem to quietly bear witness to that which unfolds in the galleries below. Discursively speaking, the exhibition asks, "what would it mean to invent a new mode of communication?" And further, "what social conditions make creating a new language necessary?"
What might come to mind first when one encounters words like "language," "vocabulary," or "lexicon" is a written language: A standardized or pre-determined set of letters, which are combined to form words, which then make up phrases and ostensibly open up to some form of widely understood meaning. However, Kent's language is one of form, color, shape, and dimension. It is one in which a repetition of particular chromatic and formal arrangements lay a path towards a form of communication that skirts around the edges of legibility, evoking both the formal and conceptual concerns of fellow artist Torkwase Dyson.
As I approached the Easternmost gallery, I was showered with a sense that the works were colluding in an effort to imbue the space with a pervasive sense of a near-miss, of the feeling in one's body that follows what could be described as a moment of almost-but-not-quite. Bookshelf (2021), for example, is stacked with books whose spines and covers bear gestural geometries in lieu of titles rendered in scrutable script. While bookshelves and their contents inherently nod to epistemology, the encrypted nature of Kent's library of shapes also points to the generative nature of finding ways to hide or mask information. As if the shelf, in its entirety, is a reminder of the political and ontological value of being confounding — What flies free when surveillance is successfully evaded through an embrace of opacity? What shifts when we fail to "make sense"?
To this end, Bookshelf (2021) also contains wooden panels that sit towards its front edge and span a portion of the second and third shelves, casting shadows that withhold visibility of the space behind them. In doubly leveraging abstraction to restrict access to the shelf's contents, the work points again to a throughline of the exhibition: The inherent and quiet power that lies in refusing to be available to surmission. (As both Edouard Glissant and Legacy Russell remind us, there is tremendous value in being unreadable because the project of trying to "understand" so often involves flattening the entity in question. Conversely, what this exhibition feels interested in is what it means to be openly unresolved, to be consistently confounding? How can being undefinable serve as a means of parsing through our current condition also be a tactic to render the future more livable? And further, what becomes possible, both internally and externally, when something is tangibly sensed by outside forces, but is not made available to be understood by said forces?)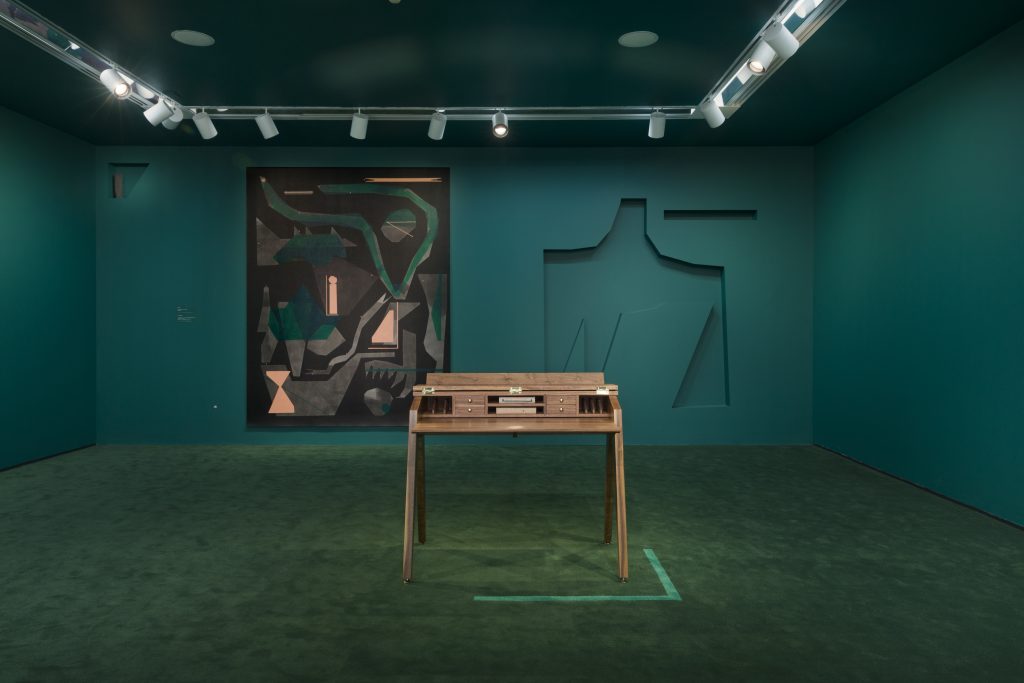 This ethos of evasion was made more conspicuous as I closed my eyes and zoned in on a house plant situated at the foot of Bookshelf (2021), ultimately realizing that it was oozing the humming sound that initially pulled me up the stairs. The plant's constant hum, which buzzed in harmony with the plant in the adjacent gallery, alluded again to the presence of something that lay just beyond my reach as a visitor to the Making Room. After all, Kent built in multiple layers of obscurity once again by masking the source of the sound within a mundane object commonly found in domestic spaces (house plants), which mirrors the strategy used to obscure the holdings of Bookshelf (2021) (i.e. illegible titles and wooden panels). The soundscape can then be understood as a means of further encrypting the twin's telepathic communication, such that it functions as a sort of sonic fog functioning, again, to obscure.
Shifting my attention to take in Bookshelf's (2021) companions, a sustained engagement with depth revealed itself: One of Kent's signature unstretched canvases, titled What it might mean to live among shadows (2021), features a suite of shapes that seem to illuminate and mask one another simultaneously. Kent constructs these compositions by intuitively cutting into paper, improvisationally arranging the resulting shapes onto canvas and painting them in varying chromatic arrangements. The resulting compositions are seductively leveled, almost seeming to fuse into the wall before curling up and in around the corners.
The painting's planar nature, which after sustained engagement opens onto a promise of transcendence, is accentuated by a gaping, geometric cavity dug into the gallery wall that, again, bears the idioms of Kent's visual vocabulary. Each form offers a distinctive mode of hiding or retreat, the former disguising the wall, the latter heightening our awareness of its presence, thereby pointing to what lies both before and beyond a boundary's capacity to enclose and drawing us out into the expanse of what lies beyond its deepest contours. As goes the refrain in Lianne La Havas' heavenly rendition of "Weird Fishes": "I'll hit the bottom / Hit the bottom and escape / Escape."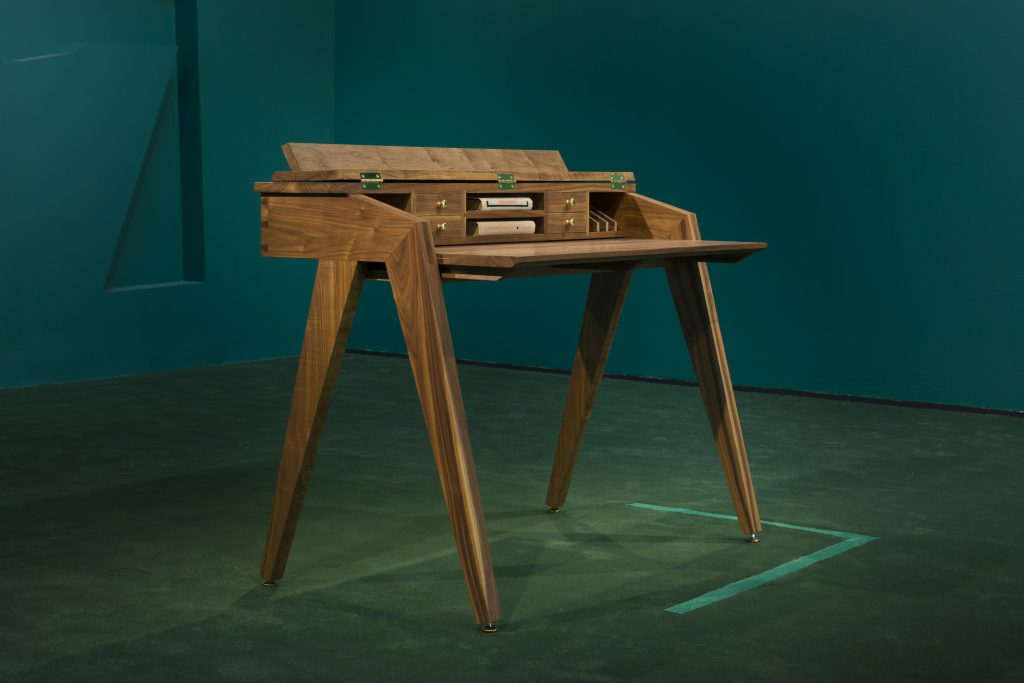 Allowing the exhibition's hum to pull me along again, I emerged into the second gallery, which houses an isomeric arrangement of the first: A supine painting beside another incursion into the gallery wall, a small niche in which Silent Sentinel II assumes a diligent watch, and a writing desk, all of which were enveloped by the mellow hiss emitted from another house plant, again interrupting any attempt to decode the twin's fugitive language.
Caroline Kent: Victoria/Veronica: Making Room is on view at the Museum of Contemporary Art, Chicago from April 3, 2021 through April 3, 2022.
* * *
Legacy Russell, Glitch Feminism and Edouard Glissant, For Opacity.
---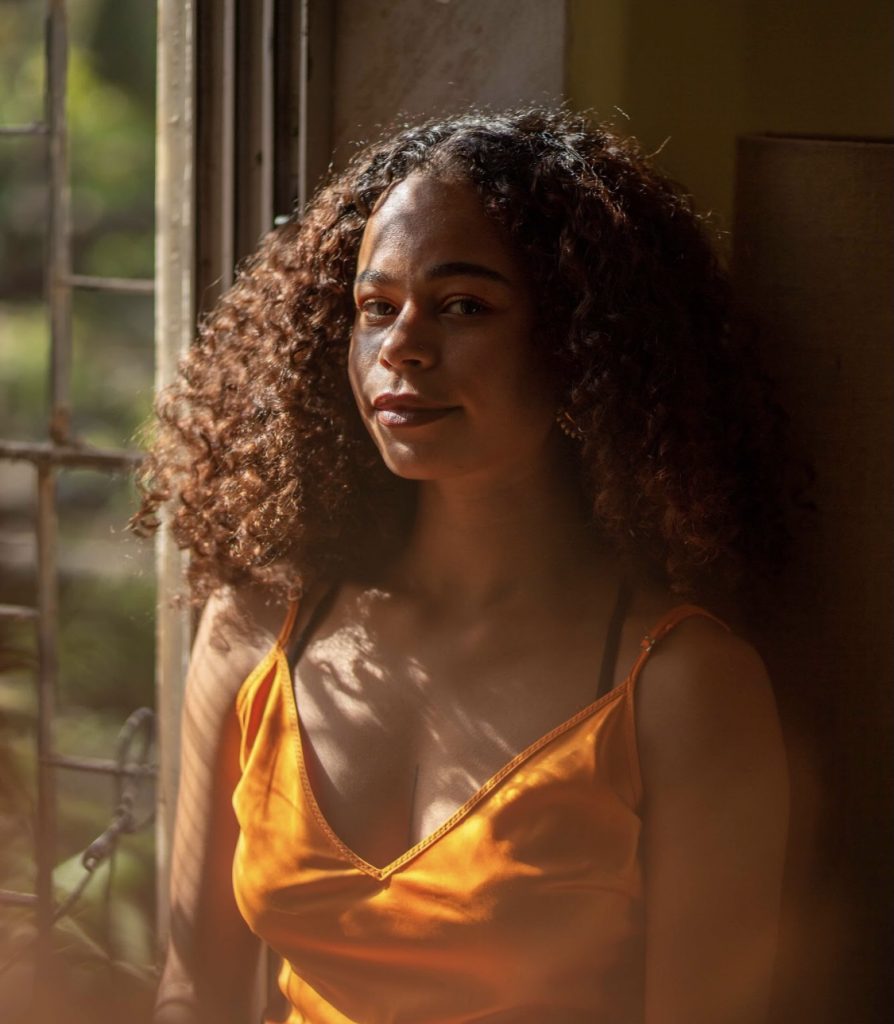 Camille Bacon is a Chicago-based critic and writer who recently graduated from Smith College in Northampton, MA, and is crafting a "sweet Black writing life," as inspired by the words of poet Nikky Finney.