Broadcasting Art From Inside Cook County Jail
On the night of the screening of Radioactive: Stories from Beyond the Wall, the newest intervention in Maria Gaspar's 96 Acres Project, the area around Cook County Jail was vibrantly alive.…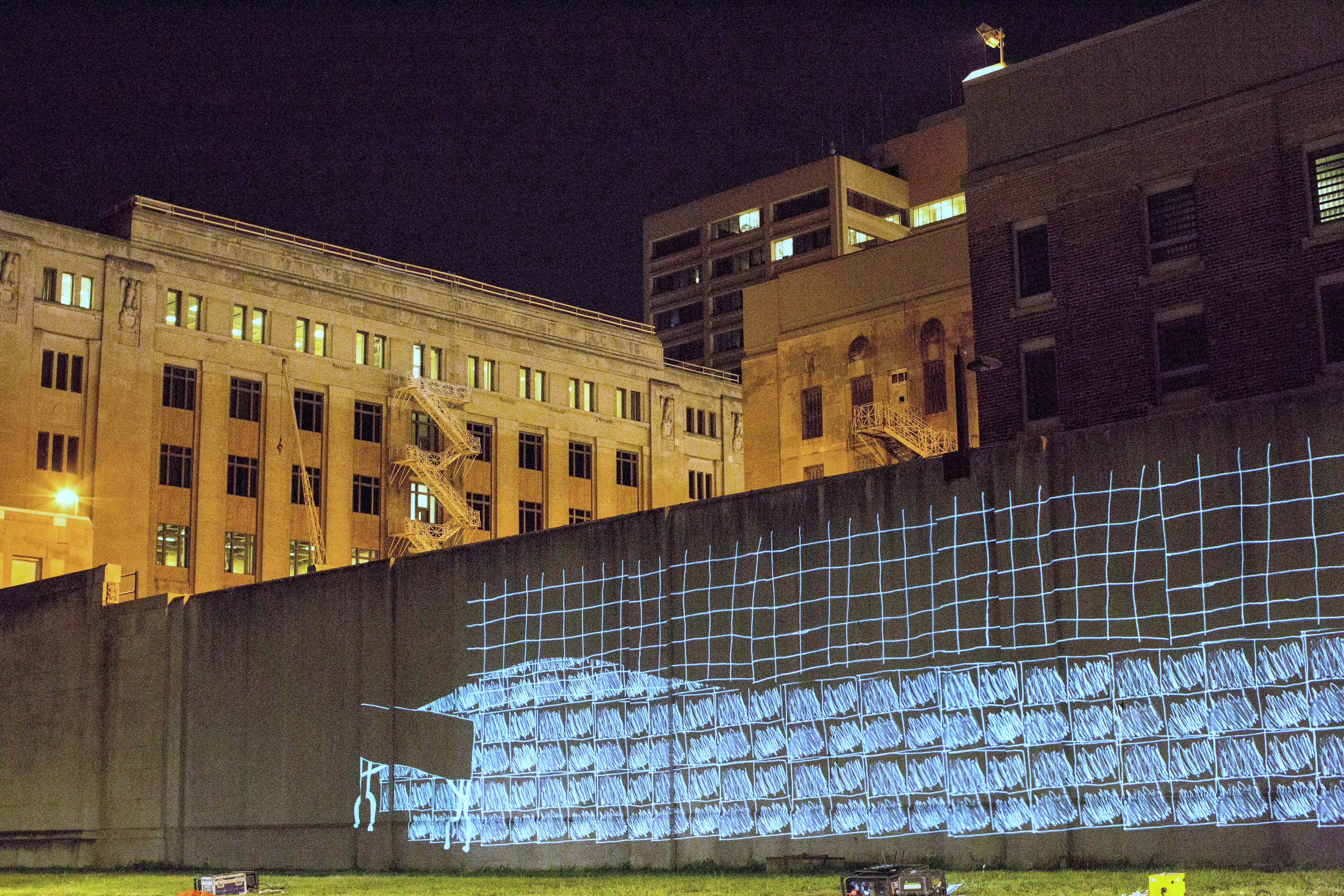 On the night of the screening of Radioactive: Stories from Beyond the Wall, the newest intervention in Maria Gaspar's 96 Acres Project, the area around Cook County Jail was vibrantly alive. Cars zoomed by with teenage girls poking out of sunroofs, Mexican flags draped around their shoulders, and passengers shouting "Viva México!" in honor of Mexican Independence Day that weekend.
Facing the north wall of the massive compound—the largest jail in the country—a parking lot was converted into a viewing space, with folded chairs orbiting around large speakers tuned into Lumpen Radio. William Onyeabor songs played as about fifty people settled in for Radioactive's second screening. A group gathered around what looked like a food cart, but was actually William Estrada's Mobile Street Art Cart project, making screen prints that read "Families Belong Together/Abolish ICE/Abolish Prisons" and pinning them up to dry on clotheslines. As the sun set the lot filled out, buzzing. Behind the wall, the light from a single room spilled out through a barred window.
With the Radioactive screenings and other aspects of the 96 Acres Project, Gaspar's work explores what it means for Cook County Jail and the community inside to coexist with the surrounding neighborhood, La Villita, where Gaspar grew up. In Not Just Another Day (2014), a group of youths from the Yollocalli Arts Reach program tagged the jail's sidewalks and walls with reverse graffiti using a power washer. In PARK (August 2015), 100 cars were parked outside the jail, color-coded based on the racial demographics of those inside.
Building on these themes, Radioactive is a public installation that involves the projection of animations and visual artworks onto the 26th St. side of Cook County Jail, accompanied by radio broadcasts of poetry and narrative made in collaboration with an ensemble of previously and presently detained men. Christopher Coleman, an ensemble member, helped introduce the project. "How gorgeous is my return trip to a place that I used to call home?," Coleman said. He described the classes where parts of the program were developed as a ray of sunshine in a dark place. "People can really get a feel for what it's like being away from your family, being away from your community, not having a voice for a period of a time. It's a heck of a feeling."
In Radioactive, the jail's drab environment bursts to life. The men's bathroom sign vents to a coffee stain on the wall about its wretched existence: Do you know how uncomfortable it is to hang on a wall that leads to nowhere? Later, the coffee stain reappears, given the opportunity to recount how it came to be a stain—a flash of hot liquid in an irreversible moment. All are aware that they are in jail. Even the jail itself proudly remembers its family, my cousins Alcatraz and that snooty girl Rikers Island, she's always on Law & Order.
The rich inner lives of objects are explored in a sort of new materialism that emerges in confinement. The audience was part of this magical-realist process—in the undeveloped land surrounding CCJ, the wall on which the animations are projected became an amplifier that forged intimacy between inside and outside.
The imprisoned object narratives are interrupted by personal narratives, illustrated with drawings of clocks and pigeons with security cameras for heads. Ensemble members share traumatic experiences from their childhoods and marvel at the creativity of the men in jail: I've seen guys wash and iron their DOC uniforms in one process. Getting to an emotional and creative place is recognized as a challenge, Guys reaching deep, getting into their more sensitive, thoughtful side in this atmosphere.
In one of the program's final animations, the jail is pictured cracked in two. The jagged hole in the structure is a gnashing mouth that swallows figures and sends them floating belly-up down a tract lined with barbed wire. There are various stops along the tract, like an American flag-decorated electric chair and a chessboard overlooked by demonic smiling figures. Wads of cash flow from the tail end of this carceral-digestive process. And indeed, for a large portion of Cook County Jail's population detained pretrial, it's cash bail that could end their stay.
Handwritten letters sprung to the screen as an ensemble member narrated reflections and memories of loved ones with intentions to do better. It feels as if there is an unequal distribution of care in the inside/outside relationship: detained people look to the outside, but the outside rarely looks back. Part of this interrupted communication comes from jail itself, where communication is burdensome, time-consuming, often outrageously expensive, and privy to surveillance and discontinuation at any time. Gaspar's project tips the scales a bit, giving the outside occasion to return the attention.
_
This article is published as part of Envisioning Justice, a 19-month initiative presented by Illinois Humanities that looks into how Chicagoans and Chicago artists respond to the the impact of incarceration in local communities and how the arts and humanities are used to devise strategies for lessening this impact.
Featured Image: An animation featuring a wall and chain-link fence is projected onto the jail's wall for the screening of Radioactive on September 16. The tops of concrete buildings in the jail complex are visible over the wall. Photo by Chelsea Ross.
---
Jordan Sarti is a writer and journalist in Chicago. Her writing has appeared in In These Times, HYSTERIA, Temporary Art Review and Slutist. Right now, she is thinking about body politics, carceral capitalism, and plants. In her spare time she invents increasingly intricate ways to rest.