Body Passages: Poets and Dancers Discuss Collaborative Processes In Progress
This is the first article in an ongoing series about Body Passages, a partnership between Chicago Danztheatre Ensemble and The Chicago Poetry Center. This series gives brief looks into a…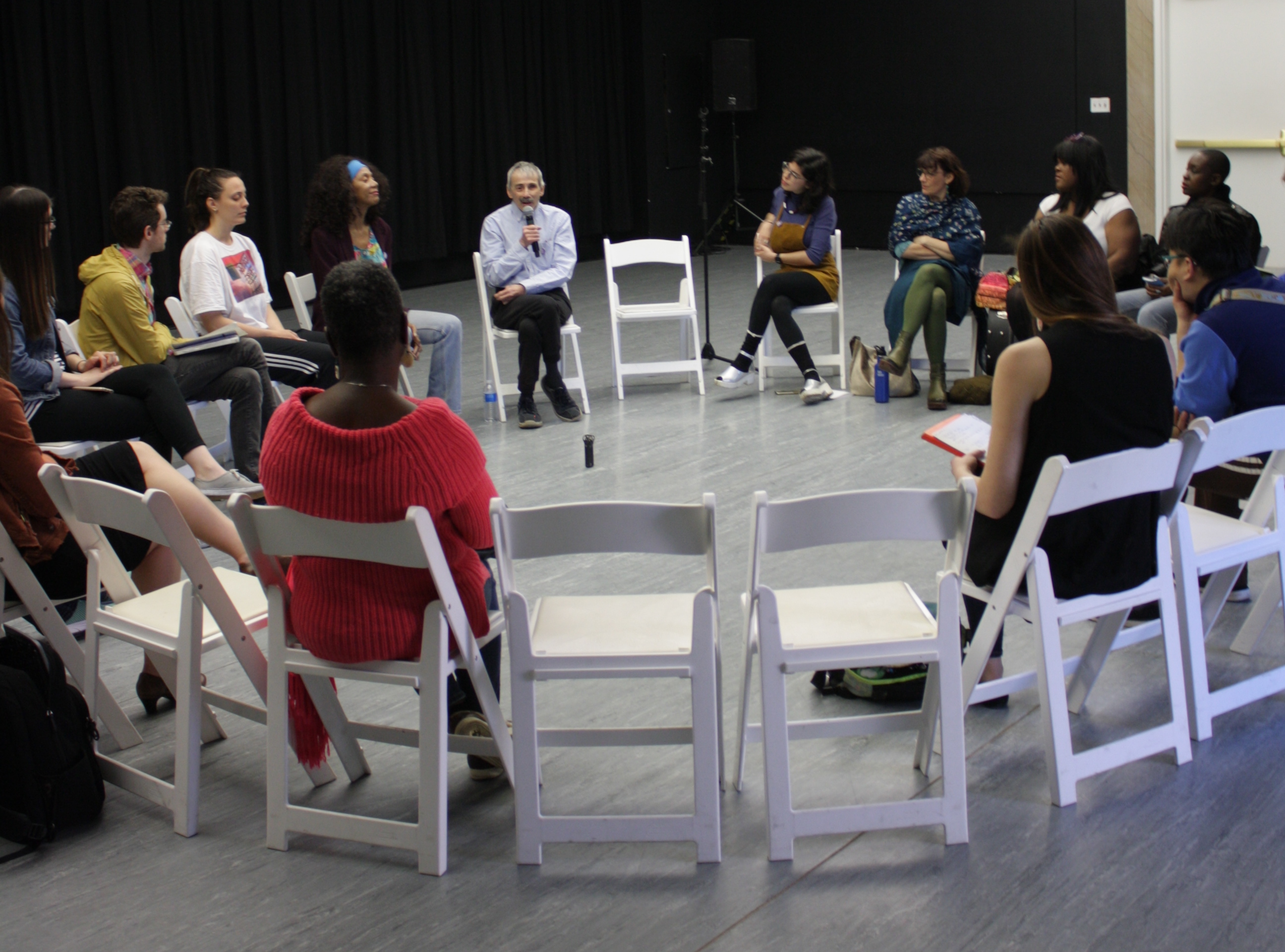 This is the first article in an ongoing series about Body Passages, a partnership between Chicago Danztheatre Ensemble and The Chicago Poetry Center. This series gives brief looks into a 10-month, interdisciplinary creative process between Body Passages poets and dancers, documenting and reflecting on aspects of that process as it happens.
Launched in 2017, Body Passages is the brainchild of co-founders Sara Maslanka (Artistic Director of Chicago Danztheatre Ensemble) and Natasha Mijares (Reading Series Curator of The Chicago Poetry Center; Natasha also writes for Sixty). This innovative, interdisciplinary partnership brings together artists of various forms—poets and dancers, ostensibly, but many with practices extending beyond those bounds—over the course of 10 months to create original, collaborative work engaging language and movement. The 2018 cohort is comprised of 14 broadly diverse artists at different points in their artistic growth, who are together interrogating this year's theme—"Activation"—and developing new work in response. Following December auditions, their process formally began in January when selected poets and dancers were assigned into groups and will officially conclude in October with final performances at Chicago Danztheatre. Artists' work is punctuated and prompted along the way by monthly cohort workshops and individual-group meetings, as well as "in progress" events—including several as part of a recent public-facing residency through See Chicago Dance.
From April 30 to May 4, Body Passages was in residence at the Chicago Cultural Center as part of Chicago Dance Month, thanks to See Chicago Dance. During the week-long residency, four of Body Passages' five collaborative groups used the Cultural Center's first-floor dance studio (a "hidden gem" new to most participants) to explore and draw inspiration from the building's many offerings, while continuing to incubate ideas and make their creative process visible through open rehearsals and a closing discussion. Held on a Friday afternoon in the dance studio, the closing event provided a forum for participants—seven artists representing three of the groups—to reflect on their time in residence at the Cultural Center, to check in about their developing interpretations of "activation" and varying approaches (now a third of the way into the process), and to share work.
In the early moments of this intimate event, co-founder Natasha—who positioned herself and Sara as "facilitators" in an "artist-led project"—framed Body Passages itself as "both a performance series and an artist residency." Of Body Passages' collaborative, interdisciplinary design, Natasha shared a sentiment later underscored by several participants: "People benefit from being pushed by others in directions that you wouldn't go sitting by yourself in a room."
Sara expanded on the theme of "activation," saying, "We're really interested not only in creating work that's inspired by this word and wherever it may lead, but also bringing the audience into the work itself…where the audience members can take part, share, and respond, and feel like the work is not just living on stage but it's going out into the world." The extension of the project's duration from four months (in its 2017 iteration) to a 10-month period this year is intended to create more space for process, allowing relationships and works to evolve and multiply over time. "We really believe in giving artists the space they need," Natasha said. "Because at the end of the day, we want this to be a springboard in whatever way artists need it."
What "activation" means—or will mean—is up to each group. One group reported that they were still exploring the theme, currently in terms of "love, duality, the thing that needs to go before," as described by poet and spoken word artist Jeanette (J) Green. J's group member, songwriter and musician Michelle Shafer, posed potentially overarching or connective questions, like "How do you move fear? How do you get beyond something that is standing in your way?" Another group referred to their own process as "organic" and "generous," also involving exploring and generating without dwelling in any one area yet. As illustration, poets Lorraine Harrell and David Nekimken described the origins of a recent piece for which each group member contributed two words representing their individual interpretation of the theme—'renaissance' and 'emergence' (Lorraine), 'remembrance' and 'forgetting' (David), and 'taproot' and 'nautilus' (Kimberly Dixon-Mays, not present). That piece "may or may not move forward," but David sees it as a valuable step in a larger, "evolving" process: "So we don't know what's going to come next for us, but we'll figure that out—we're already figuring things out." On behalf of the third group present, poet Tarnynon Onumonu framed the theme in the context of a three-step process: from vibration ("all the little micro actions that happen before you actually get to your goal"), into activation ("doing the thing—whatever you're trying to accomplish"), and then moving into actualization ("the ultimate space"). Natalia White, a dancer in the same group, located them as being in "a research space" and "the place before you make a step."
It was evident throughout the discussion that groups used the Cultural Center in a range of ways during the week-long residency—not only as a material resource and a source of inspiration as they devised work, but also to deepen their relationships with one another. For much of their portion, Lorraine and David wandered the first-floor galleries, attending to what "grabbed" them about particular visual artworks—interpreting details, constructing stories together, productively disagreeing, and connecting the art to their own lives (their conversation is elaborated further in the next article in this series). Recalling their experience, Lorraine grinned, "We had a ball!" Another group visited (and praised) the fourth-floor exhibitions, returning to the dance studio to discuss justice and the word "just," play follow-the-leader as an exercise in transferring power, as well as free write to words and improvise with props as a way to consider intention. Kevin Sparrow (a writer and Tarnynon and Natalia's collaborator) talked about how helpful it was to be in a dance facility while trying to push past the text on the page, asking a question echoed by others, "How do we move from writing to embodied performance?"
During their time in the studio, Michelle and J practiced an existing draft of "Grasp" (performed at Uncommon Ground, and also later in this event), taking advantage of the spacious, mirrored room to puzzle through how dance and staging elements could amplify its themes. They also worked on a new performance piece, "Trigger." All groups expressed gratitude for the residency opportunity, touching on the Cultural Center's various points of stimulation (from the feeling of the building to specific exhibitions or artworks, whether engaging in general reflection or ekphrastic response) as well as eased access to resources like a movement studio in which to experiment (with one group laughing that their previous rehearsal took place in a study room at the Harold Washington Library).
Though continuously described as rewarding, the groups' collective processes have not been without bumps and turns. Because of some flux in groups (due to life commitments and even "too many strong personalities") and only being a few months into the overall program, group members are still getting to know each other. In a particularly delightful moment, one trio briefly presented a physical Venn diagram they made to map their distinct and overlapping interests and concerns. Groups also had to develop common language. For instance, artists initially had different levels of comfort with words like "failure," hearing in it—and intending by it—varied meanings. Emphasizing that building trust is part of the process of building work together, Natalia said, "I think it's easier to collaborate once you establish comfort with each other….if I'm saying where I'm at, I'm putting myself on the table." Identifying frequent pitfalls of collaboration, David articulated the importance of both "listening to each other, as well as very clearly asserting ourselves…and as people are making suggestions, we are reevaluating." Natalia related this to the "push and pull" of making work, whether alone or with others: "You do something, you step back and evaluate, you do something, you step back and evaluate." Lorraine broadened the discussion with a straightforward optimism, noting, "Collaboration can be difficult, but it can also not be difficult."
Especially compelling for me was hearing artists' thoughtful and candid reflections about—and revelations from—learning from each other, both across and within modalities. Kevin, a writer, was reminded that dancers "draft" too, observing that, after a writing session, you might keep one line, and from a movement improvisation, you might keep one moment. A few poets indicated that they were accustomed to writing alone, but were excited to try creating collaboratively—and to figure out how to embody that language through movement. As a writer, Tarnynon is welcoming this challenge to "gain confidence to move about the stage, and express in a way that I'm not used to"—having already "embraced that discomfort" as early as the audition, an occasion structured as a microcosm of the program. While the artists recognized the vulnerability, discomfort, and even disorientation that can come with creative partnership (with anyone, much less recent strangers), they also stressed the value of such states for their own growth. Describing her usual approach to songwriting as a form of "surgery," Michelle explained how exposure to J's practice—who writes "in an opposite way"—helped her come to terms with "unpredictability" and be more open-minded. Before a performance of a shared work-in-progress, J's revisions to text prompted Michelle to shift her own "strict musical structure" and improvise in the moment. Michelle resolved, "Art happens. A song's happening. And sometimes it can't be planned." J echoed that while the program has been a learning experience in working with other people—also having to negotiate the idea that art "doesn't have to be perfectly executed the first time out"—it has been an ultimately meaningful one: "You can create art alone, but it's so much better when it's a shared experience…. It's community. Art is community."
Throughout the event, the artists expressed admiration for each other and each other's work, reiterating words such as "generous," "gratitude," and "blessed." In contemplating the journey thus far, J reflected, "I've been blessed to work with Michelle. I've also been blessed to have this venue of Body Passages and the people I've been around…. It spurs you on. It is incendiary. It is activation." Tarnynon expressed appreciation for the opportunity Body Passages presented to "get closer to these resources, to get closer to more institutions who can assist us in our dance ventures and our writing, kind of give us access to spaces that would be harder to enter outside of the program," concluding, "I'm just excited to see where it goes from here."
In the final minutes of the closing forum—and their Cultural Center residency—members of the three groups present performed resonant and powerful works, all with a literary basis but otherwise divergent—a real highlight. Lorraine stood outside the circle of chairs to read her poem "Temple" with quiet passion and gravity; Tarnynon performed "Free Range"—a poem written independently but thematically connected—rotating from a single position to engage onlookers' eyes; and J and Michelle shared "Grasp," a performance piece based on a poem that J wrote, then reworked with Michelle contributing guitar and choreography. I initially interpreted the role of the music in the latter performance as accompaniment to J's spoken words, until the piece suddenly shifted and I realized the music was more like its own character, breaking apart and motivating movement across the studio floor and—speaking from my perspective as an audience member—disrupting expectations of what poetry might be or become.
Read about Lorraine and David's time in residence here and follow Sixty for more forthcoming documentation of this ongoing process. Body Passages' next public event is an in progress showing at Women Made Gallery on Saturday, June 9, 12:30-2:30pm. The groups' final creations will be performed at Chicago Danztheatre in October.
Featured image: This is a photograph of a group of people in a dance studio, sitting in a circle of chairs. Some people have their backs to the camera, and other people are shown straight-on or in profile. The two chairs nearest the camera are unoccupied, creating a window to the speaker, a man holding a microphone. Photo by Hannah Siegfried.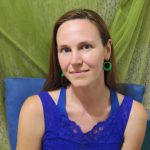 Marya Spont-Lemus (she/her/hers/Ms.) is a fiction writer, interdisciplinary artist, and educator focused on teen creative, leadership, and professional development. She lives and works on the Southwest Side of Chicago. Follow her on Twitter and Tumblr.