Body Passages: Lani T. Montreal and Maxine Patronik on Developing "Blood Memory"
This is the third article in an ongoing series about Body Passages, a partnership between Chicago Danztheatre Ensemble and The Chicago Poetry Center (the first and second are online). This…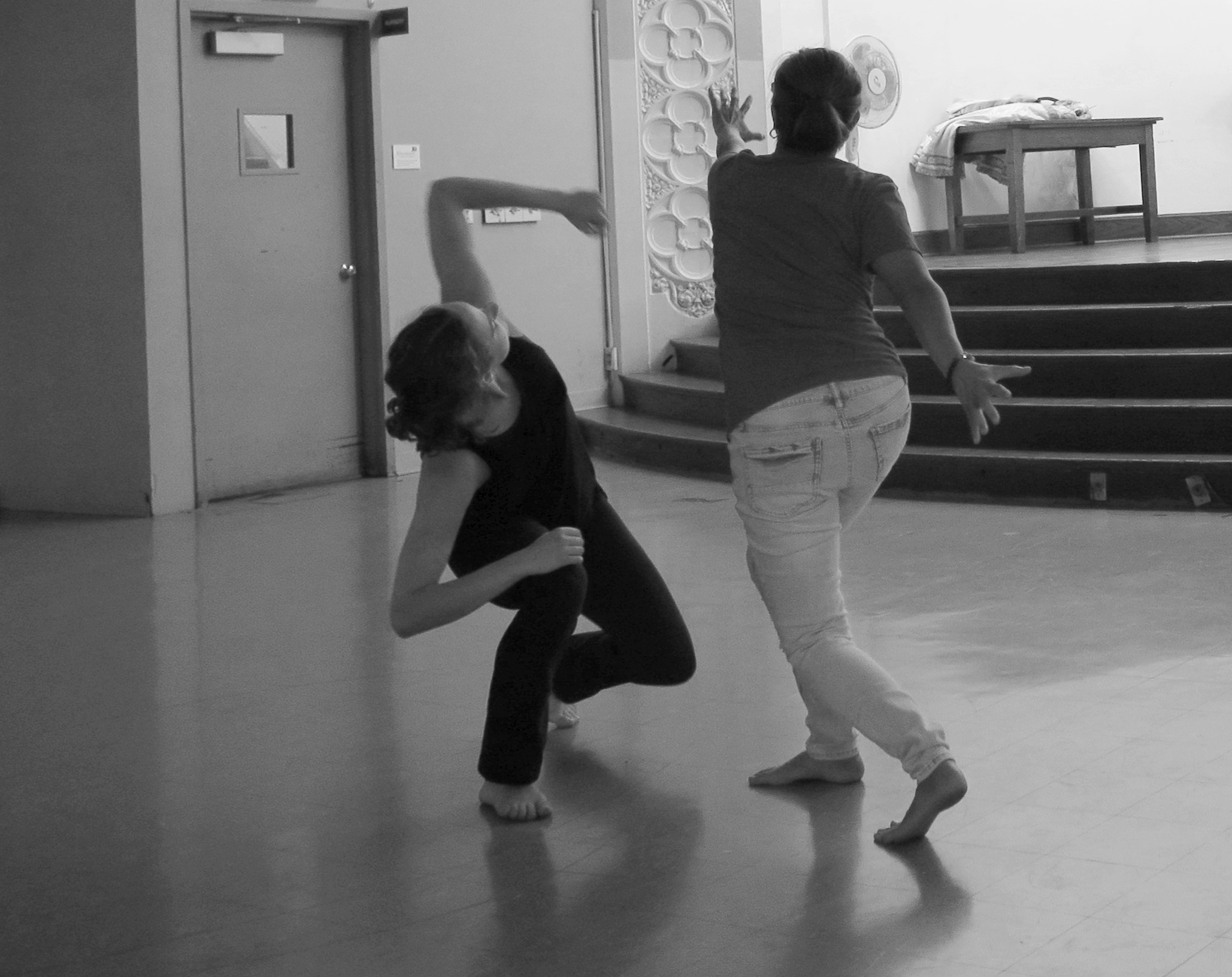 This is the third article in an ongoing series about Body Passages, a partnership between Chicago Danztheatre Ensemble and The Chicago Poetry Center (the first and second are online). This series gives brief looks into a 10-month, interdisciplinary creative process between Body Passages poets and dancers, documenting and reflecting on aspects of that process as it happens.
In September, I spoke with writer Lani T. Montreal and dancer/choreographer Maxine Patronik about their collaborative process; their resulting piece, "Blood Memory," about trauma and bodily memory; and their thoughts about artists' responsibility when presenting work with sensitive themes. This interview has been edited for length and clarity.
Lani and Maxine's final creation – along with those by other Body Passages groups – were performed at a culminating event at the Chicago Danztheatre Ensemble Auditorium on October 12 and 13.
Marya Spont-Lemus: It was so cool to get to observe you today at work on "Blood Memory," your piece-in-progress for Body Passages. So thank you! Before we get into discussing that collaborative piece and your process, I'd love to hear a bit from each of you about your own individual artistic practice, whatever you want to share.
Maxine Patronik: I consider myself a dancer. I'm classically trained in ballet and I've been getting into more contemporary dance since college and post-graduation. Now I'm interested mainly in contemporary dance. I have been freelancing and trying to perform as a dancer, but also choreographing and coming up with my own work – which can be kind of intimidating at times, finding my own artistic voice. A lot of my artistic and choreographic process is drawn from improvisation and I think it's really important to have a practice of improvising and practicing that. A practice of improvisation helps me break my habits and try things that I wouldn't have tried before. So that was part of what drew me to Body Passages, because it would allow me to choreograph and come up with something new, while also collaborating with and being inspired by other artists, especially artists of different mediums. I feel like, as dancers, we can get really isolated and just think about dance, so it's good for me to draw inspiration from poetry and writing and other forms.
Marya Spont-Lemus: And you said you graduated from college pretty recently, right?
Maxine Patronik: Yeah, I graduated in May of 2017. I'm from here originally, so I moved back last summer, and I've spent the last year kind of trying to get into the Chicago dance scene and network and do as much as I can.
Marya Spont-Lemus: What about you, Lani?
Lani T. Montreal: Well, I'm a writer, but I write in different genres. I was a journalist in the Philippines before, so I did a lot of feature stories and articles, and then started writing plays when I moved to Canada in the early '90s. My first play was actually produced there. But I come from a family of writers. My mother was a writer and my sister as well. Poetry is something that I've been doing since I was young, but it's only more recently that I've been learning more about it. I got my MFA from Roosevelt University, but not in poetry – actually, I thought poetry was the hardest class I had ever had to take! [laughs] A lot of my writing has been published in different places and magazines or journals, and this year is the first time that I'm having my poems published all in one book. So I'm excited about that!
I got involved with Chicago Danztheatre through my friend Silvita Diaz Brown – she's also a dancer/choreographer – who has done work with them. Silvita had wanted some text with her dance, so we collaborated. It was the first time I did something like that, and we performed it here. Then Chicago Danztheatre had a playwright festival, and one of my pieces got in. It was a work in progress, called "Damaged Merchandise," about mail-order bride Filipinos coming to the U.S. I was born and raised in the Philippines, so a lot of my work is around that experience, and the immigrant experience. And when Chicago Danztheatre announced that they were looking for writers – poets – for Body Passages, I applied and got in.
Marya Spont-Lemus: What has the process of developing a piece together looked like so far? The two of you have been working together since January, I believe?
Lani T. Montreal: Yeah… [all laugh]
Maxine Patronik: It's been all year.
Lani T. Montreal: Oh my god, yeah.
Marya Spont-Lemus: [laughs] What has that process looked like? And how did you go about getting to know each other and each other's work, or coming to an idea that you could build on together?
Maxine Patronik: There were actually three of us originally. We had to re-group, because we lost a member.
Lani T. Montreal: There were four, but we never even met one of them.
Maxine Patronik: Yeah. There were three of us for a while, but then that person had to drop out for personal reasons. So we took a little break and then came back and re-grouped. And at that point Lani and I changed the direction of the piece.
Lani T. Montreal: I wanted to work on the issue of sexual assault and sexual harassment.
Maxine Patronik: And we had been talking about the #MeToo movement.
Lani T. Montreal: Yeah. Even at the beginning of the process, I was talking about the #MeToo movement. But when there were three of us, we had some different interests, and we were trying to work through that because it's also good to have diversity of voices and experiences within the piece. It was pretty interesting, too, because we all come from different generations.
Then my mother passed away in March, so I did take a break, and a lot of things came up when I was there. When I came back to Chicago, that's when Maxine and I talked about what I wanted to focus on for the theme and if Maxine was okay with that. And it turns out that she had written this really good thesis on a similar topic.
Maxine Patronik: Like bodily memory –
Lani T. Montreal: Bodily memory. That's why our piece is called "Blood Memory."
Maxine Patronik: – and physical memory, and muscle memory, and how our body remembers things that our brain doesn't always. So then Lani and I started working with that as our main theme.
Lani T. Montreal: We even pulled some of the text from Maxine's thesis, from the research that she did. It really resonated with me, because when I was in Manila, I had learned more of my mother's stories as well and I was just trying to understand how it affected me or what the impact had been on me, growing up. And I had my own experience, too, that I didn't know my mother had actually found out about before she passed away. So that went into our script as well. That was how we came up with that theme.
Marya Spont-Lemus: Wow. Thank you. And Maxine, what made you want to write your thesis on bodily memory?
Maxine Patronik: For my thesis, I had to come up with a dance piece and also write a paper talking about my process. The general theme of memory was really interesting to me and also, just being a dancer, how memory can be translated into the body. So it's been cool to expand that inquiry. You know, I didn't think I'd be using my thesis a year after graduation. [all laugh] But it's been cool to bring it to a new place, relate it to a new experience.
Lani T. Montreal: It's well-written! I learned a lot from reading her thesis, that made a lot of sense to me. And then I read more about inherited trauma, too. That story of the woman who was saying, "I want to die" – which you heard when we were rehearsing just now – came from additional research that I did, based on Maxine's thesis. I also thought about childhood trauma, which you might forget about when you're young, and how it might manifest later on. So I thought about how, in the beginning of our piece, we should start with or kind of create that womb then.
Marya Spont-Lemus: You said "create that wound" or "create that womb"?
Lani T. Montreal: Womb. Womb and wound, I guess, but womb – like when I was walking around telling that story and Maxine was still moving, almost like a heartbeat. And I also thought about: What are some of the stories that we grew up with, that may have some deeper meaning? You know, all of these legends and myths that were written to explain something, right? So that's where the story of the sun and the moon came from – it was an actual legend from the Philippines. And the piece grew from there.
Marya Spont-Lemus: Did you know each other before Body Passages?
Lani T. Montreal: No.
Marya Spont-Lemus: It's so interesting, because I feel like, as artists, we may draw to different extents on our personal experiences or personal traumas for our own work. And it's one thing to channel or manifest that into a creative form by oneself, which can already have its own challenges. And, to me, it seems like another thing entirely to externalize that experience further, to talk about it abstractly or even strategically with a collaborator, or to share enough of the background or details of it to be able to combine those experiences or stories in some way. I'm wondering – in general and especially since you didn't know each other when you started – how did you figure out how to do that with each other or build that trust? Was that difficult?
Maxine Patronik: I think we just had a lot of conversations.
Lani T. Montreal: Yeah, we talk a lot. Maxine is not so talkative, though. [all laugh]
Maxine Patronik: I would listen.
Lani T. Montreal: She's a very good listener.
Maxine Patronik: We had that one meeting where we just talked about all of our similarities.
Marya Spont-Lemus: As an intentional exercise?
Lani T. Montreal: I think we were just sharing some of our memories that may have been traumatic. Maxine talked about that incident with peanut butter, because she didn't know she was allergic. So that was a major trauma – she almost died!
Maxine Patronik: Yeah. We would meet about once a month at Lani's place and just talk for a bit. It didn't feel hard to build trust. I think because we were both artists, it felt like a natural connection.
Lani T. Montreal: And I think we're both easy people to get along with. [all laugh] I think that we're both quite positive. That's why we want to put that positivity into the piece, by including people's expression of joys, even though trauma is a very serious issue.
Marya Spont-Lemus: I know that "Blood Memory" is still in progress, and that the final piece will be unveiled in this space in mid-October, but what you can say now about what the piece is about, or what themes or questions it's engaging with? How did you come to that manifestation of those root ideas around trauma and memory?
Lani T. Montreal: "Blood Memory" is about trauma and how the body remembers what we may have forgotten. And how do we overcome that trauma, or can it be overcome? So those are the questions that we want to explore in the piece. That's why we talked about having those different voices of women – not just women, actually; there are men in that recording – of survivors of sexual trauma. I think that it's important to find a community. It's important to create that space where you can feel safe. So that's why we're including those voices in our piece and, overall, just trying to be very sensitive about the issue.
Maxine Patronik: Yeah. We hope the audience can relate and also take something away.
Lani T. Montreal: But not be traumatized.
Maxine Patronik: Reminded of their own experience, but feeling support.
Lani T. Montreal: Empowered to tell their own stories, and to work through it. Because we did talk about how to find ways to overcome the trauma. When I went back home to the Philippines, it brought up my experience of trauma and made me feel strongly about sharing. I actually I wrote an essay about it, which was published, but I didn't put my real name on it. But I think some of that writing might go into the last part of our piece. We want our piece to be something empowering, that should empower people to share stories and also to find community in order to overcome.
Marya Spont-Lemus: What's the structure or arc of your piece and what modes does it use? Do you both perform in it?
Lani T. Montreal: Well, now I do. Maxine just gave me some moves. [laughs]
Maxine Patronik: I think we decided to stick mostly with our individual mediums. I didn't necessarily want to use my poetry, because it didn't feel performance-ready, but Lani is doing some movement, which is great. Overall, we kind of tried to mesh Lani's poetry and my dancing together. So in the first section, I'm kind of responding to her words, using her words as the music or rhythm or the story. In the second section, we come together more.
Lani T. Montreal: The third section is more poetic and also includes how you find joy through it all. That's why we asked the devising workshop participants to share, "What are your sources of joy?" Because that's how it is, that's how you survive! It's day-to-day. Even if you have gone through such a horrible experience, you need to be able to overcome it and you need to be able to live your life one day at a time. And that means you have to find joy in the little things, right? In the everyday. Otherwise it's going to drive you crazy.
Marya Spont-Lemus: For the audio recordings that you're using in the second section, did the same people provide testimonies about their traumatic experiences and about their joys?
Lani T. Montreal: No, it's not. Originally, we were going to ask people we knew to record and share stories about their traumas, but some people are not that comfortable with that. A couple of my friends have shared their stories and those might go into the final recording, but for most we used audio from videos on the National Sexual Assault Telephone Hotline (RAINN) website, which has survivor stories that have been made public already. So we selected some and I asked my friend who's a techie guy, "Can you help us mix this?" Because, you know, we're just afraid if we leave the recording as is with people telling their stories of sexual trauma, then it might be too triggering?
Maxine Patronik: And the way that it is edited, it's more interwoven, so you hear bits and pieces but it's not necessarily one story that's fully audible.
Lani T. Montreal: So it's different stories, with strands that are woven together. I think it's powerful that way, because then you're showing that some of these stories are very similar. That's what we wanted to show with that part of the piece.
A couple of friends of mine who are trauma counselors will be here for the performances, in case people were to feel uncomfortable or unsafe.
Maxine Patronik: We just came up with that idea about a month ago.
Lani T. Montreal: And it's tricky asking people to share their stories. Because these stories about trauma were already out there with an educative purpose, we felt like it was okay to use them. We will cite the stories as being from the National Sexual Assault Telephone Hotline website, of course, and then it's also helpful for people to know that that organization exists as a service.
Marya Spont-Lemus: I was going to ask about how the theme of trauma has impacted the ways that you're thinking of presenting these ideas to an audience. Like with how you came to the idea of bringing a trauma counselor in, or if there was something specific you read that informed your approach, or if there were other artists you looked to? Just how you're thinking about your presentation of work about trauma and also to what extent you think there's artist responsibility in that?
Lani T. Montreal: Yeah, definitely. Well, that's why we asked the trauma counselors. I'm also reaching out to a friend of mine who works with Resilience, formerly called Rape Victim Advocates. I feel that we have a lot of responsibility when we put our work out there.
Maxine Patronik: And I think we have the responsibility to be vulnerable in our presentation of it and in our sharing. Because if we're closed off, and feeling strange about it, then the audience is going to feel that way too.
Lani T. Montreal: Yeah!
Maxine Patronik: So I think it's important that we, as artists, express as much as we can. Whatever happens.
Lani T. Montreal: And that's also the reason I put my story out there, right? Because, you know, we're talking from the experience of a survivor as well, and not just telling the story of someone else. That's what we tried to do.
Marya Spont-Lemus: So, the piece that you're creating together will be presented to the public as live performance. With this – or in your own writing or in other dance you've done – do you feel like the responsibility is different if the piece is happening in the space of live performance versus in a piece of writing on a page or something?
Lani T. Montreal: Oh…wow. I would think so. That's interesting.
Marya Spont-Lemus: Or have you felt equally as concerned in the past?
Maxine Patronik: I typically just perform live, but I feel the same responsibility in any kind of performance, to just be as open as I can. No matter the topic.
Lani T. Montreal: As open, yeah. Because dance can be seen as being more abstract, right? Whereas when you're speaking the lines, then it's raw and can be too didactic.
Maxine Patronik: And it's a bit different when you're presenting your own work versus, for me, performing somebody else's choreography. It feels like when I'm doing my own choreography I have a strong responsibility to be true to myself.
Lani T. Montreal: Yeah, because you're putting it out there. And that responsibility is that it won't harm, right? You don't want to cause any harm – but then again, you know, intentions are one thing and the impact is another. Because I've seen performances where I felt really moved but also very vulnerable. And sometimes it doesn't feel so good. [laughs] So I understand that there would be that kind of effect. That's why I said that we want to have someone at the show who's a professional, who can help people deal with those kinds of responses should they arise during or after our performance.
Marya Spont-Lemus: Is that something that whomever's introducing you will say at the beginning? Or how are you thinking of presenting that information, that someone is there?
Lani T. Montreal: Oh! We haven't thought about that yet. [laughs] I think also just to announce that these are sensitive issues. I think Chicago Danztheatre did that before. They did a show on domestic abuse, and that was also very painful.
Maxine Patronik: Heavy.
Lani T. Montreal: Yeah, heavy.
Marya Spont-Lemus: It can be tricky, too, because traumas are so multi-layered, and there are so many things that might trigger them. You know, on the one hand, it's not possible to be aware of everything that might impact somebody – it could be something seemingly innocuous – but if one of your starting themes is "trauma" and addressing particular forms of it, then that seems especially like a situation in which thinking through those extra several steps – proactively, not just responsively – seems really important.
Lani T. Montreal: In the past they have announced the sensitive themes to the audience. And we can also make them aware that there is someone in the audience who can help. I think that's important.
Marya Spont-Lemus: I'm wondering how you think about how language and movement interact in your piece, or inform or contradict each other? What is that interplay between them, and between you, as you navigate those modes of language and movement together?
Maxine Patronik: I think it's interesting to just hear the rhythm of how Lani reads some of her poems and her stories. I try to use that to keep a similar rhythm in my dance, to respond to her words with movement. It seems pretty simple, I guess, for me.
Lani T. Montreal: In the beginning, Maxine would go to my house and we would just talk about the piece. Then I would share my writing with Maxine via email. But I never really saw the whole thing until we started rehearsing here, because even when we showed it at Woman Made Gallery, I was reading my part and I didn't know what Maxine was doing. [laughs]
Maxine Patronik: So the words definitely came first, and then the movement followed.
Lani T. Montreal: And when I've worked with another dancer, I've found that having the words first actually helped the dancer. [laughs] So it's kind of organic that way, that the movement grew out of the written piece. When we started rehearsing here at Chicago Danztheatre, that's when I first saw it all together, and I really liked the movement that Maxine came up with and what she choreographed for the piece.
Marya Spont-Lemus: And I forget how exactly you phrased it, Maxine, when you were rehearsing that first section earlier, but you said you wanted to respond to Lani's words but not in such a way – that you wanted to depict them but not too literally? But rather echo them in some way. Then in the second section, when you're both moving to the recorded and collaged voices, it was really interesting to get to see you both pull out verbal or visual motifs and repeat those together, not quite in unison but in the same set of patterns. I've only seen parts of those first two sections, but it was intriguing to see how those relationships shift – between the two of you as performers and between language and movement – at different points in the performance.
Lani T. Montreal: Yeah. I really defer to Maxine when it comes to movement. [laughs]
Maxine Patronik: And I defer to Lani when it comes to words. I think we have a mutual respect for each other's work.
Lani T. Montreal: I think so. The collaboration works great for us.
Marya Spont-Lemus: How do you think this process – whether of working together, of creating this specific piece, of the larger experience of Body Passages – might impact your process moving forward?
Maxine Patronik: Well, this has been one of the longest processes I've done. It almost seemed a little too long for me. I think personally I prefer not a short process, but only a few months. Because it is nice to let things settle and kind of marinate, but I also feel like sometimes 10 months was too much time for us, where we were backtracking almost.
Marya Spont-Lemus: By "backtracking," do you mean "second-guessing"? Or that you were changing so much as time was passing that you wanted to keep changing the piece?
Maxine Patronik: Yeah, I think just having too much time to think about it. And even almost forget it.
Lani T. Montreal: Yeah, it's like your body needs to remember!
Marya Spont-Lemus: Body memory!
Lani T. Montreal: Yeah! It's the same thing for me. Because I've done collaborations before. I was with Mango Tribe – this Asian- and Pacific Islander-American group of women – that works together in a similar way, usually towards a performance that's coming up in like three months, not in a year. [laughs] To sustain that kind of energy is tough. It can drag on, if it's too long. I don't know. Maybe if there were more of us? Maybe that was what they were thinking, that if there were more people in our group maybe we would need more time.
Maxine Patronik: Yeah, I think it would be different if it was a bigger group of us.
Lani T. Montreal: But if it is just two of us, maybe a compressed process would work better, like if we met every week instead of every month.
Marya Spont-Lemus: It seems like you both have had a lot of experience with collaboration and devising performance in different kinds of ways.
Lani T. Montreal: Yeah, that's probably true. Other people might not have that experience and may need more time.
Marya Spont-Lemus: Are there ways that you think this experience might impact your work beyond October? Like ideas you've been engaging with as part of this process or methods you've been using, or like incorporating more movement or other ways of making into your own practice?
Maxine Patronik: In past processes I've used words, like poetry, as inspiration. I think this experience can push me to use other art forms as well, not just words, but visual art or more outside sources.
Lani T. Montreal: We haven't really talked about it yet. Maybe we should expand our piece. [laughs] I don't know. Maybe we can show it at certain times of the year. I could invite Maxine to Malcolm X College to perform – maybe for March, for Women's Herstory Month, because we usually have something. That would be great. But I would love to work with Maxine again.
Marya Spont-Lemus: And assuming that, especially given the long process, this is not the only thing you've been working on, I'd love to close by hearing some of the other projects you have going on and if there's anything you have coming up!
Lani T. Montreal: Well, I missed Maxine's Links Hall performance because I was sick.
Maxine Patronik: [laughs] I've just been kind of freelancing. Dancing for things here and there throughout the city, in small dance festivals and shows. I'm also dancing with a small contemporary company, Trifecta Dance Collective, so I've been rehearsing with them a couple of times a week. We have shows in the coming months, so that's exciting. But choreographically, there's not really anything else I've been working on outside of "Blood Memory." I think I definitely want to get into that more and just create more.
Marya Spont-Lemus: And Lani, I know you have a book coming out. What is it called and what is it engaging with?
Lani T. Montreal: It's called "FANBOYS: Poems about Teaching and Learning." I teach English Comp and Creative Writing at Malcolm X. But the book is really broad and double-meaning – whatever you've learned in life. So that's what it is. The things I've learned, and the things I've also taught people, I guess. [laughs] I have readings coming up here and there to promote the book. One just passed but I will have another reading with other poets on November 8th at The Dial Bookshop in the Fine Arts Building. I will keep you posted on other events.
Marya Spont-Lemus: Is it your first book?
Lani T. Montreal: It's the first one that has everything together. Because, you know, the poems have been published here and there, but not in one space. So yeah, it's exciting. I'm excited. It should be out second week of October.
Marya Spont-Lemus: Well, thank you both for taking the time to talk, and I'm excited to see your final piece at the Body Passages show in October!
Featured image: This is a black-and-white, full shot of Maxine Patronik (left) and Lani T. Montreal (right) posing upright on the floor in front of a stage. Lani wears a t-shirt and light jeans, lunges slightly, and faces away from the camera. Maxine wears a black tank-top and black pants. Maxine bends both knees and twists her torso toward Lani. Maxine's arms are spread and bent and she looks toward Lani's left hand, which is teaching toward the stage and back wall. Lani's right hand reaches slightly back. Photo by Marya Spont-Lemus.
---
Marya Spont-Lemus (she/her/hers/Ms.) is a fiction writer, interdisciplinary artist, and educator focused on teen creative, leadership, and professional development. She lives and works on the Southwest Side of Chicago. Follow her on Twitter and Tumblr.