6018North's Black Out Dinners with The Chicago Lighthouse
Black Out Dinners are not the dining-in-the-dark, date-night novelty you may have seen offered on Groupon. 6018North, an Edgewater nonprofit for experimental arts and culture, takes the experience far beyond…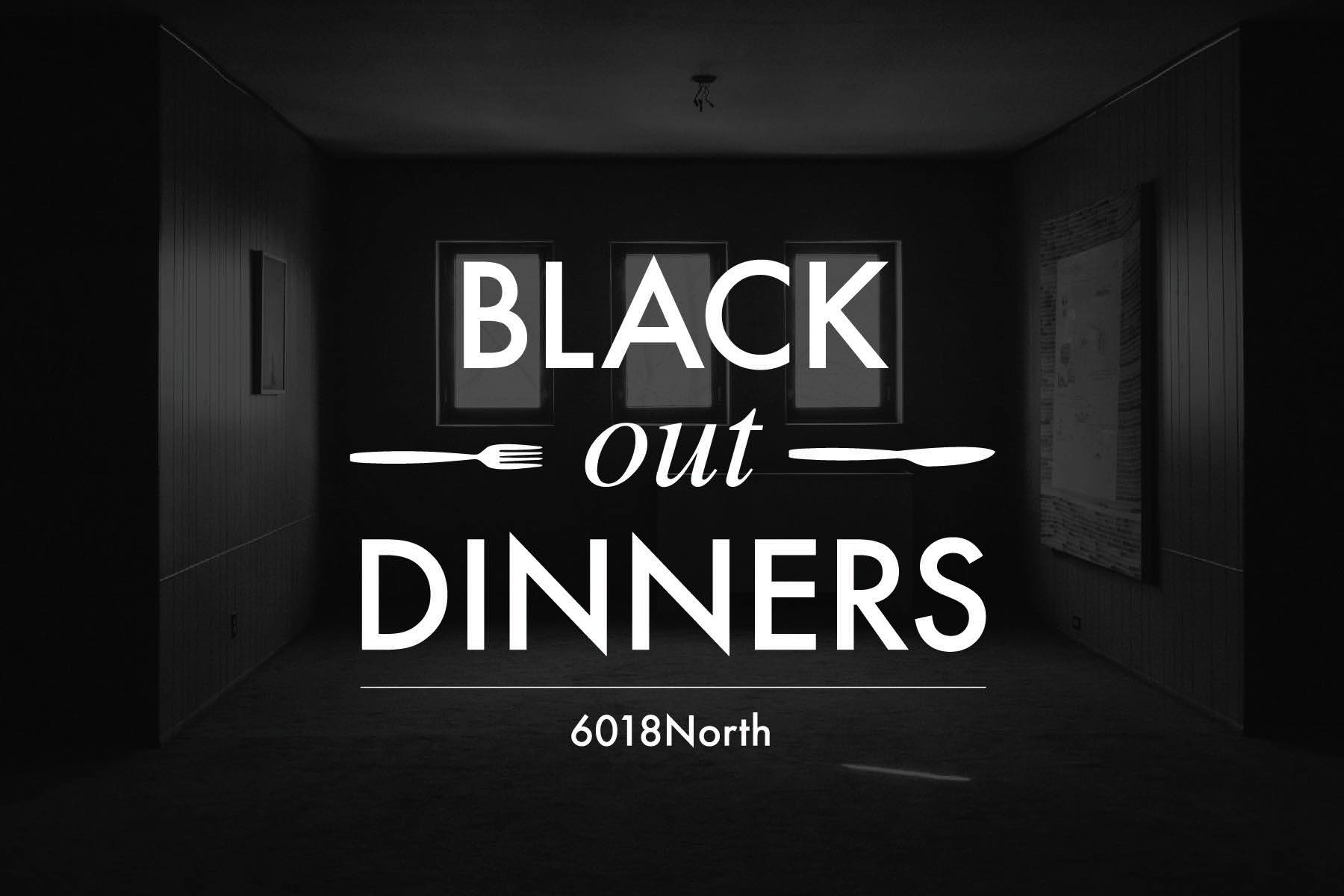 Black Out Dinners are not the dining-in-the-dark, date-night novelty you may have seen offered on Groupon. 6018North, an Edgewater nonprofit for experimental arts and culture, takes the experience far beyond a trendy meal. In partnership with The Chicago Lighthouse, Black Out Dinners are presented by fully or partially visually impaired servers who guide guests in the pitch-black setting. The first two courses of the delicious vegetarian meal (Giuseppe Catanzariti of Midnight Kitchen Projects was the chef, with Sonia Yoon, when I attended) are enjoyed at communal tables in the dark, with only minor bumps and air-grasps. Dessert is served back in the light, and includes a discussion with the servers and meeting your fellow table-mates.  
As dinner guests, we were placing ourselves in the unknown, trusting someone for whom the dark is not unknown at all. This trust, the ability to lean on one another's strengths, makes Black Out Dinners about far more than food.
I had the chance to speak with Tricia Van Eck, Artistic Director at 6018North, as well as Elbert Ford, Job Placement Counselor at The Chicago Lighthouse, about Black Out Dinners and their organizations' partnership.
Courtney Graham: Where did the concept for the Black Out Dinners originate?
Tricia Van Eck: Dinners in the Dark originated in Europe. They are professional restaurants where you make a reservation. You arrive, view and order the menu and drinks in the light. Then you are escorted in by blind servers and eat three courses in the dark. You are escorted out by your server. No conversation but it is a longer experience of eating in the dark. At 6018North, we were closing for rehab. At the same time, I wanted to do a show on blackness. So the Black Out Dinner made sense since we were going dark and contemplating this show. We didn't end up doing the show, it's still something I would like to do, but I would want a curatorial partner.
CG: How did the collaboration with 6018North and The Chicago Lighthouse begin? What has that partnership been like?
TVE: The collaboration with The Chicago Lighthouse has been amazing! I called the Lighthouse and connected to Maureen Reid, who is a Job Placement Counselor at The Chicago Lighthouse. Maureen asked her employees if they were interested. They had done a benefit awhile back and they liked the experience. Maureen also suggested that we have a talk-back time. So we decided to have soup and entree in the dark and dessert in the light with the servers. I had wanted to do this but was unsure how to ask for this–just like asking an artist if they want to make their art in the galleries. Tracey Dobson (who is the back-of-house person and the liaison between the servers and chefs) and I met with the servers at the Lighthouse and went over the event, the setup, what they would be asked to do, basic serving techniques, and answered their questions. Everyone was excited. They arrived the first night early to practice and we ran with it. The first night's servers then explained everything to the other servers. Each night we have at least one Lighthouse liaison. Maureen, Elbert, or Patricia. They represent The Chicago Lighthouse in the conversation but, as you experienced, also talk from a personal advantage.
Elbert Ford: In speaking with Tricia, we developed how we might have the evening play out. For example, it was suggested that when she served dessert downstairs, that might be a good time for us to talk about the experience and educate the guests about how we are quite capable as individuals with a vision impairment. I also felt like it was important to them [6018North] that we be paid well for our services, which I was pleasantly surprised about. Tricia has always been open to feedback and offers support and flexibility.
CG: This was the second year doing Black Out Dinners. Was there anything that was changed from last season?
TVE: We changed three things: 1. We set up the middle table differently since one of the servers from last year said it was too far away. I had set up it originally farther away for noise control. 2. We began at 7pm instead of 7:30pm at the request of Midnight Kitchens. This meant the servers coming earlier. 3. Blind people are the group with the largest unemployment, probably because we are such a visually oriented society, so it's great that they get paid above minimum wage.
CG: Each dinner must be fairly unique because there are guests, servers, and chefs—all experiencing this event in different ways each time. Were there any particularly poignant moments for you from this year's dinners?
EF: Yes, each dinner is very different from each guest's perspective. What I try to do is make each guest  feel very comfortable for the experience. Some comments from guests that have attended were: "Being in the dark was illuminating! Compliments to the terrific Lighthouse team and the chef;" "truly a singular experience."
TVE: Many profound moments! I love the sense of community that is built among the group itself–all seem to be drawn together through this intimate experience that makes everyone vulnerable. But there is also community bound between the table itself, the server and the diners. The servers are really caring for the guests. From the moment the guests arrive, the server greets them and invites them to join them in the dinner. This is one of my favorite parts because it's sometimes awkward, sometimes beautiful, and it's the moment of vulnerability—the transition form the light to the dark. Everyone seems excited! And it's very intimate. You put your hand on the shoulder of a stranger and enter into the dark. The servers are key because they set the tone of caring. It's a very personal, intimate, but communal experience.
Inside the [dining] room it's always different. One group last year had a very communal experience—the whole room was talking to each other, laughing and joking. Some nights involve much more wine than others. People always seem to enjoy the food and talk a lot about the food, how they are navigating eating it, etc. Almost everyone comments on how their judgments are decreased; they talk more freely to strangers. Our servers always comment on this. While they sometimes contribute to the conversations, making sure their tables have a good time, they also like listening to the conversations. Usually someone admits to eating with their fingers.
Downstairs people are always blinded by [coming back into] the light. They delight in knowing who they were sitting next to and often hug the people that were at their table. They are very appreciative of the chefs' care. It's a very interesting event for the chefs since the focus is on tasting the food rather than seeing. The most profound experiences for me are in the conversation as people are very candid about their experience (both the visually able and impaired). Its a great chance for the servers to be the experts—a real role reversal from their being "helped." It's also interesting to hear the different ways the servers, some born blind at birth, some who have had life-altering changes [in their vision]—navigate through their internal and external worlds.
Each night's conversation is different depending on the servers and diners. Some diners are interested in technical advances. Some want to know about their server's average day. Some are interested in the seeing-eye dogs. Some want to ask how to navigate their own or their parent's diminishing eyesight, others want to know how to help when they see someone blind on the street. I think the night [that you came] you asked someone asked how they experience art. No one had asked about that in previous years. There is always a profound respect for the servers and appreciation that maybe wasn't there before the dinner.
CG: While we wait for the next season of Black Out Dinners, what does 6018North have in store for us? Anything you're particularly excited about?
TVE: In the Spring we are adding color. The white walls are new. Previously we didn't have walls on the first floor, just wooden studs. But this was a necessary part of the rehab and for a Troy Briggs sound installation. Drywall and white calls for color! So we are inviting artists to add color. In the Summer and Fall we are doing a large show in conjunction with the Terra Foundation. As a part of Art Design Chicago 2018, 6018North is creating an exhibition, "The Living Architecture," along with public programming of performances, tours, workshops, and conversational dinners to create a through-line connecting the past legacy of Chicago immigrants' work in art and design to that of contemporary immigrant artists. We are also working on a large project with Amanda Williams to design and create a Justice Hotel that would bring social equity to its builders and workers. The Joyce Foundation has funded the initial ideation phase. 
Special thanks to J. Gibran Villalobos.
Featured Image: Image of a very dark room in which three faint windows can be made out. White text on top of the image says "Black Out Dinners" with a small fork and knife graphic. Photo courtesy of 6018North.

---
Courtney Graham is a Chicago-based arts administrator, writer, and event planner. As a masters candidate in Arts Administration and Policy at the School of the Art Institute of Chicago, she focuses on accessibility for people with disabilities in cultural spaces. This interest is reflected in Courtney's writing, which often explores issues of access as well as artists with disabilities and their work. Additionally, Courtney serves as the Manager of Events and Evening Associates at the Art Institute of Chicago, where she plans and executes over 200 events a year for the museum's 100K+ members. When she is not dashing from the museum to school and back, Courtney can be found embroidering, grossly over-planning for her next trip, or watching Michigan football.