BIFORA | Carlo LoCascio Exhibition at Blanc Gallery
"Living isn't space or time; living is only many moments, the sum of which is also but a moment." – Carlo LoCascio When you step inside of Blanc Gallery…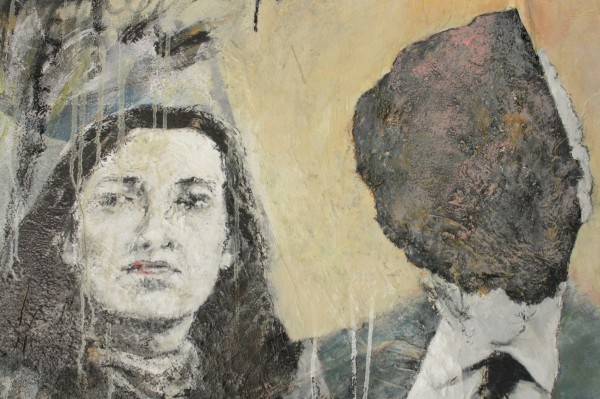 "Living isn't space or time; living is only many moments, the sum of which is also but a moment." – Carlo LoCascio
When you step inside of Blanc Gallery you quickly realize just that–it's a blanc gallery. As you probably know or deduced, Blanc means 'white' in French and describes the gallery from floor to ceiling. It is the glowing definition of a white cube. This just might be to the benefit of their most recent exhibition, Bifora: Portrait of a Moment with the work of Italian-born, now Chicago-based artist, Carlo LoCascio. The blank canvas that the space provides mimics what happens on LoCascio's canvases–guiding the viewer's eye to a specific place within a given space. The loose laying of charcoal, paint and fabric, which in some cases almost swallows the more tightly rendered subject studies, work together to keep your eye moving until it is given a moment to rest on a carefully-crafted face, hand or object. LoCascio's work does exactly what he sets out for it to do. It asks that as you look at the work, you take a second and recognize that whether your eye is weaving in and out of his work or making a specific area the center of your attention, a moment is not singular–it is each piece and the sum of all parts, all at the same time.
The following are some images from the show, which is on view through August 19, 2011 at Blanc Gallery.
Note: Quote taken from the artist statement for the exhibition, which can be found at Blanc Gallery's website, www.blancchicago.com.
Top Featured Image: Detail of the work Violated Stability, a work in Bifora: Portrait of a Moment, the work of Carlo LoCascio at Blanc Gallery, July 4, 2011. (Image Credit: Tempestt Hazel.)