Battle for Independents at PBS
On December 18, I was invited to attend a live-feed viewing of the National Black Programming Consortium's panel on Digital Diversity. The conversation was framed around the upcoming application for…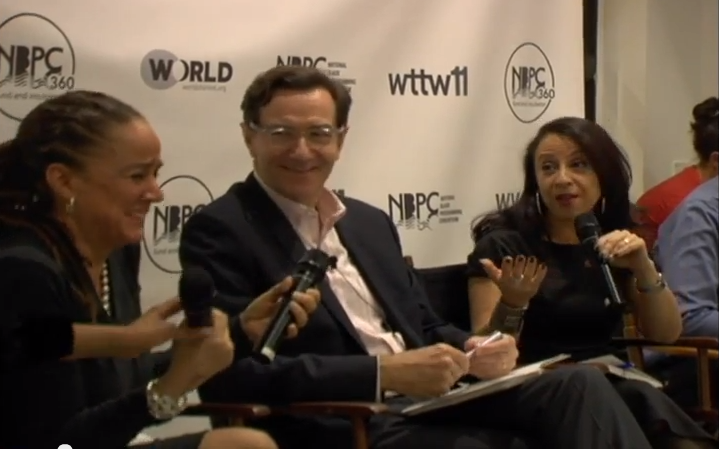 On December 18, I was invited to attend a live-feed viewing of the National Black Programming Consortium's panel on Digital Diversity. The conversation was framed around the upcoming application for serial projects about the Black experience, but I was there to glean some knowledge and to listen to Maria Hinojosa, host of Latino USA and founder of Futuro Media.
I was welcomed into the group because of my affiliation with Diverse Voices in Docs. I ran into Gordon Quinn and Becki Stocchetti of Kartemquin Films, who were also accepting applications for the third round of DVID. Tony Williams, director of Carbonerdious: Rise of the Black Nerd, and I were there to represent the inaugural class. Jeff Baraka and Noel Occomy were there on behalf of the Year Two Fellows.
WTTW hosted us, and we had time to do a round of introductions before the panel started. Gordon used the opportunity to talk about a decision that was making waves among indie filmmakers, especially the newly-formed Indie Caucus.
"The Indie Caucus had come into existence before the current crisis. It was a group of independent filmmakers across the country who felt that, in the vast media landscape of America, the public media part is incredibly important, in terms of bringing diverse voices to a national audience." Quinn says, "It gets some public money, and that means they have to be responsive to the public."
"This current crisis erupted when, unilaterally, WNET, the flagship station in New York, took Independent Lens and POV off of prime time, put them on a secondary channel and were re-running them at 11 o'clock on Sunday night on their prime channel. It was terrible programming, and it cut their audience, almost in half," explains Gordon. "They all want to say 'broadcast isn't important anymore; there are all these other platforms. We'll put you here, we'll put you there. We'll stream you on the web.' But all of that is driven by broadcast if you want to have a significant audience there."
Stephen Segaller was the programmer behind the decision to tinker with the schedule. It's a topic that didn't come up until the first question from the audience, which came from @IndieCaucus on Twitter: "The most diverse stories are from Independent Lens. Why dump Independent Lens and POV off the channel?" Stephen began to answer before the live feed was cut.  "We're not taking them off the channel. We're making a…" The room erupted after the screen at WTTW went dark.
We weren't privy to his answer to the question, but the exchange got the attention of Donald Thoms, Vice President of General Audience Programming, who left the PBS Christmas party to explain some of what was happening. "PBS is a schedule-driven organization. A lot of times we turn films down because there's no place to put them in the schedule. The schedule is always under review, and any programmer that isn't constantly looking at his schedule for improvement is kind of nuts."
"You have to understand that right now PBS is the fifth most watched network in America, so as of this moment, the schedule is working for us. We'll always be tweaking, but right now it seems to be working." Donald's remarks weren't left unchallenged by Jacquie Jones, the moderator and Executive Director of NBPC who asked, "Working in terms of reaching a diverse audience or working in terms of reaching an audience?"
"There's nothing we talk about more than reaching a diverse audience," Donald went on to say. "We reach diverse audiences in two ways. We air programs in our regular schedule where diversity is, and we get diverse audiences there. I sometimes find it hard to believe [when I see] that our series Nova and Science are watched in high numbers by African-Americans and Latinos. I know that when we play programs like Latinos in America that they trend higher with Latinos. Nothing is talked about more than diversity at PBS."
Stephen Segaller chimed in, "It's a gap and it's a challenge and it's an objective to fix that. There are lots of reasons why that's the case, and a lot of them sound like excuses. Some of the obstacles are that there's no blank space in the schedule. The schedule's already set so if you want something new, you have to displace something that's already there. Some of the programs that are there have been there a really, really long time. But they're still succeeding."
Marvin Scott was the private sector representative on the panel, and his experience at HBO brought a unique perspective to the conversation. "I think it's a platform problem, not a development problem. Most of the major studios have something for development, but there are very few platforms. The producer's best bet is, I know it's a stuck record thing, but build audience and brand, whether it's YouTube, whether it's through partnerships with broadcasting stations, or wherever you can get it."
"There's going to be a transformation in content consumption and platforms within the next two or three years that will be major and all the doors will open and there will be more doors. There'll be more platforms. It'll be an economic reason for opening up to diverse voices and a variety of voices. What Netflix learned in its first go-around is that Hollywood studios want major licensing money and the smart entrepreneur would avoid that.
"You're trying to develop your craft and your brand in a way that's visible so that you can negotiate better when you're ready to move to a bigger platform, a bigger stage, a bigger project. Hopefully when you're developing your craft and your brand, you're thinking about your audience because you're going to be able to leverage all of that when you go into that meeting with Stephen."
Building audience and brand was echoed by everyone. But the question about how to get to the next level remained, so I asked Gordon Quinn for his take. Quinn responded, "What ties the two things you're talking about together, the crisis around the programming [for] Independent Lens and POV and how you get through the gatekeepers, is that Independent Lens and POV are curated series but they are putting a premium on diverse voices. So if the voice of your film or the story you're telling is very different from the mainstream media, there are many, many doors in."
He elaborated, "No one had mentioned the minority consortium; there are these entities that are a way into the system for emerging filmmakers. They don't give the big money, but they fund between $15,000-50,000, and it's a way to get your film off the ground and to begin working with a public television entity. They have staff, they can sometimes hook you up with mentoring programs. That's one important door, and of course ITVS has its own diversity fund.
"So that's why, for people coming out of minority communities, people whose genius of the way they may tell a story may be something that the gatekeepers of the mainstream media will say, 'That's just bad. That's not good television,' which we've been told many times. 'We do television, and that's not good television.' And POV and Independent Lens are for places on a national platform where those diverse voices can make it into national broadcasts and their underlying principles of what they're looking for is that kind of diversity.
"The reality is that Independent Lens, POV, and ITVS are some of the most effective and easiest ways into the system for emerging filmmakers. They have programs set up to reach out to emerging filmmakers. ITVS literally has a diversity funding arm. Some of the people that have been through our Diverse Voices in Docs program have actually gotten funding through ITVS. That's why those series are so important."
It was Maria Hinojosa whose optimism and authority lit a fire under the gatekeepers and put them on the spot: "We're trying to build a new series because part of what PBS is saying is, 'We want innovative, we want new, we want diversity,' but that kind of runs smack into what Donald just said, which is, 'Our programming is set.' So how do you do both things?
"Obviously, digitally is the key, but there is something to what Donald says: 'PBS is now the fifth-most-watched network in the country; then those of us that are producers that want our content seen say, 'I wanna be on the network, then why shouldn't we be on the network?'
"If we are delivering these eyeballs, if we're delivering this kind of engagement, I think it's a business decision; so what more can you do to help solidify this? Because what we all want to do is to increase the engagement, the audience, the eyeballs for Public Media. Imagine if there was another night in Public Television, and it was specifically saying, 'we are going to program for diversity.' What would happen? It's a huge risk, and when I see Saturday night being dark, I'm like, well… we got really good numbers on Saturday, and it was kind of surprising. Getting put on weekends is very problematic when you're a producer of color, but we delivered with Saturday broadcast. So many [that] maybe there's a seed that's been planted. It's not an eighth night. It's actually a seventh night, and it's PBS Dark.
"The country is changing! Every single day, as we move forward, the old United States of America is being left behind and something new is being created. Having been born in Mexico, raised in Chicago, I live in Harlem in New York City, my whole experience as a journalist, who happens to be Latina, I am part and parcel of that demographic change. So the way we approach that story of change is different than my other newsroom experience of, 'Oh my God, demographic change! Ah, something is gonna happen and we're gonna lose our power! Ah!' You know, it's a story of fear. We didn't approach our stories on America by the Numbers through fear.
"That's our commitment, so how do we work together in assuring that because if we don't have these audiences, in the future, given our demographic change, we're not going to have Public Media. We have to have these audiences engaged, deeply engaged, loving what they're watching, coming back and then writing that check at the end of the year, or twice during the year to say we believe in it and that's why we're going to support it."
---
Mario Contreras is a co-founder of The Contreras-Gabriel Project, a trans-media platform for the mutual benefit of artists and audiences. His documentary work centers on the Chicano experience in the Midwest, but he also experiments with photography, printmaking, gardening, and any other medium that suits his purposes.