Art + Love: Grace Needlman and Will Bishop
 As part of our Art + Love series, interdisciplinary artist and educator Grace Needlman and theater artist Will Bishop share a little bit about how being partners influences their practices and…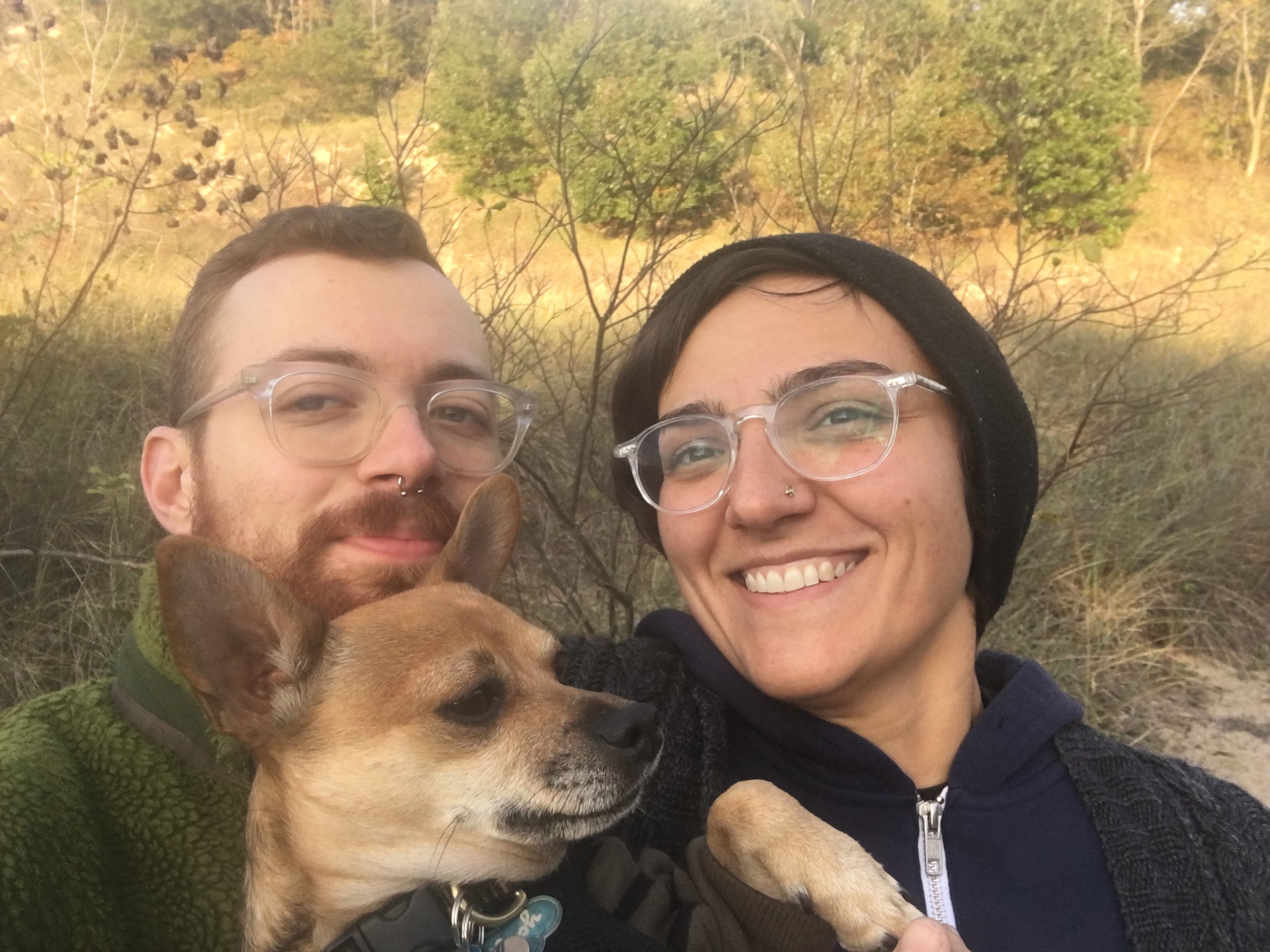 As part of our Art + Love series, interdisciplinary artist and educator Grace Needlman and theater artist Will Bishop share a little bit about how being partners influences their practices and their origin story.
On where it all started:
Grace: We met at Redmoon, a spectacle theater company that operated in Chicago from 1990 to 2015. I had just moved to Chicago and was interning at Redmoon for the summer. Will was the Associate Producer. So, he was kind of my boss–not directly, but close enough to joke about it. On our first date, we went to a concert at the Lincoln Hall. We were biking home together after the concert, and I hit a pothole under the bridge on Halsted just south of Milwaukee and took a nosedive. I was really embarrassed, so brushed it off like it was no big deal. I biked all the way back to Hyde Park, where I was living, with a quarter-sized hole in my knee. I couldn't walk for 3 days, including my first day of work at the MCA. When they called my name in the all-staff meeting to introduce me, I couldn't stand up. I still have a scar that is exactly as old as our relationship.
On one another's process and practice:
Will to Grace: Your practice involves some of the following elements at any given time: young people, sculpture, mechanics, engineering, woodworking, textiles, painting, creating complex systems of operation and management, interactive objects, bringing groups of people together to create things, and basket reed.
I would describe your process as full of self-inquisition at every stage. You're the type of person for whom each step of a project is another chance to reexamine both its big picture goals and the specific materials and methods used to accomplish those goals, which means your work is always really thoughtful. I think you are observant to things that nobody else is observant to, whether that's the shape of a person's face or a systemic rule that shapes how people interact with each other. I think you pick up on those things intuitively and are good at communicating them.
Grace to Will: You are a theater-maker in many senses of the term. You are a great director and deviser. You produce theater, and team-/ensemble-building is core to how you make art. You get passionate people in the room and set everyone in motion with curiosity, humor, clarity of vision, and role. Then, you tap, encourage, observe, reflect, add layers of design, and make everything come together into one harmonious whole. These days, you are increasingly expressing your vision and refining your style as a designer of spaces, characters, and objects – worlds, really. I love the way you respect and appreciate children as audiences. It's always moving, whenever you talk about the honesty and presence that children bring to viewing theater and how good children's theater respects and communicates to them that their ways of playing and being in the world are valuable.
On sharing space:
Grace: We share all our spaces, except, for the most-part, work. We have an apartment and a shared studio. We try to keep things organized with modest to minimal success. Some of it comes down to the variety of media and processes we'll be working with on any given project. Our spaces are always shifting and always pretty messy.
Will: While I've always considered myself a visual artist, I have no formal training in visual art, Grace has a lot of it as well as an instinctive sense of things like composition and color theory. You're a great sounding board for me in terms of those elements of my work because you bring a history with them that I don't have, and you push me to make more interesting choices about them. The color palette of everything you make is so distinctive to you and always feels perfect for the project and totally unique and no one would combine colors like that. It's something that I've been thinking about more – how does the color palette of each piece help create the rules of the world and tell a story.
Grace: Similarly, I have no training in theater or performance or other collaborative art forms. I gain a lot of confidence working with you because I see how you put huge, complicated projects in motion without being intimidated. A theater production is so much bigger than a painting. Because I never was drawn to learning how to make traditional theater, I didn't know, until I started working with you, what the tools of that world are. You use them so fluidly – devising and collaborating interdisciplinarily. It inspires me to make bigger things.
On collaborating with one another:
Both: We collaborate with each other a lot. For the past 3 years, we've kept up an ongoing winter project and a summer project. In the winter, we create a toy theater puppet show of Beatrix Potter short stories at the Chicago Children's Theatre. In the summer, we bring giant experimental puppets to Chicago parks through a project called the Wonder Wagon. And we collaborate every day on failing to train a little dog called Fawkes, but we love him anyway.
On how their process and practice have been influenced by one another:
Grace: The Wonder Wagon in particular is a long convergence of our work and interests. It's representative of a desire we share that is outside the bounds of either of the disciplines in which we were trained.
Will: Both of us have made a decision that we want to have a more direct connection between our practice and our livelihood. We both have full time jobs in institutions that, on their best days, feel like part of our practices. The Wonder Wagon is a way to step back from our jobs and do something very unrelated –  in terms of money and funding, in terms of the responsibilities that we have, in terms of our regular networks of collaborators. It's a place to experiment freely at the intersection of our interests and to co-mingle our networks and ideas. It becomes a kind of alternative space. We have a successful shared living situation. We have jobs that are 90% unshared and then we have this third space which is this shared collaborative practice that is regular in the context of the year. Outside of CCT, I'm not making any work that isn't making work with you, and that's really deliberate. It strengthens both our life at home and at our jobs while also totally subverting them, because our collaboration is very deliberately separate from our shared personal lives and jobs.
Grace: It pushes forward our independent work, not only because of its position in our lives, but because of the kind of work that we do in it. I would describe that as: devised, interdisciplinary, in public space, for intergenerational audiences, centering play and exploration with our audiences.  And we only make it with people we really like. Part of the practice of it is building a friend circle. We get to hang out with all our friends in parks all summer long and be really hot and drink water and beer and make weird stuff. It is nourishing to have this shared space and freedom to hang out and make weird stuff.
__
This interview is part of a series. You can read more Art + Love interviews here.
Featured Image: Will, Grace, and their dog Fawkes.