Aprils Fools and Their Universe: Damon Williams, Jr. and #LetUsBreathe Collective
Damon Williams, Jr. (he/him) is a poet, organizer, one half of brother-sister duo April Fools, co-director of the #LetUsBreatheCollective, and overall unique being. I first heard of his work through…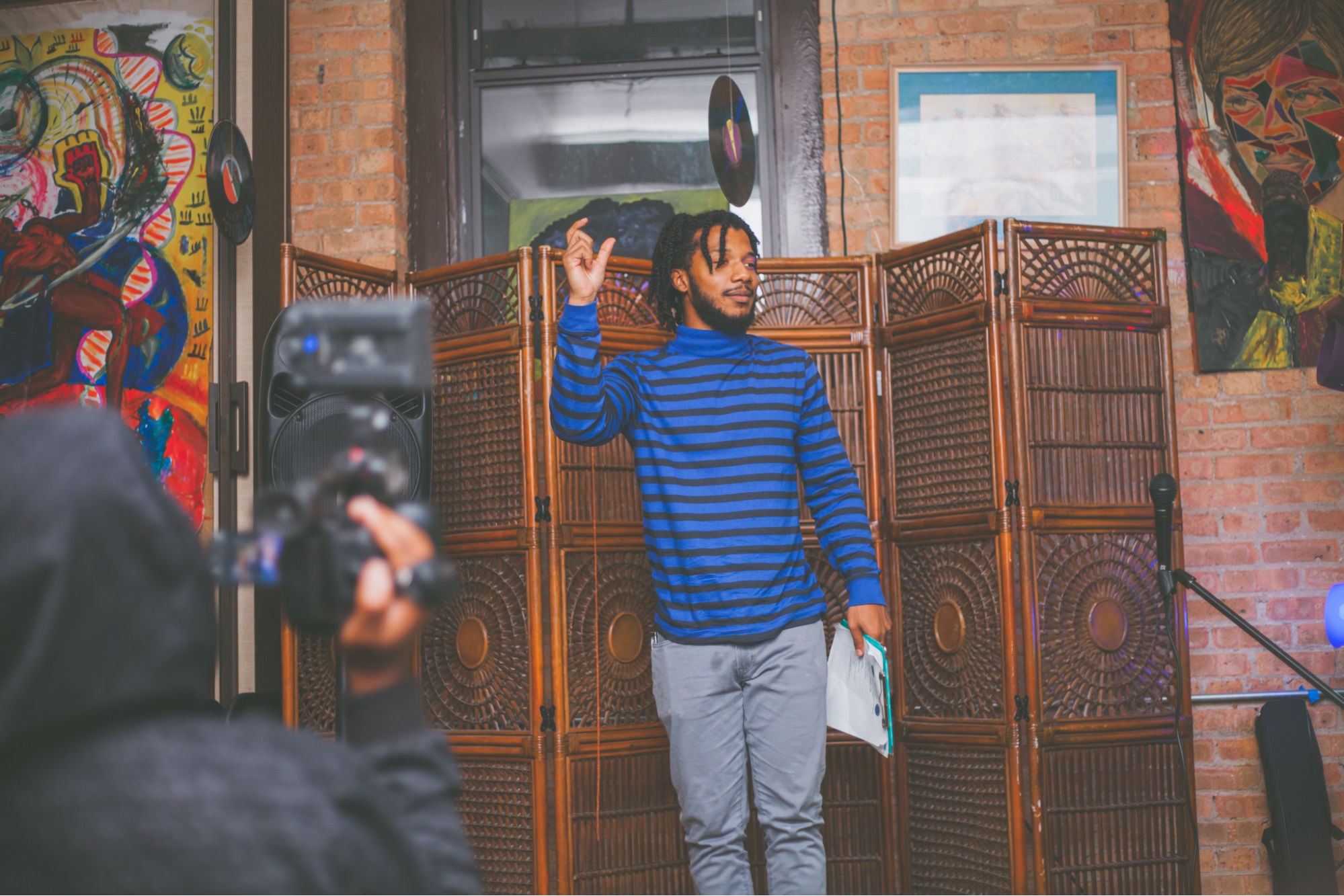 Damon Williams, Jr. (he/him) is a poet, organizer, one half of brother-sister duo April Fools, co-director of the #LetUsBreatheCollective, and overall unique being. I first heard of his work through mutual comrades, through his and Daniel Kisslinger's podcast Airgo, and through his rhymes, which embrace self-healing and accountability, and expel self-love and love of your neighbors.
MG: Can you introduce yourself for me tell me a little about yourself?
DW: I am Damon Williams, Jr. I am 25 years old, and I am a facilitator, teaching artist, organizer, and media and culture maker on the SouthSide of Chicago.
MG: What does Chicago mean to you and how do you feel it's energy affects people?
DW: Chicago is home and Chicagoans are hometown people. It is a city that is landlocked, where we live upon this land taken from indigenous native people. It being in the "middle" of the country; being the "Second City," named after it was rebuilt and thrived once again after the Great Chicago Fire of 1871; it is not second to New York or LA and has a very complicated political structure. Chicago is one of the biggest and most segregated Black cities in the world. If Harlem is the cultural capital of the world, then Chicago is the political capital. The fact that Barack Obama, Farrakhan, and Jesse Jackson all have homes within miles of each other in this city, being three of the most prominent political Black figures alive today, is a very prominent statement. I feel like I have had great access to the cultural center of Chicago, as if I am a "Prince" ready to inherit the land. It has taught me a great lot. Within the city, there is also a dichotomy between great tragedy and pain for its people and the Black mecca that it is. The land here is valuable and holds the stories of our ancestors. I feel that those in power take the resources that are for the communities and apply violence to them to justify pillaging such resources for those who need them.
MG: How has community building been a part of your life over the years?
DW: The work for myself is "movement building," meaning that I am making connections that allow for one to move within their own sphere. I would say that I am "bad" at organizing but am a significant contributor to movement building though. I believe that within the distinction between organizing and activism there is an overlap.
Growing up, I had a different experience than a lot of other black people because I grew up in a two-car household, I battled through a disconnect with the neighborhood at times. My mother, who I grew up seeing as an avid mentor for women and girls, started a group for financial literacy for Black children in 1996. I realize from learning from her while also doing public speaking around financial literacy classes using investments into markets as a way to build generational and communal wealth, that I grew up organizing, I just didn't realize it and the language has changed over time.
MG: How do you feel that your work as a creative impacts this space?
DW: I am a rapper, poet, and actor. Our poetry and songs are what led to the beginning of the collective. I went to the University of Missouri and majored in Economics where I had some very impactful professors who studied under James and Grace Lee Boggs, who happen to be my greatest political heroes. Through working with my former professors and reading the works of James and Grace Lee Boggs honing in on race as a social construct, I grew and grew in my learning. With my experiences I grew to know a lot about intersectionality, revolution, and what social movements were. I wasn't just throwing these phrases around but I was using them with intention. Now we are in a time where we are more prepared, we have the access and the abilities, and have learned from the 1960s.
The Collective is named after a song with Kristiana, "Let Me Breathe," after Jay Z's "Breathe Easy." The song was never finished, but we took the idea and put into action and the Collective came about and it was also a metaphor to talk about systemic oppression and the root of injustice on our backs.
MG: How do you like working with your sister?
DW: I really enjoy working with Kristiana, her drive is a container for the entire Collective.
MG: What is the #LetUsBreathe Collective and what do you feel is the Breathing Room space's space in the community?
DW: The #LetUsBreathe Collective is comprised of where arts and activism come together. It originates from Kristiana's and my group April Fools, where we began through having live concerts/open mics with our friends who would perform, like Saba, Noname, Mick Jenkins, and Ethos. The point was to bring consciousness to the art, through coded revolutionary ideas.
The Collective began when four or five of us including Kristiana jumped in a car and went down to Ferguson, MO during the Summer of 2014 after Mike Brown was murdered. On our way to Ferguson, we brought mainly gas masks because of chemical warfare and tear gas because the government was attacking the respiratory systems of the people during the Uprising. During that time and after, breathing became consciously a metaphor for freedom. We had a partnership with Lost Voices and a multi-week occupation in response to the Darren Wilson's trial. The actions that occurred during that time highlighted how the real opposition is the system. Ferguson was an explicitly explicit young and explicitly explicit space. It broke respectability politics using our hip hop roots.
The #LetUsBreathe Collective is a collective in its beginnings whose big spirit during Memorial Day 2015 walked through the Douglas Park community with a big beautiful energy, played cookout music and invited people from the neighborhood to perform and use the microphone to share their stories. Our monthly Breathing Room series began as an event outside where all were and are still welcome. One of our first large actions was Freedom Square during the summer of 2016, which was a 24/7, six-week-long direct action dealing with what was happening on the ground in the Homan Square area.
We have been in the Breathing Room space for a year and a half and have had nine months of programming going so far. It is a hub for arts and movement building.
MG: Can you tell us about the hubs mantra and what it means to you?
DW: One of the Breathing Room's main mantras is "We are what we need," meaning that abundance is the law of the earth. A more tangible example of this ideal is thinking about the American housing system, how there are more abandoned homes in America than homeless people. If we changed how we house people we could solve these problem. We learned from our mother that "Abundance becomes our realities," we were not from a wealthy or highly educated family, but our mother believed that our potential was limitless.
I believe that the Collective's politic of love, nurturing and abundance, creates the representation of abundance. When we say "WE" it is the biggest "WE" possible. If we cooperate instead of repeating the scarcity then the abundance becomes clear.
RESPIRE, INSPIRE, CONSPIRE, are ideas that originate from us being poets and liking words, they all have the root word of (SPIRE/SPIRIT) in them. Respire: BREATHE (Breathing Room), Inspire: To bring inspiration, to put something in that motivates something greater, Conspire: Conspiracy, but really it means to ORGANIZE together playing with the negative connotation of conspiracy.
Within the Breathing Room we have a set of BRAVE SPACE AGREEMENTS that were made in the legacy of safe spaces, particularly in reference to Young Chicago Authors (YCA)  and WORDPLAY. WORDPLAY (weekly open mic) has been a very important stage in many people's lives including my own in Chicago. They begin with a very basic call and response, NO RACIST, NO HOMOPHOBIC, NO added otherwise derogatory language will be accepted. I realized that if you only perform at WORDPLAY then all of your work allows you to have a lens on bigotry and these systems of oppression.
We wanted to challenge the "safe spaces" by challenging the idea of safety at all. We chose to move from safety to bravery, the move from prohibition of language to a space of contention, to struggle against and an allows space for transformation and learning, and isn't elitist. The Collective is also an abolitionist alliance that agrees to not call the police, to love yourself, and others.
MG: How do you feel that your organization is affected by and affects the Chicago legal system?
DW: We have taken the challenge of forefronting a generational fight of prison and police abolition.
We can't really have a campaign, this is work that will go beyond my lifetime.
During Freedom Square, in a popular Chicago news publication there was a picture of a police academy graduation and the headline read, "Abolish the Police?" That helped me to see that our work was significant in this idea and this being the story line. Our work has created a physical space. We have tangibly clothed a few hundred people. We have tangibly fed a thousand people. During Freedom Square, a young person we worked with said without prompting, "Iif y'all didn't do this I probably would have gotten locked up this summer." We are sharing our politic, and seeing the actions that occur from it in real time.
MG: What do you envision the future of the #LetUsBreathe Collective being?
DW: We have been a part of changing the consciousness in the city and a lot more people feel more comfortable aligning with the concept of a Black Radical Tradition resistance movement and an abolitionist one specifically because of our work. The results of that are yet to be seen in their fullest extent.
MG: How do you feel about Black August this year and can you explain a little bit about what Black August means for those who don't know?
DW: Black August is a tradition that uplifts the Black Radical Tradition and resistance movements specifically in relationship to systemic racism, more specifically the carceral state. It began with George Jackson, who was a part of the Black Panther Party and started the Black Gorilla Family. His brother tried to free him during a hearing where he himself was killed, and he was killed in a riot a year later. He was at the forefront for organizing for the Black Panther Party in prisons, which during the 1960s and 1970s was a big tradition but now has become much more difficult. The legacy of Angela Davis began from this. The Nat Turner Rebellion happened in August.The Underground Railroad began in August. The Watts Rebellion happened in August. The Ferguson Uprising happened in August after Mike Brown was murdered. During this time, organizations or prisoners take some type of sacrifice or abstain from some form of pleasure.
Oscar Lopez Rivera talked about how sensory deprivation is a tactic used to torture prisoners.
Black August has us think of Malcolm X, Trayvon Martin, Sojourner Truth. It is a radical way to connect to our history
MG: What is a personal mantra that you have that continues to inspire and pushes you to do the work?
DW: My personal mantras remind me of building a system that makes this space completely sustainable without the presence of specific person's efforts or grant. That we maintain a system to maintain the system for generations. Ideally having liberated spaces around the world connected to this space such as having a sister space on the West Side. We would ideally love to recreate the transatlantic triangle, recreating that triangle for liberation. We want to provide the folks in the space mobility, and travel the world to be able to learn, teach and grow in their craft.
A personal mantra of my own is "RevEVEV" which is also in relation to a book, Revolution & Evolution of the 20th Century. This mantra allowed me to reinvigorate my own personal work, gratify my sense of self, and allow me to contribute. Within Revolution & Evolution of the 20th Century they did a good job of explaining how humans and the state have evolved.
In this whole process, I have had a lot of personal breakdowns in the midst of trying to transform society but realizing I am struggling with transforming myself and hearing Kid Cudi's Man on the Moon 2 talking about the Revolution of Evolution and turning these concepts I have mastered and then turning them inwards, transforming them on a personal level is real.
Featured image: Damon Williams Jr. performing at the #LetUsBreathe Collective's monthly Breathing Room Series: Allow Us to (Re) Present Ourselves, wearing a royal blue striped sweater mid performance. Photo by Ally Almore.

---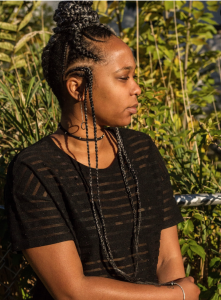 Miranda Goosby is a 23 year old creative from the DMV. She believes in authenticity and expressing one's truth because you can't allow someone else to tell your story. In the words of one of her favorite writers Audre Lorde, "your silence will not save you." After reading that, she was inspired to write about pieces that express the times we live in and the hard truths that set us free. Miranda is involved with community organizing and also enjoys creating moments through dinner gatherings and think tanks amongst other writers like herself. She feels that her writing allows one to tap into her mind and the minds of other young like minded black people. Miranda believes in the community coming together creating change through using their collective voice. Miranda is also a Writer-in-Residence at The Breathing Room as part of Sixty's Envisioning Justice Residency. She hopes to bring a warm energy, an open mind and a strong work ethic.