A Sense of Touch: Nanxi Jin at Xiao Space Gallery
Artist Nanxi Jin talks about her family's ceramics practice, the memory of clay, and repetition.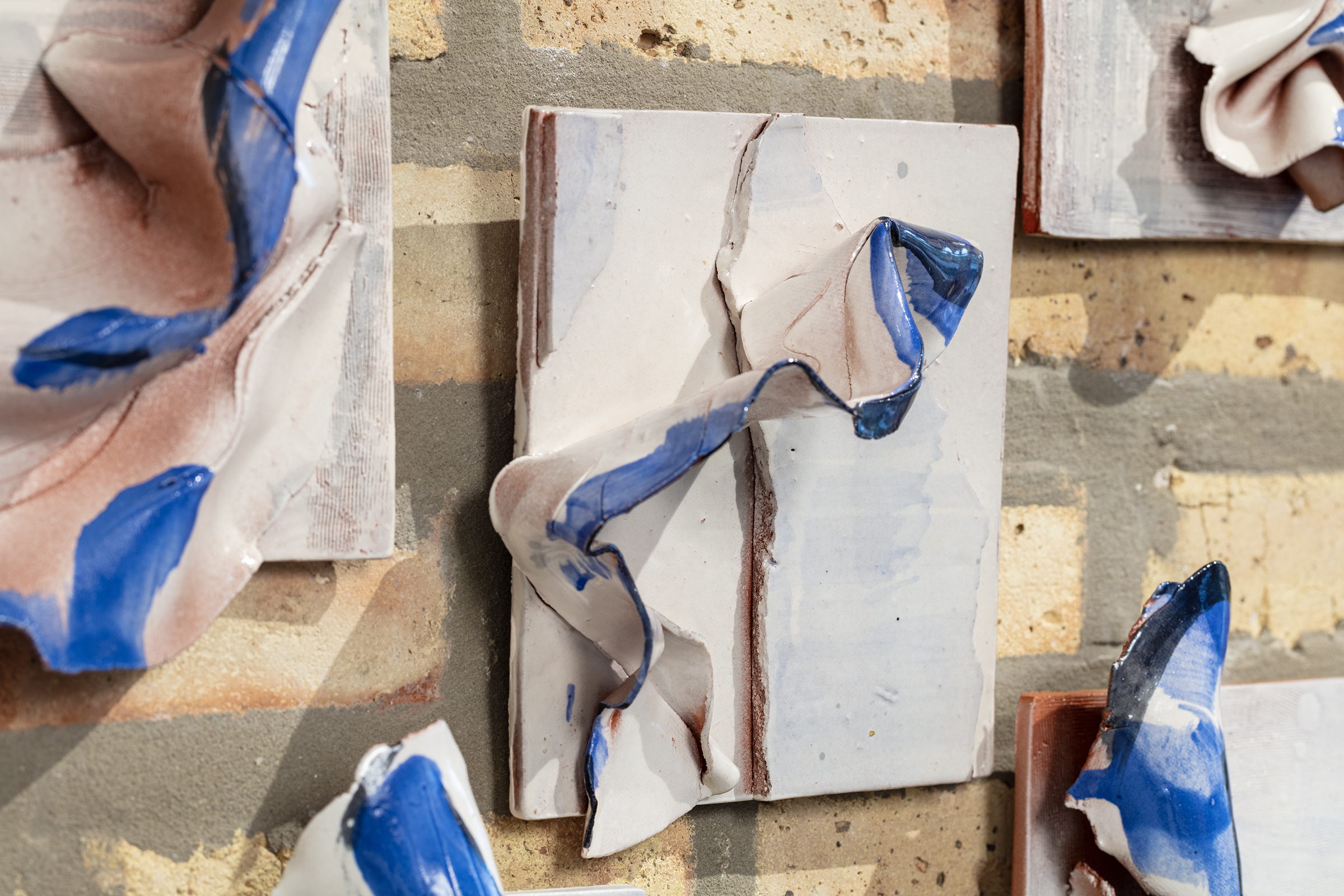 I commuted to Evanston to catch Nanxi Jin's solo exhibition, In the Moment at Xiao Space Gallery, a storefront collaboration between Xiao Dong and Robin Carlson. I was greeted by both the artist and Robin, who gave me a tour of the space and insight into its history. Robin also shared her hopes for future programming, which includes having more room for emerging artists such as Nanxi. 
Inside, there were 83 calligraphy-inspired pieces hanging on the left and right side of the gallery. Jin explained the way she would practice calligraphy over and over again when she was younger. Many of the pieces look the same—Jin is meticulous—but upon further inspection, they each have very intimate details. The way splashes of color alter the shape of the individual works set them apart.
Placement was also key for these pieces: although the majority of them were on either wall together, Jin placed some pieces on their own in the gallery: I found one laying flat on the window of the storefront. I was most drawn to these because they made me interact with the gallery space even more. A sort of activation was occurring with these placements since they took up their own space. 
Some pieces from her Escape Plan series were on the wall in the middle of the gallery, on the floor and even in the front windows. I was captivated by the breakage of pieces and the shadows being created with these works. Don't be fooled: this breakage is quite intentional. As Jin explained to me that in her hometown, Jingdezhen, China, there's great pride to achieve perfection and make something that is functional. Jin wants to explore this concept but make it her own. Utilizing all the skills she has gained, from properly glazing to determining the intensity of the fire used, she is creating her own standard practice by portraying the fusions of experiences from her Chinese culture, and her many years in the United States.
The following interview has been edited for clarity and length.
Cristobal Alday: Tell me [about] yourself.
Nanxi Jin: [I'm] initially from China and came here when [I was] 16. [I] went to the east coast for high school [and have been] working with clay since sophomore year of college. My entire family does ceramics. I mainly did installation and sculpture; while I was in school, [I] did a bit of design and everything but consider clay the majority of [my] material. 
CA: Can you tell me more about your family being in ceramics?
NJ: They do mostly blue and white porcelain. There's a long history of doing that. Exquisite, flawless, functional work. Went to NCECA, an educational ceramics conference. From what I saw, 80% is craft-based and 20% [inspiration]. In grad school, I reconsidered ceramics. What is the purpose of ceramics? Being around design students, they helped with finding other inspiration. Why am I using ceramics? What is the purpose if I do high fire? What would I gain if I do low fire? [I went] back to college; since it was a very craft-based school, I learned all my skills there. I was judged on techniques such as glazing. Those skills are [foundational] and concepts are at the top for me, conveying the idea.
CA: Have you talked to your family about how you make ceramics? Breaking the functionality?
NJ: My hometown is trending. It has been for the past few years. Have not been there in 4-5 years. Their work has evolved. They do sculpture and installation work. Aesthetic standard here in the United States is different compared to Asia. In Asia, most ceramics are coming from a beauty standard. Exquisite. People care less about concepts and they care more about the presentation. Here in the US, the story and concept is matched with the work. My family still does functional stuff, but they do sculpture now. My mom does figurative sculptures. My dad does really heavy sculpture work.
CA: Can you talk about the adjustment you might have had to make coming to the US and how that shaped your work?
NJ: My hometown's weather is good for making blue and white porcelain. In the spring, you get better kiln weather. There is also a mountain where people source their clay from. The clay is very bright due to this. Since we're in the city, colorwise, it is different and the style is different. When I came to the States, I saw a lot of porcelain work. I saw that a lot of people use red clay here. Wanted to try something different from what I was growing up with. 
CA: Tell me more about your work and overall practice.
NJ: Overall practice is material-based. It involves a lot of questions pertaining to clay. Why am I using this clay? What's unique about this clay? Another thing I think about is, here, people think about the result. Glazing after firing will sometimes give you a different look. After doing ceramics, I was paying attention to a lot of the cracks. These imperfections. There's so much involved in the process. [I'm] willing to share this process with the audience. Willing to make imperfect work. The glaze is not even, and the color is different here and there. All of these things happen during the process and [I] want to emphasize the process. It is all so perfect. Showing the result and process. 
CA: I remember you telling about this process and the importance of emphasizing it. I was remembering a lot of artists who focus on showcasing the process. We get these insights into their studio practices and overall making. I enjoy seeing these moments of incompleteness. However, when the artists have said that the incompleteness is the final product, then I begin to dig deeper into this exploration. This question arises of, 'what does an incomplete work look like?' I might be seeing this and thinking 'oh this is incomplete but to the artist, it is complete.' So these subjective viewpoints of what is incomplete versus what isn't is interesting.
NJ: It's not so much as incomplete for me, it's about showing the process. Experimenting overall. Intentional breaking things on the floor. Epoxying pieces together. Leaving the cracks, the unfinished, unevenness. Showing the process as the result.
CA: Can you talk more about specific works? In the Moment and TAP TAP comes to mind.
NJ: Clay has memory. Clay has the ability to capture things. Cameras can capture a moment. Perfume can capture an essence by nose. Clay has the ability to capture my touch. This is very unique to clay. It has the ability to record. From that aspect, I did an installation piece. High-textured tile. Did this during Covid. I was taking a design class, and every year there's a topic. That year, it was time. I was thinking about time as historical moments. What are we experiencing? Covid for instance was captured in history and time. We look back on certain moments to be able to talk about them. When I grow old, I can remind [younger generations] about these times that we are experiencing now. Covid was a touch-starvation period. We were not able to touch each other. A lot of people were working from home and the virtual aspect of it all came to mind. Made a lot of high textured artwork. In art places, you see a lot of things that say do not touch. Wanted people to interact with [my] art. In 2020, I made an exhibition dealing with this very thing. 
I also made a stool and a Zoom screen. Adapted the keyboard to emphasize on how this is the thing people touch the most during these times. We were all on Zoom for events and things. What is something that has substituted this idea of touch? [I] adapted one of the shapes from the keyboard and made it into a larger stool so people can sit on it and experience the moment we were experiencing. A Zoom screen with high textured tiles.
[It was] really tedious to install, [and I was] really excited about this at first. But connecting it back to working from home, talking about this Zoom exhaustion and working from home, everyone got tired of just communicating through a screen. Feelings [were] reflected when they saw my work.
I wanted to make enough room for two. But because of Covid and distancing, it ended up being for one person. The distance from the screen to the stool is also six feet. So shout out to Covid. 
CA: How do you think your work has evolved or stayed the same since then?
NJ: Every journey for an artist is like writing a diary. You don't see the connections right away, [like] writing fragments. You don't see the styles yet, because you are still exploring and connecting things. Do not worry about not connecting them. Eventually it will all come together. There are these moments of clarity.
Someone else can also make those connections. But as an artist, sometimes I do not see it yet. Currently, I am focusing on my visa situation. My best friend has a style and color palette. His work will always stick to animal figures. I do not have that kind of style yet. Thinking back to my childhood or what triggers me the most—like Covid—are some of the "styles" I hold as of now. 
CA: How has your visa status impacted you and your practice?
NJ: It is really hard. I have been here for almost 10 years. I do all these legal processes. As a resident alien, I need to try so hard to gain a lot of things. To prove to the government, to whoever that I am good enough to stay. It is so competitive. I have to try harder to gain what I want. Back in high school, I could have gotten my green card but didn't think I wanted to stay here in the States. Visa is my first priority, then my art practice. If I get my visa, then it will change. It is a bit distracting because it is a very stressful process.
---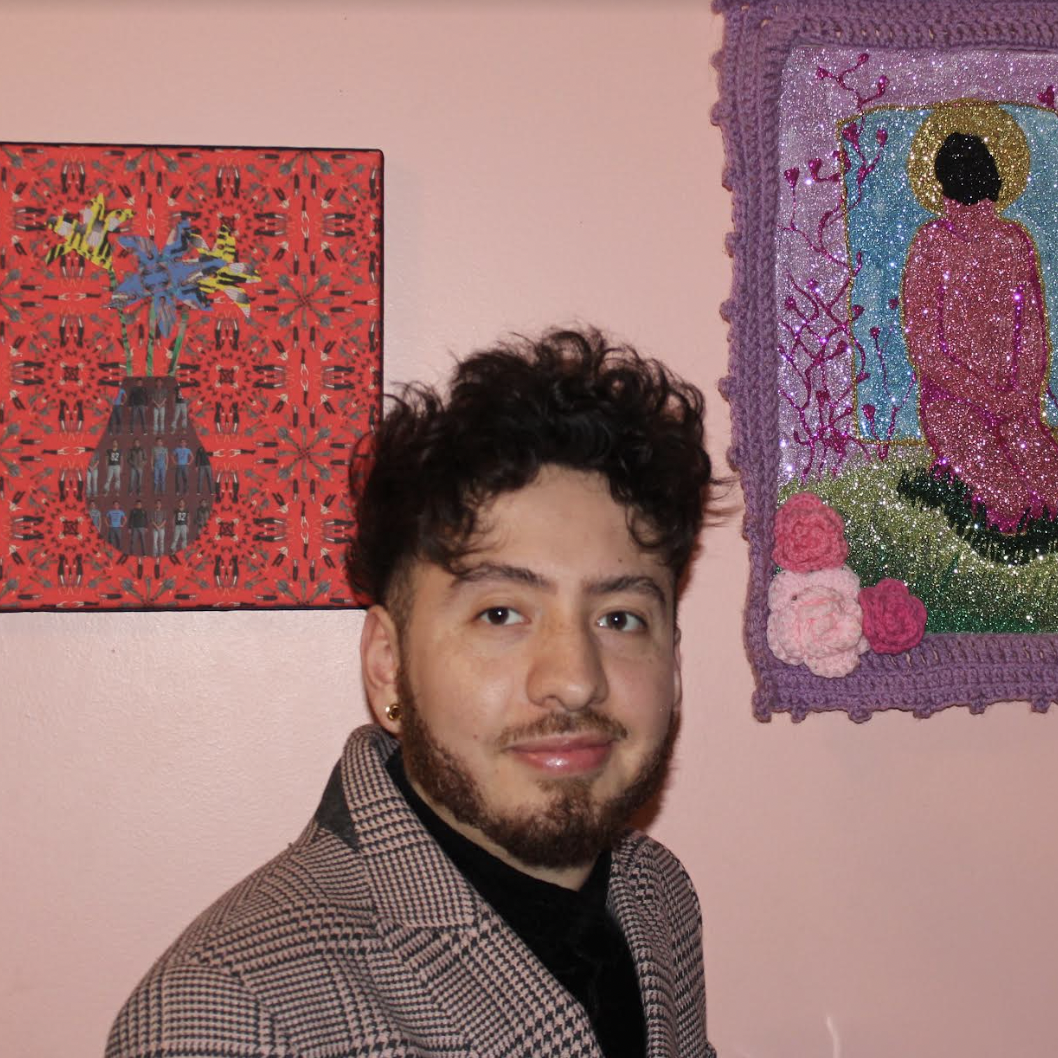 About the Author: Cristobal Alday (he/him) is a Queer Latinx creative from the south side of Chicago. He focuses on photography, and film particularly dealing with queerness, familial dynamics, and space. He is an independent curator currently utilizing his room to curate exhibitions with works by local artists. His artistic practice influences his curatorial and writing approaches. Using collage making and poetic responses, he reflects on artists, their works and exhibitions and focuses on the collaborative aspect of projects and art making through audience interaction via online platforms and in person. Utilizing archival family photographs and influences from around the city, he creates a form of communicating history of the past, present and what could be the future. He has held previous positions at the Art Institute of Chicago-Prints and Drawings Department, Block Museum of Art, Northwestern University: Art Theory and Practice Department, National Museum of Mexican Art, Chicago Artists Coalition, and Johalla Projects. Exhibited at Fundación Universidad del Cine (Universidad del Cine), Buenos Aires, Argentina; Fulton Street Collective, Chicago Illinois; and the Chicago Artists Coalition.