A Night With The Renaissance Society
On September 11, I put on my dress shoes, slacks, black dress shirt, and purple tie and took the orange line down to Bridgeport. There I joined other young volunteers,…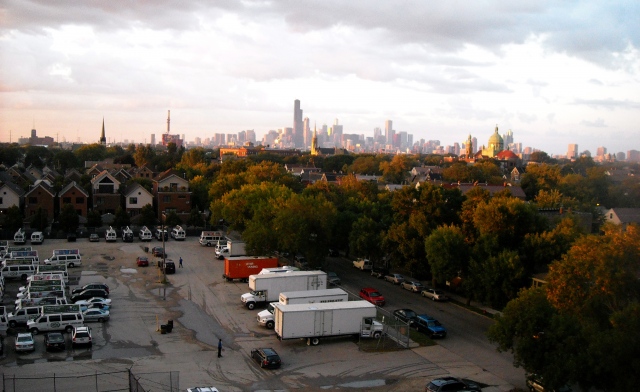 On September 11, I put on my dress shoes, slacks, black dress shirt, and purple tie and took the orange line down to Bridgeport. There I joined other young volunteers, mostly UChicago and SAIC students, for Of The Moment, the Renaissance Society's annual gala. The location of the event was East Bank Storage, a large, old warehouse that now contains artists' studios. For the gala, the top floor had been converted into a lavish gallery, auction, and dining space. As the main fundraiser for "The Ren", tickets to the event ran $350. Needless to say, the guests arrived in their best attire. Outside of working opening nights of NEXT, the affluent, upper class side of the art world is one I rarely see and often forget about. Monitoring auction bids and taking coats at Of The Moment, however, I got a chance to take in the unfamiliar crowd. Gallerists, art collectors, and at least one Sotheby's employee were all in attendance at the event. I'd heard the Chicago art world was quite close knit, and watching everyone socialize, it definitely seemed to be true.
The two fundraisers at the event were a silent and live auction. In both, a surprisingly wide array of contemporary art garnered prices ranging from twelve hundred dollars to twenty-two thousand. All pieces were donated by the artists and proceeds went directly to the Renaissance Society. The Ren's reputation was an easy selling point, one that the auctioneer made sure to mention. After all, the society has been known to feature a large number of artists before they become major players in art history (Kara Walker and Felix Gonzalez-Torres being two major examples). As pieces came up to auction, there was definitely a certain excitement in the air. Still, even though the money was going to a good cause, it felt strange and unfamiliar to watch such large financial transactions take place. The art world is truly an odd place. It's events like Of The Moment where the economic gap that exists between artists and collectors feels so vast. As one volunteer, a recent SAIC graduate, put it, "I make pieces about class, but sell them at prices my family could never afford. I rely on the class division."
As guests ordered their final cocktails, I packed up, thinking it was definitely a night for gaining a fresh perspective on just what keeps the art world going.