When Archival Bodies Collide: Rupturing Gender Through History
Artists have always relied on the archive and material history in their work, whether it be in the emulation of a specific style, the expression of a historical moment, or…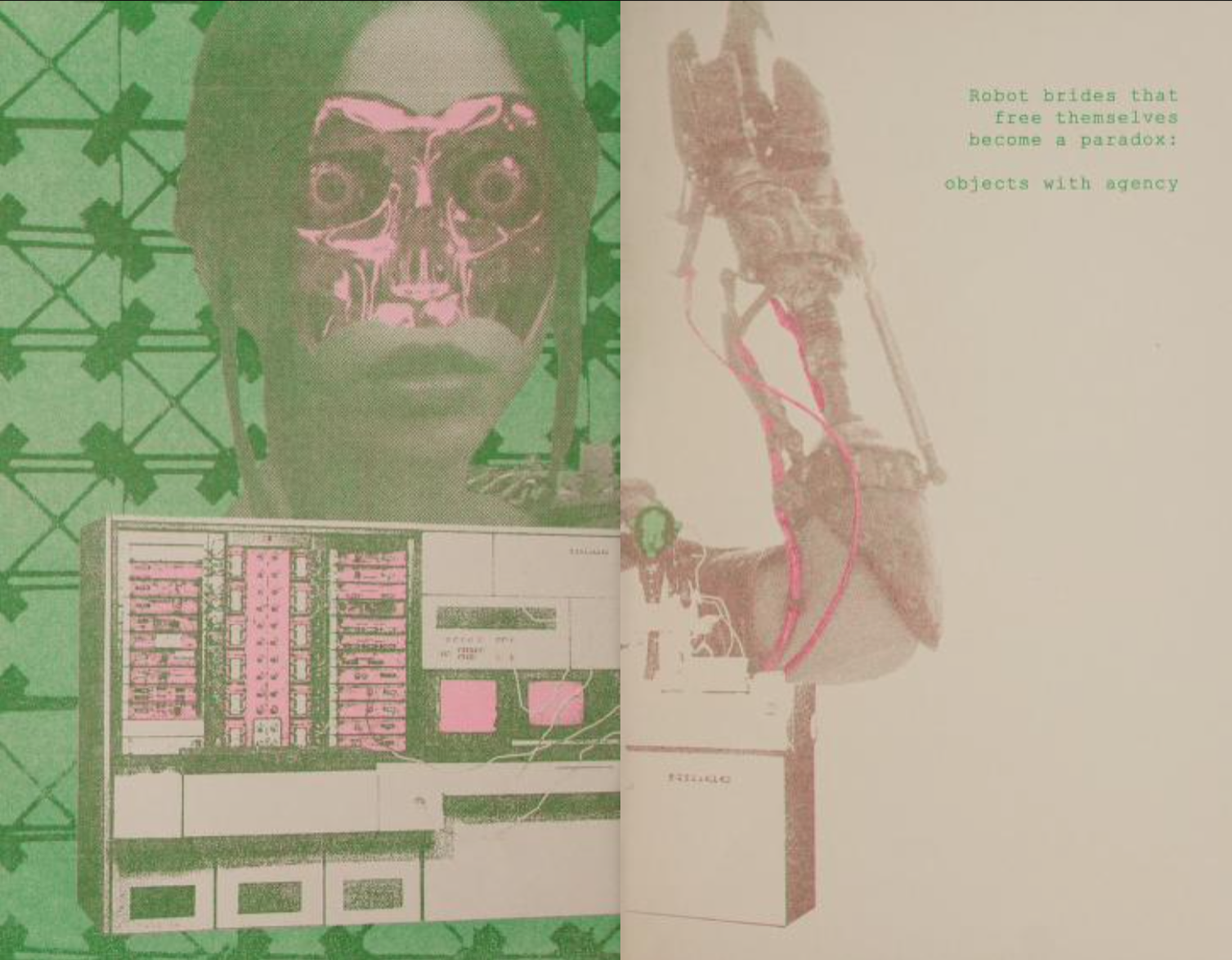 Artists have always relied on the archive and material history in their work, whether it be in the emulation of a specific style, the expression of a historical moment, or in a particular medium such as collage. The practice of exhuming images from archives necessarily carries these histories and styles along with it, no matter what the artist might attempt otherwise. But they can also refigure old art by placing it in conversation or contradiction with the new. Two artists, Whitney Humphreys and Sarah Tyschenko, are performing such insightful and disruptive reconfigurations with images of gendered bodies from the archive.
I discovered San Francisco-based artist Whitney Humphreys' zine series Gendered Machines a couple months ago, after I was browsing the Internet Archive—a free, digital library of websites and digital materials—looking for zines. I came upon her series, a collaboration with the Internet Archive and Tiny Splendor Press, and requested a copy of each zine, not thinking much about it until they arrived a few weeks later in all their risograph beauty. Humphreys told me she chose the risograph for its complement to her collage, saying, "The imagery [in my collages are] ripped from other contexts, fragmented, reassociated, and brought into new contexts to build something new, and then conflated into one thing." In her collages, Humphreys combines images of 1950s housewives and secretaries with technology, with cyborg eyes and circuitry bared as skin stripped away, sound waves and a microphone for a head, a washing machine for a body. Given the conflation of the risograph's layering process, in many cases I had to ask what images she reconfigured and what were directly taken from pulp science fiction (a large source of imagery for this project). The sources of many images became clearer with a bit of research. She cites designer and critic Ellen Lupton as one of her major influences on this work, and images from Lupton's 1993 book and exhibition Mechanical Brides: Women and Machines from Home to Office appear throughout the series with Humphreys' modifications. Lupton's washing machine replaces the head and torso of a woman who playfully and erotically advertises a hard drive in Byte Magazine. The washing machine represents domestic and nurturing womanhood while the positions of her limbs tell the viewer, "These hard drives are new and exciting and sexy (like me)." This interplay traces the varied history of female representations in media, and more specifically, the functions women have historically served or are traditionally expected to serve. Here, the woman is servile and objectified—she is the domestic machine that keeps the family engine functioning, and she is part of the commodity advertised.
Humphreys' sourcing of twentieth-century pulp illustrations and advertisements may feel dated (along with the grain of the risograph), but the reappearance of such flagrantly "old-fashioned" gendered imagery is exactly the point. On the title page of the "Voice" zine, a 1949 AT&T ad "The Voice with a Smile" shows a woman wearing a headset, her face replaced by an unrecognizable structure—possibly the architecture of a supercomputer or switchboard, which appear throughout the series—with only her eyes remaining, staring into space, awaiting the call. And today, Humphreys points out, AI assistants like Siri, Cortana, Alexa, etc. are all gendered female, despite when asked, they respond that they have no gender. Gendered technology reaches back further than the washing machine, too, if we consider Humphreys' conception of machines: "real things and figurative social and cultural structures."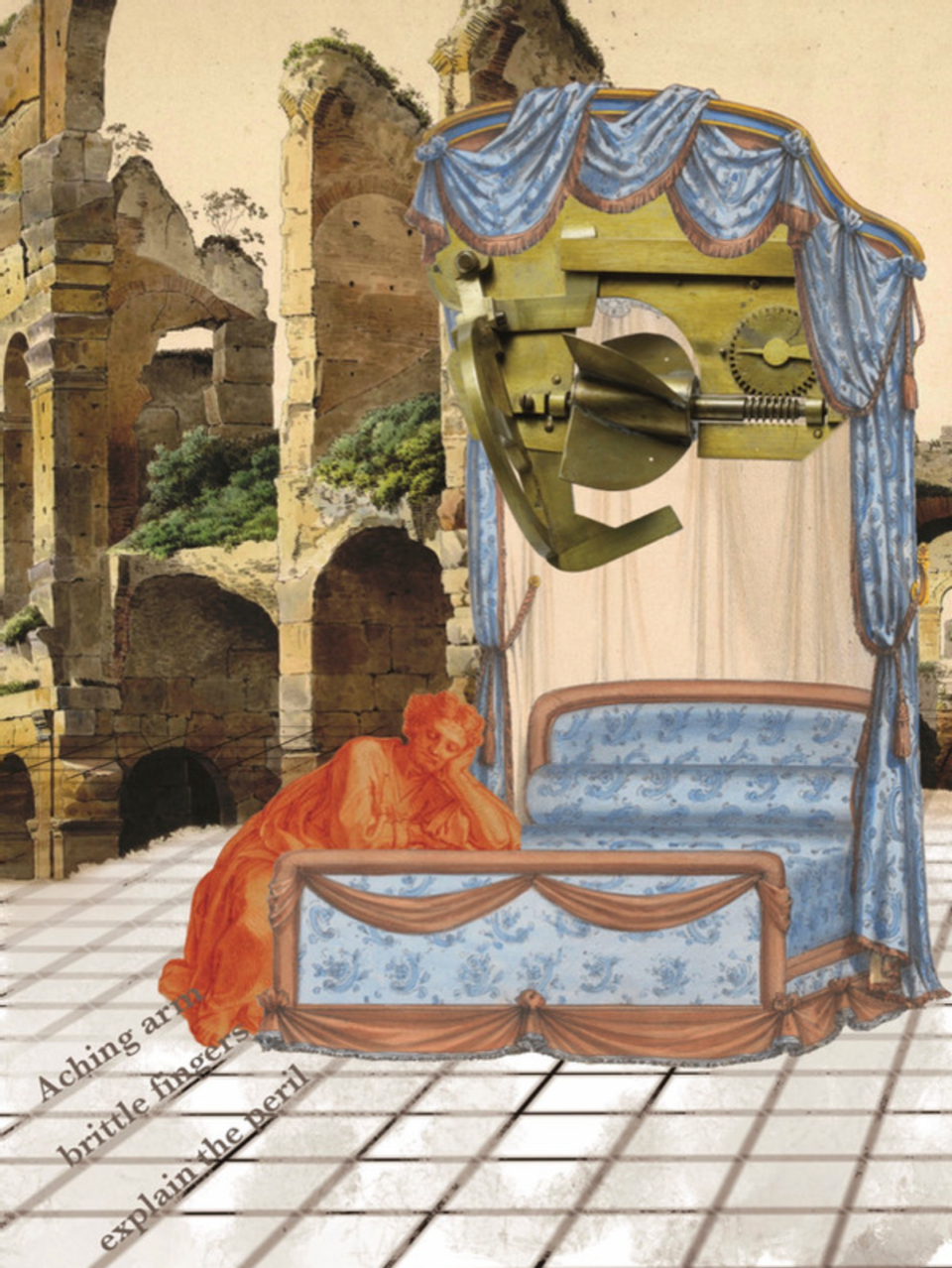 In Chicago-based artist Sarah Tyschenko's Rijksstudio Series, however, she takes images of pre-twentieth-century feminine figures and enters them into conversation with abstract and ambiguous figures and their representative social forces. In one of her images, a woman reclines her upper body on a canopied bed. Her body takes a position not unlike the figure in La Grande Odalisque or in myriad Renaissance depictions of classical female figures or upper-class women. However, the woman is neither of these. Saturated in an orange-red, she appears to wear an unassuming dress or perhaps a smock-frock, indicating a possible rural working-class identity, despite her juxtaposition upon the stately bed. She looks downward, and beneath her read the words: "Aching arm / brittle fingers / explain the peril." She appears tired, and the lounging position is less one of erotic splaying and suggestion and moreso an expression of exhaustion. The ambiguity of her dress and the cause of her exhaustion opens multiple interpretations for the viewer. Perhaps she is this rural worker coming in for rest from the field, or she may be a housewife, whose limbs ache from the manual washing of clothes and preparation and storage of food. Above her hangs an unidentifiable piece of technology, with a turning gear as its only legible part. We might interpret this in the line of Humphreys' work, reading the gears as representational of the repetitive, mechanical nature in which the housewife performs her duties. Or perhaps it is the technology that is out of reach to her as a working woman, preventing her from some degree of escape from mechanized domestic womanhood.
Tyschenko might bristle at this interpretation, though. She created the series as an experiment in collage using the practice of exquisite corpse, and she sees these images as non-representational and void of their historical context. But each work carries with it a style representative of a material and artistic history, and in another piece, Tyschenko's use of Adam's hand from Michelangelo's The Creation of Adam erases the possibility of a purely de-historicized figure. Instead of many unknown hands, we see the lone hand as Adam's, with masses reaching towards Adam's hand in a search for the divinity bestowed upon him by God. This hand, along with the devil from William Heath's Devil Stokes the Fire in France and Holland, open some of the series' other figures to possible moralistic interpretations: the potential for good or evil, for salvation or destruction. The devil attempts to burn a searching woman in one image in which she peeks beyond, and in the aforementioned work, the lounging woman is largely removed from a legible system of values—through an absurdist collage practice—despite a recognition of the image's style and subject. So it becomes difficult for the viewer to articulate an ethics or politics of the series. Tyschenko's series seems to recognize external forces on the body more than it reimagines the body as a site of change against those social forces.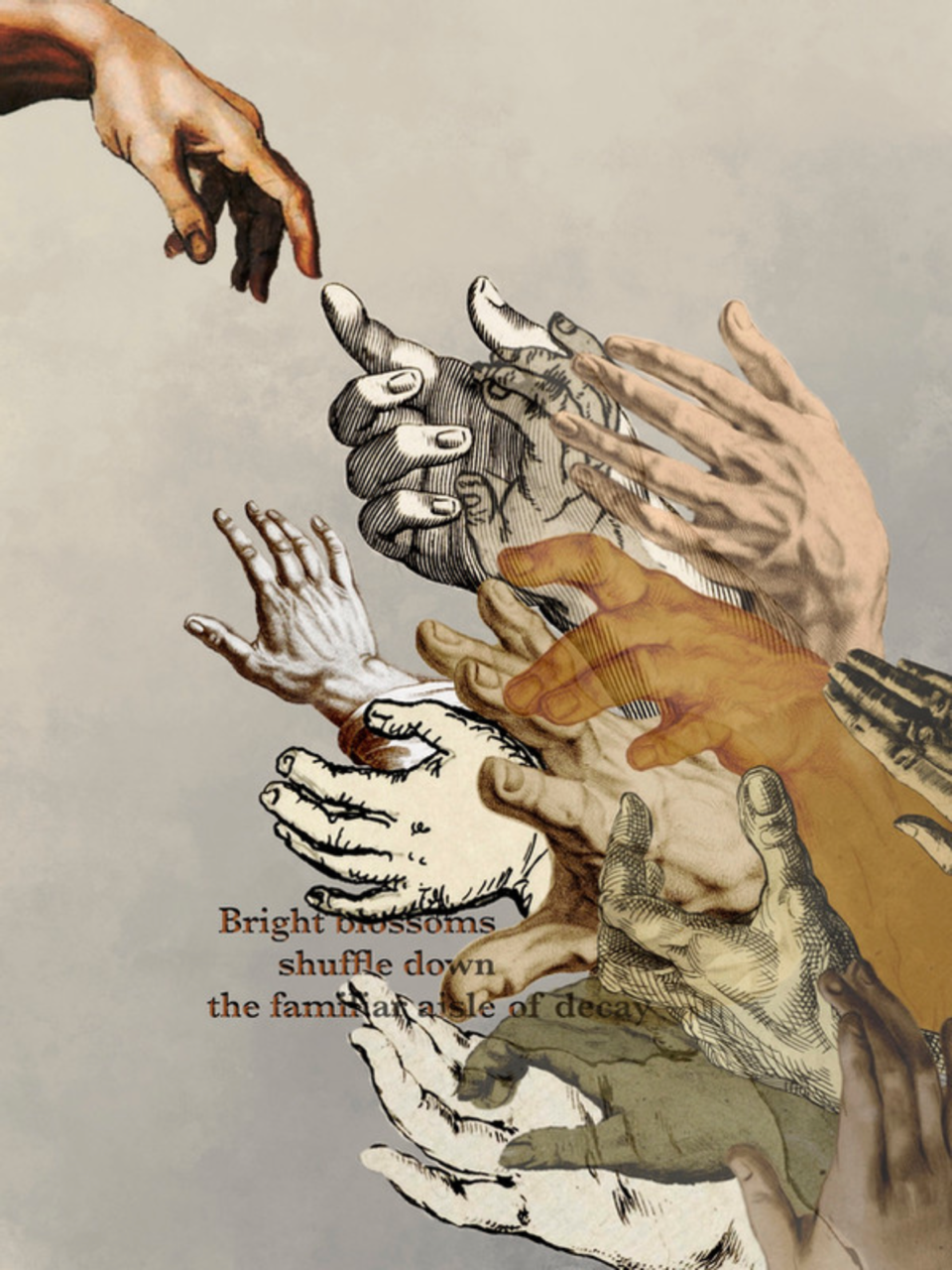 Humphreys' use of Michelangelo's Adam, meanwhile, explores possibilities beyond the gendered body in the transhumanity of an "augmented, immaterial [digital] selfhood." This Adam reaches out to God, both of whom have robotic arm structures embedded in flesh. Instead of God instilling Adam with a spiritual divinity as with Michelangelo's and Tyschenko's Adam, Humphreys' Adam is endowed with divine technology that can either be the preservation of his gendered body (e.g., the woman's washing machine), or the means of de-gendering himself. The Adam-cyborg represents this transition to the post-human, post-gender world where the cyborg creates new non-bodily meanings. Still, it is not only Humphreys' subject of cyborgs that opens the body to transition; it is also the practice of collage itself. Tyschenko's collages, too, create gendered figures who look for a transformation from their current domesticity.
Our first impulse when viewing collage is one of recollection and reassessment of the gendered histories of these figures, but this recollection also carries within it the potential for a final movement: a reimagination. Humphreys' Gendered Machines articulates this in her "Spirit" volume of her series, which portrays Sandro Boticelli's Venus awaiting a transformative technological procedure as well as the outstretched hand of Adam toward the technological Divine. These images, along with her prose, ask the question: can we move beyond the body—this socialized, gendered machine—into a new representation of being? The initial impulse is to say yes, and we can achieve this through a disembodied, digitized self. But Humphreys also cites the example of downloading one's consciousness to a computer, a project most likely only attainable in the future for ultra-wealthy technolibertarians. We must ask critically: who will this project of degendering be afforded to? How will this affect non-technological selves? Instead, Humphreys writes: "Atypical expressions of gendered identity, and robotically supported bodies, can offer a way out of instrumentalizing representations of the feminized robotic figure." Humphreys' gendered machines themselves are these atypical expressions of gender while at the same time being perfectly typical as symbols of gendered labor.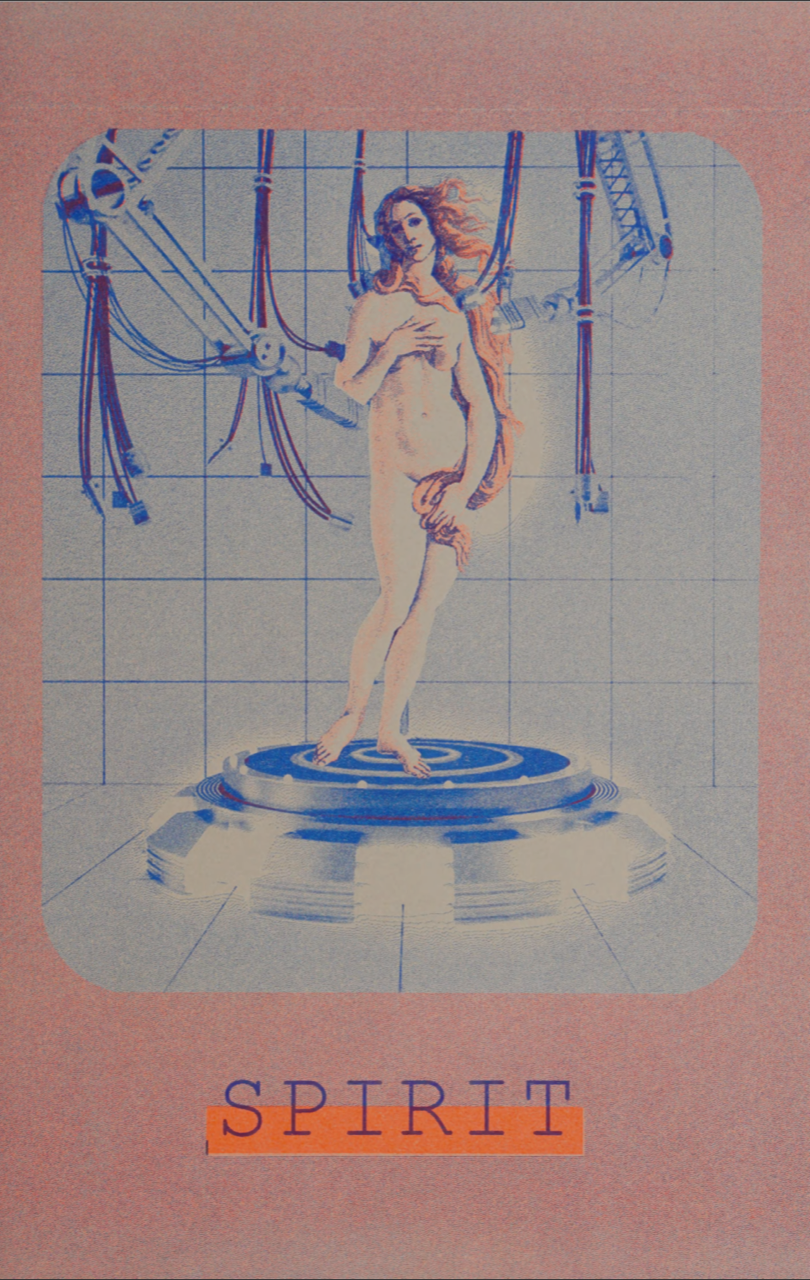 Tyschenko's figures, too, struggle for this "way out." Her worker who reclines sees no escape from the days of aching arms and brittle fingers worn by work. Does she stare down in despair and exhaustion so that we might recognize her lost gaze? Does the technology hanging above her bed populate her dreams with the possibility of automating her gendered labor? Tyschenko's bodies negotiate the dominant role of technology within gendered domestic life, but one has to wonder whether these figures realize their desire for liberation. In one of her pieces, a statue of a female angel holds a street lamp above her head, shining light on the figures beneath her and across the series, a reappearance of divine intervention and the potential the Divine carries for new meaning-making. Unlike Humphreys' technological Divine that provides a means of bodily transition out of the roles assigned to certain bodies, Tyschenko's divine figures serve as indicators of the roles themselves, inviting the viewer to pursue their own collaged meaning-making.
And what can we learn from Tyschenko's overworked woman, or Humphreys' cyborg Adam? How do we incorporate the liberation of collage's "atypical expressions" into our bodily world? Even the sometimes cyborg-like process of gender transition, as an atypical expression of the self contrary to against the gender assigned to one's body, stakes itself on representations of gender. Gender seems inescapable. But perhaps the most atypical (gendered) expression is simply the one against prevalent social forces and representations. When the woman refuses to work in order to rest and heal her body, she provides an atypical rejection of work under the "boss" (either in a domestic or capitalist capacity). When Adam rebuilds himself as a cyborg, he goes against the construction of himself that the biblical God has designed for him. And most of us will not be able to make ourselves into a digital consciousness or a cyborg, but we can refuse these typical expressions of work, art, relationships, clothing, etc. and instead create new expressions for and representations of ourselves and our outsider genders.
Tyschenko says she undertook the Rijksstudio Series with the intent to produce "bizarre and mesmerizing imagery," while Humphreys intended to create "[r]obot brides that free themselves [and] become a paradox: objects with agency." Robots and God and bodies from the archive, all in the name of deconstructing and reimagining gender.
Featured image: "Body" Digital collage, risograph print by Whitney Humphreys. The piece shows an image of a woman with part of her face missing, revealing cyborg-like parts underneath. Underneath are various machine parts. The right side of the piece shows a robot arm and text that reads: "Robot brides that free themselves become a paradox: objects with agency". The piece is mostly pink, green, and tan. Image courtesy of the Internet Archive.
---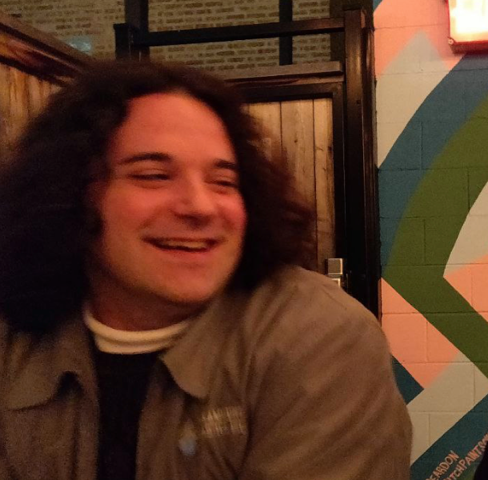 Nic Rueth is a writer, tutor, and the reviews editor-at-large at Another Chicago Magazine. They write about culture, politics, and queerness. You can find them on Twitter @nic_rueth or at nicrueth.com.