Weekly Picks March 17-23
While a new Sixty Inches from Center is in the making, please enjoy our weekly calendar, a list of visual art related events happening in Chicago. Events are chosen based on the…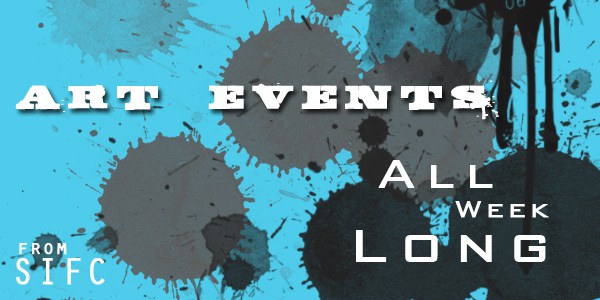 While a new Sixty Inches from Center is in the making, please enjoy our weekly calendar, a list of visual art related events happening in Chicago. Events are chosen based on the information that is put in front of us. If you would like to take advantage of having your event listed on our website please send a press release to reuben.westmaas@sixtyinchesfromcenter.org
MONDAY || March 17
Acquiescings + Hauntings at Poonie's Cabaret
7:30pm – 9:00pm
Links Hall
3111 N Western Ave
Chicago, IL 60618
$5
A coalition of dancers, musicians, and visual artists join Poonie's Cabaret for a thoughtful exploration of loss and mourning. Loss isn't just an absence–it's a burden, something those left behind carry with them. And it it doesn't have to be the loss of a person. When something deeply cherished disappears, it creates a negative space to be navigated. It's that negative space that inspires this performance, which stars such performers as Mister Junior, a fixture of the city's boylesque scene, and hip hop artist Terri "Lyric" Green, who won the 2013 Unsigned Only songwriting competition. In Acqueiscings + Hauntings, art helps those who've lost let go of their pain–or make the most of their lingering memories.
TUESDAY || March 18
MCA Live: Pocket Guide to Hell
6:00 pm -8:00 pm
Museum of Contemporary Art
220 E. Chicago Avenue
Chicago, IL 60611
Free admission to IL residents on Tuesdays
Paul Durica is of two minds. At times, he's known to comment that "Chicago is a pocket edition of Hell." But maybe it's worse than that: sometimes, he says, "Hell is a pocket edition of Chicago." Pocket Guide to Hell is Durica's in-character explorations of Chicago's fraught history of crime, social injustice, and the labor movement. In this edition of the ongoing program, Durica welcomes you to a tour of old Streeterville, hearkening all the way back to its early days as the George Streeter's "District of Lake Michigan." Props, costumes, music, and poetry all play a part in the performance by this fusion of history and art.
WEDNESDAY || March 19
My Favorite Comics: Newspaper Strips
6:00pm – 8:00pm
Chicago Publishers Resource Center
858 N. Ashland Avenue
Chicago, IL 60622
Suggested $3 donation
At Chicago Publishers Resource Center's monthly discussion My Favorite Comics, artist and instructor Dean Johnson leads a conversation on attendees', well, favorite comics. Those interested bring their favorite works from home, whether childhood addictions, recent discoveries, or little-known treasures. Wednesday's meeting is presided over by a guest moderator, and will cover the ins and out of serialized storytelling and what sets newspaper strips apart from other comics media.
THURSDAY || March 20
5 p.m. to 7:30 p.m.
Smart Museum of Art
5550 South Greenwood Avenue
Chicago IL, 60637
Free to the public
As part of UChicago Arts' Envisioning China, the Smart Museum focuses on a side of art history we often don't consider: celebrity obsession. Opera lay at the heart of Chinese social life from the 17th century up to the 20th, and just as modern celebrities can be found in magazine pages at every checkout counter, the stars of the opera were often found plastered across scroll paintings and popular prints. Bowling and Spooning invites you to take part in the action, carving representations of modern celebrities into utensils using the historical pieces as a guide. All materials are provided, and this event is open to adults of all skill levels.
FRIDAY || March 21
Opening reception 6:00 pm – 10:00 pm
4Art Inc Gallery
1029 West 35th Street, #403
Chicago, IL 60609
Free to the public
The egg is a symbol of birth and beginning, but also of protection, of healing, of growth, and of fertility. In this event, 19 artists (including our own Jenny Lam!) transform ostrich eggs into visual meditations on the nature of existence. Also presenting are collective members Robin Monique Rios, Christopher Galvin, Robert Pockmire, Keri Colestock, and Christine Winquist. This show runs from this Friday to April 18 at 4Art Inc, located at our partner organization Zhou B Arts Center.
SATURDAY || March 22
7 pm – 9 pm
Beverly Arts Center
2407 W 1111th Street
Chicago, IL 60655
Free to the public

Antonio Guerrero is a member of the Cuban Five, a group of political prisoners arrested for espionage in 1998. While incarcerated in Florence, Colorado, Guerrero taught himself to draw and paint, and these watercolors are testament to the horrors of his first 17 months behind bars–17 months in solitary confinement while the five awaited trial. After this opening reception, the show will be on display through April 13.
SUNDAY || March 23
"M"… is for Murder by Corrine Halbert
5 pm – 9 pm
Peanut Gallery Chicago

Chicago,  IL  60622
Free admissionBig, bold lines. A cartoon mouse and his girlfriend. Bright colors and a cartoony aesthetic. And serial beheadings. In Corrine Halbert's darkly comic take on a certain animated rodent, Murderous Mikee is found in… compromising… positions over and over again above the decapitated head of his beloved "Minee." Looking like a snuff film made by Walt Disney and directed by R. Crumb, the exhibit will also feature guest artists Steven Husby, Lielli Dolla, Edra Soto, Elliot Reed, and Hosey, and a DJ set by Dee Pants.