Week Ends, Art Begins || July 1st – July 3rd
All of us at Sixty took a look around and the happenings this weekend and picked the ones we think you may want to check out. Also, be sure to check out the downloadable July SIFC Summer Guide. You may also find it sprinkled around the city.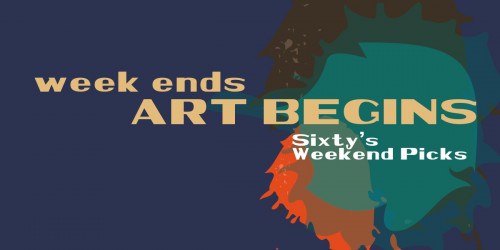 All of us at Sixty took a look around and the happenings this weekend and picked the ones we think you may want to check out.  Also, be sure to check out the downloadable July SIFC Summer Guide. You may also find it sprinkled around the city.
FRIDAY || July 1, 2011
Revenge: New Works by The Little Friends of Printmaking
We couldn't have written anything better than the clever folks at Rotofugi did: "Husband-and-wife team JW & Melissa Buchanan first made a name for themselves by designing and printing silkscreened concert posters, but soon branched out into further fields, designing fancy junk for whomever would pay them money. In addition to their work as illustrators and designers, these art-school refugees continue their fine art pursuits through exhibitions, lectures, and artists' residencies throughout North America, spreading the gospel of silkscreen to anyone inclined to listen. Their awards include honors from the Art Directors' Club, American Illustration, and Communication Arts. Also, their work has been published in the books New Masters of Poster Design [Rockport], Juxtapoz: Poster Art [Gingko Press], and Handmade Nation [Princeton Architectural Press], among others. The Little Friends currently live in Milwaukee, WI with two very round cats." Enough said.
Rogofugi Gallery
2780 N Lincoln Avenue
7pm – 10pm
FREE
Solastalgia : a solo show by Jenny Kendler
In Solastalgia, Kendler continues to consider humans beings' relationship with the natural world through the lens of feminism, modern ecology & environmental activism. Works in the show focus on the complexity of issues such as extinction, habitat loss, mutualism and climate change. While cross-pollinating genres and mediums, Kendler draws us emotionally and viscerally nearer to nature — to rekindle feelings of interconnectedness and wonderment.
Johalla Projects
1561 North Milwaukee Avenue – 2nd Floor
7pm – 10pm
Free
Sound Craft Series 1 All Night Dub Sessions/Devilchild
New monthly music series at Impala featuring resident selectors from Brian Chankin (Impala Sound, Odd Obsessions Movies), Anthony Abbinanti (The Drastics, The Blends), Nic the Graduate (Illuminati Congo), Esteban LaGroue (Impala Sound), Luke Daly (Kaleid), Dave Mata (Impala Sound, Soul Summit). This Series is slated to happen the first friday of every month and is a byob event. Also, ongoing at Impala Gallery is an exhibition of new works by Charlie Megna. If you're looking for playful work with a sense of humor and across several different mediums, definitely check out this exhibition.
Impala Gallery
1768 W. Greenleaf
9pm – 4am
Free
COLLABORACTION'S MUSH ROOM ART EXHIBITION
This group exhibition features the work of Virginia Broersma, Jennifer Lambert, Mary Lou Novak, René Romero Schuler, and Victoria Szilagyi with Special Collaboraction Manifestations and music by Jason Raynovich and the Maverick Ensemble. The next installment of the monthly Paul Klein/Wesley Kimler Visual Art Discussion will also be held in Room #300.
Flat Iron Arts Building
1575 N. Milwaukee Avenue
6pm – 10pm
Free
SATURDAY || July 2, 2011
Vintage Heaven United We Buy Sale
Looking for a good place go buy vintage? Where you can pick from over a dozen of the best vintage vendors in Chicago? No, this isn't a dream–it's heaven! Heaven Gallery is hosting a two-day vintage sale (Saturday 7/2 and Sunday 7/3), featuring local vendors including Badlands, Buried Bone, Dethrose Vintage, Dutch day Vintage, GabrielleZwick, Jenstyle Chic Vintage, Lipstick Dinosaurs, Lovestory Vintage, Mary Miller, Mue Vintage, Nightingale Vintage, Penguiny Vintage, Venus Meets Vintage, Vintage Freak, and Voila Ola.
Heaven Gallery
1550 N. Milwaukee Avenue
12pm – 6pm
Free
ICONS: Past & Present
In South Side Community Art Center's second floor gallery Fanta Cela is presenting a series of inspirational iconic figures to the tune of Fela Kuti, Lena Horne, Billie Holiday and more. The exhibition closes this weekend, so be sure to stop by and check it out.
South Side Community Art Center
3831 S. Michigan Avenue
1pm – 4pm
Free
Subject : Object
Object brings together four artists, primarily painters, who make work where object is the subject. From fabricated objects that become the subject of paintings, to painted objects both displayed and disguised, to video and objects that share subject with paintings, and to paintings that become objects themselves, the four artists of Subject: Object diversely address the physical nature of paintings and the persistence of material objects. Curated by Nina Rizzo and featuring artists' Christine Gray, Sabina Ott, Conrad Bakker, and Stephanie McMahon.
Ebersmoore Gallery
213 N. Morgan #3C
6pm – 9pm
Free
transmit/transmute by Adrian Moens
Adrian Moens' multimedia exhibit and installation transmit/transmute integrates sound, sculpture, video, writing and painting. The underlying, and often paired, themes of rhythm and resonance, loss and removal, and empathy and revulsion are addressed through carefully considered minutiae of discreet words, imagery objects and sounds. The title installation, transmit/transmute, mediate/meditate, is the result of Moens' multiple performances as a pseudo new age guru, for which he developed an arcane mythology based on the relationship between the human jaw and resonant throat-space and the rhythms of the body and the brain.
Comfort Station Logan Square
2579 N. Milwaukee Ave.
7pm – 10pm
Free
SUNDAY || July 3, 2011
Zummertapez: Paul Nudd
Roots & Culture contemporary art center presents another installment in the Zummertapez series with a screening of work by Chicago artist Paul Nudd. Known for his meticulous drawings of ooze, slime, molds and warts, Nudd's equally disgusting video work from 2000-2007 is a series of durational grossout video abstractions. Using a visual language drawn from the most brutal type of film fantasies, namely horror film prosthetics and porn close-ups, Nudd's evolving long-form abstractions ooze, bubble and leak. Yet they frequently manage to overwhelm their initial putridity and develop a rhythmic beauty verging on the sublime. As part of the Zummertapez format, Nudd will be combining excerpts from his videos with clips of material influential to his work and sense of humor, including home movies, artist interviews, and "culturally significant bottom-of-the-barrel schlock-fest horror scenes." You had us at ooze and bubble.
Roots & Culture Contemporary Art Center
1034 N. Milwaukee Ave
8pm – 11pm
$5 suggested donation
//THERE'S ALWAYS MORE//