Virtual Discussion: Cultural Criticism as an Act of Care
Join us on November 30th for a virtual conversation on arts writing, publishing, and creative critique as an act of care.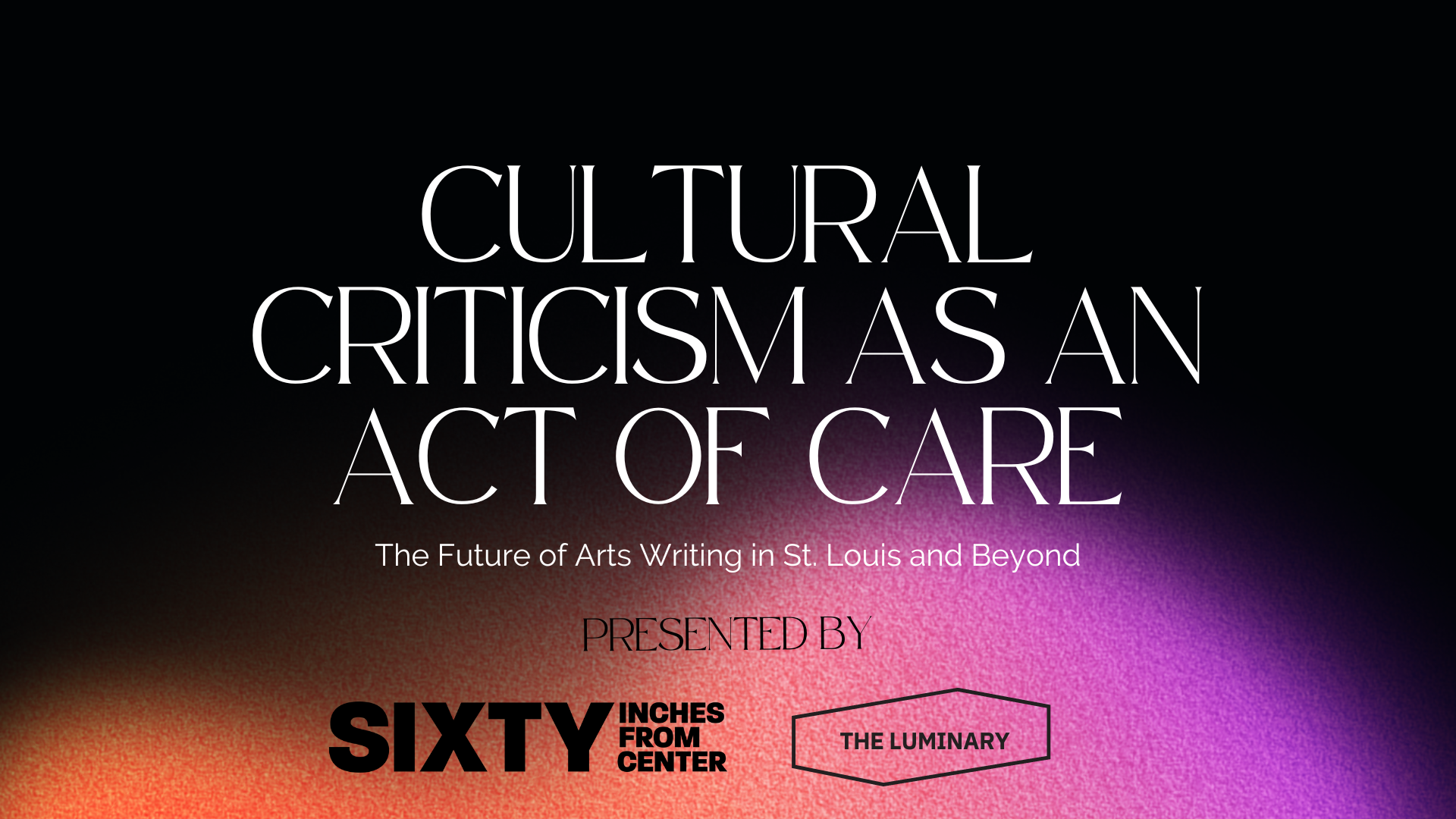 CULTURAL CRITICISM AS AN ACT OF CARE
The Future of Arts Writing in St. Louis and Beyond
Thursday, November 30, 2023 @ 6pm | Virtual
Sixty Inches From Center and The Luminary are thrilled to invite you to a virtual conversation on November 30th, 6-7:30pm CST, where we will be discussing arts writing, publishing, and creative critique as an act of care.
What does the future of arts writing in St. Louis and the larger Midwest look like? What does it have the potential to be if, instead of a funnel for harsh judgment, arts writing was considered a process of deeper understanding, empathy, and knowledge production? What would happen if we approached arts criticism as a pathway to collaboration, experimentation, and conversation with its subjects?
Join us as we survey the processes that have shaped cultural criticism in St. Louis and beyond, and to engage in dialogue about the future for arts writing that we would like to build. In this conversation, Sixty will be outlining the history and mission that has shaped our ethos and practices. The Luminary's Kalaija Mallery and Kellen Wright will survey some of The Luminary's contributions towards arts writing throughout recent years, including the origins that shaped Temporary Art Review and MARCH.
The group will discuss the futures of arts writing on a local/national level and the sustainability of writing platforms, as well as the possibilities for arts writing as a generative practice, an act of care, and a creative practice in and of itself. The discussion will be open for questions, shared experiences, and active engagement from participants.
---
The Luminary (St. Louis, MO) is an expansive platform for art, thought and action. Since its inception The Luminary has been a home for exceptional art that engages the pressing issues of the present. Through an active roster of exhibitions, residencies, performances, publications and gatherings, they act as a point of convergence for diverse publics. They cultivate thoughtful platforms for exchange, support forward-moving art and ideas, and attempt to model a more equitable and interconnected art world as an institution of our time.