Featured Image: Victoria Martinez standing in front Pickard Elementary in Pilsen near a mural she painted collaboratively with 5th thru 7th graders from the school. The mural "Championing Neighborhood Memories" was inspired by the permanent collection from the National Museum of Mexican Art and is located on the Pickard playground. Martinez, who attended the school from Kindergarten thru 8th grade, recurrently works with these students. Photo by William Camargo.
To read the following article in Spanish, click here.
Victoria Martinez is on a mission: to catalyze and foster change by making art in the neighborhood where she grew up in, Pilsen. Over the last eight years, she has evolved her making and teaching work into a deliberate community-based practice that encourages empowerment through material exploration and collaboration. The mixed media and installation artist sees her next step as building an artistic practice that is not only creatively rigorous but also financially sustainable to continue investing in the Mexican folks of Pilsen, whose home is being whitewashed by gentrification. Now, after grappling with the question of graduate school for years, she departs for Yale School of Art this fall to pursue an MFA in painting, embarking on a new chapter in her practice and temporarily leaving Chicago.
"My work in Pilsen and in Chicago isn't done," she asserts as we share a meal at Currency Exchange Cafe, right next door to her studio at the Arts Incubator. As a working-class artist grounded in community, her decision to attend graduate school comes at a time of needed self-reflection—taking a break from the precarious teaching artist gig economy to restore and rebuild.
A staple of the Chicago artistic community, Martinez is known for being both prolific and generous, often times wearing multiple hats and working across cultural and social spaces. She is known for collecting and reclaiming found materials from urban environments, such as discarded textiles, painted signs from Mexican grocery stores, or leftover plastic party decorations, that she then collages into colorful, abstract compositions through painting and sewing. She harnesses the energy of the street and finds beauty in the abandoned materials, assigning them new value by transforming them into striking pattern-based works. Her art ranges in scale, from very intimate wall-works to large public installations and interventions, and her connection to site extends to her work as a teaching artist.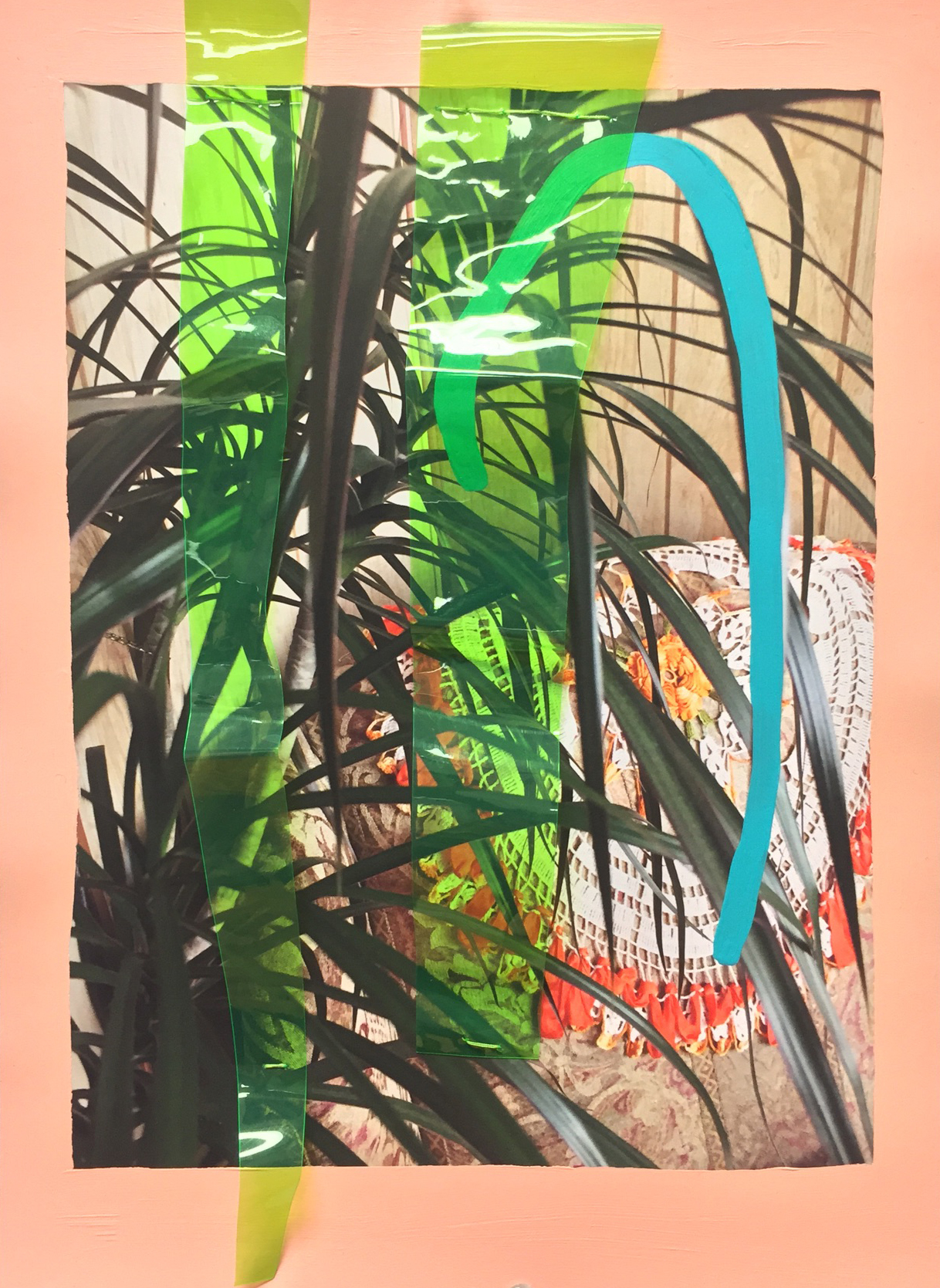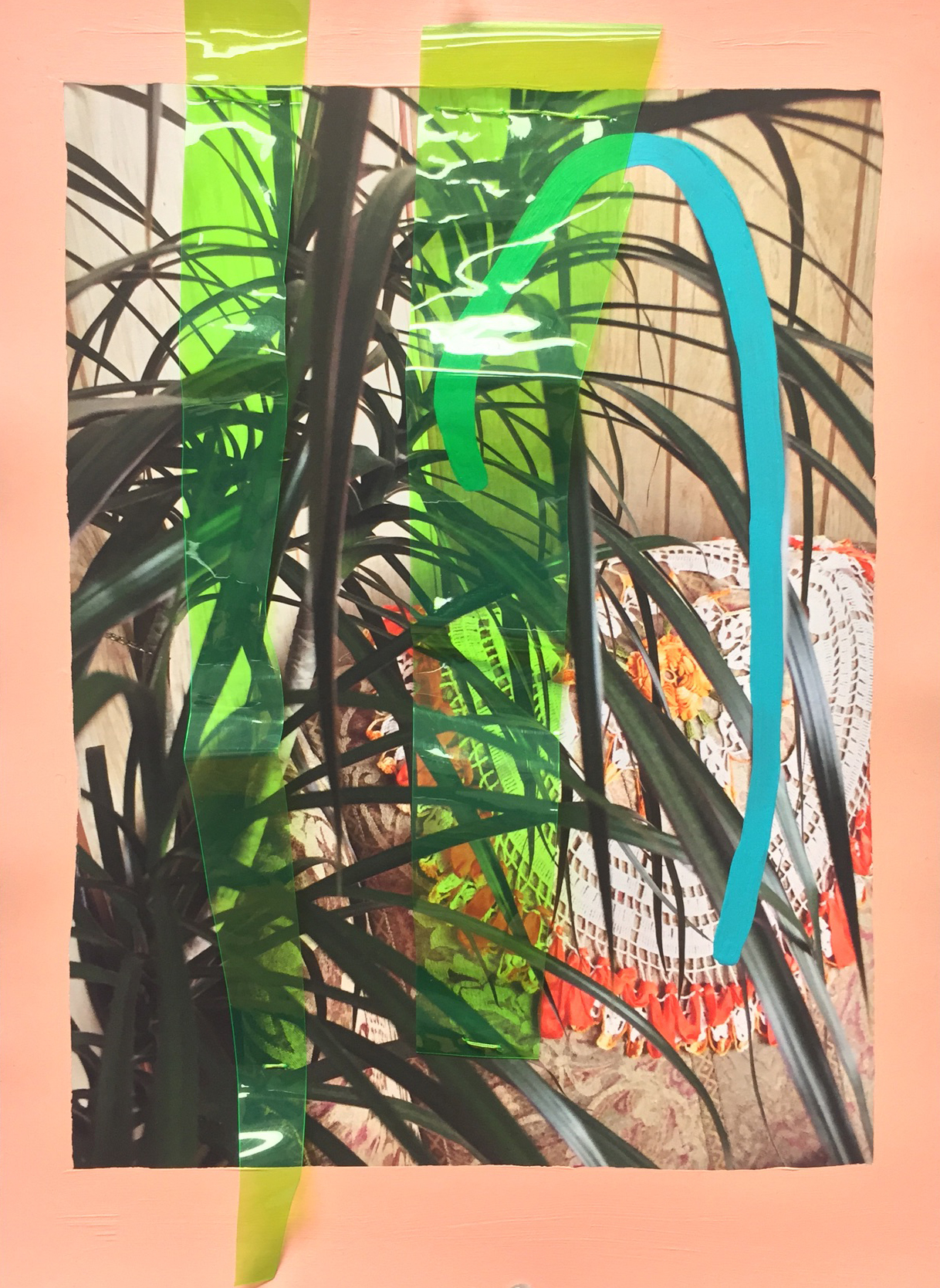 In 2016, through her residency at Urban Gateways, Martinez developed Traveling Minds, a multifaceted community program where the artist worked with high school students at Benito Juarez Community Academy on a site-specific installation presented at the National Museum of Mexican Art (NMMA). Working with their classroom teacher, Martinez taught the high-schoolers painting, embroidery, and sewing. The teens then led embroidery workshops at nearby elementary schools, where they also served as mentors to younger students for the project's duration. Informed by the patterns from their environment, the students and Martinez created patterns and abstracted imagery on fabric for a 10' x 15' mural-like installation supported by a wooden structure on the lawn of the NMMA. Traveling Minds is only one of several participatory projects that Martinez has envisioned, initiated, and poured herself into—impassioned by the opportunity to inspire and be inspired by the people she works with.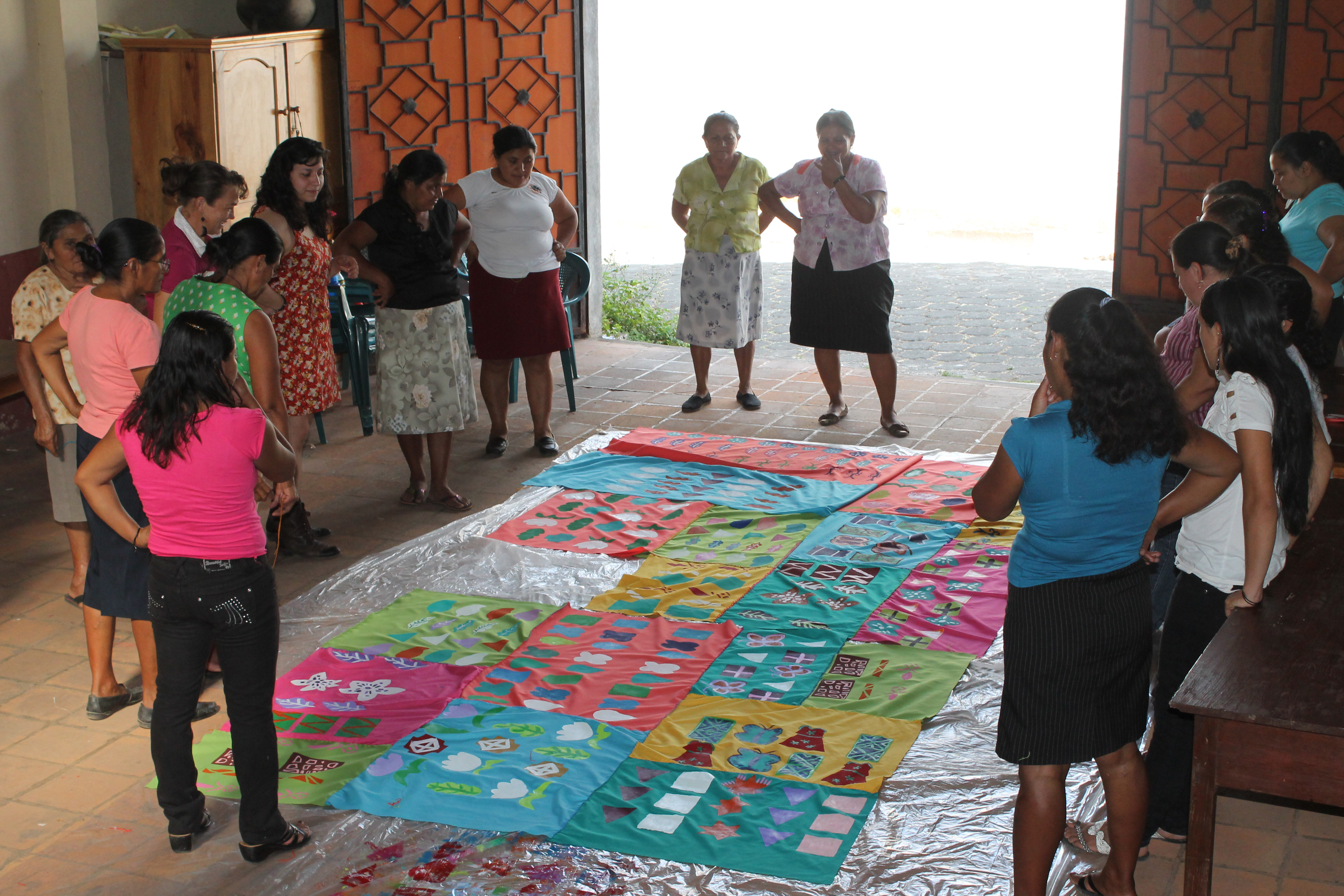 The significance of Martinez's practice and work goes beyond her immediate Chicago community, even if it starts there. Her practice makes the case for valuing living artists in our society, not only art objects. While images and objects are important to the experience and discourse of art, they are often inaccessible especially in the vacuum of the white cube. It is artists who can build relationships and make a meaningful impact through dialogue and action. Here, I am not referring to socially engaged art or social practice, which has been institutionalized and defined through the value system of contemporary art. Instead, I mean the permeating of artistic practice into our everyday — art coexisting with life in non-art spaces. Martinez embodies artistic process and thinking into every aspect of her life, embedding an infectious energy and a pure passion for art in her surroundings. Her inclusive way of researching, making and teaching open up avenues for expansive thinking, collective making and accessing tools for expression.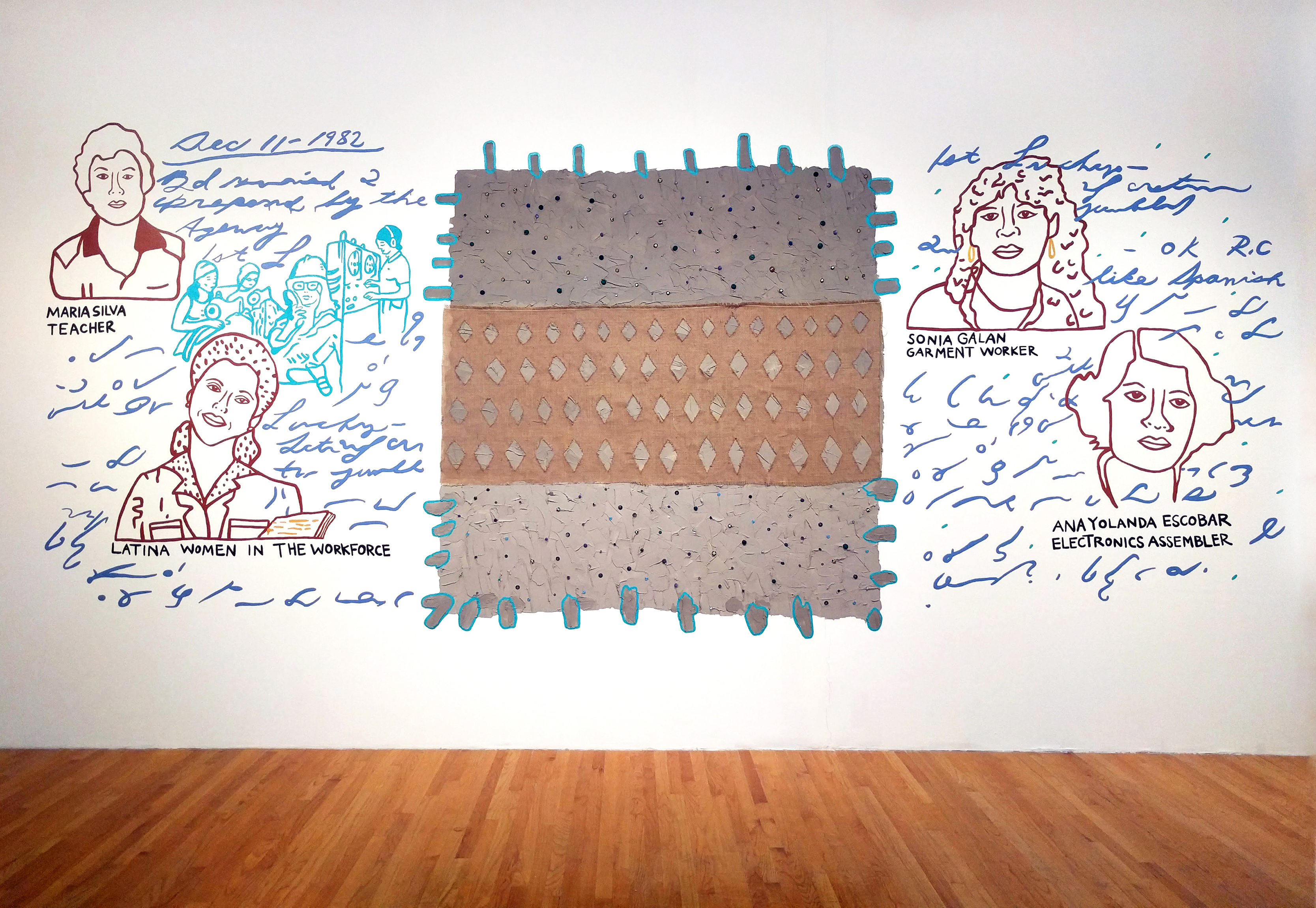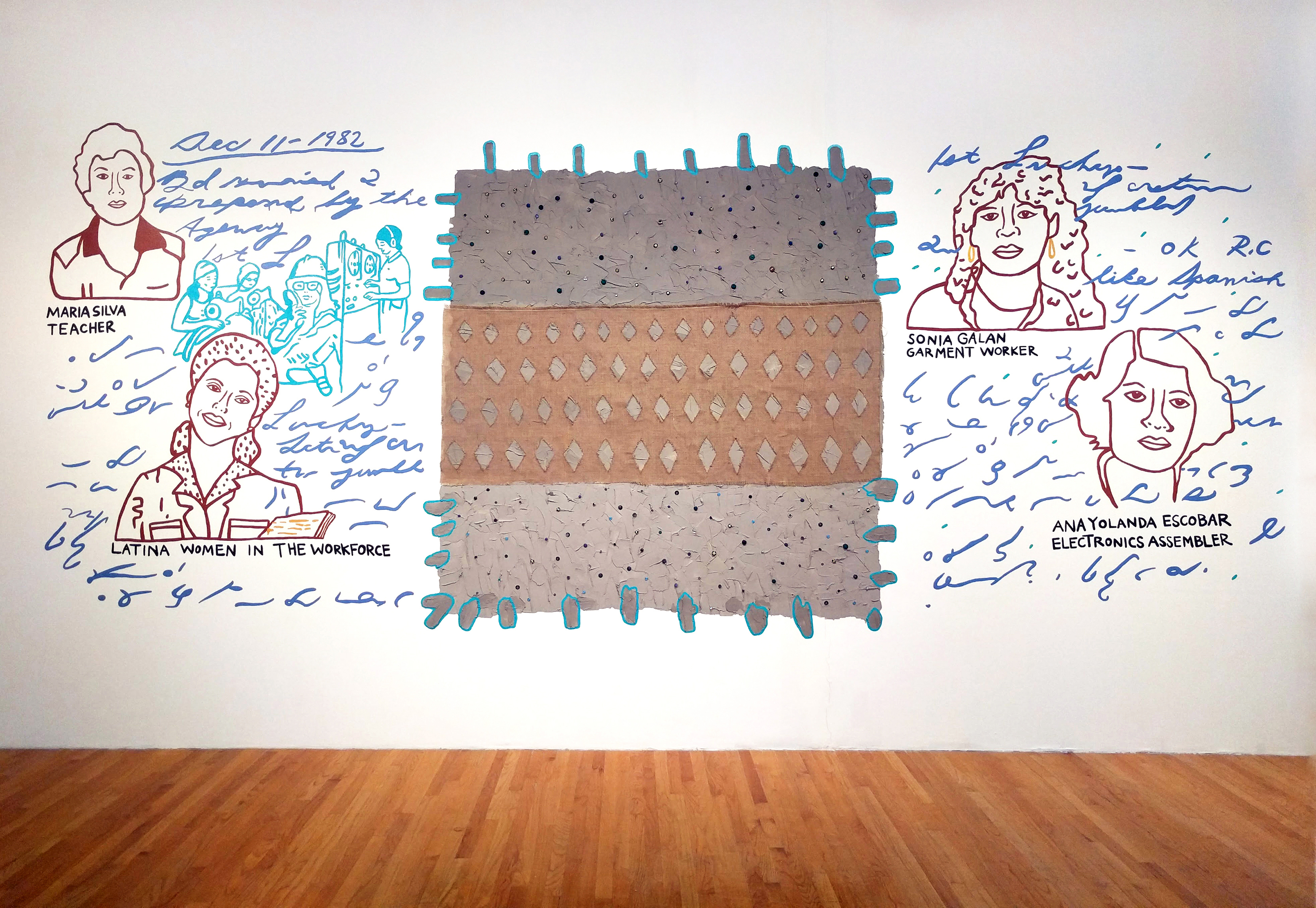 Moving forward, she wants to examine textiles and their role in brown spaces. She shared antidotes about the role of clothing for neighborhood gangs, such as weaving their sneaker laces in specific patterns, or how rival gangs would have customized clothes made by the same woman. "We all wear uniforms that represent the communities we are from," Martinez tells me. For her, fabric is a conduit connecting all people regardless of our positions across identity lines, but it's loaded with politics. As both an artist and educator, she wishes to bring greater understanding of the complexities of brown people and the systemic conditions that have affected their lives, humanizing as a counter-narrative to criminalizing. Martinez is cautious about engaging in generalized representations of the Mexican experience, which comes from first-hand instances of being tokenized by white-led organizations. Her responsibility to Pilsen inspired her to take a deeper and more critical look at her work in graduate school.
Attending Yale may seem like an unexpected (but bold) move since the institution's prestigious MFA program is often presumed to lead into a commercial gallery track. However, Martinez is focused on pushing her work forward by utilizing the academic resources and art world connections Yale affords in service of continuing her work with Latinx communities in Chicago. As she prepares to enter the culturally homogenous territory of Ivy League education, I want to recognize and honor her unwavering motivation to challenge and work against the erasure of brown people along with her devoted work ethic and commitment to her home.
This summer Martinez's work is being exhibited in Moments in Between at LVL3 (on view thru July 1, 2018), Fiber Nation at the Saugatuck Center for the Arts in Michigan (on view thru September 22, 2018) and Celestial House at Loyola University Museum of Art (on view July 3–October 20, 2018).
---
Lynnette Miranda is a curator and writer who focuses on the social and political role of contemporary art, critically examining social practice, contemporary craft, performance, and new media work. She is passionate about centering artists and practitioners of color, not only through representation but through building support systems and the redistribution of resources. Lynnette is the Program Manager at United States Artists and has held positions as Creative Time, ART21, and the Art Institute of Chicago. She was also the 2016-2017 Curator in Residence at Charlotte Street Foundation in Kansas City.
Her writing has been published in Hyperallergic, Pelican Bomb, American Craft Magazine, Chicago Artist Writers, KC Studio, Informality, and This is Tomorrow, Contemporary Art Magazine. She has contributed writing to the exhibition catalogs Prospect.4: The Lotus in Spite of the Swamp for Prospect New Orleans and Wanderlust: Actions, Traces, Journeys 1967–2017 published by MIT Press for the University of Buffalo Art Galleries.