THE WRITER'S ROOM: A Town Hall on Dance + Performance Writing
What do dance and performance artists want and need from arts writing? Join us on November 4th to discuss the writing landscape of dance and performance in Chicago.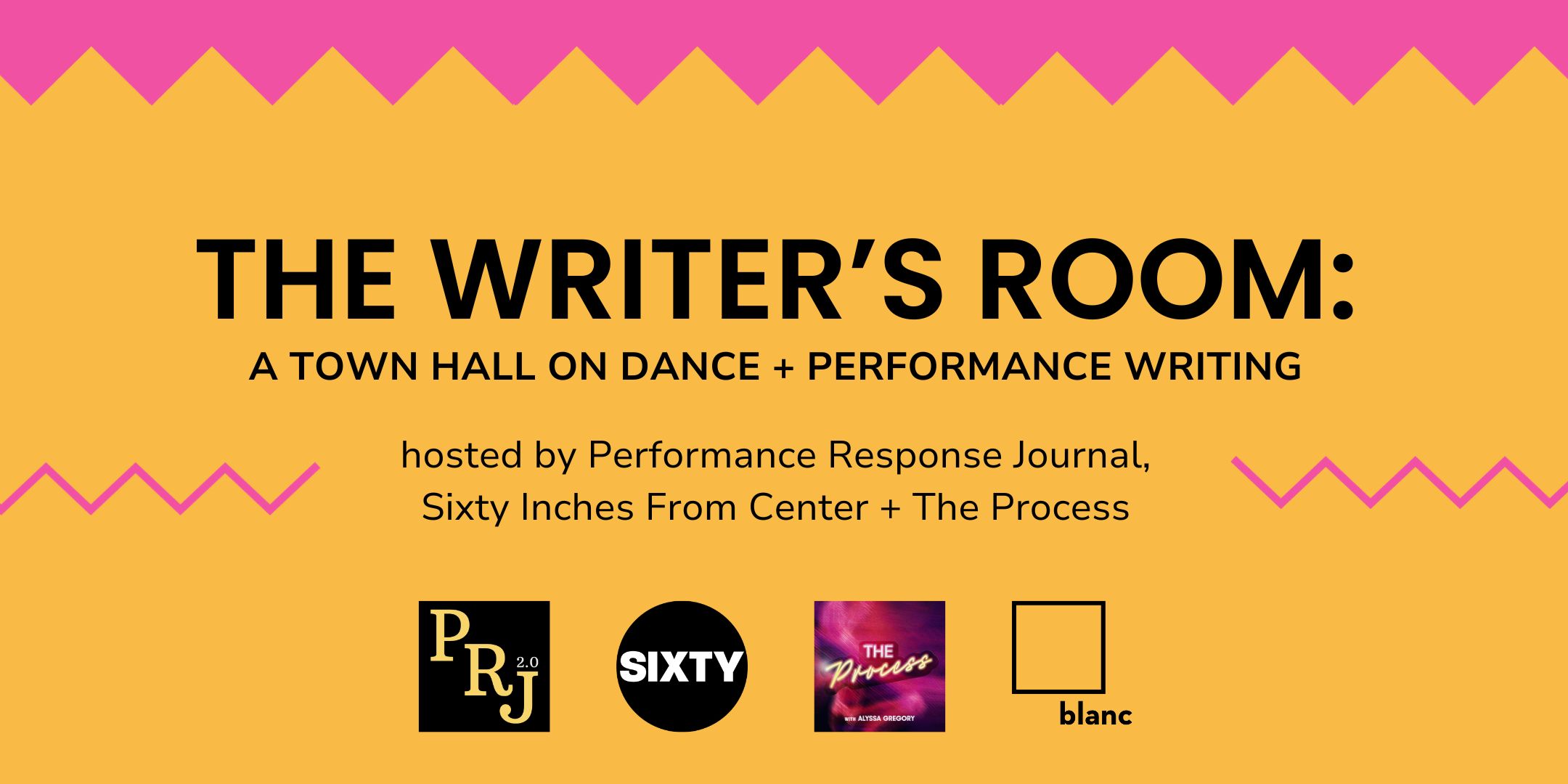 THE WRITER'S ROOM: A Town Hall on Dance + Performance Writing
Saturday, November 4, 2023, 3pm – 5pm CST (RSVP required)
Blanc Gallery, (4445 S. Dr. Martin Luther King Jr. Drive, Chicago)
Performance Response Journal, Sixty Inches From Center, and The Process podcast are partnering to present THE WRITER'S ROOM: A Town Hall on Dance + Performance Writing.
With THE WRITER'S ROOM we want to create a physical and digital space where artists, performers, and writers can discuss the writing landscape as it relates to dance and performance happening in Chicago. Together we will explore questions such as:
What do dance and performance artists want and need from arts writing?
What do writers want and need from the artists whose work they write about?
What do writers need from the platforms they publish with?
How does the Chicago arts writing ecosystem support the work of performing artists? What can it do better?
What are some collective dreams we have for the future of performance, dance, and writing in Chicago? And what needs to happen for us to get there?
This town hall is designed to be a community conversation, moderated and guided with the help of artists, curators, writers Tara Aisha Willis, Maggie Bridger, Benji Hart, and Gervais Marsh, as well as hosts from Performance Response Journal (Joanna Furnans & Aaliyah Christina), Sixty Inches From Center (Tempestt Hazel & Christina Nafziger), and The Process podcast (Alyssa Gregory).
The Process will be holding small 10-15 minute interviews post discussion. Host Alyssa Gregory will be asking attendees their thoughts on dance writing and how it connects to their creative process and their work as a whole. Some portions of the interviews will be used for a future episode of The Process.
The exhibition At First Glance will serve as the backdrop for the discussion. This is the third installment of select works from Patric McCoy's massive collection of photography, which captures essence of Black Chicago in the 1980s through his lens as he biked throughout the city. McCoy's images inadvertently give a glimpse into both the personal and the political landscape of the city during Chicago's Harold Washington era and at the height of the AIDS epidemic. The show will be up at Blanc Gallery through November 25, 2023.
Light food and drinks will be served. This event is free and open to the public, but RSVP is required. 
---
About the discussants…
Benji Hart is an interdisciplinary artist, author, and educator whose work centers Black radicalism, queer liberation, and prison abolition. Their words have appeared or are forthcoming in anthologies from Oxford University Press, Beacon Press, Motto Books, Pluto Press, and have been published at Time, Teen Vogue, The Advocate, The Funambulist Magazine, and elsewhere.
Tara Aisha Willis, Ph.D. is a dance artist, dramaturg, scholar, and curator. Currently a Lecturer in Theater and Performance Studies at the University of Chicago, she served as Museum of Contemporary Art Chicago's performance curator for six years, and written for Getty Research Institute, Danspace Project, Center for Book Arts, The Black Scholar, Wendy's Subway, Brooklyn Rail, Movement Research Performance Journal, University of Illinois Press, and Soberscove Press.
Maggie Bridger (she/her) is a sick and disabled dance artist, fiber artist, and scholar whose work focuses on reimagining pain through the creative process. Her writing has been published in the Canadian Journal of Disability Studies, the Journal of Literary and Cultural Disability Studies, and will be included in the upcoming volume, Dancing on the Third Coast.
Gervais Marsh is a writer, curator, and scholar from Kingston, Jamaica, whose work is deeply invested in Black life, concepts of relationality and care. They received a PhD in Performance Studies from Northwestern University, and recent curatorial projects include All of Living is Risk at the South Side Community Art Center and Contours of the Interior at VisArts Center. Their writing can be found in numerous art publications, and they have taught university courses focused on Black Feminist theory, praxis and performance, and Black queer studies. 
---
About our collaborators…
Performance Response Journal is a platform from writers of all forms and styles: essay, poetry, prose, etc., that encompass all contributors to Chicago's performance community.
Through interviews with Chicago dancemakers and performers, The Process is about the process, the value in the work and the working, and unpacking the methods by which we create dance.
---
ACCESSIBILITY NOTES
This is a hybrid event–it will take place in-person and will also allow people the option to attend virtually via Zoom. Live CART (Communication Access Real-time Translation) will be provided both in-person and online. For a breakdown of the event's accessibility offerings and details, click here.
For those joining us in-person, masks will be required and we will provide free masks for those who don't have one. While food and drinks will be served, we ask that attendees wear their mask when not eating or drinking.