The Silver Room That's Gold: An Interview with Eric Williams, Pt. 1
Part one of an interview with The Silver Room owner Eric Williams, just in time for the 9th Annual Sound System Block Party.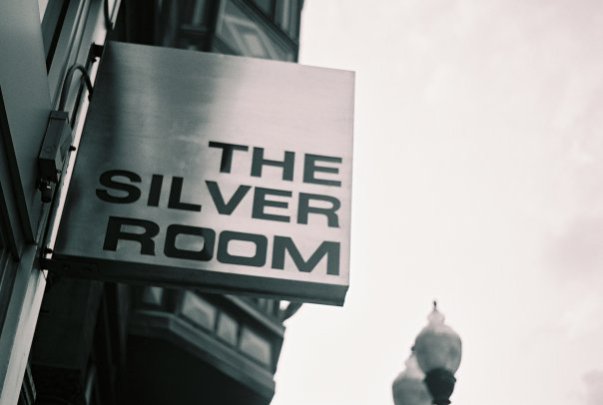 Maintaining a successful art space is no easy task. Those of us who are regulars within the Chicago arts circuit have seen a fair share of galleries, alternative spaces and performance venues come and go. When you find one that stands the test of time it most likely means they're onto something. After thirteen years of providing a platform and outlet for many up-and-coming or local superstar artists, musicians and artisans–and even the general public through Grown Folks Stories–it's safe to say that Eric Williams, the owner of The Silver Room, has struck gold (or silver). He has done this through embracing versatility and flexibility, therefore allowing his business and even his own career path to transform and grow when necessary. In light of the 9th Annual Sound System Block Party happening this Saturday, July 16th, I sat down with Eric to get the full story of how he went from stock broker turned successful street peddler, to the owner of a place that has given new meaning to the term multi-functional. (Note: This is part one of a two-part interview. Read part two where Eric talks about the history of the Sound System Block Party and the inspiration behind this year's theme of 'A Better World.')
Tempestt Hazel: Some people may only know you as the person behind The Silver Room, but outside of that, who are you?
Eric Williams: My biggest thing is I'm a father now. That takes up a lot of my time. I have a two and a half year old daughter. I bring her around here a lot. From day one she's been in the store. She's [always saying,] "Daddy, I want to go to The Silver Room!"
By the time she was six months old we had gone to the opening of the Modern Wing [at the Art Institute]. She's totally into art, totally into music. She sings. I've already gotten her into Stevie Wonder and House music. She understands a lot–it's cool. So, that's my biggest thing.
I DJ. It's funny because I don't have artistic talent–I don't paint–but I've always been around artists and music. I've been DJing since I was fourteen years old. I don't do it enough. But, I do a night at Rodan. I do that once a month.
TH: Well, that still allows you to be creative.
EW: Yea, that's my outlet. The time it takes to go find records now–I don't even have time for that. I feel like I need to focus on that a little more.
TH: The Silver Room has been around for thirteen years now. How did it come to be? It's a very unique space in the city.
EW: It's a space that evolved. It's a long story.
I used to be a stock broker. I was a finance major in college. But while I was in college I sold t-shirts on the streets to pay for school. My friend's boyfriend was a street peddler and I used to work at Taco Bell [when I would come home from college]. [At one point he asked me], "Man, what are you doing?" I told him where I was working and he told me that he sells things on the streets. I asked him, "What are you selling on the streets?" [laughs] He said, "I'm selling t-shirts, and stuffed animals, sunglasses and socks on the train." I was thinking that he was either lying or not making any money. But he ended up [proposing that for] one day he would give me a bunch of stuff to sell and if in five hours I made more than I did at Taco Bell, I could work for him. If not, I could go back to work at Taco Bell.
I'll never forget. It was a KRS-One Stop The Violence concert at Douglas Park. I had some socks and stuffed animals. We had t-shirts and roses–all this crazy stuff. I wasn't shy, but I wasn't like I am now. So, I'm thinking that no one is going to buy this. I was kind of embarrassed to be out on the street selling stuff, you know? I was eighteen or nineteen. People came up to me and were looking at me like I was crazy the first couple of times. Then, this guy came by–this big dude–and asked, "How much are those roses and the stuffed animals?" I said, "Forty dollars." "Forty dollars!?" Then he turns to his girlfriend and says, "Baby, you want one? Let me get three of them!" [laughs]
By the end of the day, I handed [my friend] about $700 in cash in five hours and he said I'll pay you 20% of what you sell–which was $140. I was thinking, I made $140 in five hours and at Taco Bell I would have made $20! [laughs] That was it for me. I quit.
So, I went to work for this guy on the streets. We used to do Blues Fest–you name it–selling t-shirts, etc. Then I met a guy who sold sunglasses and became Sun King Optical. He ended up selling to Sunglass Hut–he was a street peddler. He got me selling sunglasses–those rubber sunglasses [and others]. We were hustling on Chicago and Rush Street! I made so much money during the summer that I didn't even have to work during the winter.
TH: But, Chicago is quite difficult when it comes to street vendors.
EW: It wasn't back then. This was '89 and the '90s. When the Bulls started winning championships–you know the dudes out selling [merchandise]? That was me! Those six years were just great. I got into printing [t-shirts] from that.
Then, once I got out of college, I got a job as a stock broker. You don't just come out of school being a stock broker–you have to get clients. I'm from the south suburbs, so I didn't know anybody who had any money. A lot of these kids [I went to school with came from rich families] that can invest millions of dollars, [while I was] cold calling people–I wasn't making any money. So, I quit. I started selling things full time. I started travelling around the country to Freaknik, Toronto for Caribana, New York for BrooklynFest. I was doing the Black college circuit.
I moved to [Wicker Park] in '91–it was a place called Lit X [Literary Explosion]. They used to also call it Another Level. It was actually the hub for Black folks in Wicker Park in the early '90s. It was below where Flash Taco is at [now]. A guy named Kendell had this Black bookstore. I met him on the street while I was selling stuff [and he suggested I put some of my merchandise in his store] so that when [I'm] not selling things on the streets they can sell there. So, I put stuff in the store and it started selling. That's how the story of the store evolved.
But, it really started when I went to the Jazz Fest in New Orleans. I was riding with my friend and it was pouring down rain. There were these two African women on the street and they were asking for help. They had big bags, containers and suitcases full of [merchandise]. My friend suggested that we stop and help these two women. I'll never forget–he said, "That could be your mother out there." So, I stopped. [We found out that] they got kicked out of the hotel they were staying at because they jacked up the prices for Jazz Fest. They were vendors from New York and now needed a place to stay. [My friends and I] were hustlers, so we always stayed in the car–we didn't pay for a hotel. We slept in the van. We told them, if you make a place in the van, you can stay with us. Since they had no place to go, they stayed in the van. The next day we set up on Bourbon Street. We were selling t-shirts and sunglasses, and [the two African women] were selling dolls and jewelry–silver. They were killing me a little bit with the silver stuff–it was good! So, I asked her about selling silver. She said it was really cheap, people like to buy jewelry, etc. I had never thought about selling jewelry. [After we left] they said that if I was ever in New York to give them a call and they would show us all the wholesale spots that the real Africans and Brooklynites go to.
I was in New York a few months later and called her. I bought some silver, put it in my friend's store and it started selling. In about '95 or '96 I started to sell on the corner of Milwaukee and Damen at a place called Triple X [where the Starbucks is at now]–a gym shoe store–and I was making a killing. Then, I started to realize there were no silver stores in the neighborhood. That's when I opened up the original store in '97, at 1410 [N. Milwaukee].
Then, that space evolved. There were so many different people coming in. There were artists saying, "This is a cool store, can I hang my art on the walls?" Then you meet their friend who is a writer, who would say that they have a book coming out [so we had book release parties]. I started to meet all of these people.
Square One Cafe was where Earwax [Cafe] is at now. That was a cool spot. It was a magazine store/cafe/event space. It was a dope spot. That was a spark for me. [It got me realizing that] retail is cool, but I enjoy the entertainment part of it too. And they don't have to be separate. So, my friend owned this building [the current location of The Silver Room] and he asked if I could find someone to move into this retail space. I said okay, but then I thought about it and said, "I should move in there."
So, I moved in here and it's been evolving. I have a space that I can do a lot of stuff with. I see it as a retail store, [but I also see it] as an art gallery sometimes, as a party spot, as a meeting place, as whatever it needs to be. I like that. That keeps me interested. If it was just retail I'd be bored out of my mind. But, the fact that it can evolve, I can do things like 100 Canvases [For A Better World], have meetings, book releases–I'm doing something with Basquiat now, his sister [The Silver Room will be the hub for his merchandise in Chicago]–keeps me interested.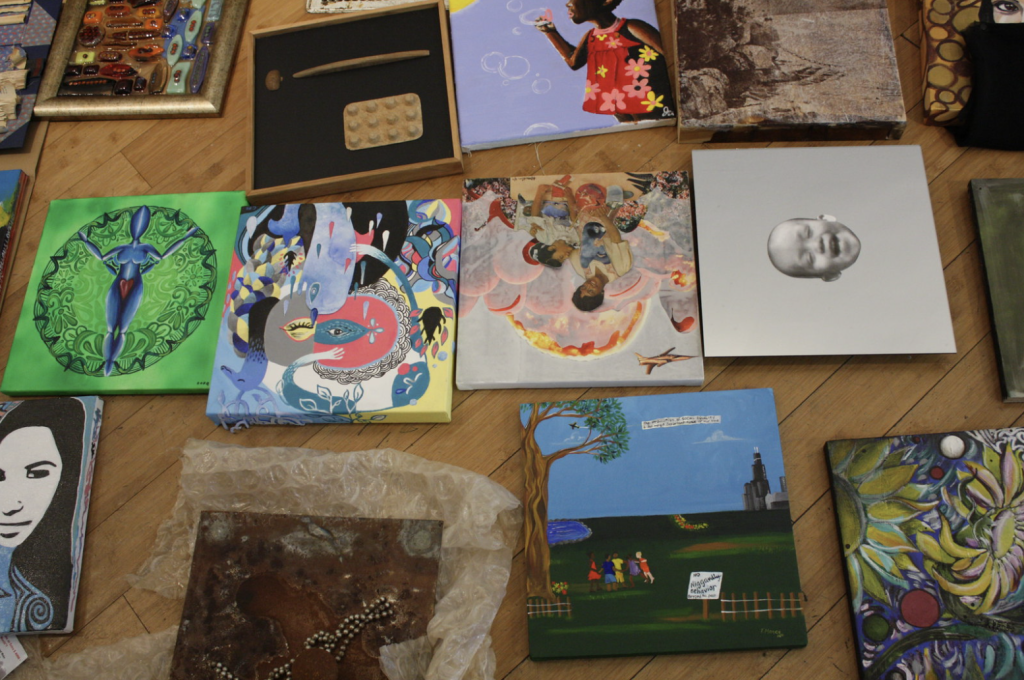 TH: You exhibit artists here regularly. How are the artists that you exhibit chosen?
EW: I choose them. It started off by accident. I've always been into art and galleries but I'd never really thought that I would [own one]. But, this customer, Amanda Sears, [mentioned] that I have great wall space and a prime location. She asked if she could hang her art up and see [if it would sell]. My initial thought was, "Cool", I wouldn't have to paint the walls and I could put some art up. Then, people started coming in, [asking about the artwork and buying it]. I was thinking to myself, "Wow, people actually buy art!"
[Amanda Sears] was the only artist for [almost] two years. Then [other artists] were coming in and asking if they could show work too. [I realized] there was a demand for artists. The more I would go to galleries, [I noticed] that I liked their stuff more than many of the galleries that were downtown. I was at the Louvre in Paris and the Pompidou. That's when I thought that I should take this more seriously and use my space as a multi-functional space. I think [at first] I felt kind of inferior, [telling myself] that I'm not a gallery, but I realized it doesn't matter–especially now. Now, I take it more seriously in how I present the store. People who look at art galleries from a standpoint of when you walk in it's going to be quiet and you just look at the art–it doesn't have to be seen like that.
TH: Right.
EW: It can be seen in different ways. Let me do it my way. We have music playing, it's fun. We have art on the walls and art is for sale. At the end of the day, you're being surrounded by things you like and things that are beautiful, you know? So it doesn't matter the ambiance. I'm not selling $40,000 paintings–maybe one day I will. Who knows? But for right now it's about the fact that we can display our art the way we want to display our art. Another thing I started realizing is that art galleries are limited. If the average person went to an art gallery, they're [sometimes] intimidated. They're thinking they can't afford it so why go in there? But here, you might come in to buy a ring and end up asking, "How much is this painting?" It happens. I had a show with Hebru Brantley and a guy walked in to buy a t-shirt or a ring and ended up buying a $5,000 painting! So, now, I'm really trying to [focus on] the quality of the art and seek out the people that I like. I didn't study art, but I think I have decent taste. I study the world. I've studied environments. And I think I have a good sense of what I like.
I want to do themed shows, too. I went to South Africa and got the idea to do a South African show–not just art, but with music, fashion, magazines. I want to be able to do that kind of stuff. That keeps it fun.
---
Look out for Part Two of this interview on Wednesday. In the meantime, stop by The Silver Room for 100 Canvases for A Better World, an exhibition and fundraiser to support the Sound System Block Party on July 16, 2011 from 12pm – 10pm at 1442. N. Milwaukee Avenue in Wicker Park.
This interview has been edited for clarity and length.
Featured Image: The current Silver Room location, 2011. (Image courtesy of Eric Williams.)