The Agenda of Artifice | On Liza Jo Eilers' The Care And Keeping of You
Through celebrity icons such as Jennifer Coolidge and Pamela Anderson, the exhibition introduces artifice and physical modification as an alternative mode of independence.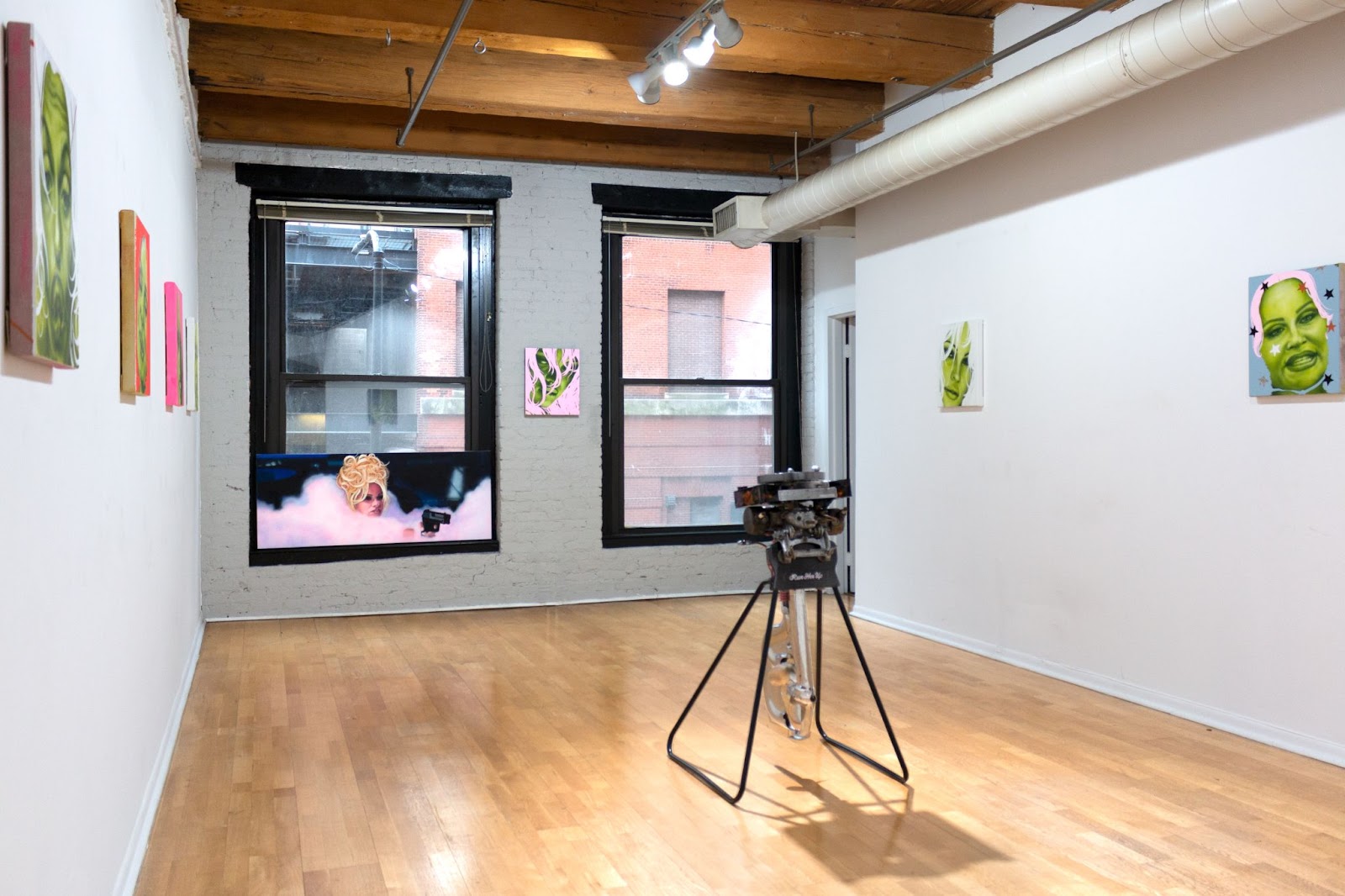 In her recent solo exhibition at SULK Chicago named for American Girl's The Care and Keeping of You, Chicago-based painter Liza Jo Eilers adds a chapter to the 1998 classic. Eilers' reinterpretation of this female puberty guidebook shifts the conversation from physical development to physical modification, introducing artifice as an alternative mode of independence.
Anchored by an ostentatiously manicured boat motor positioned in the center of the space, the walls of Eilers' exhibition are adorned with a series of airbrushed hyperrealistic portraits. Mid-action depictions of Jennifer Coolidge and Pamela Anderson occupy the majority of the canvases. The only outlier is an image of actress Elaine Hendrix, frozen in a moment of twin-induced torment as the gold-digging fiancé in 1998's The Parent Trap. The actresses' lower bodies, along with the majority of cues as to the cinematic scenes from which the stills have been taken, are removed. All the viewer is left with are blurred recreations of each actress' face, rendered in shades of green and vibrant pink.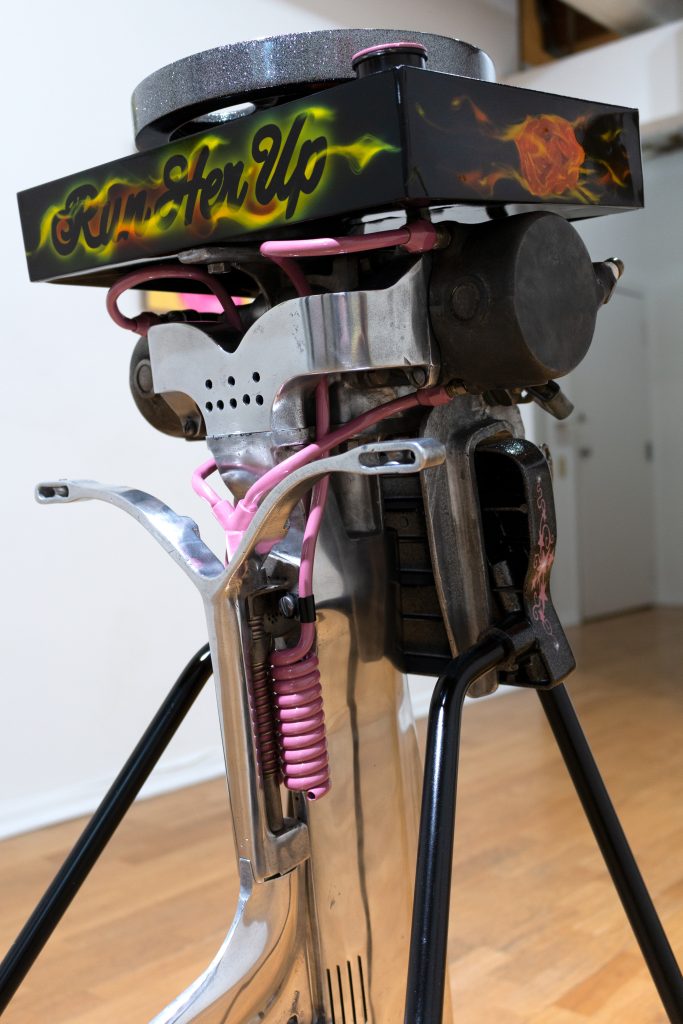 Hard-lined and painterly tendrils of white, black, baby pink, and vivid red act as frames for the faces within each of Eilers' soft-focused works. The graphic hairstyles lining each piece present as artificial additions, mirroring the gargantuan wigs sported by each actress the artist is depicting. Their eyes almost never confront the viewer. Static stares veer to the left or the right. Each gaze holds an expression simultaneously brimming with action and vacant of energy. Cemented by the unnatural hues of their skin, Eilers' women allude to the otherworldly. The cartoonish eyebrows, pillow-like lips, poreless skin, and mid-action expressions suggest an artificiality almost extraterrestrial. With Pamela Anderson's outlandish facial contortion and jet black hair, the piece I'd Beg to Disagree but Begging Disagrees with Me hints at an individual that exists beyond the confines of reality.
The frozen characters in Eilers' The Care and Keeping of You entered into the artist's consciousness at various stages of her life. Jennifer Coolidge's Best In Show and A Cinderella Story were both touchstones of her childhood and staples of twenty year old cable television. In contrast, Eilers first saw Pamela Anderson in Barb Wire in 2021, more than twenty years after the film's largely uncelebrated and under-attended release. In these films both Coolidge and Anderson portray distinct, but intertwined caricatures of sexualized hyper-femininity.
The tonal variations between these two actresses' performances are stark. Jennifer Coolidge's busty, blonde, and heavily Botox-ed women patiently bide time until their elderly husband's death or reap the financial rewards of his recent passing; their inflated vanity a source of comedy. In contrast, Pamela Anderson establishes herself far from the realm of humor. In the film, her sexualized hourglass physique is exaggerated to emanate an energy akin to a dominatrix — fitting for her dystopian mercenary character, Barb Wire.
Regardless of original filmic intent, a reconfiguration of traditional notions of gender and objectification is offered. The appearances of Coolidge and Anderson are so heightened by modifications, nearly all insight into their consciousness is obscured. Every shift in expression within these heavily adorned and altered faces is muted. The common maxim that the "eyes are the window to the soul" is done away with. Further augmented by Eilers' nearly neon recreations, behind the layers of shadow and liner, there is next to no impression of presence in each character's gaze.
Eilers' emphasis on the lack of perceivable humanity in Coolidge and Anderson's performances is guided by deference rather than disregard. Her surreal portraits serve to highlight the various ways in which these actresses have artificially altered themselves for public presentation. With this focus, she calls attention to the obscured power they retain in each conscious mutation. Objectification becomes a tool — a technique applied to womanhood as a performance, rather than any individual. The dramatically inflated characteristics of their perceived genders become a layer that can be taken on or off to control their own perception. Dolly Parton for example, whom Eilers painted in a similar style in her 2021 exhibition SLUDGE presented by M.LeBlanc, is known for her gaudy bedazzled attire, towering blonde wigs, and self-depreciating boob jokes. She is also notoriously private. Perhaps part of the intention behind her persona is to maintain this privacy — to wield her physical appearance as a tool to keep herself to herself.
Akin to the American Girl publication, Eilers' reimagining of The Care and Keeping of You centers on self-maintenance. Although there may not be a step-by-step manual on how to insert a tampon, a diagram showcasing breast development, or an explanation of hormonal acne, a more nuanced take on womanhood is explored. The camp inherent to self-adornment is enhanced by Eilers' added modifications. Rather than as a degradation, this positions objectification as a means of retaining agency. By removing the buxom physiques immediately associated with these icons of millennial pop culture, the artist places all emphasis on their faces, hinting at a liveliness behind each set of muted eyes. Like the carefully stiffened waves framing each work, the curtain is pulled back — but only by a touch.
Liza Jo Eilers' exhibition The Care and Keeping of You was on view at SULK Chicago from October 14 – November 19, 2022.
---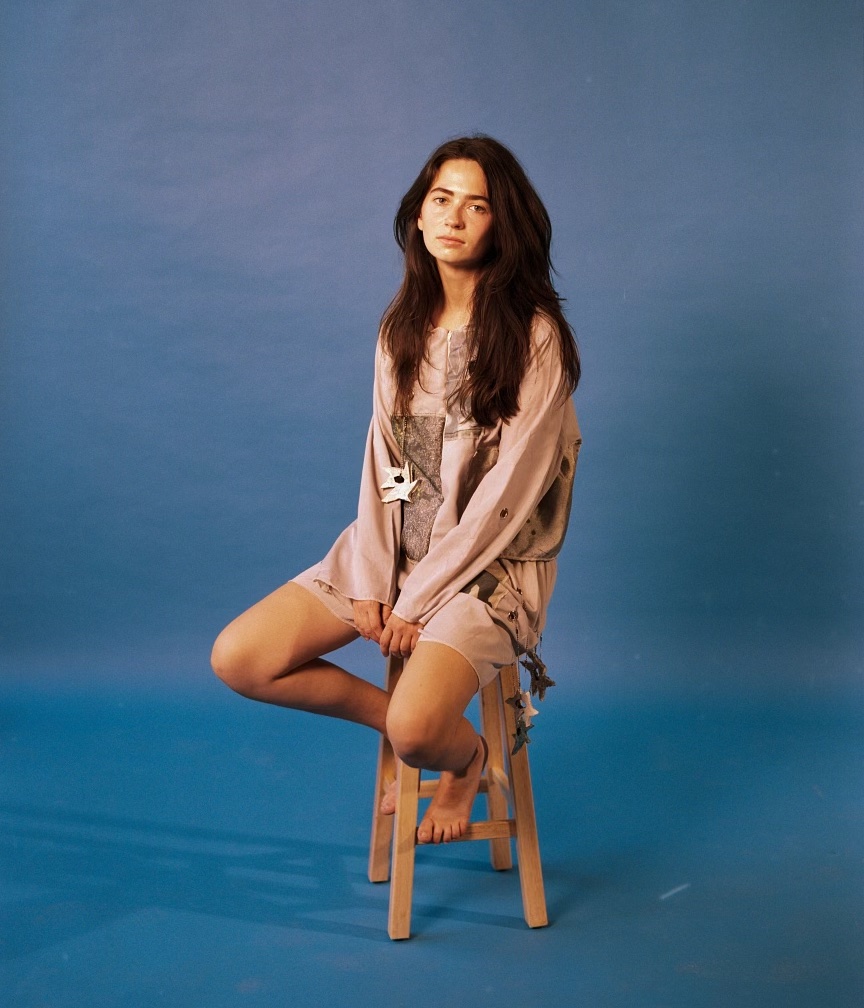 About the Author: Ruby Jeune Tresch (she/her) is an artist and writer currently based in Chicago, IL. Author Photo Courtesy of Lucinda Harstrick.