Snapshot: Pilsen Days by Akito Tsuda
Snapshot is a Sixty column that takes a quick look at art history as it happens in Chicago. We send artists and organizers six short and sweet questions to tell…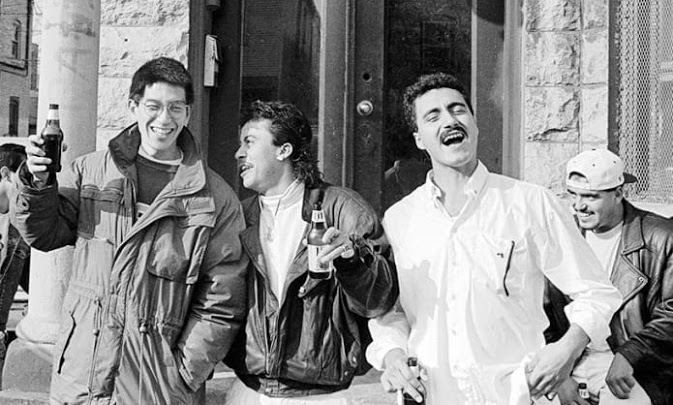 Snapshot is a Sixty column that takes a quick look at art history as it happens in Chicago. We send artists and organizers six short and sweet questions to tell us about what they are doing right at this moment. We sent questions to Japanese artist Akito Tsuda, whose photo exhibit Pilsen Days showcases images of the neighborhood he took in the early 1990s while he was a student at Columbia College. Pilsen Days is currently on view at La Catrina Cafe. The non-profit Cultura in Pilsen fundraised to  organize a limited edition printing of Tsuda's photos and to cover the travel costs to bring the artist from his home in Osaka, Japan to Chicago for the first time in over 20 years. Tsuda will be in conversation with Sebastian Hidalgo at La Catrina Cafe on November 5, 2017 from 2 – 5 pm for Pilsen Days Artist Talk and Farewell Reception.  
Sixty Inches From Center: What got you interested in photographing Pilsen and what was the experience like?
Akito Tsuda: I was attracted to the fact that in Pilsen there seem to be no boundaries between the home and the street. Life happened seamlessly between the two. Its spirit was that of a tightly knit community, which at the same time was able to embrace a stranger like me. I felt that I could walk freely and unconcerned. The experience was like witnessing an outdoor theater of sorts, where people were at their best and where the warmth of the community made it possible for me to feel comfortable approaching them. 
SIFC: What do people think about your photos of Pilsen in Japan?
AT: I have only had the chance to show a few of the Pilsen Days pictures in Japan. However, I did have a chance to exhibit another series of pictures I took in Pilsen, which I later published under the name Tom. This was a collection of pictures I took of a gentleman in Pilsen that lived with his dogs and was a great inspiration to me. The response to the photo exhibit in Tokyo was very surprising to me. I initially thought people would think he was just some guy in distant Chicago, but it turned out to be a very moving experience for them. There was something in the story of Tom that made people reflect on their own lives.   
SIFC: There was a big community effort to fund this new edition and bring you back to Chicago. Why do you think your work resonates with so many people?
AT: There is of course a feeling of nostalgia in the community but I think that people who supported the campaign to bring Pilsen Days to Chicago, really valued the conversation and the energy that it created around it.  I also think that people can sense the harmony that there was between the families and friends that posed for the lens, and that it extended to envelop me as well.    
SIFC: Are you taking any new photographs of Pilsen residents while you are here and do you have any thoughts on displacement the neighborhood is currently experiencing?
AT: I am not taking pictures this time; I am spending my time reconnecting with old friends. I hope that whatever changes happen in the neighborhood, the beautiful spirit of the Pilsen I knew back then doesn't disappear.     
SIFC: How would you describe your approach as a photographer? And how do you feel your work in Pilsen relates to your work in Japan?
AT: When I was young, I used to like calling attention to myself; I liked clowning around. I feel that when I take photos, it´s like performance art. The experience, the encounter, the moment are as important, if not more, than the finished product. So it´s not about being the protagonist; I am always careful to remember that photographing is about the joy of listening to people, and communicating that joy is far more important than showing off.
I learned the joy in communication through my camera. In the beginning in Pilsen, I thought that summoning up the courage to approach strangers would broaden my experience, but as time went on, I learned that meeting people and sharing a moment with them on the street taught me the richness in everyday life that I wanted to celebrate. I applied that experience to my photography in Japan.
SIFC: What do you hope people are able to learn from your work in this book and exhibition?

AT: I don't know that I have anything to teach through my work. Rather I feel that I am providing the elements that can lead to conversation. The priority is the intimacy created when the viewers are engaged, when a new and fresh consideration is born from their story and the content of the image.
Featured image: From Pilsen Days by Akito Tsuda. Image courtesy of Cultura in Pilsen. Black and white photograph of four men holding bottles up, smiling and laughing in front of a building. The man on the far left is the artist Akito Tsuda.