September Art Picks
A growing list of art happening around the city this September.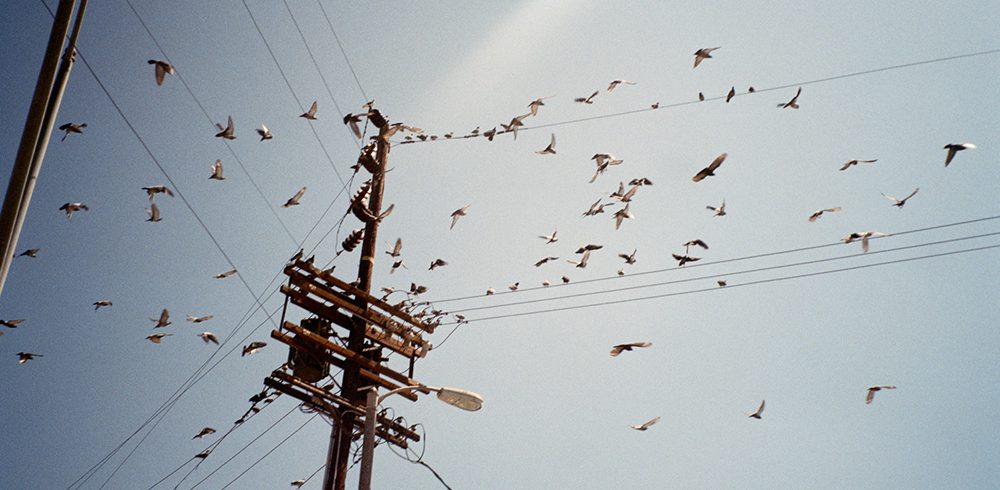 Art, performance, film, and literary events are happening in full force this September. We update this list regularly, so check back often.

September
Sept 1-4, 2016
38th Annual Chicago Jazz Fest
Millennium Park + Chicago Cultural Center
Free
Sept 1 – Nov 30, 2016, all day, everyday
Monique Meloche's Off The Wall Exhibition
The annual public art exhibition featuring work on street benches featuring the artist-run super PAC For Freedoms, and artists Zoe Buckman, Paula Crown, Maria Gaspar, Nari Ward, and Carrie Mae Weems.
Various locations throughout Wicker Park/Bucktown.
Free
Sept 2-5, 2016, 10am-10pm
27th Annual African Festival of the Arts
Washington Park (5100 S. Cottage Grove Ave)
$15, Get Tickets
August 13 – September 17, 2016, Fri, Sat, and Mon nights at 8pm
good friday
A world premiere play by Kristiana Rae Colón, directed by Tara Branham.
Public Access Theatre (1802 W Berenice Ave)
Free
Thur, Sept 1, 2016, 7-9pm
Institutional Garbage – Opening Reception
An online exhibition presented by The Green Lantern Press + The Hyde Park Art Center featuring a long list of artists with an evening of performance curated by Every house has a door, with commissioned works by Michal Samama and Alberto Aguilar. Exhibition runs September 1 through December 31, 2016.
Sector 2337 (2337 N Milwaukee Ave.)
Free
Sept 1, Sept 17, Sept 29, Oct 6, Oct 12, Oct 15
Collected Voices Film Fest
For times, check website or follow them on Facebook.
Various locations: The Silver Room, DePaul University, Chicago Art Department, Catalyst Ranch, Mary's Attic, Chicago Filmmakers
Free
Sept 2, 2016, 7-11pm
Everything Must Go!
A hybrid between art fair and clearance sale, Everything Must Go! is an exhibition that reflects the selling of the Wicker Park neighborhood and its art and culture. This new wave of corporate colonization is being felt all over the city with Google's tech boom in the West loop, sending artists and galleries to Pilsen. Featuring work from Chicago Artist Coalition, Heaven Gallery, The Franklin, Woman Made Gallery, LVL3, Fernway Gallery, and Co-Prosperity Sphere.
Heaven Gallery (1550 North Milwaukee)
Free
Sat, Sept 3, 2016, 2-8pm
Beauty Breaks: Session II
Beauty Breaks workshop series, organized by artist Amina Ross, brings together beauty and wellness practitioners to break open what black beauty and wellness means today. POC Only.
F4F (2846 W.21st St)
Free
Sat, Sept 3, 2016, 10pm-2am
Sonic Healing Ministries presents Hereafter Fest 2016
Featuring music by David Boykin Expanse: Microcosmic Sound Orchestra and DJ Ayana Contreras.
Rootwork Gallery (645 W 18th Street)
Free
Sun, Sept 4, 2016, 2-8pm
Party Noire 1-Year Anniversary
The Promontory (5311 S Lake Park Ave)
$15, Get Tickets
Sun, Sept 4, 2016
Matt Austin: No More Dying
Seerveld Gallery at Trinity Christian College (6601 W College Dr, Palos Heights, IL)
Free
Sun, Sept 4, 2016, 12pm – 8pm
LetUsBreathe's Back To School Block Party
Want to donate? They have a wish list of school supplies on Amazon.
Freedom Square (Holman and Fillmore)
Free
Thur, Sept 8, 2016, 6-7:30pm
Chinaka Hodge: Dated Emcees
Poet, educator, playwright and screenwriter discusses her new book.
Seminary Co-op Bookstores (5751 S Woodlawn Ave)
Free
Thur, Sept 8, 2016
Discotopia: Democracy in Motion!
Jane Addams Hull House Museum (800 S Halsted St)
Free
Sept 9 – 11, 2016
Meeting of Styles
The 12th annual gather of graffiti artists from Chicago and across the world—LA, Hawaii, Oakland, France, Lithuania—who come together to paint on the South and South West sides of the city.
Various Locations
Free

Fri, Sept 9, 2016, 6pm
Viktor Lé: The places in-between. Black matter, Man and Majik – Opening Reception
A new installation by Viktor Lé. 
Rootwork Gallery (645 W 18th Street)
Free
Fri, Sept 9, 2016, 6-10pm
Mitigating Evidence – Exhibition Opening
Featuring art and writing by people who are or were incarcerated in the Cook County Juvenile Temporary Detention Center (CCJTDC) and Stateville Correctional Center.
Chicago Art Department (1932 S. Halsted #100 & #101)
Free
Fri, Sept 9, 2016, 5:30-7:30pm
Chicago Is: Our Kind of Art
Featuring work by Jessica Caponigro, Diane Cooper, William Harrison, Angelina Keating, Gladys Nilsson, Alfredo Salazar-Caro, Joe Tallarico, Courtney Timmermans, Margaret Wharton, Karl Winsum, and Zack Wirsum.
Jean Albano Gallery (215 W Superior)
Free
Sat, Sept 10, 2016, 6-9pm
Alex Bradley Cohen: Half Truth
Exhibition runs September 10 – October 8, 2016.
Slow (2153 W 21st St)
Free

Sat, Sept 10, 2016, 7-10pm
Black Girl Dangerous Book Launch Party for "The Solidarity Struggle"
A discussion around a new book about POC solidarity entitled, "The Solidarity Struggle: How People of Color Succeed and Fail At Showing Up For Each Other In the Fight For Freedom," edited by Mia McKenzie.
Volume Cafe (1474 N Milwaukee Ave)
Free
Sat, Sept 10, 2016, 8:30pm
The Instigation Orchestra with the Diasporas
Links Hall at Constellation
Inspired by the ongoing exchange of music and movement between New Orleans and Chicago, two ensembles will meet for the first time for an evening of completely improvised performance. Curated by Improviser, Steve Marquette (guitar) and dancer/writer Marie Casimir.
Constellation Chicago (3111 N Western Ave)
$10, Get Tickets
Sat, Sept 10, 2016, 7-10pm
Black + Brown at BING presents: The Dessert Shoppe
Jennifer Ligaya, Victor Lé, Afroqbano, and others will explore the mythos of sweetness.
BING Art Books (307 E Garfield Blvd)
Free
Sat, September 10 from 6-10PM
Mike Rea: Depress Mode
Exhibition runs September 3 to October 15, 2016.
The Franklin (3522 W. Franklin Blvd)
Free

Sat, Sept 10, 2016, 12-10pm
The Chicago Exchange: Block Party hosted by Quennect 4 + Genesis Art Supply
Q4 is back with a free, all-day art and music event for all ages. 
1414 N Hoyne St.
Suggested Donation to benefit The Simple Good
Sat, Sept 10, 2016, 7-10pm
Triangulating Distances (an ACRE group show)
Featuring Alejandro Jimenez-Flores, Johana Moscoso, Mary Tremonte, Sharmyn Cruz Rivera + nibia pastrana santiago, curated by Jordan Martins.
Elastic Arts (3429 W Diversey #208)
Free
Sat, Sept 10, 2016, 6-10pm
Can I Kick It? 3 Year Canniversary Show
A long list of artists are featured. Click for it…
Chicago Truborn (1741 W Chicago Ave)
Free
Sat, Sept 10, 2016, 6-9pm
Janice Bond: TERRAIN – Opening Reception
TERRAIN explores bodyscapes from people of color, and the internal/external navigation thereof.
William Hill Gallery (6442 Dorchester Avenue)
Free
Sun, Sept 11, 2016, 3-5pm
SUPER SUNDAY
All exhibitions opening party with open studios for artists in residence, Ayanah Moor, Eric Garcia, and Shonna Pryor. Exhibitions include New Business: 2016 Center Program Final Exhibition, and Ground Floor.
Hyde Park Art Center (5020 S Cornell Ave)
Free
Runs through October 16
New Business: 2016 Center Program Final Exhibition
Featuring Alejandro Acierto, Miguel Aguilar, Kayla Anderson, Jeffrey Austin, James Britt, Brent Fogt, Azadeh Gholizadeh, Stephanie Graham, Kelly Lloyd, Fidencio Martinez, Connie Noyes, Injung Oh and many more wonderful artists. Guest curated by Dan Devening.
Hyde Park Art Center (5020 S Cornell Ave)
Free
September 4 – October 30, 2016
Ground Floor
Featuring work by recent grads from Chicago MFA programs.
Hyde Park Art Center (5020 S Cornell Ave)
Free
Sun, Sept 11, 2016, 2-5pm
Philip Hartigan: Coaltown, An Animated Diorama
Terrain Exhibitions (704 Highland Ave, Oak Park)
Free
Wed, Sept 14, 2016, 7-9pm
Film Screening : Black Has Always Been Beautiful & From These Roots
Blanc Gallery (4445 S King Dr)
Free
Sept 15, 2016; 6:25-9pm
Transitions
A four-part international photography exhibition and cultural exchange highlighting national journeys of transitional justice in post-conflict environments in Bogotá, Colombia; Chicago, United States; Goma, Democratic Republic of Congo (DRC); and Sarajevo, Bosnia and Herzegovina, featuring work by photographers Midhat Poturovic, Juan Arredondo, Martin Lukongo, and Sophia Nahli Allison.
625 N. Kingsbury Street
Free
September 15, 2016, 5-8pm
On Space and Place: Contemporary Art from Chicago, Los Angeles, Mexico City and Vancouver – Opening Reception
Organized by DePaul Art Museum in partnership with ART21, featuring sixteen artists in four North American cities: Chicago: Nick Cave, Theaster Gates, Barbara Kasten, Chris Ware, Los Angeles: Tala Madani, Liz Larner, Edgar Arceneaux, Diana Thater, Mexico City: Pedro Reyes, Minerva Cuevas, Damian Ortega, Natalia Almada, and Vancouver: Jeff Wall, Stan Douglas, Liz Magor, Brian Jungen. Organized by Julie Rodrigues Widholm.
DePaul Art Museum (935 W Fullerton)
Free

Thur, Sept 15, 2016, 7-10pm
Vocalo Presents: Reclaimed Soul Live!
Promontory Point Field House (5491 S South Shore Dr)
Free
Thur, Sept 15, 2016, 4:30-8:00pm
Nichols Tower Open House
Nichols Tower Homan Square (906 S Homan Ave)
Free
Fri, Sept 16, 2016, 5-8pm
Krista Franklin: Quest for the Marvelous – Opening Reception
Chicago Cultural Center
Exhibition runs September 3, 2016 – January 8, 2017.
Free
Fri, Sept 16, 2016, 6-7:30pm
Procession: The Art of Norman Lewis – A conversation with Ruth Fine, Dawoud Bey, Amanda Williams and Torkwase Dyson
Exhibition runs Sept 17 through Jan 8, 2017.
Chicago Cultural Center (78 E Washington St)
Free
Fri, September 16, 7pm
Finding Fanon Screening & Artist Talk
A screening of two films in the Finding Fanon trilogy followed by a conversation with exhibiting artist Larry Achiampong and Yesomi Umolu.
Black Cinema House (7200 S Kimbark Ave)
Free
Sept 16 – Oct 22, 2016
Rhona Hoffman 40 Years, Part 1
The 1st in a series of 3 exhibitions celebrating the gallery's 40th Anniversary.
Rhona Hoffman (118 N Peoria S)
Free

Fri, Sept 16, 2016, 7-10pm
I, Be. – Opening Reception
Featuring work by Brian Golden, Daniel Gomez, David Anthony Geary, Deborah Livingson, Lee Bullitt, Martha Wade, Michael Sweet, Myia Brown, Reisha Williams, Saba Taj, Vic Selbach, and Xu.
Elephant Room Gallery (Bridgeport) (2727 S Mary St) 
Free
Fri, Sept 16, 2016, 6-9pm
Chicago Artists Coalition's The Annual: SHOWROOM
An exhibition in collaboration with Dock 6 Collective, featuring a long list of artists and curated by Edra Soto.
Chicago Artists Coalition (217 N Carpenter St)
Free
Sat, Sept 17, 2016, 4pm (Spanish), 7pm (English)
Participatory Walks with Todd Shalom
Join artist Todd Shalom, founder of the NYC-based arts organization, Elastic City, on a series of public, participatory walks through Pilsen.
Pilsen Neighborhood (exact location TBD)
Free with RSVP
Sun, Sept 18, 2016, 3-7pm
Sherwin Ovid
New work by Sherwin Ovid, a painter who uses a range of materials to talk about diasporic phenomenons and geographic movement. This is the first exhibition of this new project space in East Garfield Park.
Goldfinch (319 N. Albany)
Free
Wed, Sept 21, 6-8pm
A Conversation with Albert Woodbox
Albert Woodbox, one of the "Angola Three" and one of America's longest serving solitary confinement prisoners, in conversation with scholar-activist Beth Richie.
Gallery 400 (400 S Peoria St)
Free
Wed, September 21, 6-8pm
Larry Achiampong: OPEN SEASON – Opening Reception
Featuring sound, video, performance and installation by London-based artist Larry Achiampong. Exhibition runs September 16 through October 30, 2016.
Logan Center for the Arts (915 E 60th St)
Free
Thur – Sun, Sept 22-25, 2016
Expo Chicago
The 5th Annual international exposition of contemporary Art.
Navy Pier
$15-3o, Get Tickets
Fri, Sept 23, 2016, 5-8pm
Dawoud Bey: Harlem Redux – Opening Reception
Exhibition runs September 8th through December 3rd.
Stephen Daiter Gallery (230 W Superior St)
Free
Thur – Sun, September 22-25, 2016
VIP (Very Important Performances) at Expo Chicago
Featuring Miguel Aguilar, Rashayla Marie Brown, Regin Igloria, Fawzia Mirza, Chris Silva, Amanda Williams, and Fo Wilson. A collaboration between 3Arts and 6018 North during Expo Chicago.
Navy Pier
Free with Expo Admission
Fri – Sun, Sept 23 – 25, 2016
Chicago Writers Conference
Conference Chicago University Center (525 S State St.)
$225-275, Registration required
Sat, Sept. 24 and Sun, Sept 25, 2016, 1-7pm
Hyde Park Jazz Festival
Various locations in Hyde Park
$5 Donation
Sun, Sept 25, 2016, 12pm
Opening the Gates: A Panel Discussion
A conversation about the art world's long and troubled history in regards to diversity, representation, and access within museums, galleries, non-profit institutions, and the media with Sasha Wolf of Sasha Wolf Gallery in New York, David Rosenberg, editor of Slate's blog Behold, and Kelli Connell, artist and founder of the publishing imprint Skylark Editions.
The Millennium Knickerbocker Hotel, 163 E Walton Place
Free
Tue, Sept 27, 2016, 6pm
Claudia Rankine
A conversation with the author of Citizen: An American Lyric and Don't Let Me Be Lonely.
The Art Institute of Chicago (Rubloff Auditorium, 230 S. Columbus Dr.)
Free
Runs through Sept 25, 2016
Hot Seven: The Chicago Breakdown
Featuring Janice Bond, Ricardo Gamboa, Amanda Gutiérrez, Roberto Martinez, Oli Rodriguez, Darryl Terrell, and Darius Thomas. Curated by Sadie Woods.
Gene Siskel Film Center 
Free
__
Want us to list your event on our calendar? Send it to us. Interested in covering one of these events? Pitch your idea.
__
Featured Image by Matt Austin from Talking with Fear About Dying Tomorrow.