angela describes the moon

too pretty and i roll my eyes
this is a love poem a text that says downstairs
a warm lake sometimes you sad
as a clown in your tiny room in your tiny bed
but you in this big room its too pretty and I
can only be so happy watching that round sky
Featured image: Photo by Zora Navarre. The photograph shows a group of buildings, one of which has graffiti on a wall in the form of lettering and a tiger. A blue sky and fluffy white clouds appear in the background. 
---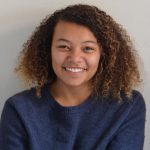 Asha Futterman is a writer and poet from Chicago. She is currently a sophomore at Barnard College, where she is studying Africana Studies and English with a concentration in Theatre. She has been published in Anomaly's Radical: Avant Garde Poets of Color folio and in Quarto Magazine's 69th issue. Now, she works as an Intern at the Invisible Institute.