THE WOMEN IN MY BONES ARE ANGRY

Featured image: Courtesy of Asha Futterman. The photograph shows a water horizon. The lower half of the photo shows a calm body of water with soft waves of a deep blue with hints of green. The top half shows a light blue clear sky. 
---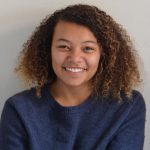 Asha Futterman is a writer and poet from Chicago. She is currently a sophomore at Barnard College, where she is studying Africana Studies and English with a concentration in Theatre. She has been published in Anomaly's Radical: Avant Garde Poets of Color folio and in Quarto Magazine's 69th issue. Now, she works as an Intern at the Invisible Institute.