Parts of the Process: An interview with the director and cast of Buy Sell Trade
The film's team reflect on their experience creating with collaboration, encouragement, positivity, and the mantra "trust the process" embedded throughout.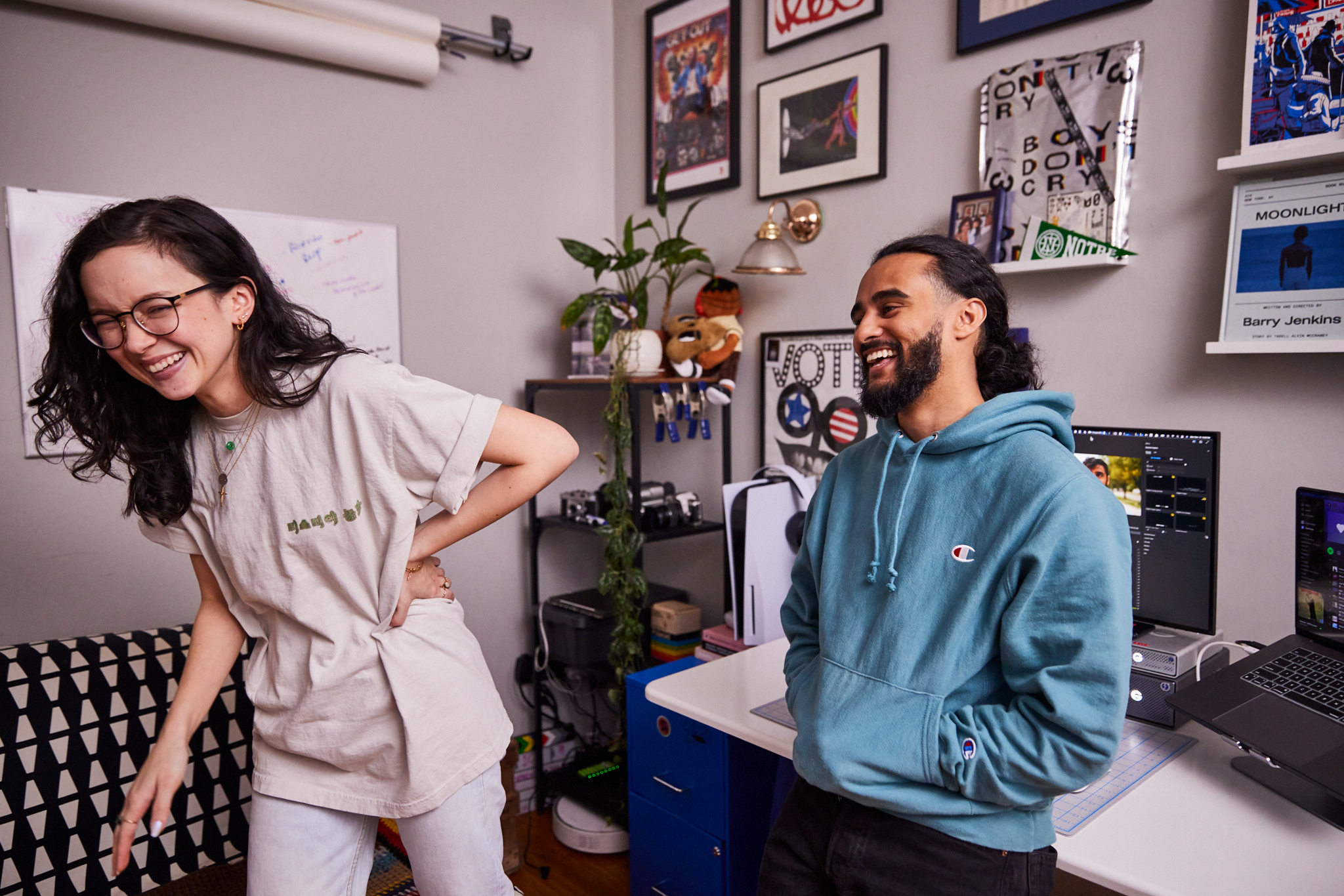 The pursuit of a goal is a part of life that pushes us to tomorrow. Whether saving money to purchase a special gift, or shooting for a big promotion, we all share the experience of setting a goal, fine-tuning it alongside trusted comrades, and hopefully resting once that goal has been achieved. In Buy Sell Trade, writer and director Gabriel Cuillier spotlights the quest to achieve a goal- with twists, turns, and roadblocks along the way—through the story of a single father recovering from addiction setting out to find his daughter's dream toy. Cuillier created the film to showcase what he refers to as a normal family navigating life after being personally impacted by the opioid crisis. In my conversation with Gabe, writer and producer Charli Andrews, and actors Maya Sanchez and Rami Abushhab, the team reflects on their experience creating with collaboration, encouragement, positivity, and the mantra "trust the process" embedded throughout.
Gabe and Charli welcomed me and photographer Sarah Joyce into their home office for the interview. The space was colorful and very much alive with movie posters, recording and camera equipment, screenplay books, artwork, notebooks, plants, and various other office supplies filling the walls and desks in the room—their cat Blue also made a few appearances. Stating how impactful it is for them to listen to music while creating, Gabe's playlist ushered an upbeat yet relaxed vibe. The first song that was playing was Outkast's Kryptonite followed by J. Cole and Kendrick Lamar tracks. "You gotta tell stories that mean something. Like what I listen to, what we listen to has a big part in what we're making," says Gabe.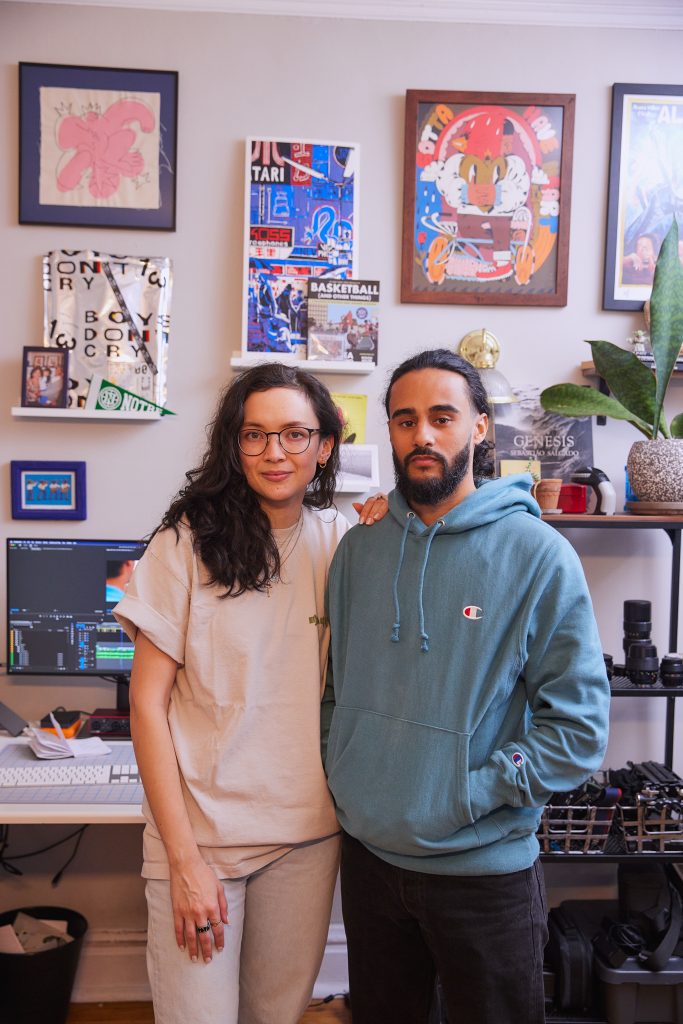 I first met Gabe and Charli over a decade ago at the University of Arkansas. Gabe and I both set out for careers in business. Charli chose to pursue her passion for writing and storytelling.
Despite differences in career paths, the pair met in a creative writing class that they each decided to take for fun, not knowing that it would serve as the focal point for their partnership and their creative endeavors. Shortly after graduating, Charli enrolled in a creative writing MFA program at Columbia College, which is what brought them to Chicago. We maintained our friendship after moving here and joined a small, but tight community of fellow Razorbacks who also found themselves maneuvering Chicago from Southern upbringings.
While in Chicago and shortly after leaving a job in tech, Gabe poured into his passion for film and video content creation which is also how he found his people. "When I came here [c. 2016], I got a little gig at a barbershop shooting portraits," he says, "mostly photos for their social media. I met a few people like that. We're still friends to this day, the barbers, you know, [and other] creative folks."
They both noted how invigorating it was to be in the mix of so many creatives ranging from actors, writers, makeup artists, barbers, and so on. Gabe called this ethernet of connection the law of attraction. "You go places where you feel welcome and you meet people who feel welcomed in those spaces and you see them often." This web of affinity was the launching pad for the Buy Sell Trade production team that Gabe and Charli formed.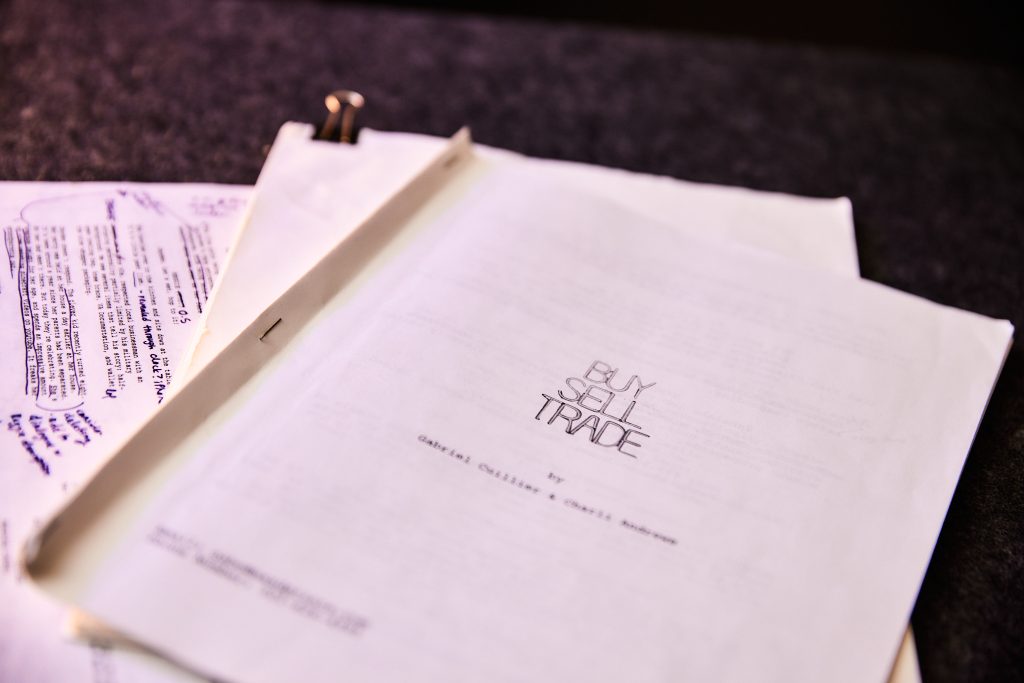 In 2018, Gabe took a production class that kickstarted the film. A few years later in 2020, Charli enrolled in a scriptwriting class which encouraged her to pair her writing skills with Gabe's production expertise to produce Buy Sell Trade. The film celebrates the relationship between a father and daughter and is based on Gabe's observation of his brother and niece, their love for one another, and the wild adventures they had. Gabe's brother, Jacob, unfortunately passed away at the top of 2020 due to complications brought on by diabetes and addiction.
Reflecting on the fervor to tell this story, Charli says, "During the pandemic, I was like, 'yeah let's just write it together!' A lot of times writing is so solitary and you're just cheering yourself on. Like 'c'mon one page out, one page out!' [Writing Buy Sell Trade] was a more collaborative thing where we were cheering each other on. And even going through and editing it was fun to do with another person." Though the two had distinctly different working styles—Charli hyperfocused on developing the plot, and Gabe excited to share this labor of devotion—they finished the script and began the process of funding.
"It really came down to me thinking 'yo, it would be really nice not to have to pay for this,'" Gabe shares about devising the plan to fund Buy Sell Trade. "This film is telling a story that I believe has impact on community, you know? It's something that people can watch and learn something from. Once you have your concept down you just break it apart and that's how you tell a story for fundraising."
With that knowledge in mind, Gabe and Charli created a Seed and Spark to crowdfund, filming their submission video in their home office. They also garnered support from a DCASE grant as well as mentors, former colleagues, and friends who shared an interest in not only supporting the film but sharing this story. It was so important to both of them that everyone who worked on the film, mostly and intentionally people of color, was compensated fairly which was the underlying driver behind the fundraising efforts.
By now, Gabe and Charli had the script and the funds to bring this story to life. Relying on the networks they built throughout their years in the Chicago creative scene, they began to secure the cast and crew for the film. After casting folks on Backstage, Instagram, and word of mouth, the film was ready to take off.
While it was relatively smooth finding people to work with, assuming the role of director was definitely one that Gabe had to grow into. "I felt bad whenever I was like, 'hey you're in the shot, get up, quiet on set!'" said Gabe, with a quick reassuring interjection from Charli, "You didn't have a lot of diva moments as a director which is good, and we got a lot of positive feedback too—we're doing everything on time [and] the call sheet is going according to plan. I didn't really know what it was gonna be like and I was pleasantly surprised that for the most part, it was pretty smooth."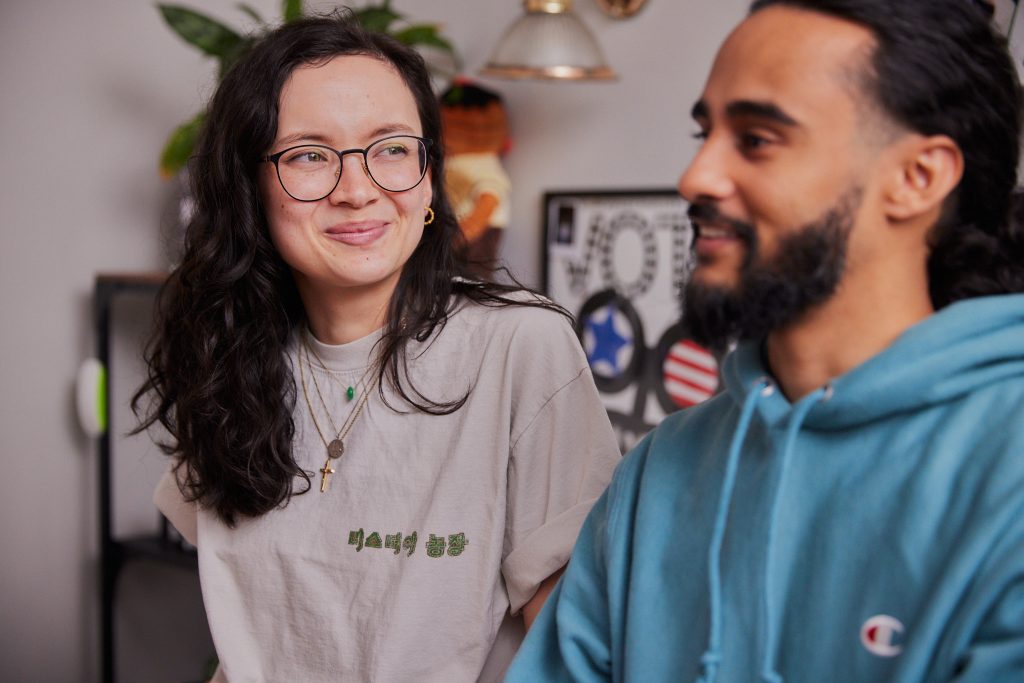 Being on set, Gabe and Charli were very sure to create a joyous, lighthearted environment that allowed each cast and crew member to feel comfortable stepping into their roles in a way that aligned with their personal creativity. The film's lead Rami mentions how "[they] all just clicked. I think when you have a group of people that are passionate about something they wanna tell, things just click. There was no ego in it, everyone was just part of the story.
Gabe also had a lot to do with that because the director creates the atmosphere. He created a collaborative atmosphere and a safe space for us to create. He was very open to my ideas in a story that's very personal to him and I really appreciated that. Everyone was working towards a common goal of getting the story out there."
Trained in theater and later diving into stand-up comedy, Rami had to step out of his comfort zone to simultaneously play the role of Daniel, the protagonist, and honor Jacob's personality in real life.
Upon learning that his role was based on Gabe's brother, he asked to interview Gabe to learn all about who his brother was, his mannerisms, his personality, hopes, and dreams. "I remember calling Gabe and asking to interview him talking about his brother…so I could do [his] brother and family justice. We sat at a Mexican restaurant and I brought my notebook and was just asking him questions. And he answered every single one of them with honesty."
There were many elements of Daniel's mannerisms that were foreign to Rami. "A lot of it was existing in this space of who Daniel is in the film and who Jacob was in real life. And I think that when you mix those things it just kind of happened. I'm a freaking comedian with a combover! You know, we seem so different but when you really dig deep, the essence of him and I is [that] we're both just trying to be better. That's the most beautiful thing in humanity is just that we just try our best to continue to be better, and throughout the film that's what it is. No matter what happens— whether he runs out of gas, or he's about to get caught up by the police or whatever— he's still trying to give his daughter the best birthday ever, and that is so admirable, that is so beautiful to me, and that's something that I never let go [of] from the jump; from reading the script the first time to actually filming it. And I think that's where [he] and I relate. We're just trying our best, and [we're] relentless with it."
Maya Sanchez, who played the role of Jayden, Daniel's daughter in the film, shared a similar thought about the joy of being on set and stepping into her role portraying Gabe's niece. She says, "They were all very friendly and nice. I felt comfortable with them because of how nice they were."
When it came to playing Jayden, Maya says that despite not sharing the mischievous personality, she related to Jayden being an outgoing and interesting person. Being on set with a young actor was another element of this film that created a kinship between all involved. Maya came to the film from a casting call posted on Backstage. Gabe and Charli fell in love with her at her audition and she was able to travel with her mother from Minneapolis to Chicago for filming. Her youthful spirit and essence were fully embraced on the set. This energy was integral to representing Gabe's niece in every scene of the film.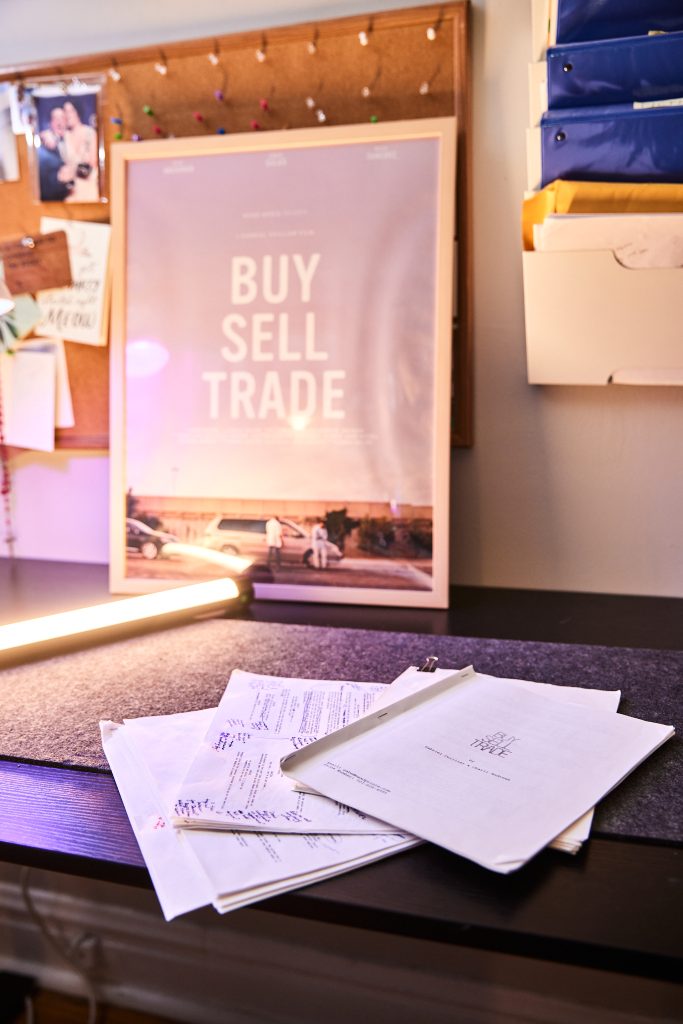 The on-set experience was a subject that excited everyone to talk about. Thinking back on the experience, Rami shares that seeing everyone collaborating and working together, was "the greatest thing, the most beautiful thing in the world".
When production wrapped, after six days of filming, Charli recalls being in a pawn shop where they were filming when it started pouring down rain, right as they were saying their goodbyes. "Gabe and I got ice cream at the end of it, as a reward, and I just remember crying…just being so grateful that we had done it and we had completed the project. I mean it wasn't done by any means, but we had wrapped our first big project."
The string of sweet moments that happened during production and filming solidified the utopia of a work environment that was created through this film. "There was one day on set where a butterfly landed on my shoulder," says Rami. "It was just hanging out for a while. And it would fly away and then come back and it landed again. I know that butterflies are affiliated with guardian angels and so I felt like this was something, somebody watching over me and I guess this production."
Being able to work alongside other folks who are pursuing their passions, building community, learning about what excites them creatively, and having fun while doing it is a unique experience that this team was fortunate to share. "We were ourselves," says Gabe, "so I think being ourselves, like who we are, it translates to doing what we enjoy." In this case, that permeation of authenticity resulted in a film that will resonate with anybody who knows what it's like to strive for a dream with no stop signs in sight.
Join Gabe, Charli, and many of the cast and crew on The Davis Theatre's Screen Time on May 25th at 7PM for a screening of Buy Sell Trade alongside five other short films from Chicago filmmakers.
---
About the author: rachel dukes is a Chicago-based writer and arts administrator from Grand Prairie, Texas. Through her work, rachel explores how art activates stillness, uncovering worlds that allow memories to interact with subsequent time. She is passionate about anchoring this exploration in community and accessibility.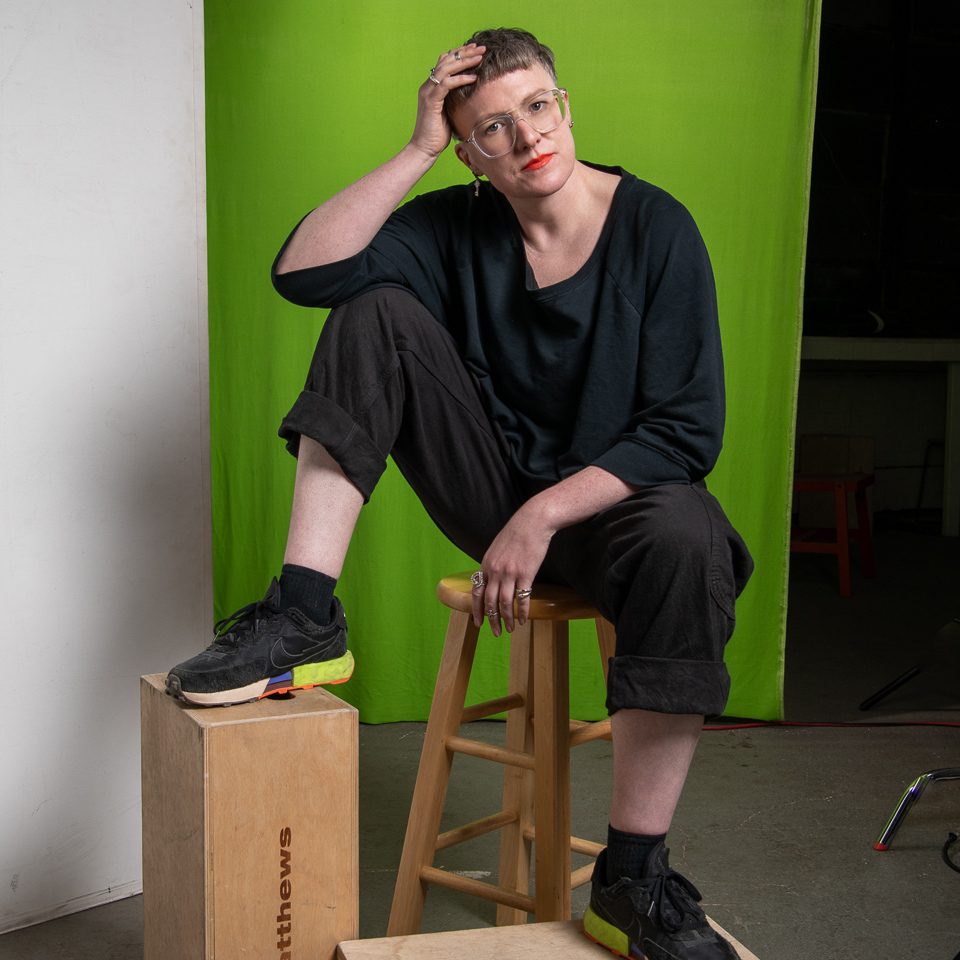 About the photographer: Sarah Joyce is a photographer based in Chicago. In addition to portraiture, she's been documenting the cultures, subcultures, and countercultures of Chicago for the last 10 years as a co-founder of GlitterGuts.