October Art Picks
Our Art Picks are created in collaboration with The Visualist, Chicago's leading visual arts calendar, and cross-promoted through Windy City Times, one of the longest locally-published LGBTQ weeklies with a national reach. Click here…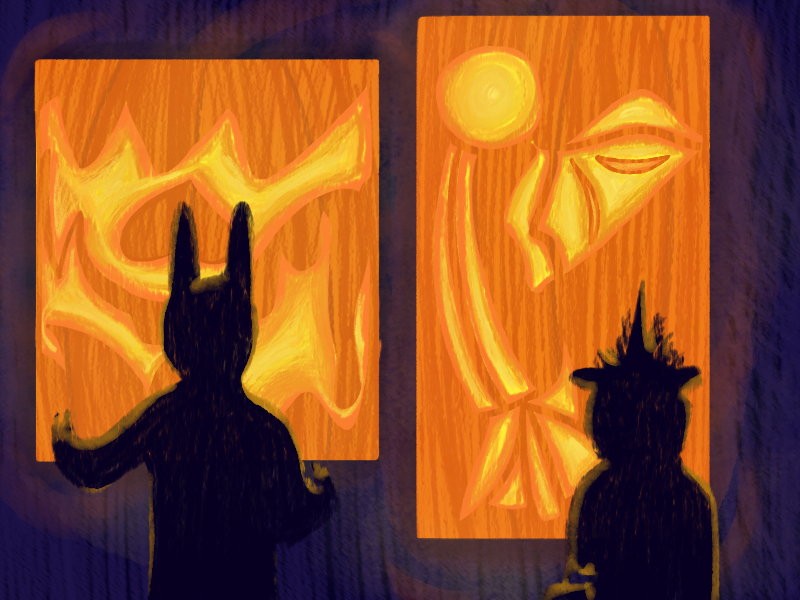 Our Art Picks are created in collaboration with The Visualist, Chicago's leading visual arts calendar, and cross-promoted through Windy City Times, one of the longest locally-published LGBTQ weeklies with a national reach. Click here to get our Art Picks and latest articles delivered to your inbox monthly.
The featured image was created by one of Sixty's incredibly talented illustrators, Kiki Dupont, who is a visual and culinary artist based in Chicago. In her work, she approaches topics of trauma and injustice through a lens of perceived beauty and by reflecting grief's relationship to healing. Find more of Kiki's work on Instagram @kikidupontart or on her website.
This is a growing list, so check back often for new additions.


Tues, Oct 1, 6-7pm
News in Chicago Media, Today and Tomorrow
Newberry Library: 60 W Walton St
Free

Tues, Oct 1, 6-7:30pm
Park McArthur
The Art Institute of Chicago: 230 S Columbus Dr
Free

Tues, Oct 1, 7-8:30pm
Grace Talusan: The Body Papers: A Memoir
Dominican University: 7900 Division St, River Forest
Free

Tues, Oct 1, 7:30-8:30pm
In Progress: Roy Kinsey
Museum of Contemporary Art Chicago: 220 E Chicago Ave
Free

Wed, Oct 2, 4-7pm
Born Woke: 30 Years of Guild Literary Complex
Newberry Library: 60 W Walton St
Free

Wed, Oct 2, 6-7:30pm
Policing, Violence, and Torture in Chicago
Newberry Library: 60 W Walton St
Free

Wed, Oct 2, 6-7:30pm
Contesting Freedom: "Pop América, 1965–1975" Curator Conversation with Esther Gabara
Block Museum of Art: 40 Arts Cir Dr, Evanston
Free

Wed, Oct 2, 6:30-8:30pm
In-Session by Cat Mahari with Duane Powell, Amir George and Daniel Haywood
Threewalls: 2738 W North Ave
Free

Wed, Oct 2, 7-8:15pm
Ta-Nehisi Coates: The Water Dancer
UIC Forum: 725 W Roosevelt Rd
Free

Wed, Oct 2, 7-9pm
Adrián García Orozco: La Piel de las Almas
6018North: 6018 N Kenmore Ave
Free

Wed, Oct 2, 7:30-8:30pm
The Threat of Tech: Pre-Trial Risk Assessment Tools and 21st Century Discrimination
Weinberg/Newton Gallery: 688 N Milwaukee Ave
Free

Thur, Oct 3, 5-8pm
The Chicago Sound Show
Smart Museum of Art: 5550 S Greenwood Ave
Free

Thur, Oct 3, 6-8pm
Choi, Huffman, Reed, & Wasson
Harold Washington Library: 400 S State St
Free

Thur, Oct 3, 6-8pm
New Films From the GLAS Animation Festival
Gene Siskel Film Center of the School of the Art Institute of Chicago: 164 N State St
Free

Thur, Oct 3, 6-9pm
Performance Test Kitchen
Mana Contemporary: 2233 S Throop St
Free

Thur, Oct 3, 7-10pm
Talking While Female Storytelling Sessions: Chicago Edition
Back of the Yards Coffeehouse and Roastery: 2059 W 47th St
Free

Fri, Oct 4, 2-4pm
Miles Davis: Birth of the Cool Documentary
Gene Siskel Film Center of the School of the Art Institute of Chicago: 164 N State St
$6-12

Fri, Oct 4, 5:30-8:30pm
Namir Fearce: I'm Building Me a Home
International Museum of Surgical Science: 1524 N Lake Shore Dr
Free

Fri, Oct 4, 5-10pm
Chicago Teachers Union-SEIU Local 73 Community Art Build
Chicago Teachers Union: 1901 W Carroll Ave
Free

Fri, Oct 4, 6-9pm
dear jazz…A Visual Love Letter
South Side Community Art Center: 3831 S Michigan Ave
Free

Fri, Oct 4, 6-9pm
In-Between States
ACRE: 1345 W 19th St
Free

Fri, Oct 4, 6-10pm
Yollocalli Fundraiser (21+)
National Museum of Mexican Art: 1852 W 19th St
$40

Fri, Oct 4, 7-9pm
We Are Witnesses: Chicago: (In)Justice for All Film Festival
Uri-Eichen Gallery: 2101 S Halsted St
Free

Fri, Oct 4, 9-10pm
Achilles' High Heel: A Sketch Show
Judy's Beat Lounge: 230 W North Ave
$7-13

Sat, Oct 5, 10am-12:30pm
What Is the Midwest?
Newberry Library: 60 W Walton St
Free

Sat, Oct 5, 1-3pm
Mekko
Newberry Library: 60 W Walton St
Free

Sat, Oct 5, 2-7pm
Terrain Biennial 2019: Opening Block Party
Terrain Exhibitions: 1150 Block of Lyman Ave, Oak Park
Free

Sat, Oct 5, 2:30-3:30pm
South Side Projections: From the Archives
Stony Island Arts Bank: 6760 S Stony Island Ave
Free

Sat, Oct 5, 7-9pm
Jean Sousa: Film Poems & 16mm Shorts
Chicago Filmmakers: 5720 N Ridge Ave
Free

Sat, Oct 5, 6-9pm
Colleen Keihm: Holding Site
Roman Susan: 1224 W Loyola Ave
Free

Sat, Oct 5, 6-9pm
Santina Amato: Because the flowers won't last, Christine Forni: Remembering Sophia's Garden, and Meg T. Noe; eternal light
Ignition project space: 3839 W Grand Ave
Free

Sat, Oct 5, 6-11pm
POWER & EXPRESSIONS The Arts Movement Continues…
Haven Entertainment Center: 932 E 43rd St
$75

Sat, Oct 5, 8-9:30pm
Sarah Davachi
Rockefeller Memorial Chapel: 5850 S Woodlawn Ave
Free

Sun, Oct 6, 1-3pm
Social Architecture: Bronzeville
47th (CTA Green): 600 E 47th St
Free

Sun, Oct 6, 2-5pm
Jan Brugger: Devices to Stay Afloat
Elastic Arts: 3429 W Diversey Ave
Free

Sun, Oct 6, 2-6pm
Courtney Cobbs: Relaxation with Reiki
6018North: 6018 N Kenmore Ave
$10-40

Sun, Oct 6, 2-6pm
Jorge Lucero: The Yourstuff Museum
Compound Yellow: 244 Lake St, Oak Park
Free

Sun, Oct 6, 3pm
Cooperation for Liberation Study & Working Group [BR]
the #LetUsBreathe Collective: 1434 W 51st
Free

Sun, Oct 6, 3-5pm
Slow-Res: a Free and Self-Taught MFA Community
Read/Write Library: 914 N California Ave
Free

Sun, Oct 6, 4-7pm
FOUND: Love Letters of Muslim Resistance and Community
PO Box Collective: 6900 N Glenwood Ave
Free

Sun, Oct 6, 8:30-11:30pm
Nicholas Phillips' #45miniatures: A Musical Response to Trump
Links Hall: 3111 N Western Ave
$10

Mon, Oct 7, 7-9pm
Poetry off the Shelf: Eduardo C. Corral
Poetry Foundation: 61 W Superior St
Free
http://www.thevisualist.org/2019/10/poetry-off-the-shelf-eduardo-c-corral/

Tue, Oct 8, 6:30-8:30pm
Annalee Newitz: The Future of Another Timeline
American Writers Museum: 180 N Michigan Ave
$12

Wed, Oct 9, 7-9pm
Justice For Comfort Women at the Justice Hotel
6018NORTH: 6018 N Kenmore Ave
Free

Wed, Oct 9, 7-9pm
Chicago Neighborhood Guidebook in Logan Square
Rosa's Lounge: 3420 W Armitage Ave
Free

Thurs, Oct 10, 4-7pm
Restraint | Amina Ross: Eclipsing (Body)
Leather Archives & Museum: 6418 N Greenview Ave
Free

Thurs, Oct 10, 5-7pm
Third Realm
Museum of Contemporary Photography: 600 S Michigan Ave
Free

Thurs, Oct 10, 6pm
Gallery Talk with Maite Borjabad
Logan Center Exhibitions: 915 E 60th St
Free

Thurs, Oct 10, 6-7:30pm
Eighth Blackbird: Love Letters
The Art Institute of Chicago: 111 S Michigan Ave
Free

Thurs, Oct 10, 6-8pm
Zach Blas: Obedient x3
Gene Siskel Film Center of the School of the Art Institute of Chicago: 164 N State St
$5-12

Thurs, Oct 10, 6-8pm
Personal Expression & Collective Action
In These Times: 2040 N Milwaukee Ave
Free

Thurs, Oct 10, 6-8pm
Chicana Movidas: Book Talk + Reception
Pilsen Outpost: 1637 W 18th St
Free

Thurs, Oct 10, 6-8pm
Social Architecture: Queer Space
CTA Southport: 3411 N Southport Ave
Free

Thurs, Oct 10, 6-10:30pm
Explore Their Stories | Films On Excellence | Bapsi Sidhwa
Floating World Gallery: 1925 N Halsted St
$25-100

Thurs, Oct 10, 6:30-7:30pm
Tadao Ando: Houses for Art
Wrightwood 659: 659 W Wrightwood Ave
Free

Fri, Oct 11, 4-6pm
Tina Zimen: Figure & Foliage
Three Crowns Park: 2323 McDaniel Ave
Free

Fri, Oct 11, 5-8pm
Journey for Justice: Untold Filipino-American History
Jane Addams Hull-House Museum: 800 S Halsted St
Free

Fri, Oct 11, 6-9pm
The Test Show
Ground Level Platform: 2001 S Halsted St
Free

Fri, Oct 11, 6:30-7:30pm
Protest Banner Workshop
Leather Archives & Museum: 6418 N Greenview Ave
Free

Sat, Oct 12, 10am-1pm
Indigenous Languages and Peoples in the Midwest: A Conversation
Newberry Library: 60 W Walton St
Free

Sat, Oct 12, 12-1pm
Art Speaks: I want to be…
Catherine Edelman Gallery: 1637 W Chicago Ave
Free

Sat, Oct 12, 1-4pm
Repair Fair at the Bridgeport Library!
Richard J Daley Library: 3400 S Halsted St
Free

Sat, Oct 12, 5-7pm
Lit & Luz Festival Kick Off Party
Sleeping Village: 3734 W Belmont Ave
Free

Sat, Oct 12, 5-8pm
2019 Diverse Voices in Docs (DVID) Graduation
Reva and David Logan Center for the Arts: 915 E 60th St
Free

Sat, Oct 12, 6-11pm
Networks of Resistance
Co-Prosperity Sphere: 3219 S Morgan St
Free

Sat, Oct 12, 7-9pm
Lavender Women & Killer Dykes: Lesbians, Feminism, and Community in Chicago
Gerber Hart Library and Archives: 6500 N Clark St
$15

Sat, Oct 12, 7:30pm
Pop-Up Magazine: The Escape Issue
Athenaeum Theatre:2936 N Southport Ave
$27

Sun, Oct 13, 1-1:30pm
Laura Biagi, Ph.D.: Inviting the Medicine
6018North: 6018 N Kenmore Ave
$10-40

Sun, Oct 13, 2:30-4:30pm
Never Again Is Now: Mass Incarceration Workshop
JASC – Japanese American Service Committee: 4427 N Clark St
Free

Mon, Oct 14, 6-8pm
Lit & Luz: Documents Bureau and Undocumented Projects Present: The Office of Migratory Perceptions
Comfort Station Logan Square: 2579 N Milwaukee Ave
Free

Tue, Oct 15, 6-7:30pm
Eddie Opara
The Art Institute of Chicago: 230 S Columbus Dr
Free

Wed, Oct 16, 5-8pm
Noche Con Ariana Brown | Poesia, Community, Celebration
Green Line Performing Arts Center: 329 E Garfield Blvd
Free

Wed, Oct 16, 6:30-8:30pm
Saeed Jones: How We Fight for Our Lives
American Writers Museum: 180 N Michigan Ave
Free

Wed, Oct 16, 7-9pm
Sisters in Cinema: An Evening with Yvonne Welbon
The Block Museum: 40 Arts Circle Dr
Free

Thurs, Oct 17, 6-8pm
Narcisa Hirsch: Contact Zones
Gene Siskel Film Center of the School of the Art Institute of Chicago: 164 N State St
$5-12

Thurs, Oct 17, 7-9pm
Grown Folk Stories
Green Line Performing Arts Center: 329 E Garfield Blvd
Free

Fri, Oct 18, 1-3:30pm
Archiving Social Justice in Chicago
Jane Addams Hull-House Museum: 800 S Halsted St
Free

Fri, Oct 18, 4:30-6:30pm
Subverting Technologies of Repression
Gallery 400: 400 S Peoria St
Free

Sat, Oct 19, 3-4pm
Jordan Martins and Giovanni Aloi: Artist Talk
Goldfinch: 319 N Albany Ave
Free

Sun, Oct 20, 12-2pm
Najee-Zaid Searcy: Connection + Intention
6018North: 6018 N Kenmore Ave
$10-40

Wed, Oct 23, 6-7pm
Southern Exposure: The Overlooked Architecture of the South Side
Newberry Library: 60 W Walton St
Free

Wed, Oct 23, 7-8:30pm
Poetry off the Shelf: Kevin Coval & Idris Goodwin
Poetry Foundation: 61 W Superior St
Free

Thurs, Oct 24, 6-7pm
Wardell Milan
The Art Institute of Chicago: 111 S Michigan Ave
Free

Thurs, Oct 24, 6-9:30pm
An Evening With Mezcla Media Collective
Eleven04 Productions (Indie Co-Lab): 2059b W Hastings St
$35

Thurs, Oct 24, 7-8pm
Fifty Shades of Marvin Tate
Intuit: The Center for Intuitive and Outsider Art: 756 N Milwaukee Ave
Free
Thur, Oct 24, 7pm
Sahand Afshar: Please Take a Seat and Tell Me Your Name
6018NORTH: 6018 N Kenmore Av
Free

Fri, Oct 25, 7-8pm
Patti Smith with Lynn Goldsmith
Museum of Contemporary Art Chicago: 220 E Chicago Ave
$8-15

Fri, Oct 25, 7-9:30pm
Horror Noire: A History of Black Horror
The Block Museum: 40 Arts Circle Dr
Free

Fri, Oct 25, 7-11pm
Jacqueline Surdell: Vaulted Breath/Winded Spirit
Heaven Gallery: 1550 N Milwaukee Ave
Free

Fri, Oct 25, 7-11pm
Between a Rock and a Dream
Heaven Gallery: 1550 N Milwaukee Ave
Free
Fri, Oct 25, 6pm
Michiko Itatani: Cosmic Codes
One After 909: 906 N Ashland
Free

Sat, Oct 26, 3-4:15pm
Surveillance and Black Activism
Museum of Contemporary Art Chicago: 220 E Chicago Ave
$8-10

Sat, Oct 26, 5-7pm
Jamie M. Moore: A Wild Pack Of Dogs
Leather Archives & Museum: 6418 N Greenview Ave
$10

Sun, Oct 27, 1-2pm
Rhiannon Giddens
The Art Institute of Chicago: 111 S Michigan Ave
Free
Sun, Oct 27, 12-4pm
Physical gestures that flatten out as moments
Tiger Strikes Astroid Chicago: Mana Contemporary 2233 S. Throop St, #419
Free

Sun, Oct 27, 1-4pm
Remembering Rhumboogie Historic Tour with Lee Bey
Arts Incubator: 301 E Garfield Blvd, Chicago, IL 60637
Free

Sun, Oct 27, 5:30-8pm
I'm Building Me A Home: Artists Series
International Museum of Surgical Science: 1524 N Lake Shore Dr.
Free

Mon, Oct 28, 6-7:30pm
Jeffrey Gibson
The Art Institute of Chicago: 230 S Columbus Dr
Free

Wed, Oct 30, 7-9pm
Poetry off the Shelf: avery r. young & Dorothée Munyaneza
Poetry Foundation: 61 W Superior St
Free
Wed, Oct 30, 5:30pm
Artist Talk: Julia Fish
DePaul Art Museum: 935 W Fullerton Av
Free
Wed, Oct 30, 9pm
Slo 'Mo Presents: The Coven Classic
Sleeping Village: 3734 W. Belmont Av
$20, 21+

Thurs, Oct 31, 6-8pm
Shengze Zhu: Present.Perfect.
Gene Siskel Film Center of the School of the Art Institute of Chicago: 164 N State St
Free

Thurs, Oct 31, 6-7pm
Aztec Art and the Fragility of Empire
The Art Institute of Chicago: 111 S Michigan Ave
Free



Still on view:

On view through Oct 13, 2019
Feel Me?
Iceberg Projects: 7714 N Sheridan Rd
Free

On view through Nov 2, 2019
Orkideh Torabi: Heaven on Earth
Western Exhibitions: 1709 W Chicago Ave
Free

On view through Jan 5, 2020
2019 Chicago Architecture Biennial: …and other such stories
Chicago Cultural Center: 78 E Washington St
Free