Meet the Envisioning Justice Residency Team
Envisioning Justice is a 19-month initiative presented by Illinois Humanities that looks into how Chicagoans and Chicago artists respond to the the impact of incarceration in local communities and how the arts and humanities…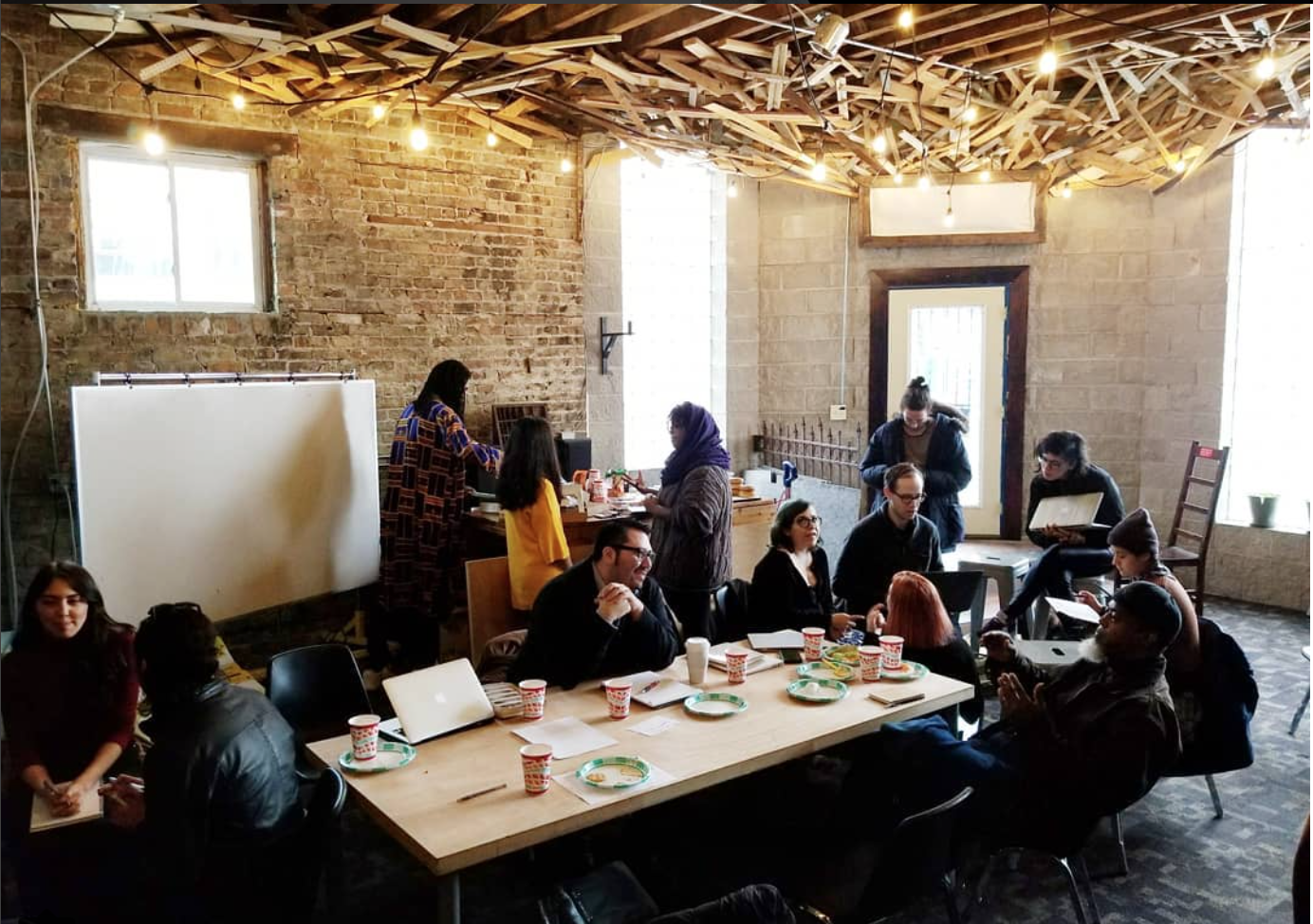 Envisioning Justice is a 19-month initiative presented by Illinois Humanities that looks into how Chicagoans and Chicago artists respond to the the impact of incarceration in local communities and how the arts and humanities are used to devise strategies for lessening this impact.
As part of Envisioning Justice, a selected group of writers, photographers, activists, artists, and organizers are working with Sixty as residents to publish writing and photo documentation of the work happening at the cross-section of art and the criminal justice system across Chicago.
Meet the residents:
Ally Almore
Photographer at Let Us Breathe Collective
Website | She/Her
Ally Almore is an artist and photographer born and raised in Chicago, IL. She grew up in a low-income immigrant family household in Pilsen that was always full of personality. A documenter for creatives from all walks of life, Ally is not afraid to saturate her images, because they usually accompany saturated narratives. The people she photographs are anything but bland and she believes that it's her responsibility as a photographer to do them justice. She has always naturally been drawn to photography and the idea of freezing a moment, capturing it and displaying it for others to witness. Ally's images are a colorful impactful visual storytelling experience.
She is the resident photographer for F4F, a black and femme focused DIY alternative space in the Little Village Neighborhood.
Ireashia Bennett
Envisioning Justice Feature Photographer
Website | She/Her
Ireashia Bennett is an artist who uses photography, film, and mixed media collage to tell stories and explore small moments that people often forget about. She utilizes visual storytelling as a means to viscerally communicate the impact interpersonal, structural, and systemic violence has on the physical and mental wellbeing of BIPOC (Black, Indigenous, People of Color). Ireashia incorporates history, archival materials, and digital technology to think critically about social justice issues, as they have related to her life. Her work is from a black queer woman perspective, emotionally-driven and personal, and she routinely works on topics that relate to her life and this perspective. She is most energized when collaborating with other black queer folks because she believes that the connection and exploration with a friend or fellow artist is the key that helps perspective and work expand.
Ireashia is interested in exploring the intersection of art, activism, and social justice in Chicago. She believes that in a city as culturally and historically vibrant as this one, it's hard not to see how the arts, humanities, and social justice have intertwined to become a force to be reckoned with.
Miranda Goosby
Writer at LetUsBreathe Collective
Writing | She/Her
Miranda Goosby is a writer and poet who believes in healing and the power of manifestation in this life. She is often inspired by rawness and honest authentic spaces. Over the years she has studied International Relations and Peace, Justice & Conflict Studies at Lake Forest College and is also a Internal Community Build Lead for BYP100, an organizing group of 18-35 year olds creating justice for all Black people through a queer Black feminist lens.
Miranda's work is centered on her belief that silence can be deadly, therefore she centers her work around sharing the words of her people. She want for us all to know that we are heard and remembered.
Sebastián Hidalgo 
Photographer at Cook County Jail/Just Art/SkyART and Open Center for the Arts
Website | He/Him
Sebastián Hidalgo has lived in Pilsen on Chicago's southwest side all his life. In 2008, documentary photography became central to his life when he witnessed the passing of my grandfather in Agualeguas, Nuevo Leon, México. It was at that time that he consciously adopted the role of an observer to document his family's mourning process for his absent siblings. The experience of a life changing moment and how it affected his family had lasting impressions which he takes and seeks in the field today.
Sebastián's practice marries photography and journalism by building complex visual narratives in collaboration with the people he reports on. He specializes in photo essays that focus on the learned behaviors, such as hyper-vigilance, that residents develop in direct response to violence, neglect, trauma, and gentrification. And, since he shares similar experiences as the people he photographs, his work challenges him to demand change within himself and the communities that surround him.
Sebastián is currently a freelance visual journalist for Belt Magazine, Chicago Magazine, The Chicago Reporter and City Bureau, among others.
Anjali Misra
Writer at Open Center for the Arts
Website | She/Her
Anjali Misra has more than six years of experience as a social justice activist in professional, educational and grass-roots settings. Over the years as a student organizer, community advocate, educational administrator, and feminist activist, she has had the privilege to learn from respected progressive leaders, highly impactful grassroots organizers and many non-profit professionals from diverse backgrounds about transformative justice and community empowerment. As a second-generation immigrant and South Asian American woman, her approach to social and political advocacy is always informed by an intersectional framework. Developing and teaching her own original curriculum as Associate Lecturer for the Asian American Studies Program at University of Wisconsin was both an exciting challenge and tremendous opportunity. She was able to build a course syllabus based from timely sociological research, leading race and ethnic studies scholarship, and personal experience as a field organizer working to build capacity for Asian and Asian American student organizations on the UW campus.
Throughout her professional career, she has fostered important relationships in schools, organizations, universities and communities. She considers it a privilege to count herself among those supporting community liberation.
Raelyn Purham 
Writer at Bright Star Community Outreach
She/Her
Raelyn Purham is a 22 year old writer who enjoys having fun on the job and loves to express her opinions, views, and thoughts on different topics through conversational pieces. She feels as though this is a way to evoke change. In order to change one must change their way of thinking and in order to change a person's way of thinking you must first challenge their way of thinking through truth and understanding.
The criminal justice system affects everyone either indirectly or directly. Raelyn believes the arts and humanities are a great way to begin conversations on a difficult topic. Art speaks volumes by being beautiful, but imagine what it can also do to a person if there is an even deeper meaning than previously thought. Her interest in this residency is driven by her desire to see change and improvement in this area. Raelyn believes there is a need for something different and that we as a society need to reimagine what the criminal justice system should look like and in order to do that we need to grasp the attention of those making decisions and shed light in the dark places. Besides the killings, shootings, and vacant lots there is more to not just Bronzeville but Chicago as a whole.
Eric K. Roberts
Photographer at BBF Family Services and Restorative Justice Court
Website | He/Him
Eric K. Roberts has worked in social work and education for most of his career, but discovered film photography (along with podcasting and stage acting) when he returned to school for graduate work at age 30. His photography, which draws from his professional and life experience and is made up almost exclusively of in situ portraits, has a scant narrative quality. He is interested in memorializing as many people as he comes across in a fine light.
This residency combines his professional interests with his creative interests since he feels that his photography alone cannot properly shed light on or in any way ameliorate the problem of incarceration. Eric hopes his podcasting, broadly about hip-hop and social justice, and which includes several long-form interviews with scholars and activists working on the problem of incarceration, has fared better.
Chelsea Ross
Photographer at Free Write Arts & Literacy
Website | She/Her
Chelsea Ross is a multi-disciplinary artist, editor, and facilitator. Her practice exists through and between writing/editing, photography, cultural production and curation, with a focus on community building and social practice. Through her work with Free Write Arts & Literacy, she has curated multiple exhibitions of artwork and writing created by students incarcerated in the Cook County Juvenile Detention Center. Last year, she organized and facilitated a community roundtable discussion about the intersections of prison abolition and feminism as part of Chicago Community Trust's On the Table series.
Chelsea has a passion for and experience photographing people, both in formal portraiture and in a more documentary style. Her Feminist as Fuck series uses portraiture and personal narrative to explore many voices and experiences of feminism. Ross has worked freelance for several publications including Time Out, Chicago Reader, Chicago Magazine and her work has been published in the New York Times and Wall Street Journal.
Jordan Sarti
Writer at Cook County Jail/Just Art/SkyART
Website | She/Her
Jordan Sarti is a journalist and organizer interested in transformative analysis and community-based solutions to systemic injustice. She currently works with Albany Park's Autonomous Tenants Union on issues of displacement and eviction. Many of the people they work with are undocumented and she is interested in helping to untangle the ways in which ICE and the CPD collaborate in criminalizing the very existence of certain populations.
Jordan also worked as an Editorial Assistant at In These Times magazine, where she published leftist critique of the Women's March and affiliated events. In her work she hopes to reveal the mechanisms behind various social ills, combat liberal obscurantism and, hopefully, light the way forward, making real intersectional change possible.
Tony Smith 
Photographer at Bright Star Community Outreach
Website | He/Him
Tony Smith is a portrait photographer, graphic designer and documentary filmmaker. He has been capturing images and video for the past twenty years in the Chicagoland area. His primary concentration has been documenting the fine art gallery scene, artists, activists and educators contributions to art and culture on the South Side of Chicago.
Tony has over 30 years of professional photography experience and has taught photography and design to youth, adults, and seniors. He is currently teaching multimedia arts in Oakwood Shores to teens in the Bronzeville community. Over the past 20 years, he has taught at the following colleges and high schools: the School of the Art Institute of Chicago (SAIC), Roosevelt University, Chicago State University, Kenwood High School, South Shore High School, Phillips, Urban Prep, Dunbar, Youth Service Project, Reavis Elementary and the South Side Community Art Center.
Mike Strode
Writer at Circles & Ciphers
Website | He/Him
Mike Strode is an IT consultant and technical strategist turned food justice activist and social economist who is unable to escape the visibility of ecology, economy, resilience, and justice as interlocking processes that forms an ecosystem where organisms will either thrive or wither. His work with Black Oaks Center for Sustainable Renewable Living, Healthy Food Hub, and the Kola Nut Collaborative have informed his thoughts about how food and currency shape society.
While his work in these spaces began as operational in nature, his writing skill has often been tapped in order to communicate the mission and draw attention to the activities of these organizations. Beyond these grassroots efforts, he also maintains a few thematic digital outlets where he puts forward working theories on community resilience, social economies, and the emergent strategies of adrienne maree brown.
By attending Rogers Park Community Peace Circle, Mike has cultivated a relatively close relationship with members of Circles & Ciphers. His original intent in attending was to engage their organization in a collaboration dialogue about the Kola Nut Collaborative timebank. The serenity and community to be found around the Peace Circle was so therapeutic that he tabled his introduction, began attending regularly, and recently facilitated a circle discussion in the space.
Sasha Tycko
Writer at Free Write Arts & Literacy
Website | they/them or she/her
Sasha Tycko is a queer writer, DJ, and organizer who lives and works out of Hyde Park. All areas of their work centers communication. Sasha's writing at Sixty Inches From Center has mostly focused on interviews with artists who use their art as a form of community building. In addition to writing for Sixty, Sasha is an administrator of the F12 Network, which works against sexual violence in the DIY arts scene with a transformative justice lens. For F12, they produce zines and teach workshops about nonviolent communication and conflict de-escalation and host monthly DIY Townhall meetings. They also frequently organize events such as open mics, festivals, and shows with diverse programming that combines musical performances, installation art, and dancing with workshops and panel discussions.
When Sasha was especially active in Chicago's DIY music scene, they co-founded a zine out of a desire to make that scene more of a community. Called The Sick Muse, it publishes art and writing that explore the motives, labor, and relationships that make music happen in the city. In the first few issues, we published a series of writings and responses about sexual violence and safety at DIY shows. That experience was foundational to Sasha's belief in engaged, community-centered media.
Edvetté Wilson-Jones
Photographer at Circles & Ciphers
Website | He/Him
Edvetté Wilson-Jones attended the Illinois Institute of Art where he majored in photography and has been the owner of Artistic Directions Inc for the past five years. He is currently one of the political photographers for One Northside Organization, and is currently working on a photographic series called "Thrift Hip" for New to You Thrift Store in Rogers Park, which he currently manages.
For a while he has worked for Circles and Ciphers, mentoring young men and women. He feels that he holds their confidence in a way that allows them to be in real form and to bring to light and capture the everyday struggles of our youth.
__
Featured Image: The Envisioning Justice Residents initial meeting at Read/Write Library in April 2018. The image shows a group of people in a room, standing, sitting, and talking. There is an art installation of long wooden pieces assembled together along the ceiling with lights. The room has several windows with bright light and brick walls.