MCAccountable's Demands
White supremacy, exploitative labor, capitalism, and abusive hierarchies are rampant within art and cultural institutions. And the MCA is no exception. On July 16th, staff from the Museum of Contemporary…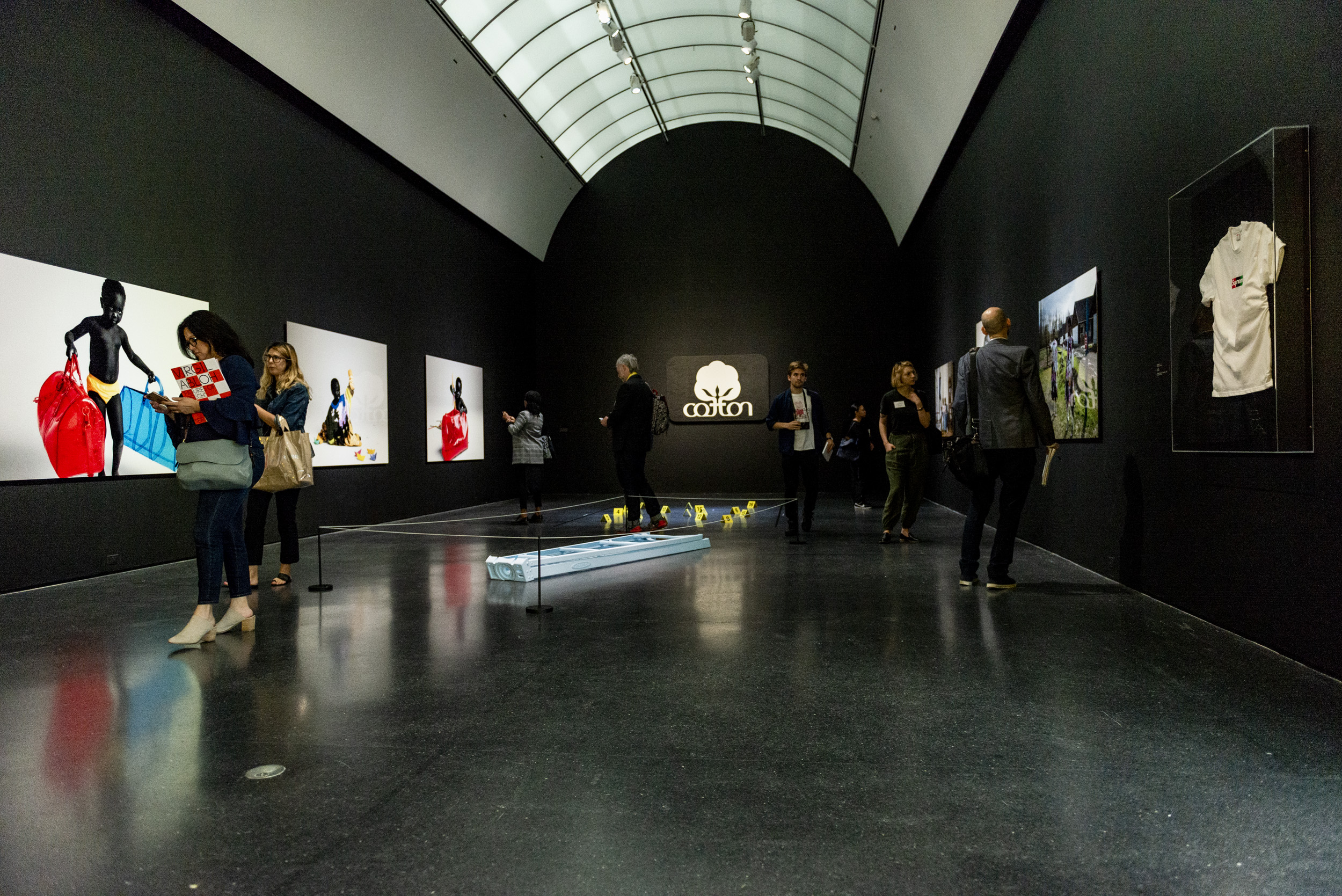 White supremacy, exploitative labor, capitalism, and abusive hierarchies are rampant within art and cultural institutions. And the MCA is no exception. On July 16th, staff from the Museum of Contemporary Art Chicago demanded action to protect the safety of workers and towards uprooting white supremacy and racial injustice within the museum. They wrote a list of demands addressed to the Pritzker Director of the MCA, Madeleine Grynsztejn.
Full-time and part-time staff, artists, volunteers, and the public joined MCAccountable to bring to the light the performative allyship and pandering that the museum has presented to the city. With 50 percent of MCA staff saying they felt uncomfortable returning to work, and 13 percent saying they felt uncertain, leadership dismissed the Human Resource Re-Entry Survey and opened it's doors on July 24th. The collective stated that reopening is "dangerous, irresponsible, ableist, and racist" in the wake of a pandemic with cases only rising every day. To date, 956 people have signed on in support of MCAccountable's collective statement and demands.
What do Black lives look like for the MCA? What do anti-racism and equity look like for the institution?
Below are reactions to the re-opening of the museum and leadership's mistreatment of their employees from volunteers, former employees, and current employees. Responses were edited for length. MCAccountable's full list of demands is also below.
---
I have experienced racism and prejudice at the museum. I remember asking a staff member from another department for information regarding the menu for a Jazz on the Terrace event. The staff member responded to me in a very derisive manner, almost as though she could not believe I would insult her by asking about the menu. I was asking to better respond to a guest who wanted to know what food options would be available.
I also know my competency was questioned multiple times because I do not possess a BFA or MFA. Despite the fact that I completed my Master of Arts at age 24 and am a self-taught artist, I was looked down upon by people who paid to have their artistic views informed by majority-white institutions.
On another occasion, I saw a talented young Black employee get completely ignored for a position as a Tour Guide. [The] managerial staff did not even have the decency to send them an email informing them that they did not get the position. These are the examples that come to mind immediately, but there were many more instances of microaggressions.
I am not employed by the museum anymore. However, I believe that opening a public institution while infection rates are surging nationwide during a pandemic is incredibly irresponsible. Many employees do not have health insurance and if they were to fall sick, it would be devastating. I am under the impression that the museum would not be paying out any type of health policy that would guarantee paid sick leave for however long it would take an employee to recover.
Employees in front-facing positions are at an increased risk. Employees who are in higher-level positions that offer health insurance and an actual livable salary also appear to be the people who would have the opportunity to conduct work remotely for however long it takes to get infection rates down and stabilize.
Personally, museum staff in higher positions are completely disconnected from the everyday experience of working [with] millennials and generation Z. They are not incurring any significant risk returning to work and therefore must find it appropriate to sacrifice the most vulnerable employees. 
The MCA needs to stop being complicit with the neoliberal non-profit industrial complex. Despite being a public institution that qualifies as a 501(c)(3), employees in higher-paying positions live in luxurious condos and houses while profiting off the backs of working artists who do not have the financial stability and disposable income that employees in the upper rungs of the organization possess. If the MCA is serious about truly supporting the Arts, they need to let go of their elitist frame of mind and commit to actual radical praxis that would make sure the most vulnerable employees in the Museum are accounted for, protected, and uplifted.
As a light-skinned POC, I do not believe I have personally experienced racism or prejudice but that does not discount any instances that my coworkers have experienced. The museum is enforcing performative allyship because they say they are working to make things better, but those are vague and hollow words. They are using their reputation as a progressive establishment as a shield to avoid doing anything productive. Whenever I tell people about what's actually happening at the MCA, they're surprised. The MCA is not listening to the demands of MCAccountable and, instead, it seems like they see us as an opposing force instead of a group to look to for guidance and collaborate with. There is an extreme disconnect between the beliefs of the director and others in higher leadership positions compared to many of the employees who work there.
The safety protocol for the museum is to wear masks inside the building and to be at 25% capacity, but in the initial open there will be even less allowed in, 625 visitors instead of 1,000 (4,000 is max capacity). There are one-way entrances and exits. I am supposed to work but am concerned because many employees take public transportation to get there. So, even if the museum is taking precautions, the fact that people must come [into work] puts them in danger. The other concerning factor is that the MCA is a popular tourist attraction. I learned that there are people visiting the MCA from out-of-state that did not practice the two-week self-isolation period. There's only so much an institution can do to monitor this.
The publicized reason for why they are reopening is that it is "mission-driven"; the MCA wants people to be able to have access to art. They told us that opening is not for monetary reasons and that they are losing money by being open because the museum is going to be free to everyone through August. However, I have heard that it is indeed for financial reasons that they are reopening. It is for the sake of the "stakeholders" and that the museum would fold if they did not reopen now. I just wish that the museum would tell the truth and be transparent about their reasons because no one needs to see art and risk endangering themselves and others during this pandemic, but I would understand the urge to reopen due to folding.
On the day we asked for a response, leadership sent an email to staff saying that basically they have the same goals as us but it's really complicated to realize them. Leadership believes that the MCA is already on the right track and doing the right things, even though we asked for more. To me, it was once again extremely vague on real actionable steps on making the museum a better institution [for] its workers and community.
The MCA has informed my identity as an art practitioner, which is one of the reasons I applied for a job within this space. I remember being bussed to the MCA as a young high school student seeing Kara Walker's silhouettes. This was my first time experiencing contemporary and conceptual art that I can remember. I didn't even realize I could have a career in the arts until I went back on my own to listen to the Black Collectives conference in 2013, and I was mesmerized. This changed the trajectory of my life. I say this to preface that one can experience radical moments of awakening while also being disappointed by these spaces where this duality exists of being a cultural resource that provides access to arts and programming, and yet continues to miss the mark when it comes to the breaking down of structural systems rooted in classism. I've seen many of my peers who were employed with the museum unable to grow within the organization and leave, which I consider to be a great failure. And BIPOC co-workers, specifically femmes, who have had their thoughts and voices silenced by management.
My own entrance into the museum was [as] only one of three new Black hires within the Visitor Experience department for a special exhibition where over thirty people—mostly white—were the majority of new onboarded staff. I've personally seen and experienced blatant racism and micro-aggressions towards my peers and myself from staff and visitors. This included a former coworker voicing their concern about pay gaps among staff but being told not to talk to other coworkers about their wages, having a coworker seen as hostile when speaking in a calm and considerate tone of voice, multiple Black employees' names being confused for other Black employees, Black employees slower to be promoted compared to fellow non-Black employees, and I have felt a general lack of follow-up or compassionate response to staff concerns and reports about incidents of racism, harassment, and harmful bias in the museum. There has been a repeated lack of quick or no response to major social and political upheavals, and no personal check-ins to even see where our minds are as staff, collectively and individually. The environment has always felt very corporate and lacked nuance and care.
Having experienced the reopening myself as a front-facing staff member, the vast majority of visitors I have interacted with are from out-of-town ranging from New York, Rhode Island, Virginia, Michigan, Indiana, with local attendance as well. There are preventive measures of screening people before coming to the museum but it's an honor system where we trust guests to self-quarantine for two weeks if coming from heavily impacted states, which seems like a flawed and ineffective system.
Leadership response historically has been to "address" issues internally and hasn't addressed MCAccountable by name publicly or within internal emails. There has been no transparency about Leadership's decision-making behind the scenes. There has been little to no engagement, dialogue, or collaboration between Leadership, department heads, and Visitor Experience staff about our fate at the museum after the pandemic forced us to shut down. Responses are often reactionary, with Visitor Experience employees having little involvement or consent when it comes to discussions on our futures. The relationship has always felt very parental, in the sense of "We, as management, know what's best for you." In order for the museum to improve, they have to take a look back, outside of the current moment and reactionary actions they have taken in the past few months, at the inadequate ways they have engaged with staff who have advocated for change and raised valid concerns.
*Names have been changed
---
---
Featured Image: Taken from the 2019 Virgil Abloh exhibition, "Figures of Speech," visitors walk the gallery space of the MCA. Photographs, artworks, and paintings hang on the black walls of the museum. Photo by Ryan Edmund Thiel.
---